Boat Plans & Kits Categories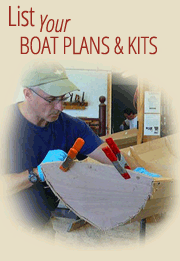 Please login or register to post your Boat Plans & Kits.
You are here
Eureka 155 15'6" Canoe

Review from experienced canoeists (not relations!):
Finally a chance to go paddling in the Eureka. This week we have done 3 X 10km and 1X 8km paddles. On both river and lake. Mostly calm conditions, just a little wind on the lake on one occasion. It seems very stable but we can see where inexperienced people could get caught out. Because of the chine the boat has several stable positions of heel. To some people this may cause them to abandon ship. You can move around in the Eureka with no problems. Directional stability is OK for the boat that it is. It has a fair amount of rocker so it is easy to manoeuvre. In the limited amount of wind we had, the directional control was good. We achieved reasonable speed with effort. 1 1/2 hours for 10kms this was taking it easy and stopping occasionally to drink and take pics. A couple of people were very flattering regarding the boat, so it obviously has the looks.
DESIGN SPECS
| | |
| --- | --- |
| Designer: | |
| Year of Design: | |
| LOA: | |
| Beam Length: | |
| Displacement: | |
| Materials: | |
| Propulsion: | |
| Skill Level to Build: | |
| Cost: | Emailed plan $75 Book $95 |
| Website: | |
<< VIEW ALL BOAT PLANS & KITS