Boat Plans & Kits Categories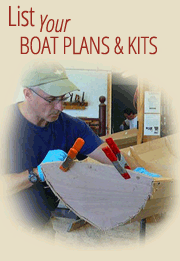 Please login or register to post your Boat Plans & Kits.
You are here
Pinguino 145 Wooden Kayak Kit

A beautiful, fair, multi-chine hull minimizes her wetted surface and maximizes her speed. The Pinguino 145's big advantage is the fact she has less wetted surface and less frictional drag than longer boats, meaning it takes less effort to paddle at cruising speeds. She is lightweight and great for day paddles or light touring. She's more stable with more knee height and foot room than any of our other touring boats, except the Borealis XL. She tracks solidly, but thanks to her shorter length is quick to turn. She lays over securely on edge and cuts a very rapid chine (leaned) turn. The Pygmy four panel deck design brings the sheer down, so even with her 25.5″ beam, the Pinguino still allows comfortable low or high angle stroke. She has a large 19″x36″ cockpit, and can also be ordered with a 17″x33″ cockpit opening for smaller paddlers. While she is a recreational boat at heart, she also performs well in the surf and makes a great light touring kayak.
DESIGN SPECS
Designer:
Year of Design:
LOA:
Beam Length:
Draft Length:
Materials:
Skill Level to Build:

Beginner- No prior woodworking experience required

Cost:
Website:
Contact Information:

355 Hudson St.
Port Townsend 98368
Phone: 360-385-6143
<< VIEW ALL BOAT PLANS & KITS