Boat Plans & Kits Categories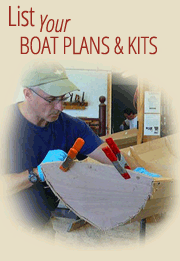 Please login or register to post your Boat Plans & Kits.
You are here
quetzal

A wood stitch&glue singlehander with trapeze skiff.
This has been designed to be a fast, light and easy to build high performance sailboat suitable for everything from fun rides at the cottage to full on racing . CCI ( competition composites inc. ) offer the plans and kit in various forms to suit a range of skills ( if you want us to complete one for you, please contact us ). Having built one of these boats ourselves , we have been able to produce a comprehensive easy to follow construction manual packed with relevant photos and based on real experience .
HIKING VERSION ALSO AVAILABLE
DESIGN SPECS
Designer:
Year of Design:
LOA:
Beam Length:
Draft Length:
Displacement:

hull weight ; 115 lbs (52 kg )

Materials:
Propulsion:
Skill Level to Build:
Available as:
Cost:

contact ; sales@fastcomposites.ca

Website:
Contact Information:

4 mountainview rd

chelsea QC j9b 2m2
Phone: 819 827 4509
<< VIEW ALL BOAT PLANS & KITS