Boat Plans & Kits Categories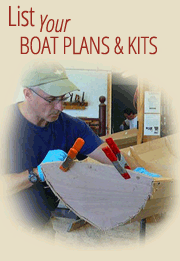 Please login or register to post your Boat Plans & Kits.
You are here
Sasquatch 14-30

The ideal environment for the Sasquatch canoe is touring. With its moderately rounded hull cross section, it will move quickly through the water and be able to handle a variety of paddling conditions. While it will not be as stable as some of our recreational canoe designs, it will be comfortable boat to paddle with 160 pounds [73 k] or more on board. Loading the hull with less than that weight could make the hull feel tippy to a novice paddler.
DESIGN SPECS
Designer:
Year of Design:
LOA:
Beam Length:
Draft Length:
Displacement:
Materials:
Propulsion:
Skill Level to Build:
Cost:
Website:
Contact Information:

-
-
Greensboro, NC 27419
Phone: -
<< VIEW ALL BOAT PLANS & KITS