Boat Plans & Kits Categories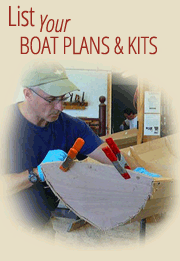 Please login or register to post your Boat Plans & Kits.
You are here
Shearwater Double

Doubles can be big, like our voluminous Chesapeake Double, or they can be small, like our handy-but-compact Mill Creek 16.5.  How could we create a double kayak that combined the speed of a longer sea kayak with the convenience of a smaller boat? It was a challenge we handed to designer Eric Schade, and after a long development the Shearwater Double was revealed. 
For speed, the hull is multi-chined and plumb-ended, with a long waterline for minimal wetted surface.  We borrowed the Shearwater kayak's handsome deck pattern to fit two large cockpits and three big storage compartments while maintaining a sleek profile.  The Shearwater Double is remarkably fast and comfortable. The most discriminating paddlers will enjoy its responsiveness and speed, while the solid stability and roomy cockpits will reassure beginners.
DESIGN SPECS
Designer:
Year of Design:
LOA:
Beam Length:
Draft Length:
Displacement:
Materials:
Propulsion:
Skill Level to Build:
Cost:

$1299 Compleate Kit / $15 Building Manual

Website:
Contact Information:

1805 George Avenue

Annapolis Maryland 21401
Phone: 410-267-0137
<< VIEW ALL BOAT PLANS & KITS