Boat Plans & Kits Categories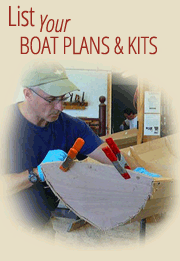 Please login or register to post your Boat Plans & Kits.
You are here
Westport Skiff

The Westport Skiff is a good example of a type that was ubiquitous on the US east coast in the early 1900s and probably well before. They were good all around boats, but their main virtue was simplicity of construction and low cost.Nowadays, many of us are not able to leave our skiff in the water all the time, so light weight and freedom from leaks are more important. You probably won't build this boat in a day – more likely a week or a month – but it is still a simple and fun boat to build. It would be ideal as a project with the kids, and a good boat for them once done. I would urge you to build the rowing version, as outboards can be a curse to peace-of-mind and the environment. You can still put a little motor on the rowing version – about 2 hp is all it can use. If you want a bigger boat, you can stretch out this one to any length up to about 18 feet.See our website for more information.
DESIGN SPECS
Designer:
Year of Design:
LOA:

11' (can be built to 18')

Beam Length:
Draft Length:
Displacement:
Materials:
Propulsion:
Skill Level to Build:
Cost:
Website:
Contact Information:

53 Benjamin River Drive

Brooklin ME 4616
Phone: 207-359-9807
<< VIEW ALL BOAT PLANS & KITS