Past Issues of WoodenBoat Magazine
Current Issue of WoodenBoat Magazine
WoodenBoat 235, November/December 2013
---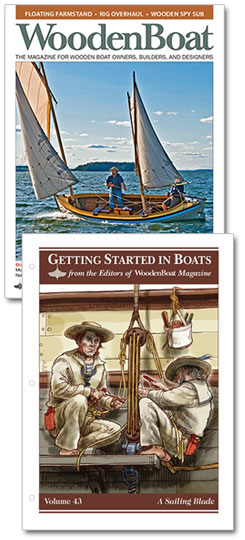 FEATURES
Table of Contents
A Trumpy Fit for James Bond — A secret CIA semi-submersible is now a museum piece by Dirk A.D. Smith
Wood in the Rigging — Making simple fittings for a traditional boat by Tom Jackson
Ironwoods — Useful hardwoods for boat fittings by Ken Textor

Will Stirling — In Nelson's wake by Nic Compton
The Canoes of Haida Gwaii — A legacy renewed by Bruce Kemp
A Canvas Backrest — Comfort in a small cabin by Harry Bryan
AMYCITA — A knock-down frame kit boat approaches the century mark by Eric L. Baxter
The Jeweler as Modelmaker — The miniature yachts of Rob Eddy by Maria Simpson
In Search of a 100-Year Rig — The logic of galvanized wire for a gaff cutter's standing rigging by Bruce Halabisky
The Floating Farmer's Market — A New Haven sharpie brings food from field to islands by Randall Peffer
Cover: The rigging for the 18′ No Mans Land boat FAR & AWAY, built by Senior Editor Tom Jackson, relies heavily on shop-made hardwood fittings. Photograph by Benjamin Mendlowitz.
Getting Started in Boats
Supplement Insert to WoodenBoat Magazine
A Sailing Blade by Jan Adkins
Looking for a particular article you saw?