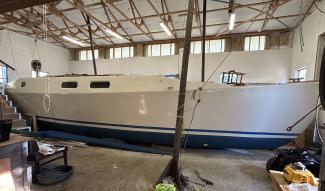 Warren Bailey Design Home Built Sail Boat
Overview: Are you searching for a unique opportunity to own a wooden sailboat with a rich history and craftsmanship? This magnificent vessel, designed by renowned boat architect Warren Bailey of Key Largo, Florida, was crafted with passion and expertise by an experienced tradesman. Tragically, the builder's vision remained incomplete due to his untimely passing. Now, this unfinished masterpiece awaits an owner who shares the same passion for sailing and craftsmanship.
Boat Details:
• Designer: Warren Bailey
• Type: Wooden sailboat with epoxy fiberglass coating
• Draft: 18" with the keel up
• Length: 38' 6" (41' with bow pulpit)
• Width: 10' 2"
• Standing Headroom: Yes
Interior Features:
• Port and starboard settee benches in the main salon with 100-gallon fresh water tanks each • 30-gallon sewage tank under the forward v-berth
• 2 gasoline fuel tanks at the rear of the boat
• 3-burner stove with oven and propane locker
• Large accessible icebox in the galley and cockpit • Spacious stainless steel sink in the galley
• Head with sink, toilet, and shower
• Wet hanging locker in the main salon
Items Included (yet to be Installed):
• Full brand new set of sails
• Hardware for rigging
• 700 lbs retractable keel and associated hardware
• Mast, boom, and three sails for a yawl rig, along with hardware
• Lights • Mariner Bigfoot 4-stroke gasoline motor
• Swim ladder
• Rubber dock buoys
• Anchor with rope (anchor needs installation on the bow, roller already in place)
Additional Information:
This sailboat offers a unique opportunity to complete a remarkable vessel designed by a famous boat architect. The boat is located in Derby, Kansas. Notable items such as lifelines, stanchions, cabinet doors, and cushions are yet to be installed, allowing the future owner to customize the boat to their preferences.
Contact Information: For further details, additional photographs, or to schedule a viewing, please contact Laura Evans at Levans528@gmail.com. Don't miss this chance to own and complete a truly exceptional wooden sailboat, brimming with potential and a storied history. Bring your vision and passion to transform this labor of love into a sailing masterpiece.
Contact Information
Address
Huntington Woods, MI 48070
United States