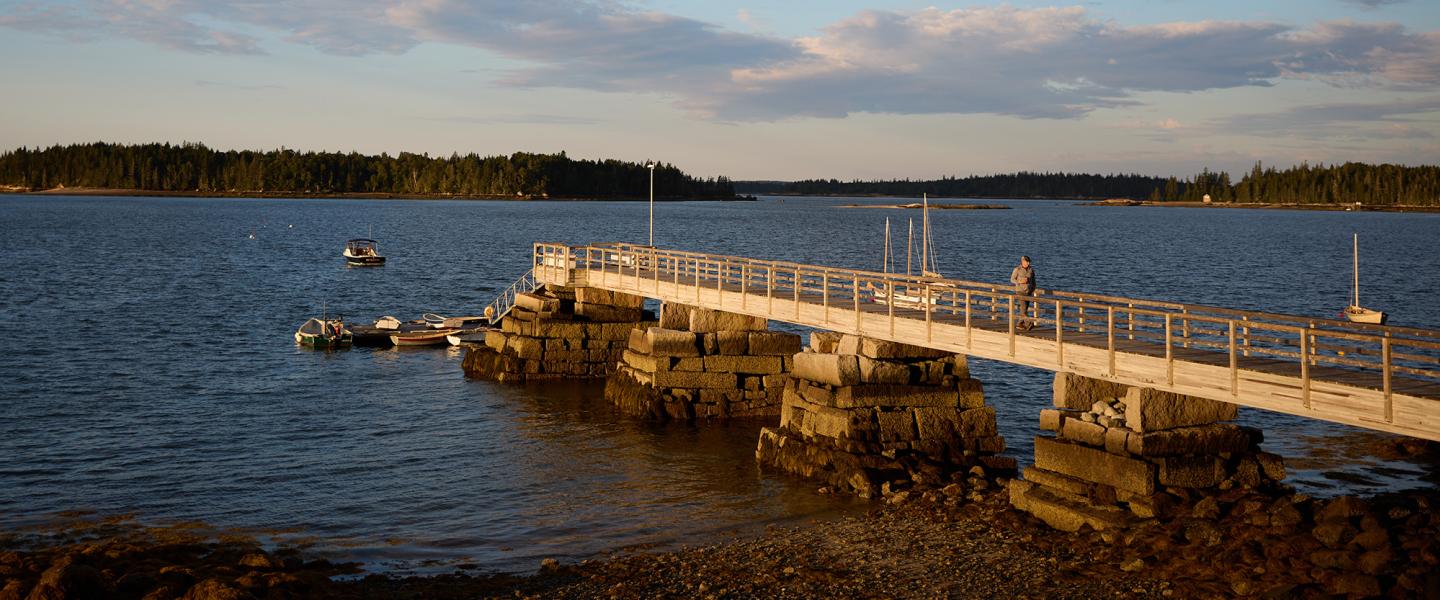 WoodenBoat Editorial Guidelines
WoodenBoat is the bi-monthly magazine for wooden boat owners, builders, and designers. Unlike any other periodical in our field, we are devoted exclusively to the design, building, care, preservation, and use of wooden boats, both commercial and pleasure, old and new, sail and power. We work to convey quality, integrity, and involvement in the creation and care of these craft, to entertain, to inform, to inspire, and to provide our varied readers with access to individuals who are deeply experienced in the world of wooden boats.
WoodenBoat publishes approximately 60 feature articles a year, from many parts of the world. Many are unsolicited, submitted by both amateur and professional writers. Our primary interest is to publish informative material, so writing style is secondary when we consider an article for publication. Obviously, our ideal manuscript is informative and smoothly written, but we're willing to do some work to help make it so.
We'll consider your ideas in all forms—from a short query to a detailed outline, from a rough draft to a finished manuscript. Our preference is to receive a detailed article proposal or outline accompanied by a sampling of images that will be available for illustrations. We can then advise whether we would be likely to publish the proposed article, and we can occasionally make your job easier by suggesting information or illustration sources and by asking for certain details that would make the article more acceptable. Do not e-mail your proposal to us; we prefer that you use the the submission form on our web site, but we'll also consider ideas via postal mail.
Since our magazine is published for professionals and amateurs alike, our featured articles usually explore subjects in great depth. To gain a better understanding of the types of articles we tend to publish, take a careful look at a few recent issues of the magazine. Please understand, however, that we welcome other ideas and approaches, and encourage you to share your thoughts on creative and innovative projects.
Some of Our Interests
If you've been reading WoodenBoat for long, you'll have noticed that although our interests are wide and varied, we like to present detailed, informative material. If you're writing an article about a professional builder, for example, we'll want to know (at least) these kinds of things:
Some history of the builder or the boatyard.
Names of any famous boats or types of boats developed there.
Number of builders and carpenters employed, and number of apprentices, if any.
Delivery schedules and costs for boats built.
Design modification and/or drafting capabilities available at the yard.
Specific design or drafting experience of the builder or draftsman.
Lumber storage and drying facilities; capacity in board feet, and the quality of the facility.
Primary types of lumber used in construction; e.g., red or white oak for keels and frames, fir or cedar for planking, and teak for decks and trim.
Be specific with names of wood types; e.g. Philippine mahogany, Honduras mahogany, hard pine (Southern yellow, longleaf, etc.), or teak, etc. And, where possible, give the technical Latin name.
Where does the builder get his lumber? What does he think about the availability of boatbuilding lumber?
Types of fastenings used, such as wood screws, boat nails, copper rivets, etc.; and what metals, such as bronze, Monel, wrought iron, galvanized steel, etc., are used.
Types of glues used in the permanent joining of wood, such as resorcinol, epoxy, or older and more traditional glues.
Types of bedding compounds; are they oil based, or are they the more modern two-part mixes like Thiokol (polysulfide) compounds?
Special boatbuilding techniques or suggestions.
Types of finishes used; some builders finish entire boats with linseed oil, while others use oil-based paints and varnishes, and still others use the epoxy- or polyurethane-based paints.
Does the builder use wood preservatives? How does the builder build long life into his boat?
If you're writing about an amateur boatbuilding project, we'd like an article that explains how you figured out the tasks at hand and executed them correctly, rather than a litany of errors followed by an account of how you bailed yourself out.
The possibilities for how-to articles on individual projects are limitless—our readers like to learn how to make their own tools, spars, oars, rudders, tillers, grabrails, hatches, hanging lockers, hardware, and more. They're also interested in learning how to repair their own boats and in exploring not only the methods, but the economics, too.
We welcome general-interest material on types of boats or on particular boats as long as substantial detail is available. This material could focus on the evolution and impact of the craft, as well as its construction. Other general-interest material could include features on boatbuilding schools, cooperatives, the evaluation and analysis of products, materials, tools, books, and more.
We're interested in the use of wooden boats as well. We'll consider information about seamanship, rigs, and uses for types of boats (who's found the perfect pocket cruiser?). We do not publish fiction or poetry, and our acceptance of cruising tales is rare; we just don't have the space.
News Material
"Currents" is a column of news and short articles published in each issue of WoodenBoat magazine. "Eclectic" best describes its contents, which run the gamut from straight news concerning all aspects of wooden boat construction and ownership to news about museums, magazines, books, organizations, events, maritime preservation and politics, interesting products, tools, and people.
"Currents" is edited by Tom Jackson, who obtains his information from various sources. Few of these sources are professional journalists; most are enthusiasts who enjoy sharing news about the goings-on in their area.
The best way to contribute to "Currents" is to send a short query. Following that, we may request a finished report, or research the topic ourselves; the approach depends on the nature of the story. For the initial contact, the "who, what, when, where, and why" are sufficient. You may submit notes, letters, news clippings, tear sheets, brochures, or anything that clarifies the topic. Because of space limitations, succinctness is an imperative. Photographs and line art are helpful but not necessary.
All material is credited to its source, and published contributions are acknowledged and paid for upon use. Payment is based on the form and complexity of the submission. For example, we pay $5 for a newspaper clipping; $10 to $15 for a newspaper clipping with a few words of comment from the contributor; $20 to $25 for a moderately detailed report. Short features are paid for on a per-word basis. Photographs and line art are paid for at the rate of $15 apiece.
Boat Designs
We seek all manner of boat plans (traditional and radical) for our "Designs" column. If you would like to have your work considered for publication, please send reduced photocopies (8 1/2 x 11″ or 11 x 17″) of the complete drawings, specifications, and designer's commentary to Mike O'Brien, Designs, here at WoodenBoat.
As we cannot return unsolicited material, please do not send us your original drawings. Plans that we don't publish immediately will be placed in our files for future consideration.
What to Send
Text
Most of our articles run from 1,000 to 4,000 words. We prefer that your initial query be short (500 or so words) description of your article. If you've completed a lengthy manuscript, please send it via postal mail, as our submission form is limited to 2,000 words. If you mail material to us, please know that every reasonable care is taken with contributions, but we are not responsible for damage or loss of your material. Keep a copy of your manuscript, and a list of all submitted material. Be sure to enclose a return envelope with sufficient postage if you wish us to eventually return your material.
Photos
We like to see a sampling of images when you send us an article proposal.
Generally, when evaluating photographs, we consider how well a photograph tells the story, as well as its basic composition and design. If you're taking your own photos of a project, plan them carefully to be as clear and instructive as possible. Think picture-on-the-page when you look through the viewfinder. Shoot only what you want your readers to see—move the patio furniture, hoses, garbage cans, cars, and smiling relatives. If you're photographing the whole boat, be sure the bow doesn't get lopped off—or the top 6″ of the sail. If you're shooting on the water, take care to keep the horizon level so the boat and the ocean aren't going uphill. Many of the beautiful photos you see on the pages of WoodenBoat were taken by amateurs who paid attention to these kinds of details.
If you have old photographs that complement a historical article, we'd like to see them (or clear scans of them), even if the quality isn't top-notch. Our graphics department can work wonders sprucing up copies of antique photos.
Be sure your name and address are on each slide or photo. And please tell us the name and address of the person who took each photo so that we can give credit properly. We are not responsible for loss or damage; therefore, non-digital photographic material should be sent via certified or registered mail to minimize the risk of loss or damage in transit. If you would like any special precautions taken with the handling or return of your material, please make these arrangements with our Art Director.
If you don't have photos or drawings to illustrate your article, don't give up. We work with a number of talented photographers and illustrators who are happy to take assignments.
Your Biography
We would like to know about you. Tell us what you do, what current project you're involved in, what you plan for the near future that might be of interest to WoodenBoat readers—whatever you wouldn't mind seeing in print about yourself.
What Happens Next
It takes us a lot of time to consider all the material that comes into our office each day. We have a relatively small staff, and the task of reading through each manuscript takes time if it is to be carefully considered. We will acknowledge receipt of your editorial submission soon after its arrival, but we beg your patience until a decision can be made. Once accepted, articles may have a lengthy wait before being published. Because we are a bi-monthly, we must plan issues well in advance. We ask that you bear in mind the possibility of delays of up to eight months (if not more) before publication of some material.
When we've decided to publish your article, we'll ask you to sign a copyright statement. Copyright laws require that we obtain written permission from authors for the use of their material. This provides protection for you and grants us first world serial rights to your material.
Payment
Payment for articles is made on publication. We will send you a check, any original art, and a copy of the new issue as soon as it is available. The following are our usual rates:
Feature Text
$250–$300 per 1,000 words.
Photos
Color — Cover $350, Full page $125, 3/4 page $100, 1/2 page $75, 1/4 page $50, Spot $25.
B&W — Full page $75, 3/4 page $60, 1/2 page $45, 1/4 page $30, Spot $15
Professional Drawings and Illustrations
Depending upon the size and complexity of the work, payment for drawings ranges from $50 to $400.
Where to Send it All
We do not accept article proposals by e-mail.
All submissions should be made via the website submission form
or mailed to: Editor, WoodenBoat, P.O. Box 78, Brooklin, ME 04616
Material directed to Mike O'Brien (Designs) or Tom Jackson (Currents) or Delaney Brown (Launchings) can be flagged with their names.
Don't forget to put your own name and address on each piece of material, and please enclose a return envelope with sufficient postage.
If you are inclined toward writing or reporting, and understand the objectives of WoodenBoat, we hope you'll share your ideas with us.