March/April 2015, Issue 243

WoodenBoat Magazine

The Canvas Deck Bucket Revisited
The Snekke — Norway's timeless motor launch
Henry Barkhausen — A Great Lakes mariner remembers
A Strip-Built Baidarka, Part 2
The Boats of Nikos Daroukakis
Sponges, Bailers, Buckets, and Pumps
Two Schooners at Nova Scotia's Dory Shop
Dropping the Board — Living with a different kind of pivot pin

The March 2015 Issue of

Small Boats Monthly

An on-line magazine crafted especially for those who store and maintain their boats at home.

The International 12-Foot Dinghy
The Færder Snekke racing workboat from Norway
A Spring Solo Cruise in a Garvey Box
Reader-built boat, an Iain Oughtred Wee Rob
Small-Boat Rigging on a Shoestring, Bugout Screen Room Tarp, and Concealer safety goggles

Newsstand Only Special Issue

Small Boats 2015

A guide to trailerable small craft you can store and maintain at home.

High-performance dinghy, family daysailer
A McKenzie-style drift boat
A charming house and camp boat
A nicely mannered rowboat
The smallest of K. Aage Nielsen's double-enders
A sail-and-oar boat in the style of Arthur Ransome
A high-performance expedition boat
Welcome!
You are now logged in.

ADVERTISEMENT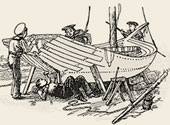 WoodenBoat magazine contributors write a series of blogposts.
Read the latest "My Six Cruising Sailboats—#6 IBIS" by Reuel Parker.
WoodenBoat Master Builder
Video Series
How to Sharpen Hand Saws
Featured Launching
Guy Seay Jr., his wife, Sue, and sons, Michael and Eric, all had a hand in building SUE SEAY Q...