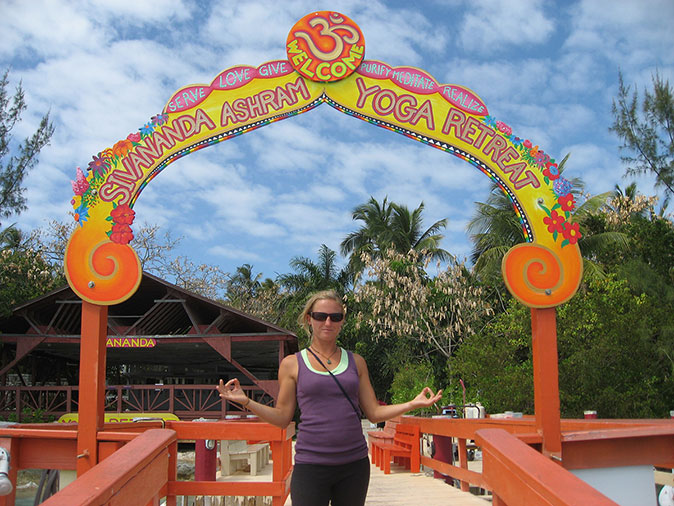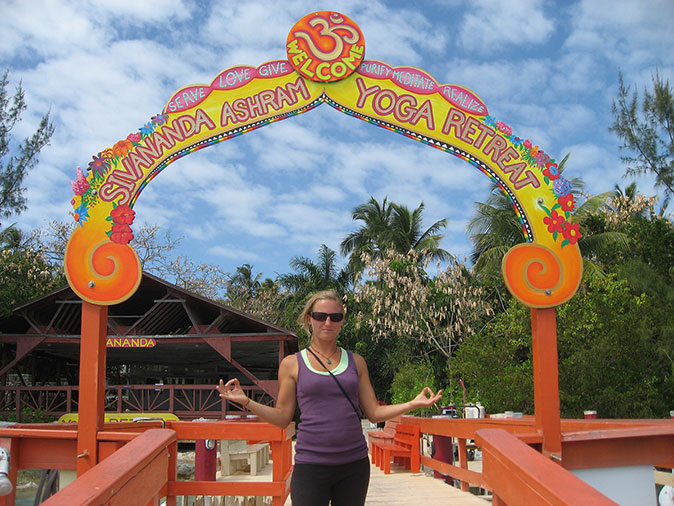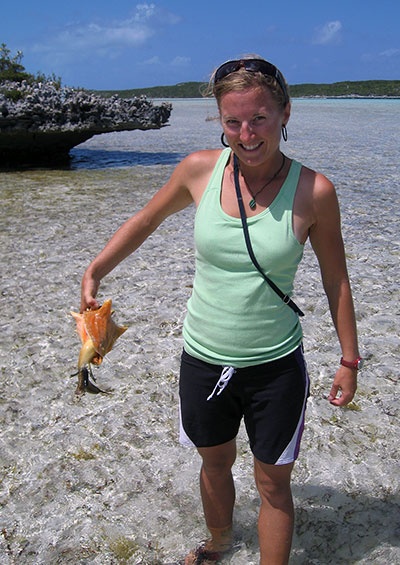 When I first sailed to the Bahamas in early 1981, I was intrigued to see that there was a yoga retreat in Nassau, on Paradise Island, right off the busy main harbor. I have been practicing yoga since the early 1970s, and firmly believe that it is one of the most important things one can do to promote good health—both physical and spiritual. If Yoga were taught in all schools, to children of all ages, the world would have healthy, spiritual people in it instead of… what we have now.
In my last cruise to the Bahamas, in early 2012 in my sharpie schooner IBIS, I sailed with a young woman athlete (as first mate) from western Canada. I found Joee Sym through a worldwide organization based in Australia, called "Find-a-Crew.net." This is a service to sailors of every stripe, from cruisers like me to commercial charter captains and professional crew.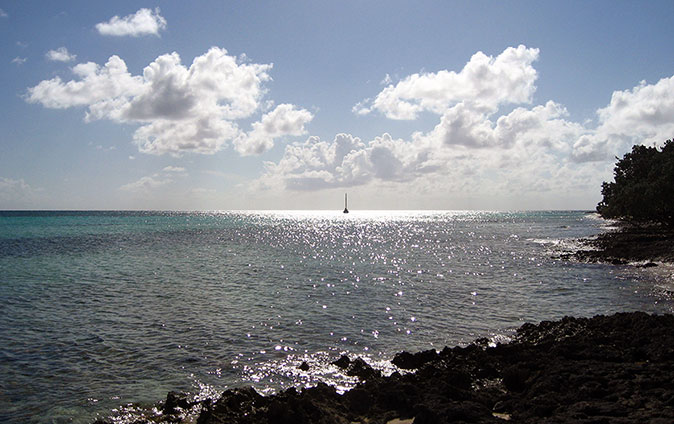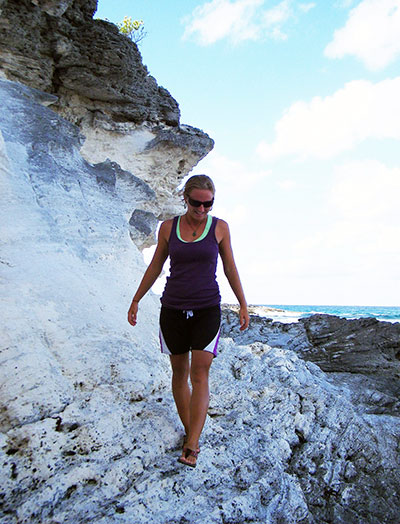 Quite frankly, I don't have much faith in "on-line" personal services of any kind, and was thus very pleased to learn that "find-a-crew" was different. I really lucked out to find Joee, who was a great sailor, humble about her remarkable prowess in many areas (she has been everything from a dog-trainer to an Australian pearl-diver). She is a mountain biker, snow boarder, rock climber, skin diver, and seems to have no fear, yet is tempered with good judgment.
Probably due to generation gap, culture gap, being from different countries, to say nothing of dietary differences (Joee is a vegetarian who eats fish), we had some spectacular arguments. Joee would retreat to her nest in the foc's'le to think things over, and I would fear that our friendship was mortally wounded. Then she would come back, completely over it! No grudges, no recriminations! This, in my opinion (having had more experience with many different women than the average man could ever imagine) made her a living, walking miracle.
Because I cook and eat a lot of vegetarian food, Joee and I had excellent meals throughout our cruise—we took turns cooking—and while she gained five pounds, I lost five pounds! I taught her to clean and prepare conch—essentially giant snails—and she never even flinched at the slimy processes involved.
We sailed IBIS to Bimini, where we cleared customs and immigration, thence to Andros (the largest Bahamian island, and sixth largest in the whole Caribbean). We navigated the Bights of Andros together and crossed "the Tongue of the Ocean" to the Exuma Banks, visiting the tiny, remote Green Cay on our way. I have always been curious about this uninhabited island, over 30 miles from the nearest land. We found it inhabited by hundreds of goats! Anchoring was a challenge, as there is no protection from the powerful trade winds, nor from the seas and swells generated by them. We spent a restless night rolling hard before continuing to the Exuma chain of islands the following day.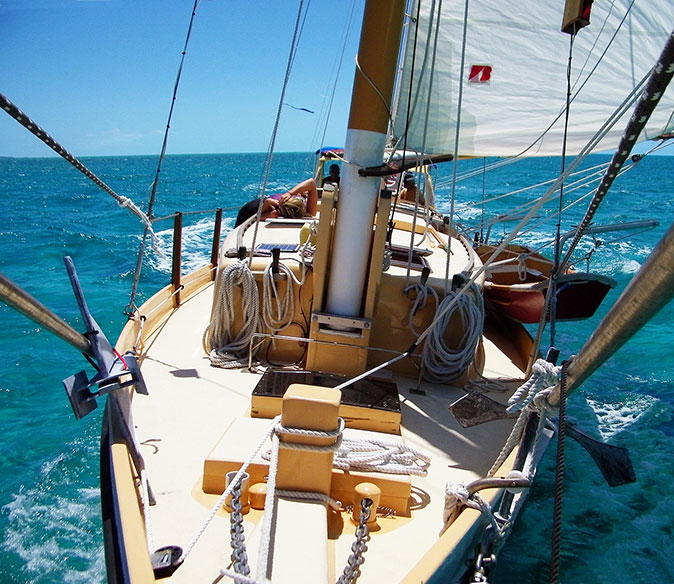 The Tongue of the Ocean is a very deep, large body of open water, famous for rough seas and strong winds. IBIS, being a true flat-bottomed sharpie, pounded hard on her way across, motorsailing very close on the wind under reefed fores'l, at seven knots in 30 knots of wind and seven- to eight-foot seas. This didn't bother Joee at all—I think I was much more uncomfortable than she was. I realized that this was a woman you could sail anyplace with—cross any ocean—and climb any mountain too!
We sailed down the Exuma Chain, stopping at Staniel Cay, Little Darby and Lee Stocking Island, and arrived at George Town, Great Exuma, which would be our "home base" for the next few weeks. I had friends joining us—Tony Bianco from New York City, and Carolyn Giordano from South Florida—both avid, life-long sailors.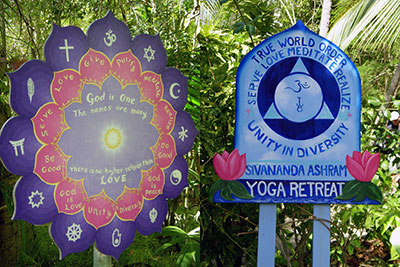 While waiting for them to arrive, we sailed down to the bight of Long Island, and cruised that pristine, unspoiled coast for a week. We even met "the Mayor of Joe's Sound"—a story I will save for another blog. With the Mayor's help, we caught lots of fish, and gathered conch and spiny crayfish (Bahamian lobster), and ate like royalty!
Departing from George Town, with Tony and Carolyn on board, we made a leisurely cruise back up the Exuma Chain, cruising in the protected calm waters behind the islands in idyllic conditions—what the natives call "clean, sweet wind."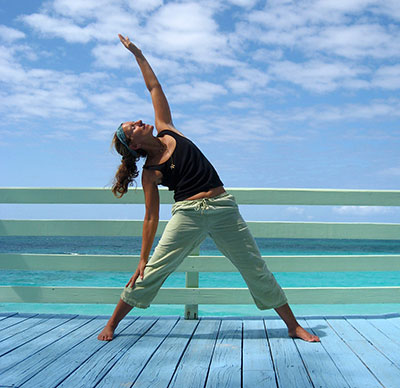 We eventually arrived in Nassau, where our guests would depart to fly back to the States—and their respective jobs. But first, I sent them to visit the world-famous Sivananda Ashram Yoga Retreat, which Joee and Carolyn—both avid Yogis—were dying to see.
Joee and Carolyn took the small ferry from Nassau to Paradise Island—and the Ashram. It is a strange paradox that a place as serene and spiritual as Sivananda could coexist with one of the most repulsive (to me) and garish icons anywhere on earth (the nearby hotel)—but perhaps that just goes to show that "paradise" means many things to many people!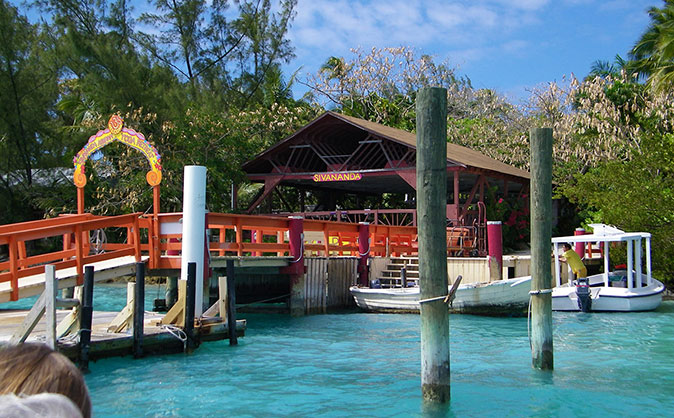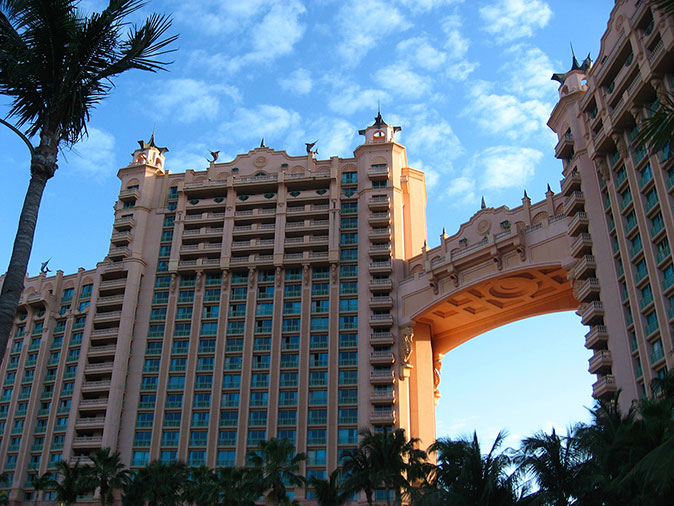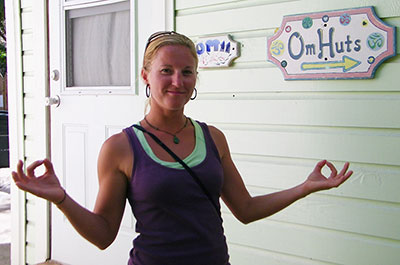 We said sad goodbyes to Tony and Carolyn, and Joee and I set sail for the west. For years I had been told that there was a possible passage across the top of Andros Island, in extremely shallow water, with ever-shifting sand bores and vanishing channels. We spent several days running hard aground, being rescued by local natives who gave sincere but confusing advice, and visiting remote settlements that were as far off the beaten track as you can get within 100 miles of Miami. And we found the passage, though I doubt very much that I could ever find it again!
11/20/2014, St. Lucie Village, Florida