Seventy-six years of fish and fun

What Is a "T-boat"?
The U.S. Coast Guard and American commercial mariners often refer to fishing party boats, along with other small passenger vessels (SPVs), as "T-boats" because they are inspected and certified annually under the provisions in Subchapter T, of Title 46 (Shipping) of the Code of Federal Regulations. Except in rare instances, T-boats may not exceed 100 gross tons displacement and must carry fewer than 150 passengers. Vessels carrying six or fewer passengers are uninspected vessels, not T-boats. —RP
Capt. "John-O" Potter has a twinkle in his eyes. He stands in the tiny wheelhouse of his party-fishing boat, SKIPPER, and reaches overhead with his left hand for the horn cord.
"Watch this," he says, and pulls on the cord.
The 76-year-old air horn bellows.
"Let's go fishing," he calls from the open door of the wheelhouse.
A cheer rises from 15 nine-year-olds gathered with a few parent chaperons on the foredeck.
"Fishing," they chorus as they fist-pump the blue sky.
The crew of novice "sinker-bobbers" is a Little League baseball team from the Massachusetts island of Martha's Vineyard. They have come aboard the motor vessel SKIPPER for a bottom-fishing adventure to celebrate teammate Milo Sullivan's birthday. This is the boys' fifth year in a row aboard SKIPPER for Milo's birthday.
SKIPPER is what fishers commonly call a "party boat" and mariners call a "T-boat" (see sidebar, page 55). She can carry 38 passengers and a crew of two. Like the birthday boy's family, groups can charter SKIPPER for special occasions, but the boat mostly earns its bread and butter carrying individual anglers who pay $70 apiece (less for kids) for four-hour fishing excursions. SKIPPER supplies rods, bait, bags for the catch, and instruction. You bring your own food and drink.
"The kids can't get enough of the SKIPPER and Capt. John-O," one of the mothers tells me. "When you live on the Vineyard, you know a lot about boats and the people who run them. And everybody on this island knows this is a great scene."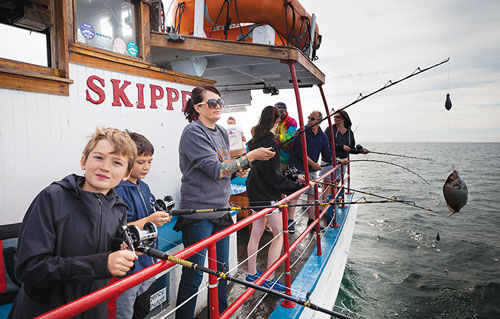 If you have ever visited Martha's Vineyard, the summer resort island about 5 miles off the south coast of Cape Cod, you have likely seen John-O Potter and his tattooed mate, Garreth Heath, along with a gaggle of happy bottom fishers twitching their rods as SKIPPER drifts with the tide off the point at East Chop or sits tied up along the seawall on the harbor at Oak Bluffs. But maybe you have never given SKIPPER and these party fishers a second thought because Martha's Vineyard has a lot of eye candy for boat lovers. There are the Black Dog tall ships SHENANDOAH and ALABAMA and the custom schooners built by Gannon & Benjamin Marine Railway, moored in Vineyard Haven Harbor. Every summer a host of gleaming wooden sailing and motor yachts gathers at the Vineyard to bask in the renaissance of wooden boats rooted here. Sleek J-class racing yachts from the 1920s and former AMERICA's Cup 12-Meter contenders are regularly part of the summer scene. More than a dozen medium-sized schooners and sloops designed by the likes of Alden and Herreshoff are permanent residents along with a Bristol-kept collection of wooden ketches, yawls, catboats, and motor launches.
Amid such thoroughbred glitz, an old workhorse such as SKIPPER could get overlooked. But she'll leave an impression if you ever meet John-O Potter or stop to consider his boat's pedigree. According to the saltwater fishing website called Mike's Maritime Memorabilia (www.mels-place.com), SKIPPER, dressed up in her red, white, and blue paint scheme like one of the many Victorian summer cottages in Oak Bluffs, is the oldest continuously operating party-fishing vessel in the United States.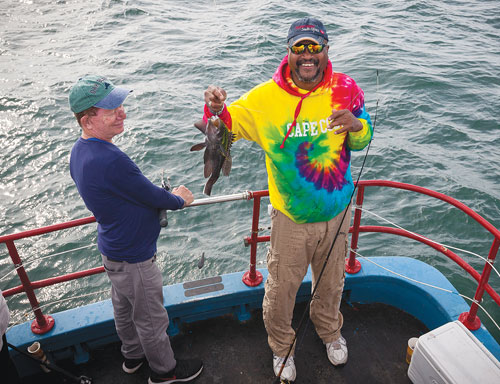 Capt. John Zeigler of New Brunswick, New Jersey, laid SKIPPER's keel in 1938 and launched her from the shores of the Raritan River in 1941. SKIPPER's second owner, Capt. Dom Vitolo of Belmar, New Jersey, says that John Zeigler was a "tough old Dutchman" from the Tidewater region of Virginia on Chesapeake Bay. He and his brother, Robert, grew up building backyard workboats on the shore of the Bay with their father. But the Zeigler boys wanted something different from their father's life as a waterman-boatbuilder and decided to move north to the New York City metropolitan area, where they might build a boat to carry paying "dudes" on daily fishing excursions along the coast of northern New Jersey's beach resorts.
The Zeiglers' first effort at building a party boat was Robert's DIANA. But seeing a burgeoning demand for seasonal party-fishing adventures among vacationers flocking to the Jersey Shore to escape summer heat and the financial hangover of the Great Depression, John decided to gather up a cache of wood and build a party boat of his own. He was 31 years old when he laid SKIPPER's keel three years before the United States entered World War II.
"A lot of blood, sweat, and tears went into this boat, Capt. John told me when he sold me the SKIPPER in 1976," Dom Vitolo recalls. Zeigler said that when he finished his boat he was "down to 130 lbs of bone and muscle." He took all his energy and everything he had learned about boatbuilding from his father and put it into a workboat that he hoped would last a lifetime. At 44′ long, 12′ 6″ wide, and registered at 14 gross tons, SKIPPER is small by today's party-boat standards. But what she lacks in size, Zeigler made up for in the uncompromising quality of the materials and his high standards for construction.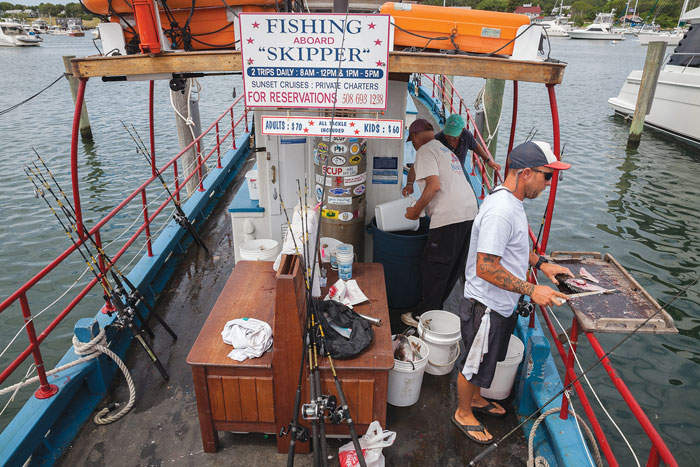 Zeigler bought the best wood he could find, choosing mahogany for planking, white oak for framing, and fir for decking. Then he married these materials with the "rack o' eye" method of construction he had learned from his father on the shores of tidewater Virginia. Like generations of Chesapeake Bay–born builders before him, Zeigler worked without plans to build his hard-chined, V-bottomed party boat in the manner of the deadrise workboats he and his father had constructed.
He added strength by using techniques he had learned while working on stout Virginia "buyboats," built to carry tons of oysters from the fishing grounds to the shucking houses. Instead of the typical cross-planked bottom of Chesapeake deadrise workboats, Zeigler used long runs of fore-and-aft 1¼″ x 4″ mahogany planking, as he'd seen in the strongest buyboats. He overbuilt the hull with 2′ × 2½″ oak frames on 12″ centers (6″ centers in the flared bow), and 3″ × 5″ chine logs. Then he fitted knees to reinforce almost every corner. Instead of boat nails, he fastened the planks with first-quality galvanized-steel screws and bolts. During SKIPPER's annual Coast Guard inspections, many of the original screws still show their galvanized coating after more than 70 years.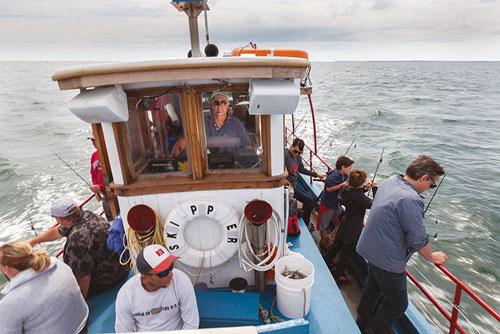 "Capt. John Zeigler was 69 years old when he sold me SKIPPER," Dom Vitolo says, "and he still loved his boat. The first two years I owned her, he was there fishing with me almost every day, passing on a lifetime of knowledge about the boat and party fishing. No question, even though I owned the SKIPPER, John was still the captain." Vitolo understood that Zeigler was passing on his legacy along with SKIPPER. That legacy came with stories.
SKIPPER is a war veteran. Zeigler barely got his new boat launched from the shores of New Brunswick, New Jersey, on the Raritan River when the United States entered WWII. After the Japanese attacked Pearl Harbor, the United States Coast Guard Reserve began a campaign to enlist private workboats and yachts for picket duty along U.S. coastlines, particularly to counter the waves of attacks (see popup, "Operation Drumbeat") on shipping by German U-boats along the East Coast.
Thousands of private vessels entered national service in 1942 (see popup, "Hooligan Navy,"). Zeigler and SKIPPER were among the first to join the war effort. Almost instantly, SKIPPER got a flat-gray military paint job, a 50-caliber machine gun mounted on the forward deckhouse, a couple of small depth charges, and a powerful ship-to-shore radio. Instead of SKIPPER painted on her transom, the newly minted picket boat had "CGR 3001" emblazoned in large, white script on her bow. Zeigler and SKIPPER served throughout the war as part of the U.S. Naval District 3 Coastal Picket Force in the New York area, running anti-submarine patrols out of inlets in northern New Jersey. During the final years of the war, SKIPPER's base was Pier 18 in New York Harbor, where she led tankers in and out of their anchorages.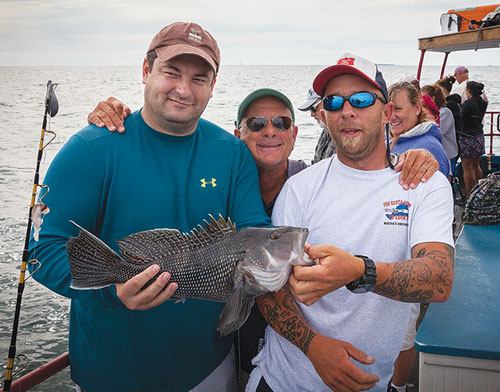 As far as anyone knows, SKIPPER never fired a shot or dropped a single depth charge in combat, but she had her moment of glory. One February day, she was standing by in the harbor when the tanker PAN CLIO rammed the bow of the tanker SPRINGHILL, which was fully loaded with high-octane aircraft fuel bound for Europe. Almost immediately, SPRINGHILL burst into flames from stem to stern. Her crew of about 90 began leaping overboard. Despite the raging flames, Zeigler maneuvered SKIPPER right under the port quarter of the burning tanker. Before the flames got too hot and the spilling gasoline caught fire all around them, SKIPPER plucked more than 35 men from the water. Although he was praised by the commander of the Naval District 3, Adm. Stanley Parker, for his "zeal, courage, and efficiency," Zeigler never felt like a hero. For the rest of his life he lived with the haunting memory of the screams of the oil-soaked men he could not save from the fire on the water.
By the time SKIPPER returned to civilian life in 1945, she had become a familiar, comforting sight to the citizens of her homeport, the beach resort of Belmar at Shark River Inlet. As soon as Zeigler mustered out of national service, he hung up his "party fishing" sign on a piling next to SKIPPER's berth.
From 1946 until 1976, Zeigler and SKIPPER never missed a season, carrying sinker-bobbers from May through October out of Belmar. Each winter Zeigler hauled SKIPPER to perform preventive maintenance and upgrade her for Coast Guard inspections. In 1950, he felt the pressure from Coast Guard inspectors to convert from explosive gasoline to safer diesel power. Working with his mate, he hoisted the pilothouse off the deck, winched out the Palmer gasoline power plant, and replaced it with a war-surplus 6-71 Detroit diesel, the ubiquitous engine that had powered everything from tanks to landing craft during the war.
Zeigler sold his party boat to Vitolo in 1976. Just as Zeigler had hoped when he laid the keel in 1938, his "little SKIPPER" had lasted him his entire professional lifetime, provided his family with a good living, caught a lot of fish, and given thousands of fishers hours upon hours of fun.
Under the care of Vitolo, little SKIPPER soldiered on. During summers, she made two or three trips a day out of Belmar to fish the wrecks and rock piles for black sea bass and fluke. But at only 44′; overall and capable of only 9 knots, SKIPPER became an anachronism amid the growing fleet of fast, 65′–75′ party boats built of steel or aluminum. "I loved that little boat," Vitolo says, "but I had to have a bigger, faster boat to compete."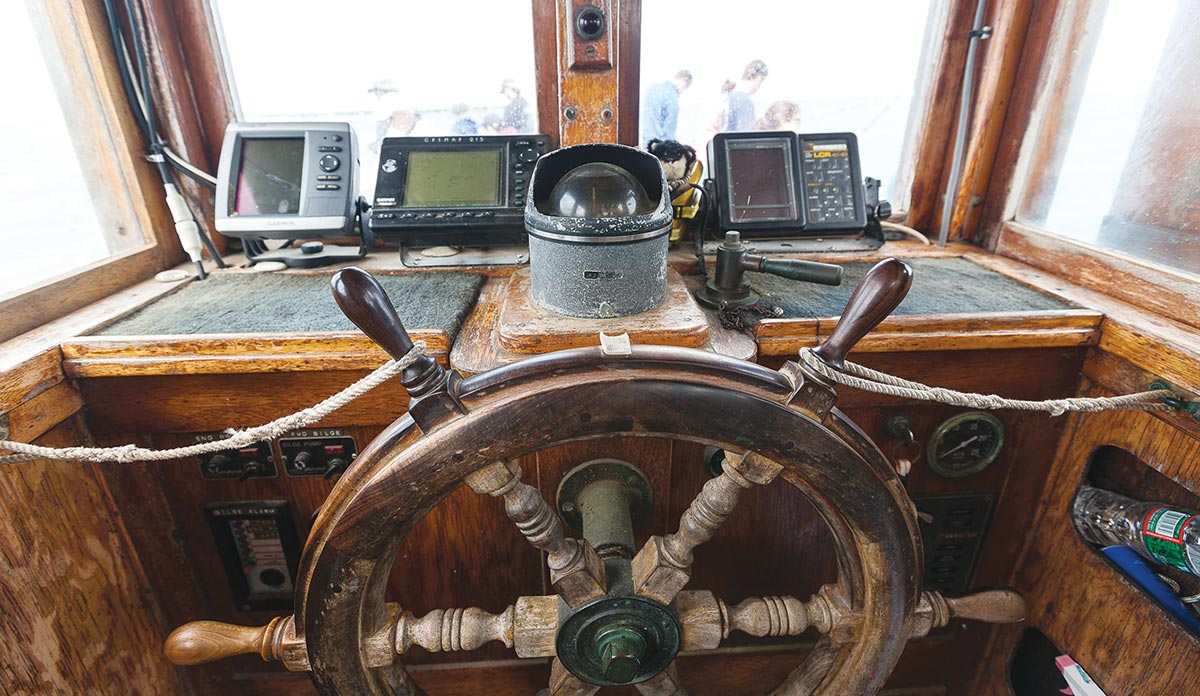 He sold SKIPPER for a bigger boat in 1985, and in 1989 she came up for sale again. She just couldn't compete in the Jersey Shore party boat arena anymore. Although in great shape, SKIPPER might have ended up moldering away as one of the beached wrecks of tugs, ferries, fireboats, and other working craft at New Jersey's infamous "Arthur Kill Ship Graveyard" near Staten Island. But before that happened, John-O Potter and a friend, Todd Alexander, found an advertisement offering SKIPPER for sale in the periodical Boats & Harbors.
After spending his youth adventuring in Southeast Asia, Europe, the Florida Keys, and the Caribbean with his treasure-hunting father and like-minded nautical wheelers and dealers, Potter wanted to settle down on Martha's Vineyard, earn a predictable salary, fall in love, and raise a family while doing what he knew and loved: running boats and fishing. The ad for SKIPPER called to him and Alexander. Here was a party boat whose small size and classic looks would mesh perfectly with the Victorian-era "gingerbread" architecture of the Vineyard's resort town of Oak Bluffs and its diminutive harbor.
SKIPPER had found her third career. No longer did she have to brave the harsh seas of the Shark River Inlet or compete with the large, fast, modern party boats. She could retreat to the Vineyard where the season is shorter, the seas calmer, and the fishing usually within 3 miles of her new home port. As the years passed, Alexander went on to pursue other ventures while Potter devoted himself to SKIPPER—which has thrived. In 2017, SKIPPER and Potter are still carrying hosts of sinker-bobbers and still landing sea bass, scup, fluke, and sometimes bluefish and striped bass.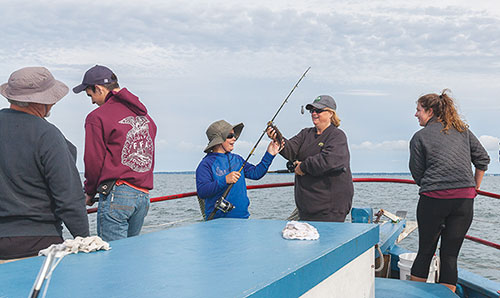 "SKIPPER has become a Vineyard icon," says boatbuilder and designer Nat Benjamin of Gannon & Benjamin Marine Railway, who hauls and maintains the boat in the off-season.
She has introduced visitors from all over the world to the joys of bottom fishing. Both average Joes and Joannes as well as the rich and famous plunk down their dollars for an adventure aboard SKIPPER. The boat's website (www.mvskipper.com) shows a picture of John-O Potter with Jimmy Buffett. When pressed, SKIPPER's mate, Garreth Heath, will admit that the likes of Jackie Onassis, Ted Kennedy, and their tribe have walked the decks of SKIPPER. Rock n' rollers such as Lou Reed and Sting have been aboard as well—in addition to too many professional sports celebrities and Hollywood types to name.
"People just love that boat," Benjamin says. He adds that it is not just the enthusiastic patronage and Potter's fun-loving personality that keeps SKIPPER going. He says that Zeigler's choice of high-quality materials and strong construction have played key roles in the boat's long working life. He also notes that constant use and a regular maintenance schedule have added to the vessel's longevity. After 67 years in SKIPPER, the war-surplus 6-71 Detroit diesel still keeps on chugging away.
Today, the low rumble of that engine adds a staccato undercurrent to the excitement aboard. Milo Sullivan and his Little League teammates are having a "slammer trip," hauling aboard too many fish to count.
"Fish on, right there!" Potter is out of the wheelhouse pointing at the taut line that is just now bending the tip of the birthday boy's rod.
"Oh, this is going to be a keeper." The captain's voice breaks with enthusiasm for the catch.
With the help of the mate Garreth, Milo reels in his catch.
"I think you've got Jaws," one of his teammates says.
"Cool!" Potter shouts as if he's nine years old all over again.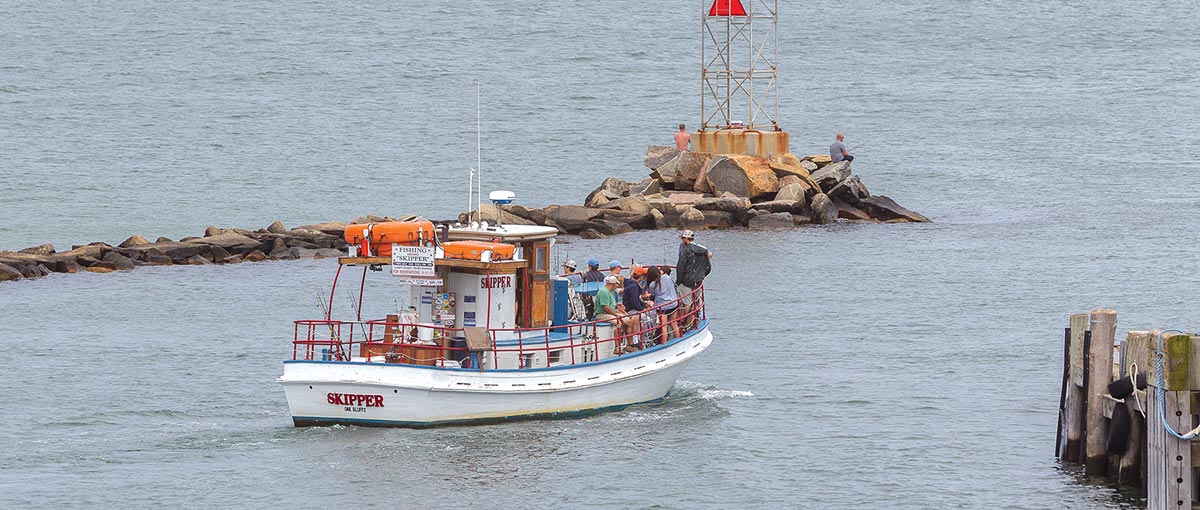 Of course, Milo has not caught a shark, although everyone knows that the Hollywood thriller Jaws was filmed right here on the Vineyard in 1974. Milo's fish turns out to be a scup, and about the size of a dinner plate.
"Wow, world-class scup." Potter actually sounds amazed, even though he has probably witnessed such a catch 20,000 times. "Somebody take a picture. You may want to mount this fish!"
The birthday boy beams as he hoists his catch aboard. After Garreth removes the hook, one of the Little Leaguers grabs the scup and holds it up to Milo's face.
"Kiss the fish," he urges, "Kiss the fish."
The rest of the team picks up the chant. "Kiss the fish. Kiss the fish." It seems they are playing out a good-luck ritual that has emerged over years of fishing like this aboard SKIPPER.
Milo has a big, broad smile on his face as he considers puckering up and moving in on the scup for a smooch.
The entire ship's company is smiling and laughing, too, including Potter.
"Ask me why I've been doing this day in and day out every summer for 28 years on this antique," he says. Then he answers his own question. "This is as good as it gets."
His left hand grabs the horn cord and tugs. The horn hoots. It sounds like victory.


---
Randy Peffer is a regular contributor to WoodenBoat. His latest book, Never to Return, The Mystery of the Worst Combat Loss of the U.S. Coast Guard, came out in October 2017 from Lyons Press.
Further Reading and Viewing
U.S. Coast Guard history website, www.uscglivinghistory.com
The Beach Patrol and Corsair Fleet, by Dennis L. Noble, online at www.uscg.mil/history/articles/BeachPatrolCorsairFleet.pdf
The Hooligan Navy (The Corsair Fleet), a film available for downloading from the National Sailing Hall of Fame website (www.nshof.org)