The classic catboat, as dinghy
From WoodenBoat magazine No. 262, May/June 2018: STRAY is a yacht tender dressed up as a Cape Cod catboat. The boat will move through the water with ease whether loaded or light. She'll be a bit tippy initially, due to her U-shaped sections, but will firm up as she heels.
Particulars
LOA: 8′6″ (2.6m)
Beam: 4′3″ (130cm)
Draft: 8″–24″ (20–60cm)
Displacement (one crew): 290 lbs (132kg)
Weight (no crew), incl. rig: 105 lbs (~48kg)
Sail area: 45 sq ft (4.2m2)
Prismatic coefficient: 0.62
A single-part halyard and a single sheet will make rigging and sail handling a breeze.
The oval coaming is a distinctive trait of New England catboats, and it will give STRAY a snug and secure feeling. It will also help to direct feet to the middle of the boat when people step aboard. The oars travel outboard of the coaming when the boat is under sail, and they are stowed in the cockpit, overhanging the stern, when she's being towed.
While a standing lug would be the simplest rig for a tender of STRAY's size, the simple gaff rig shown here is a signature catboat trait.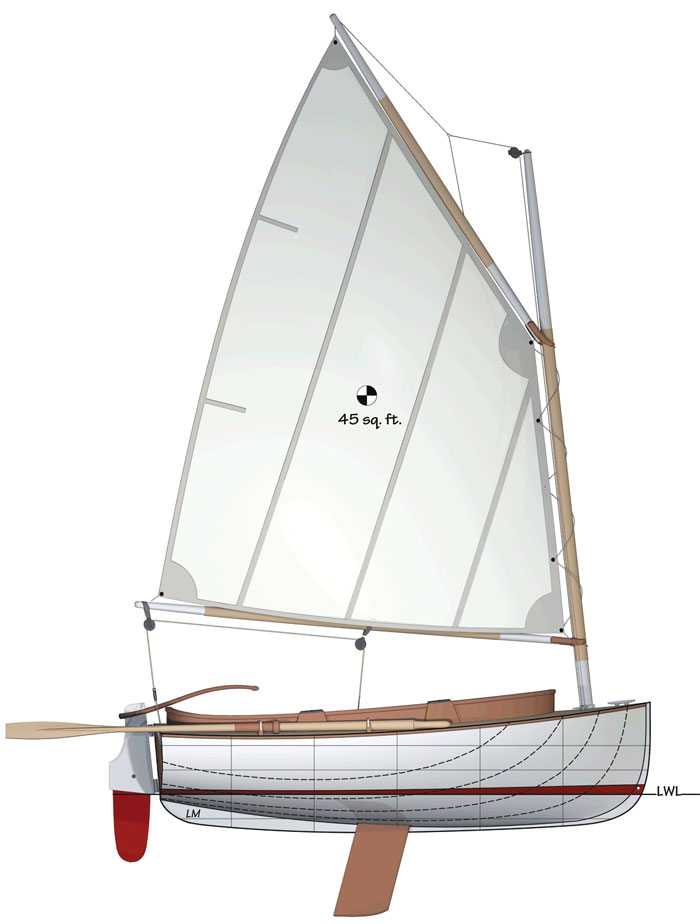 ---
Laurie McGowan is a Nova Scotia–based boat designer with a diverse on- and below-water work history. He specializes in energy-efficient commercial and pleasure boats. More of his work may be found at mcgowanmarinedesign.com.
Design Sketchbook appears in every issue of WoodenBoat. McGowan takes readers' ideas of their ideal boats and designs a vessel to those specifications. Do you have a boat concept you'd like to see Laurie McGowan develop? If so, send it to Sketchbook, WoodenBoat Publications, P.O. Box 78, Brooklin, ME 04616, or email it to sketchbook@woodenboat.com. Your letter should be no longer than 500 words.