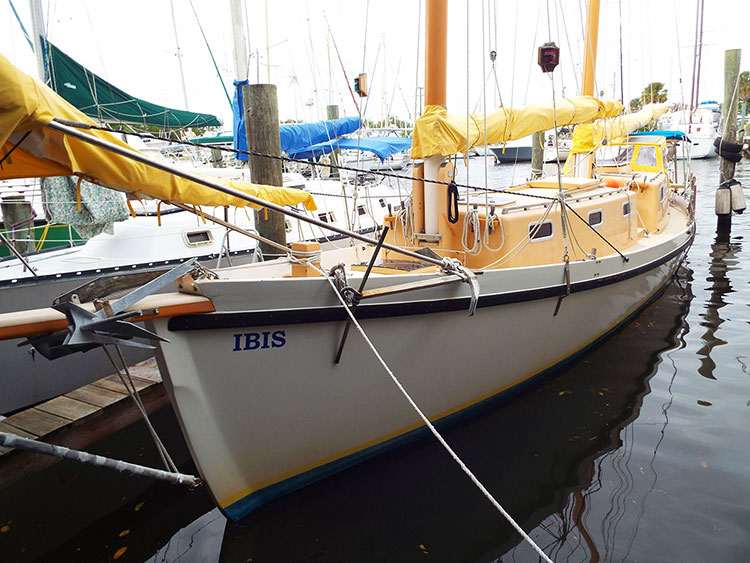 Sunday 12/06—I left my comfortable anchorage off Fort Frederica, Georgia, at 0800 and returned to the main ICW channel headed south. Just as you leave Georgia to enter Florida, you pass a huge industrial complex that feels very military—including ominous patrol boats that shadow you as you pass through. There is a strange structure which I have always been curious about… it looks like a degaussing range or frame for overhead track-cranes… or something. Anyone out there know?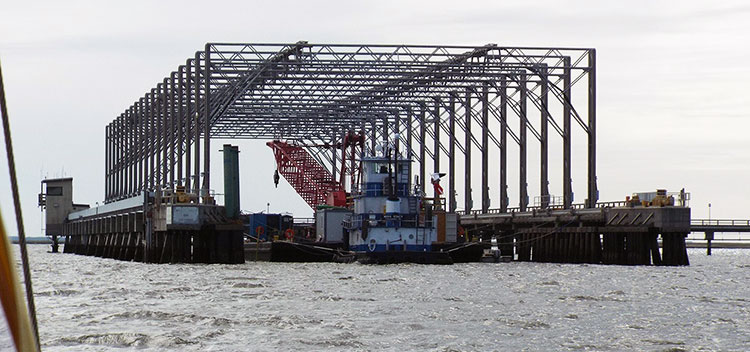 At 1340 I came to the dock at Fernandina's City Marina for fuel. Fernandina Beach is a nice small town in the very northernmost part of Florida—not too touristy and not too commercial. It has good restaurants and bars, but the nearest grocery store is a hike. My friend Tony Bianco—for whom I restored the 1965 Chris Craft Commander 27 JB—used to own a house here, where I visited him in years gone by. The industrial aspect of this part of the world includes enormous, very stinky pulp mills. There is a bumper-sticker you see in Maine that says: If you don't like logging, try using plastic toilet paper! Point taken.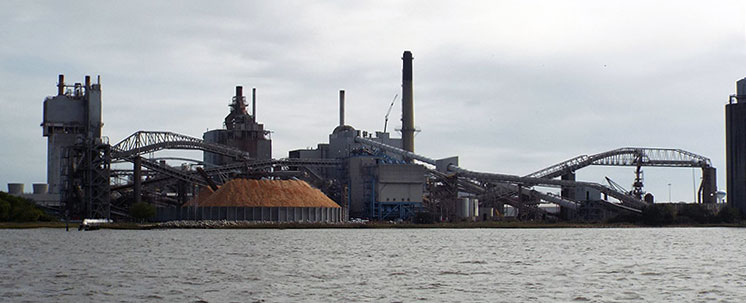 By late afternoon I was looking for a snug anchorage, as I was about to cross the St. Johns River at Jacksonville, and knew I wouldn't find a place around there, especially in the dark. All the side creeks and oxbows I used in the past would not accommodate IBIS 's draft with her board stuck down, so I found a likely new place to try called the Fort George River. I anchored near the ICW at first, didn't like it, and worked my way further in to see if I could find more protection and shallower water. I finally anchored off a colonial-looking group of buildings, which turned out to be the Kingsley Plantation, surrounded by the Timucuan Preserve—really a very pretty place, quiet and isolated.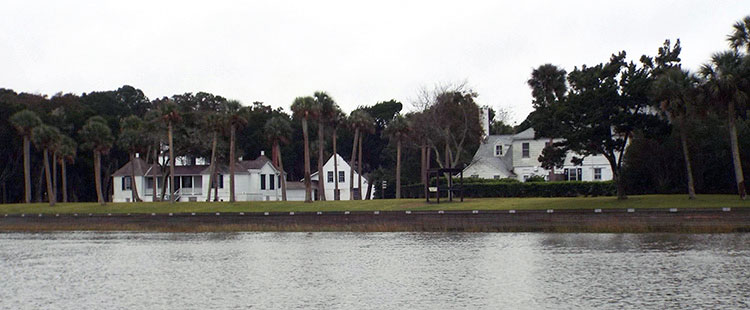 I was glad for the protected location, because the wind continued to blow harder and harder, until by 2030 it was a 30-knot-plus nor'easter, and just as cold as ever! The log says: NASTY WEATHER—NOT SAFE !
Monday 12/07 0810—Weigh anchor; cold and wet. I just kept plugging away south, and I just kept getting my ass kicked! I got to St. Augustine in time to witness two huge US Customs boats (the kind with like a dozen monster outboards on the back), a couple of unmarked cop boats, and a USCG RIB chase down a modest-looking powerboat and surround it! I got out of there fast, through the Lion's Bridge just on time for its scheduled opening (for a change), and into the long, straight stretches of ditch that span the north Florida coast. I saw the flock of rare white pelicans I have always noted there (and nowhere else).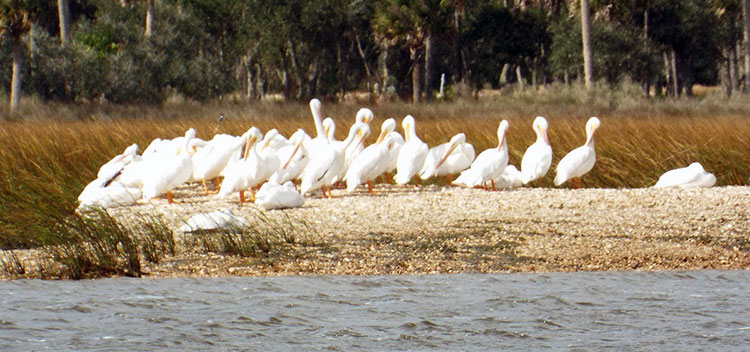 There are virtually no places to anchor along this stretch, and only a very few marinas (which I could not afford anyway). There are some open lakes and creeks to the west of the ICW, with no navigation aids and no soundings or information of any kind on the charts. I could see that small outboard-powered fishermen used some of these, and if IBIS 's board were up, I would have tried to get in someplace. Instead, I found a wide spot in the ditch and ran aground as far to the east as I could, out of the ICW channel by maybe 50 yards. I threw an anchor out and spent a restless night there.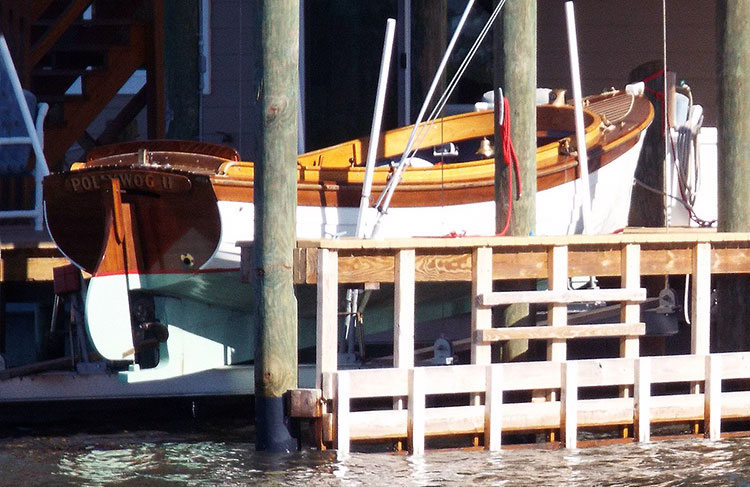 Tuesday 12/08 0825—Back on the wet I-95 running south. The nor'easter still alive and nasty. By late afternoon I was past Daytona Beach (many bridges—but they open on demand), and waiting for the New Smyrna Beach bridge to open—NOT on demand. Of course the wind and tide were both forcing IBIS toward the bridge, and I had to back and fill for fifteen anxious minutes, with two other boats in the same pickle, while we waited. By 1505 I was anchored in my old spot a half-mile south of the fixed bridge, having run aground again trying to get into the anchorage. The shoal that blocks it was not where shown on my new, updated chart…. I anchored early again because I was about to enter Mosquito Lagoon, and there would not be any good anchorages for many miles.
Wednesday 12/09 Morning—I found it was warm enough that I didn't have to wear long johns! I put on a tee shirt and stowed my Crocs and socks… but within a half-hour got a long-sleeve shirt and changed… damn! In the early afternoon it looked like rain, but was partially clear after I entered the Indian River (almost home!).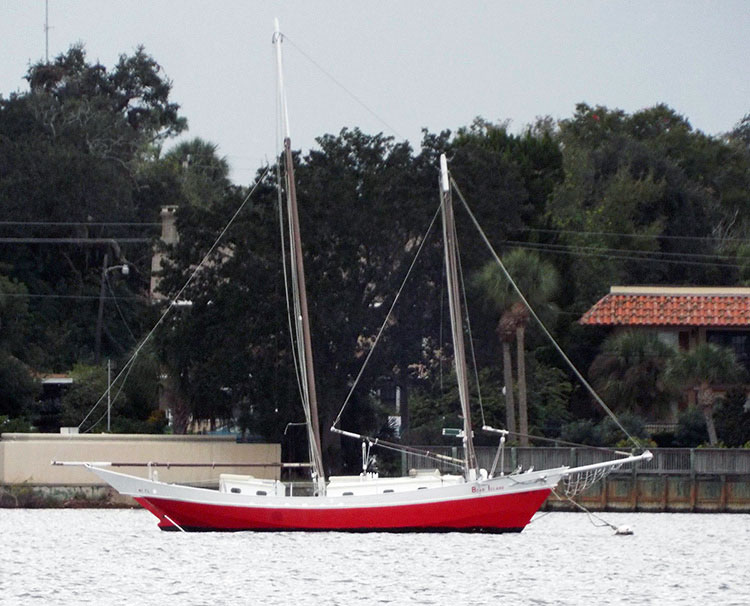 At 1710, after sunset, I anchored in my old spot off Dragon Point (the south end of Merritt Island), near a Tupperware sloop that looked European. Within minutes, an inflatable with a running British Seagull outboard came up to the boat, and a man commenced yelling and screaming at me in an unidentifiable foreign accent that I was too close to his boat! I argued with him for ten minutes (I rarely got a word in) and finally, just as the rain came in earnest, upped anchor and moved a hundred yards further away from him. Jeeze!
Thursday 12/10—I left early, and by 1545 was back in my old slip at Riverside Marina—home! Riverside was the most crowded I have ever seen it—boats rafted up in the canal—and it was a nervous obstacle course getting in with a 53-foot schooner.
The Delivery From Hell was definitely my worst experience ever running the east coast and the ICW—but this was due to miserable weather that plagued the whole trip, the broken centerboard pennant, the ruptured hot water heater, impending decrepitude (old age), and some just plain bad luck. Well… I made a few mistakes also.
The trip took twenty-five days, including three and a half lay-days. I often ran IBIS nine and ten hours a day—occasionally stressful and very tiring. Total cost for the trip (not including money spent on repairs or upgrades) came to about $1,250. This figure includes transient slip rent, food stores, diesel fuel, new chart books and meals out (rare). Repairs and maintenance came to $1,450, not counting what needs to be done in Florida.
Now—I have to restore IBIS! And the first thing she is getting is a new centerboard.
And—I have sold IBIS to a family in North Carolina, who have been following her history since the beginning. They are young, healthy sailors, with three teenagers for crew! YES!!
This is my last regular posting, as WoodenBoat has new visions for the Whiskey Plank blog, and will be including other authors on a routine basis. So I would like to say thank you to WoodenBoat, to Greg Summers (who maintains the blog), and to all our faithful readers who have been so supportive.
2/16/2016, St. Lucie Village, Florida