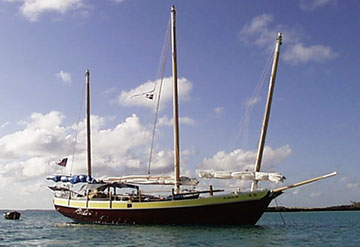 I first sailed to the Bahamas in early 1981, in my cutter FISHERS HORNPIPE. I had sailed the HORNPIPE from California, through the Panama Canal, arriving in Key West in late 1980. Since the Bahamas were pretty much on the way to anyplace north, I decided to make a quick perusal of them. I didn't expect much, after the Pacific Coast, Central America and the Western Caribbean—I figured the Bahamas were just too close to the USA to have any good, unspoiled cruising. I was very wrong!
After many years, and numerous boats, I came to love the Bahamas more than anyplace else I have visited. Part of this is their close proximity, 50 miles across the Gulf Stream from South Florida; part is due to the people—black Bahamians may be the world's sweetest folk anywhere; part is due to the sparse, durable natural beauty of the islands themselves; and part is due to the best diving in the world!
The Bahamas are a big place—a 700 mile by 300 mile archipelago—consisting of thousands of islands, cays and rocks, most of which are uninhabited. The places which I love most tend to be off the beaten track. One of my favorites is Cat Island, on the east side of Exuma Sound. While only 50 miles from George Town, Great Exuma (considered by many to be the world's most popular cruising destination), Cat Island is rarely visited. You might encounter literally hundreds of cruising boats in Elizabeth Harbor, and encounter perhaps two at Cat Island. In addition to the "open ocean" crossing between the two islands, Cat Island has very few conveniences for the typical cruiser—no protected harbors, grocery stores, huge marinas (there is only one), or facilities so important to today's average cruising sailor in his/her Tupperware floating condominium. So, of course, I love it all the more!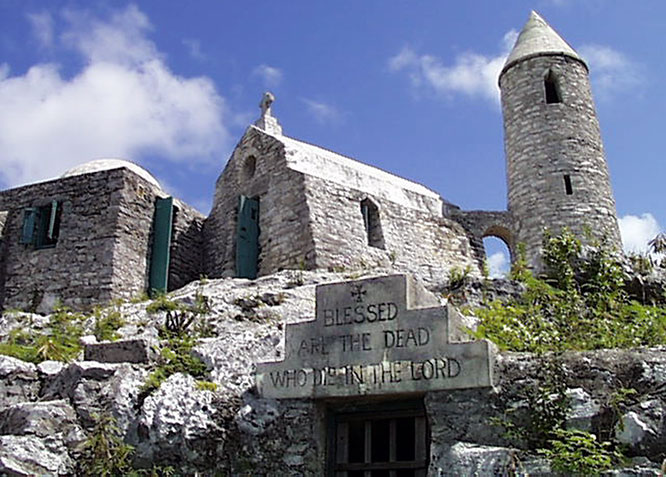 The main tourist attraction is a beautiful "ruins" called The Hermitage. Built on the highest land anywhere in the Bahamas (204 feet), by a Catholic priest named Father Jerome, The Hermitage is a fantastic work of art. Father Jerome came to the Bahamas after the devastating 1908 hurricane to help rebuild island churches, using sandstone, coral and mortar, which would (hopefully) be more durable than their predecessors. He started building the Hermitage at around age 62, and lived there until his death, in the late 1950s, at age 80. His remains are interred there.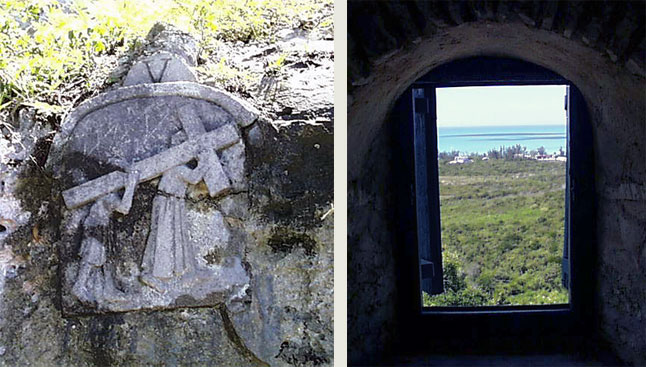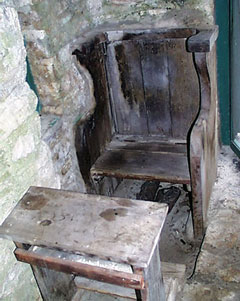 There are two ways up to The Hermitage. One, the original, is a tortuous twisting trail among the "stations of the cross", typical of all hilltop Catholic sites throughout the Caribbean. The other is a dirt road made much more recently to allow trucks and maintenance crews easy access—and overweight tourists who cannot climb twisty narrow paths.
Everything in Father Jerome's creation is small and compact—very minimalist and efficient. It is clear that he was an ascetic with highly refined tastes for natural beauty as well as man-made beauty. His simple furnishings, carefully placed windows, and harmonious architecture confirm his talent. The views from his small chapel are breathtaking!
Despite the fact that I am not a Christian, I cannot help but be enchanted by the depth of religious devotion expressed by men like Father Jerome. His Hermitage stands as a kind of icon for his beliefs, dedication, and very hard work.
Many religious people make pilgrimages to The Hermitage, as well as heathen, Druidic woodenboat sailors like me. Father Jerome's creation speaks to me—and I have to return again and again. The large old church below The Hermitage, restored by Father Jerome in the early 20th century, sadly really is a ruins. But The Hermitage above is maintained by local Bahamians, with donations made by visitors.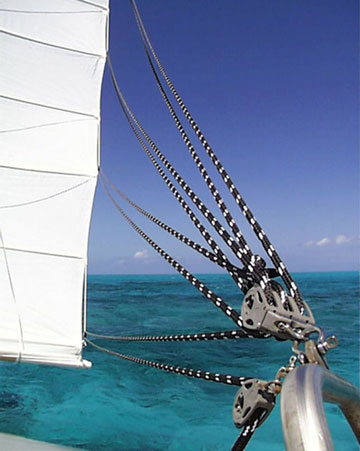 I strongly recommend Cat Island as a destination for cruising sailors. Even a deep draft vessel can find protection during a norther in Hawk's Nest Creek, on the southwest corner of the island. There is a 28-slip marina, fuel dock, dirt airstrip, bar/restaurant and several waterfront rooms for rent there. Hawk's Nest is several miles from The Hermitage, and a taxi may even be hired to bring you there.
With my shoal-draft cruisers, I can sneak into various beautiful, meandering creeks along the bights of Cat, visiting places like Fernandez Bay, Bennett's Harbor, and Alligator Point, where you can watch baby sea turtles racing through the creeks! And the endless, pink sand beaches are to die for….
Christmas Day, 2013, Saint Lucie Village, Florida