A Norwegian cutter visits Penobscot Bay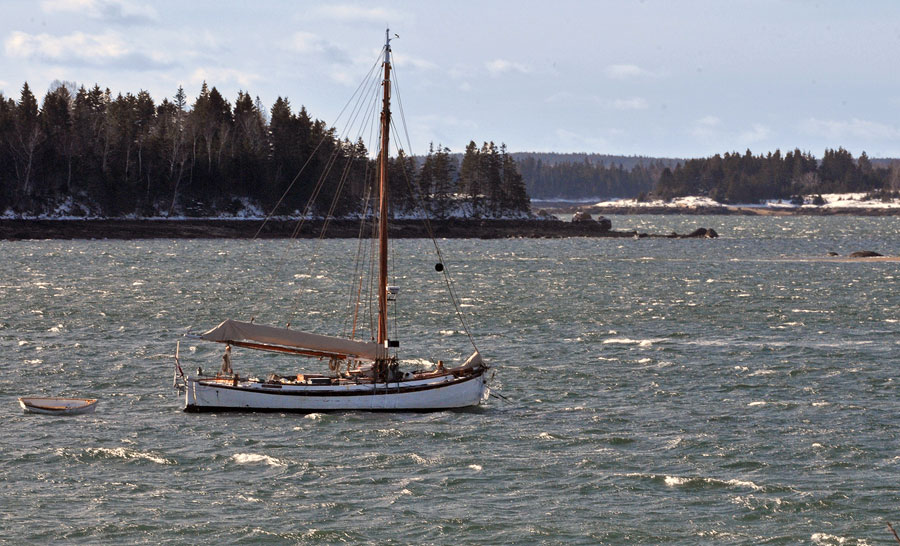 During the summertime, WoodenBoat's Brooklin, Maine, campus is a veritable Who's Who of fine wooden boats. A person could simply sit at the end of the pier for the season and receive an education in the classics by watching the parade of fine yachts and vessels passing through. In the wintertime, however, it's a different story: The cruisers have either gone south or gone home. So, imagine our surprise last December when a stout but sleek 40′ double-ended cutter of Norwegian registry nonchalantly sailed into, and then anchored, in the otherwise empty harbor. Who in the world…? We wondered. Was this deliberate? Are they cold?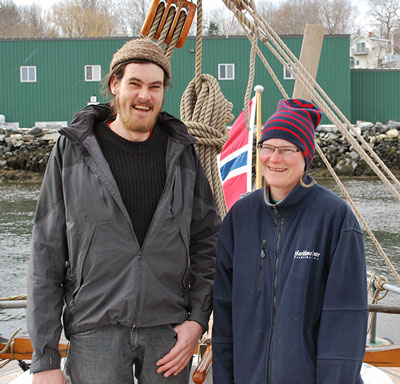 When the crew of FLEKKERØY, as the boat is called, came ashore, we learned the remarkable story of Bjørnar Berg (a marine mechanic) and Klara Emmerfors (a boatbuilder), who had spent much of the summer hopping across the top of the North Atlantic. They'd left Fredrikstad, Norway, in early summer, sailed along the Norwegian coast to the southern town of Egersund, and from there embarked on their first passage of this voyage—a short hop to the Shetland Islands. They spent the remainder of the summer sailing to the Faroe Islands, on to northern Iceland, down that country's west coast to Reykjavik, and then to Greenland and Labrador. After exploring Nova Scotia in the late autumn, they crossed the Bay of Fundy to Southwest Harbor, Maine, in late December, had a brief encounter with a rental car to clear customs in Bangor, and then sailed over to WoodenBoat a few days before New Year's Eve 2015. "When I look at the chart, I see that we've covered some distance," Klara says. "But we haven't been out for longer than six or seven days at a time. We had lots of lovely sailing—beautiful sailing—all the way."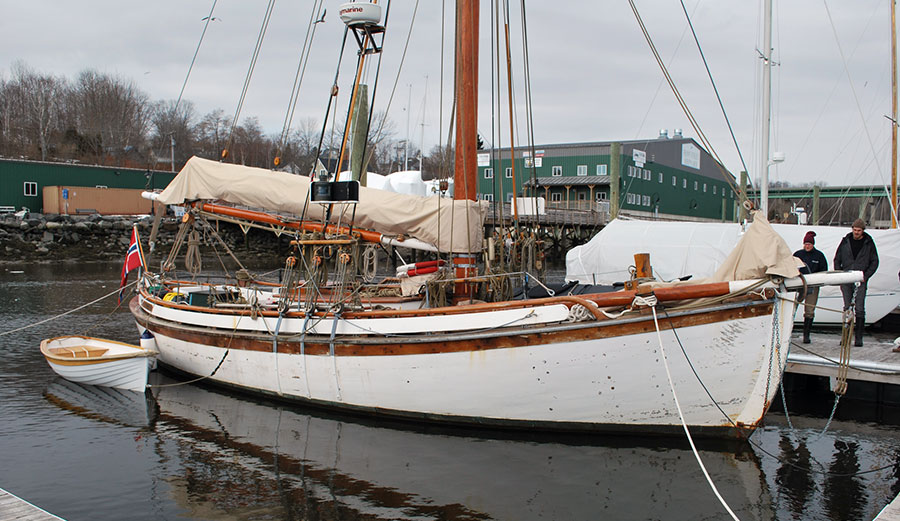 FLEKKERØY was built by Høllen Skibsbyggeri, in the Norwegian town of Mandal, as a pilot cutter in 1936, and was in that service until the 1960s. Although she appears, to the untrained eye, to be of the same family of boats as the legendary Colin Archer-designed pilot cutters and rescue boats, she is not a Colin Archer design—as I had assumed she was. Bjørnar helped to untangle some of the confusion. The double-ender type, he said, existed before Archer's breakthrough design. Archer brought subtleties of hull form to his creations—as well as a massive construction system that included a thick, caulked layer of ceiling planking that effectively created a double hull (not to mention rot problems, because of the lack of ventilation; this was later addressed with sealable vents in the ceiling). The transaction to build FLEKKERØY, says Bjørnar, probably went like this: "A guy comes to the boatbuilder and says, 'I want a pilot boat, about 40 feet….'" The builder then proceeds to lay down lines of a vernacular pilot boat. The couple think that her service life was likely projected to be about 40 years.
FLEKKERØY's construction is massive. In a reverse of the usual species assignments, she is planked in 2″ oak on double-sawn frames of pine. The planking is fastened with trunnels—wooden pegs—wedged at both ends. During their refurbishing of the hull structure, Bjørnar and Klara had to remove a few of these—which was not an easy task. The boat has no external ballast (unlike a Colin Archer). Instead, the firm-bilged, relatively shallow hull carries four tons of lead ingot in the bilges. The boat displaces 25 tons, has a 15′ beam, and is powered by a 113-hp diesel.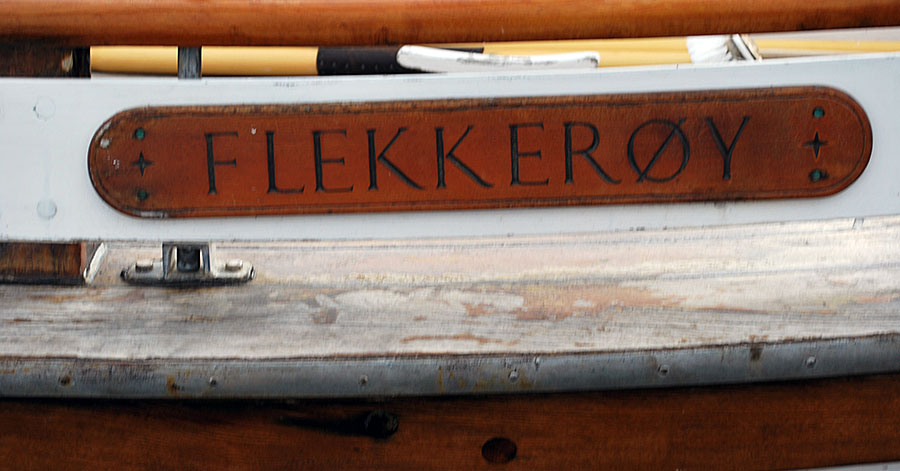 Cruising the Maine Coast in winter begets questions, and Bjørnar and Klara are patient and kind in answering them. They hear some repeats. In order of popularity, the top three are:
Are you cold? (No. The trick to sailing in the cold weather is to dress properly for it, says Klara.)
Where are you going? (They have studiously avoided an itinerary, but, says Bjørnar, "We do not want to go to warm places"—i.e., the Caribbean.)
When are you going back? (see answer to No. 2)
Bjørnar notes another frequent and uniquely 21st-century question: "Why don't you have a Facebook page?" "Because not much happens," he laughs, explaining that the pace of sailing and visiting and exploring does not lend itself to constant documenting and updating—not to mention the fact that periods of silence on social media might beget undue concern from their families back in Norway and Sweden (Klara is Swedish). "We have arrival plans, but not arrival times."
Bjørnar and Klara lived aboard FLEKKERØY for five years before embarking on their current voyage. Before that, they lived in a house. "There's a lot of work with houses," says Klara, "so we decided to get rid of it."
Bjørnar Berg and Klara Emmerfors are currently writing an article for WoodenBoat reflecting on their unusual cruise—and the details of the magnificently adapted FLEKKERØY.