Boat Plans & Kits Categories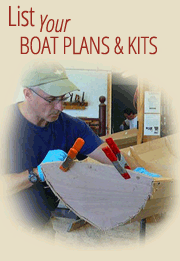 Please login or register to post your Boat Plans & Kits.
You are here
Chesapeake Sport Tandem

There was a lot of demand but hardly anything like it in 2002 when we unveiled the Chesapeake Sport Tandem. This very narrow, very fast double is perfect for athletic couples who want to really cover the miles, whether it's for excercise, super-fast touring, or winning races. Most of our Sport Tandems are sold to people who watched one disappear over the horizon in front of them during a race. While intended for racing or working out, the Sport Tandem can still carry a good load of gear, making it ideal for multiple-day unsupported races like the Watertribe Everglades Challenge.
Build this boat if:
You need a racing kayak for two
You are in an long-duration adventure race
You are athletic and like to cover ground
You are a strong paddler who wants to carry a child or large dog
DESIGN SPECS
Designer:
Year of Design:
LOA:
Beam Length:
Draft Length:
Displacement:
Materials:
Propulsion:
Skill Level to Build:
Cost:

$1100 Complete Kit / $69 Plans & Manual

Website:
Contact Information:

1805 George Avenue

Annapolis Maryland 21401
Phone: 410-267-0137
<< VIEW ALL BOAT PLANS & KITS