Boat Plans & Kits Categories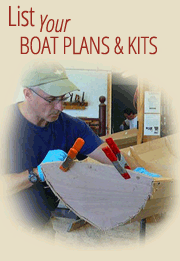 Please login or register to post your Boat Plans & Kits.
You are here
Echo Bay Dory Skiff

The EBDS can be fitted out for use as a tender or use as a small sail-and-oar boat. I have collaborated extensively with Eric on this design and can attest to the boats capabilities. The EBDS defines the idea of simplicity and elegance combined to make a very fast rowboat, a spirited sailboat that we recommend for experienced sailors, and makes for a very light boat that two people can easily car top. I have built about a dozen of these boats for customers who just love them. The sprit rig makes for a spirited but not over-canvassed sailboat, a god learning boat for the family. Because of the dory-skiff type hull, she has a lot of secondary stability and a lot of seaworthiness for such a small, easily built boat. She rows nicely with 7 1/2' oars. Moreover, the boatbuilding project itself is superb for a family bonding project or a boat to build with your kids or grandkids, particularly done from a kit. We build these at the Wooden Boat Show and with families in Portland, Maine.
DESIGN SPECS
| | |
| --- | --- |
| Designer: | |
| Year of Design: | |
| Materials: | |
| Cost: | |
| Website: | |
| Contact Information: | 49 Fox Street Suite B Portland 4101 Phone: 207/602-9587 |
<< VIEW ALL BOAT PLANS & KITS