A postwar cruising yawl from Abeking & Rasmussen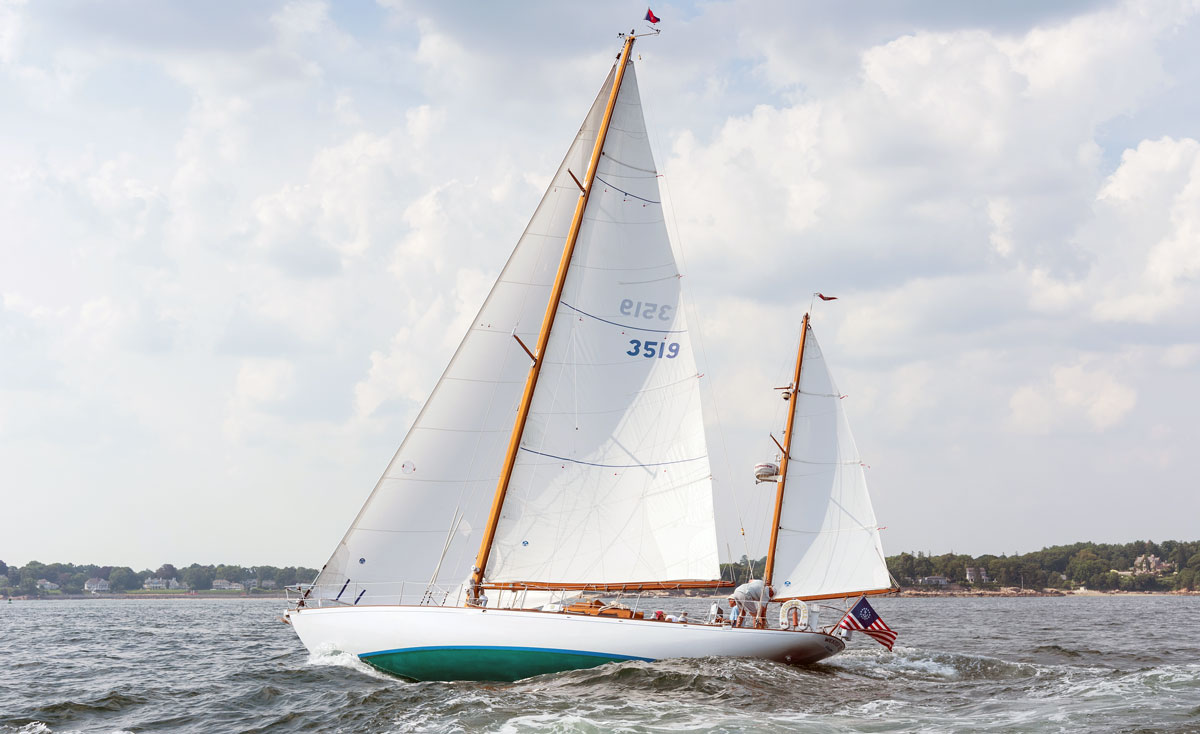 WESTER TILL is a special yacht. She is a wonder­ful example of good design, quality construction, and years of careful restoration. But even more noteworthy are the circumstances of her construction, a chance encounter that ensured her survival, a catastrophe at sea, and a heroic rebuild to which she owes her survival.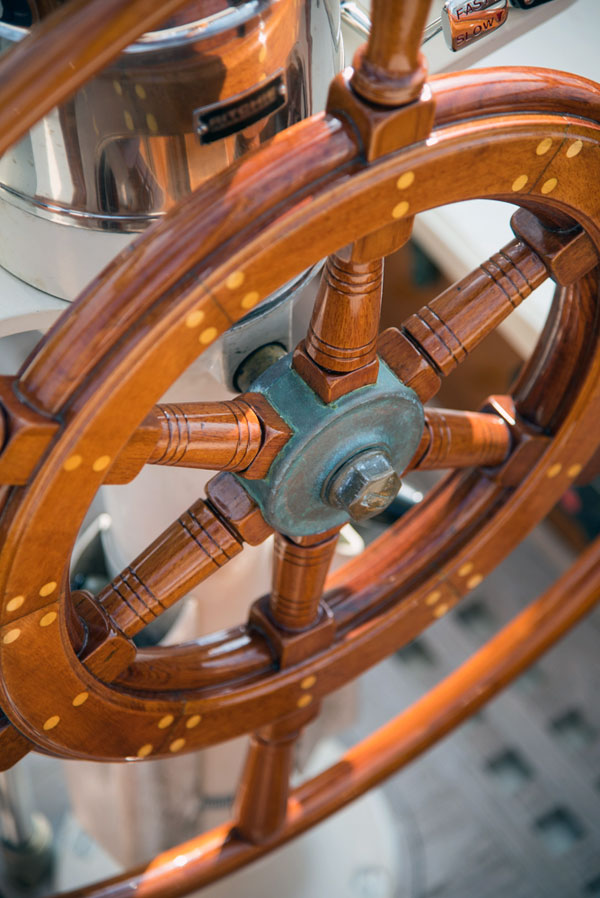 After World War II, the construction logs of the Abeking & Rasmussen shipyard in Lemwerder, Germany, listed mainly small one-designs and dinghies. However, in 1946 Henry Rasmussen designed and built a pair of 47′ yawls recorded as the "14.4m Tourenkreuzer." Launched in 1947, the pair were named TAYPING and TYPEE and were likely the first large privately owned yachts built by A&R after the war. TAYPING's early ownership and location are mysterious, but by the early 1950s she was renamed WESTER TILL and had made her way to Boston, where she was listed for sale through the Sparkman & Stephens brokerage.
Fred Atkins, who owns and operates the business founded by his grandfather, Fred J. Dion Yacht Yard in Salem, Massachusetts, first saw WESTER TILL while purchasing a dinghy from her then-owner in the early 1970s, when Atkins was in his early 20s. That brief encounter left a lasting impression, and he maintained contact with the owners. By the time the yacht came on the market in 1981, when she was lying in Europe, Atkins was ready to become her next caretaker.
Unfortunately, much maintenance was deferred while WESTER TILL was in Europe. In preparation for delivery back to the United States, Atkins made a few minor repairs, replaced the standing rigging, and installed Loran C. But WESTER TILL needed a structural overhaul, a fact that became very clear midway across the North Atlantic.
In heavy seas, a large wave crashed into the hull. The resulting pressure squeezed the hull sides together, causing a failure in the doghouse roof, splitting the mainmast, and crushing the bulkheads. Bent, but not yet broken, WESTER TILL limped toward the U.S. East Coast, averaging 200 strokes per hour on the hand-operated bilge pump for the rest of the trip.
Over the next six years, Atkins and his crew at Dion's carefully restored WESTER TILL during slow times at the yard. WESTER TILL then began her next chapter, cruising and racing up and down the East Coast. She has also competed in several Newport-to-Bermuda Races.
As I photographed WESTER TILL, following her through Marblehead Harbor and out into open water, I couldn't help but notice the similarity of her design to the Ray Hunt–designed Concordia 39, 99 of the 104 of which were built by A&R. The Concordia 39s are stunning yachts, but on the cozy side for long cruises involving more than two or three crew. WESTER TILL's greater length and volume and her thoughtful layout give her just enough additional space for extended family cruising.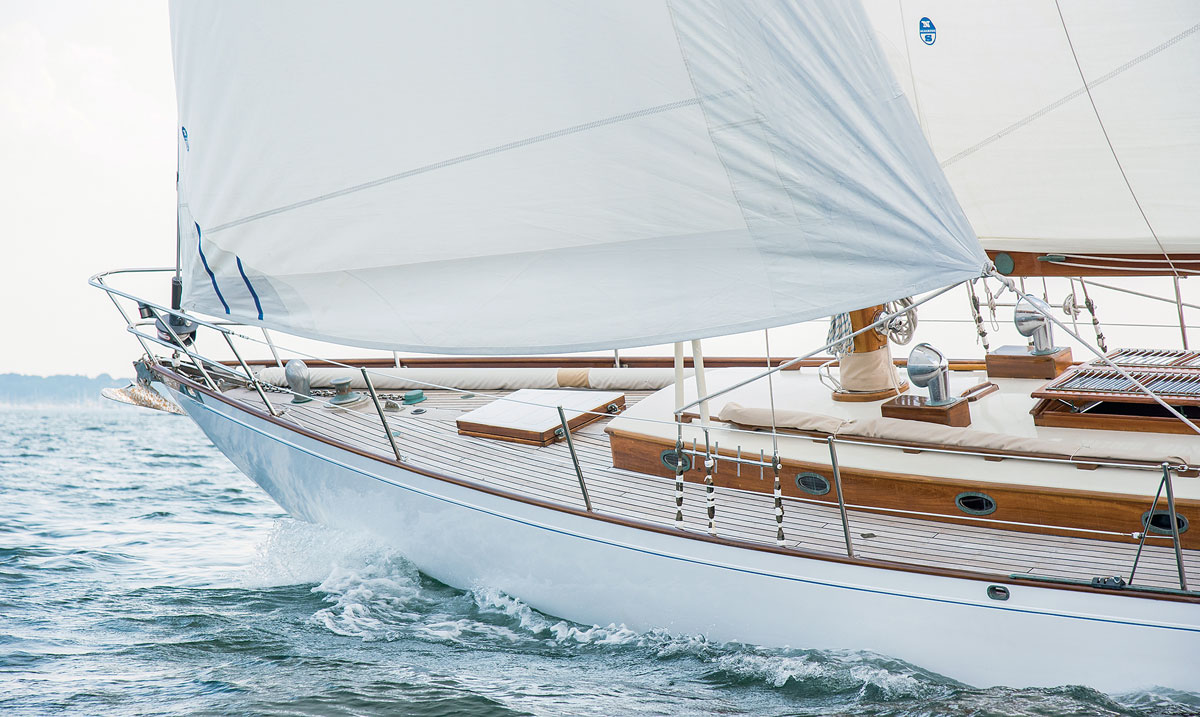 A Classic Racer-Cruiser
Under Atkins's ownership, WESTER TILL has been a family racer-cruiser. As well as cruising the waters of Maine, Nova Scotia, and New Brunswick, she has competed in ten Marblehead to Halifax Races and two Newport-to-Bermuda Races—one of which celebrated both her 60th birthday and the 100th edition of the Newport-to-Bermuda.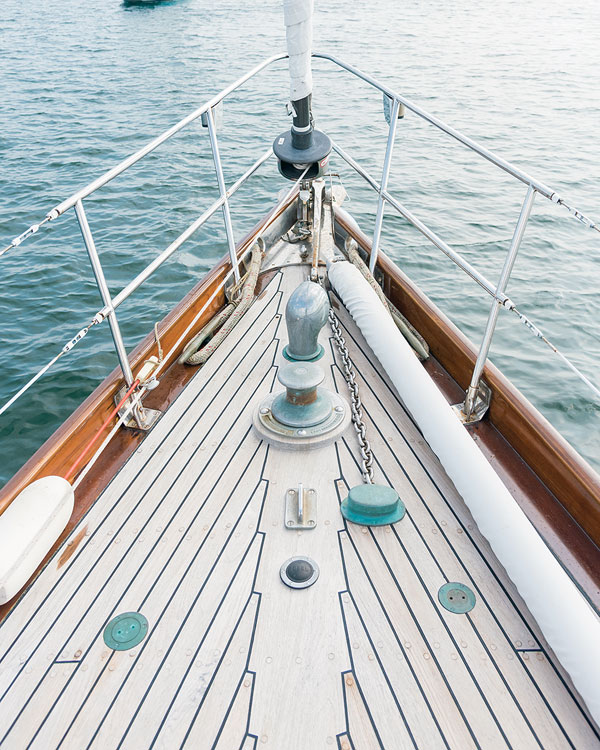 Foredeck
The restoration included new bulwarks and teak decks. Tired galvanized-steel hardware fittings were replaced with higher-quality stainless-steel and bronze. The foredeck configuration highlights her dual function: A furling genoa and stout anchor and windlass make shorthanded sailing easy and nights on the hook secure, but the composite spinnaker pole is a concession to performance—although its modern appearance is shrouded by a protective sleeve.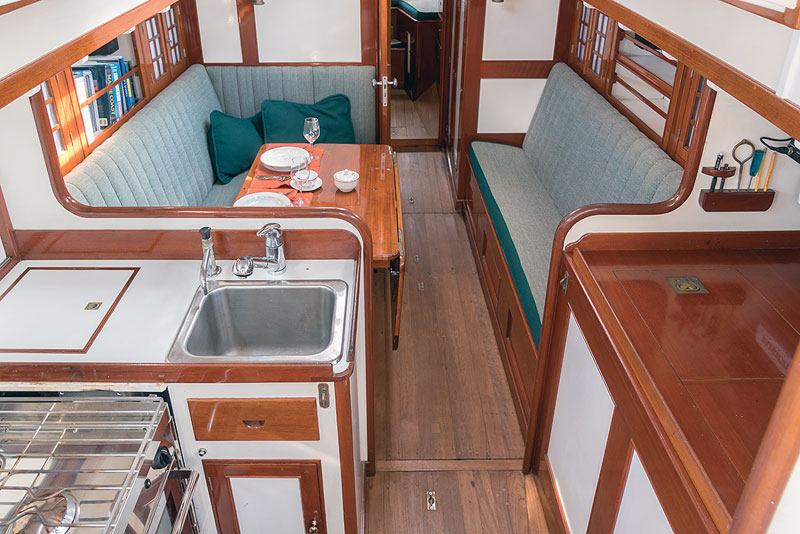 Galley and Saloon
The galley and saloon are well laid out for making long passages as well as entertaining evening dinner guests. Atkins moved the galley from starboard to port to take advantage of the L-shape layout, and he added bronze eyes in strategic locations so that the cook can strap-in while the boat is underway. The starboard side now functions as a navigation station.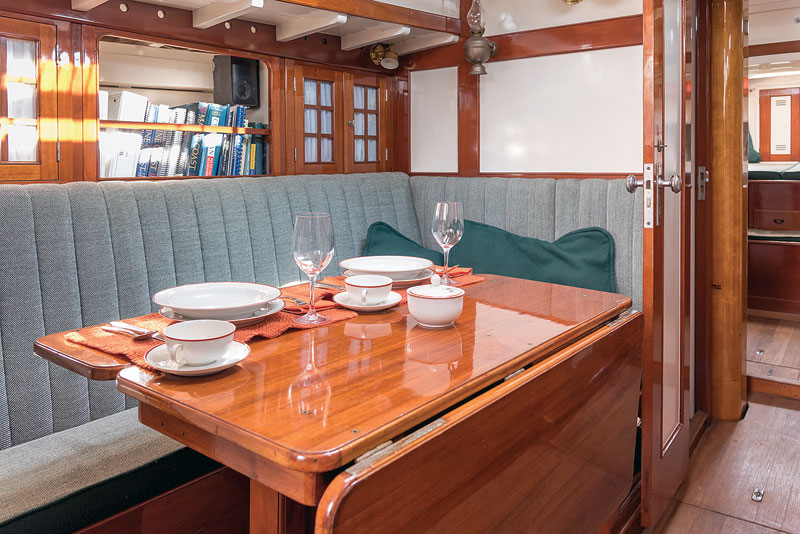 Settee
Forward of the galley, on the port side, is a large U-shaped settee with a gimbaled table. The table has two folding leaves, so it can accommodate two for breakfast or take advantage of the generous settee to starboard to seat nine close friends for dinner. When Atkins acquired the yacht, it had aboard a burgee of the Hamburg Yacht Club and a full set of china with "WESTER TILL" beautifully printed on each piece.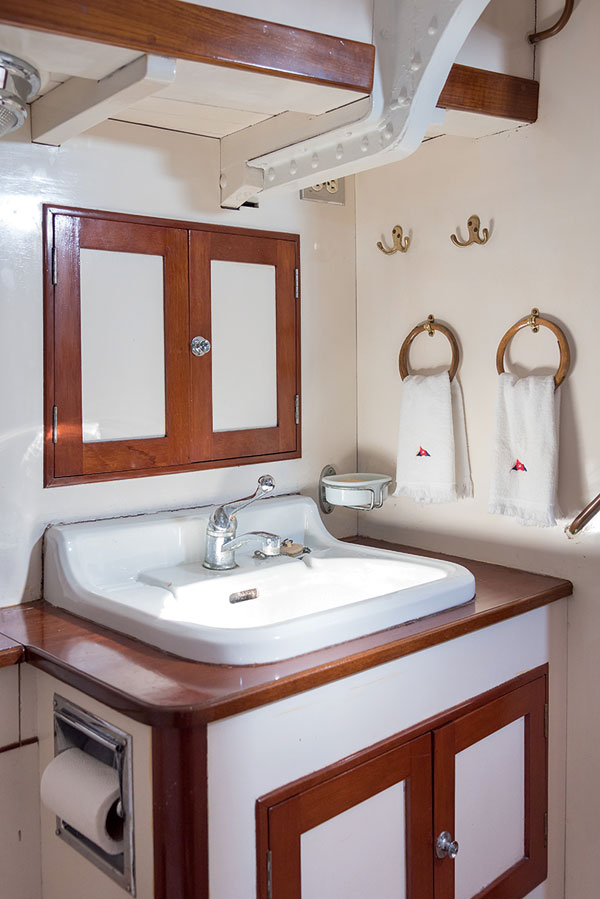 Head
Like most yachts of her size and era, WESTER TILL has only one head. New yachts of her length would undoubtedly have two or even three heads, along with all of the gadgets and through-hulls to accompany them. But WESTER TILL has an ample and resourceful head layout, with both a door that closes it off from the saloon and a private entrance from the forward cabin. Note the pair of mast hoops mounted on the bulkhead to serve as hand-towel hangers.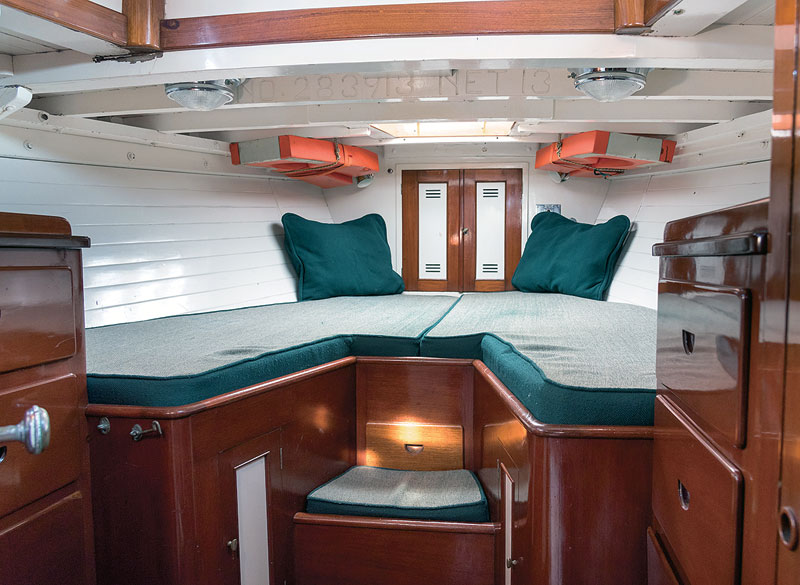 V-Berth
Along with the main cabin modifications, the forward cabin and head were enlarged to enhance crew comfort. A large V-berth forward is well lit by numerous portlights in the trunk cabin, an overhead hatch, and smartly placed light fixtures. With additional lockers included in the rebuild, storage is ample.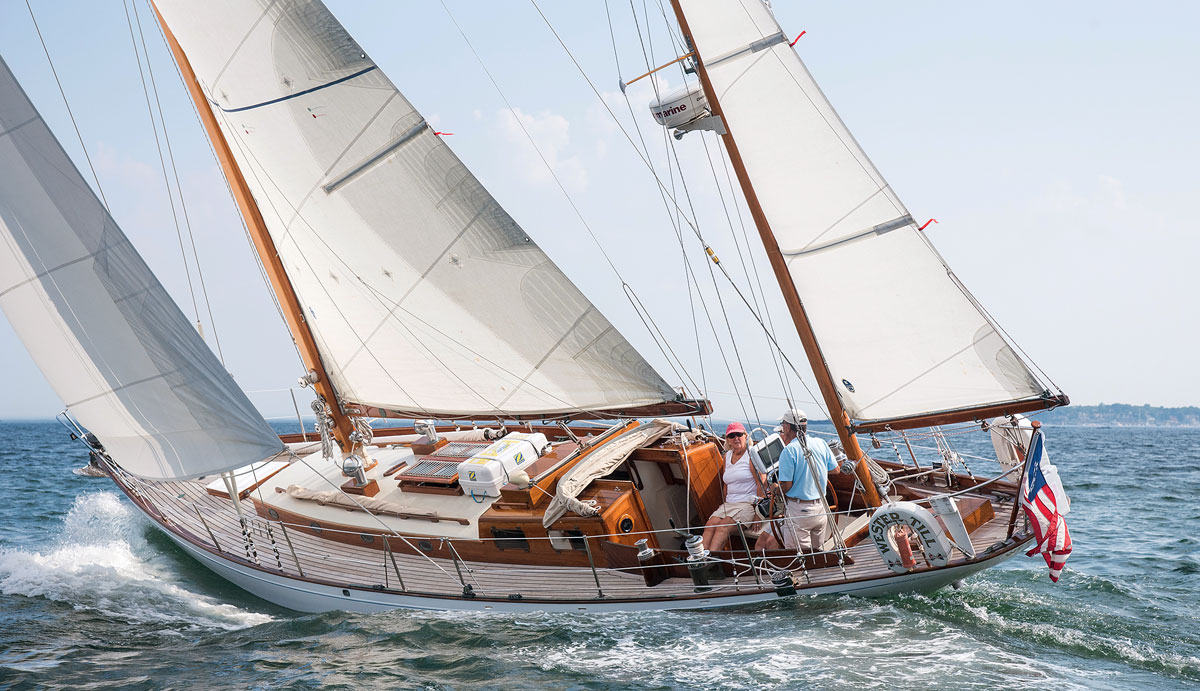 Rig and Steering
Under Atkins's ownership, the rig was changed from fractional to masthead, her rudder was slightly redesigned for better downwind sailing in heavy air, and the original worm-gear steering system was replaced with an Edson pedestal with a varnished wheel. She sails as one would expect of a yacht of her pedigree; she is capable in a breeze and powerful, yet mannerly, in tough conditions. Atkins reports the yacht is "very stiff, making her very forgiving for shorthanded family sailing. She has good upwind performance, but light air is challenging given her 34,000-lbs displacement."

Tyler Fields grew up in Oregon, where his passion for photography and wooden workboats of the Pacific Northwest developed. After graduating from Oregon State University and moving to Massachusetts, he has been photographing classic yachts both in the shop and on the water.