Taking a much-loved lobster yacht into the future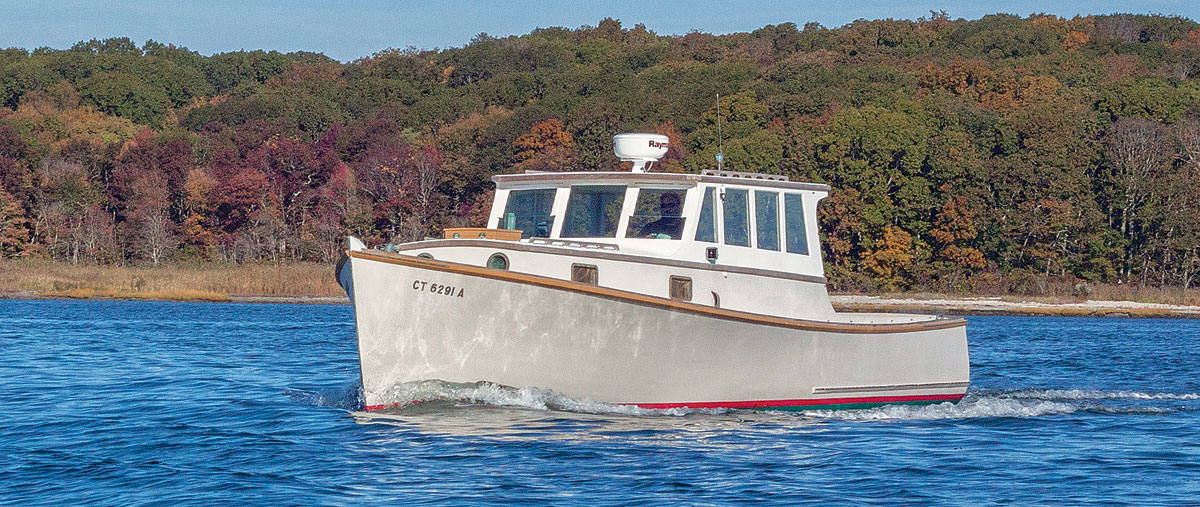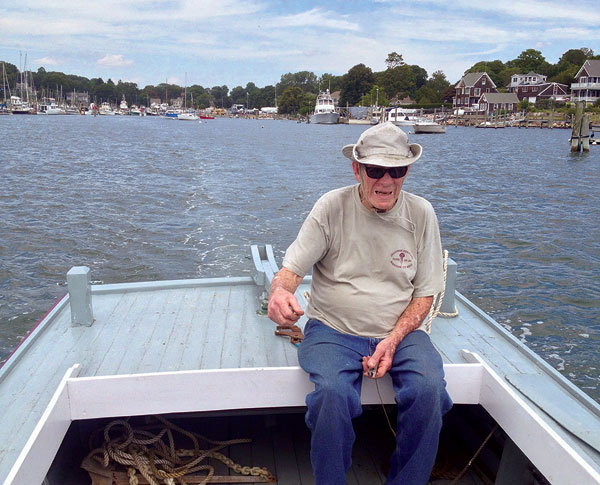 A few years ago, Mike Coyle, a young mariner from Noank, Connecticut, bought a 1954 Newbert & Wallace lobster yacht named ALBATROSS, a lovely, 60-year-old boat of masterful design and construction. She had been the second true love of Dr. George Gilbert ever since he had her built in Maine. Her sole former owner, George not only had built a permanent boathouse for the boat's winter storage but also had purchased a lot on a tidal creek where he could keep ALBATROSS at her own dock during the summers. George without a doubt built a large part of his life around this boat and his family, with many of their early voyages documented in hauntingly beautiful 8mm films. He also spent many happy hours puttering away on ALBATROSS's care. Coyle inherited the steward­ship of a boat with an astonishing legacy.
Mike soon found that George's recall of ALBATROSS's detail was encyclopedic. He ran the same six-cylinder Palmer PH-135 inboard for more than 50 years and without hesitation could tell you the setting of her timing or the proper weight and type of lube oil. If you had further questions, George would most likely pull out his original Palmer manual, the one that came with the engine, to straighten out any mysteries.
Mike acquired not only a lovely boat but also a great friend in George, who is a people person through and though. Knowing the boat and both owners over the years, I have heard many of their discussions about ALBATROSS, and I witnessed one about a burned-out diode on the six-volt generator that left me mystified. My guess is that Mike had no idea of the depth of the relationship he was getting into upon becoming ALBATROSS's new owner.
George is retired now, but during his working life as a dentist he always had to be sure of getting home from his boating weekends so that he could be back in the office on Monday mornings to keep his appointments. Although he had a knockabout sloop that he loved to sail and race, when the time came to move up to a bigger boat he knew he would be looking for a reliable power cruiser. George had long admired a Down East power cruiser named MALLARD, owned by friends of his from New Haven. The boat was designed by Roy Wallace and built at Newbert & Wallace. In 1953, George found his way to the builders' yard in Thomaston, Maine, and placed an order for a 36' cruiser to be built in workboat fashion of the best materials, to be launched in time for the next season. Varnish was to be kept to a minimum.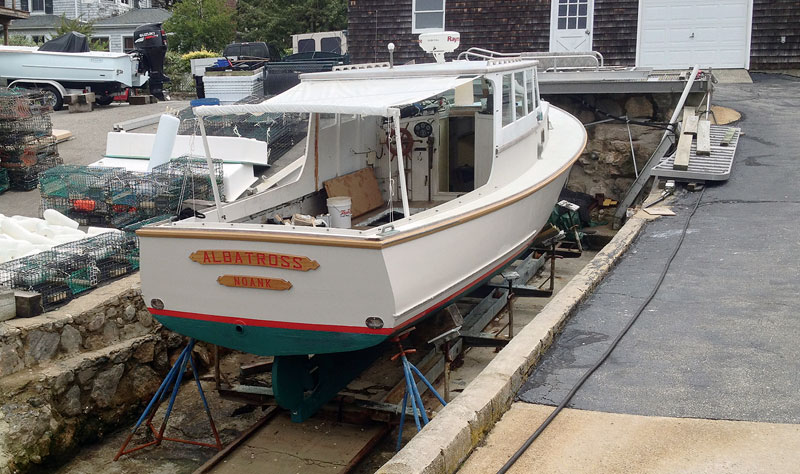 The Newbert & Wallace yard was then in its prime, mostly building rugged, handsome, Eastern-rig draggers for offshore work. George easily recalls what a wonderful time and place it was to have the boat of his dreams built. The mahogany-planked hull was fastened with Monel Anchorfast nails onto a rugged backbone that included a sternpost of heroic proportions. George, upon seeing the great thick slab of a rudder that Roy had built for the new boat, asked if it couldn't be slimmed down a little so the boat might slide through the water a little more easily. Wallace, with a twinkle in his eye and Down East understatement, asked George a question: Do you like to steer a lot? Apparently the big sternpost cut such a hole through the water that Wallace had found that a thick rudder made for better tracking and steadier, more comfortable steering.
George took delivery of his new boat in 1954, with the interior unfinished, for the princely sum of $6,816. He named her ALBATROSS, after the much-admired seabirds that make clumsy landings yet always find their way home.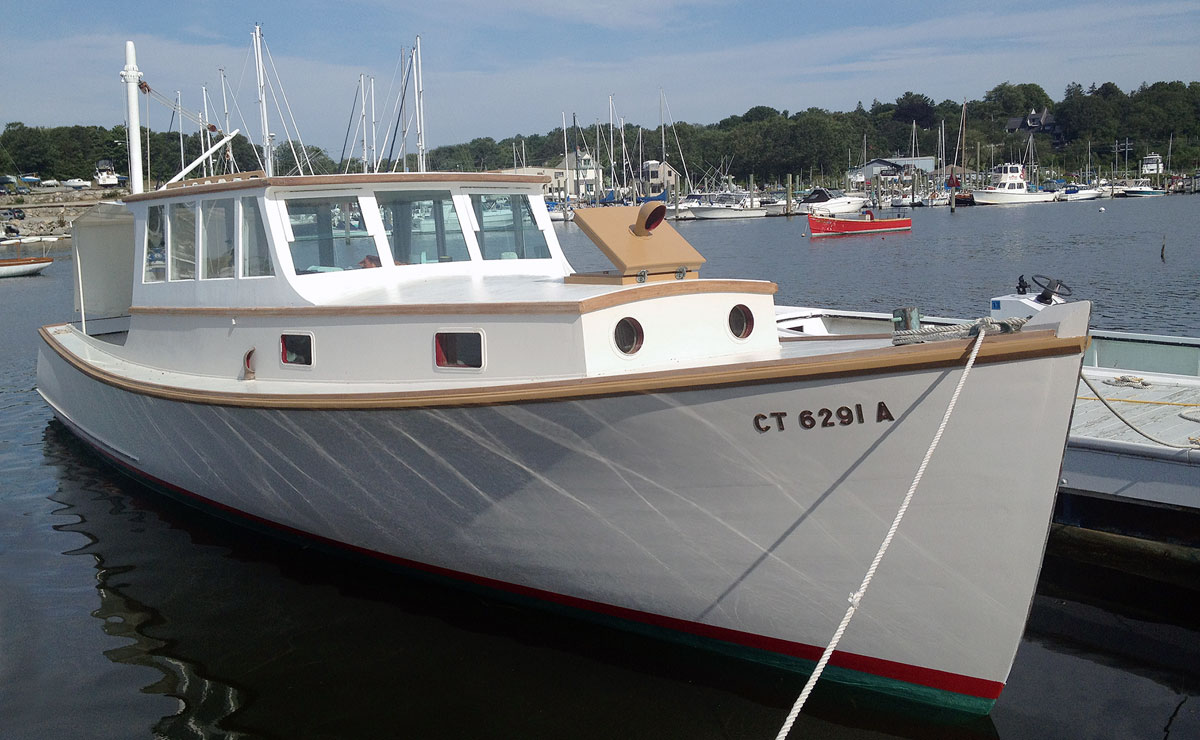 The more I've looked at ALBATROSS, the more I've come to realize that her appeal, beauty, and practicality are based on a design of subtlety and many small compromises. Her hull is a sweet, understated shape, with modest flare at the bow, a nicely curved stem that blends in with just the right amount of sheer, and a transom with both tumblehome and curve. All of this looks great on a hull that has less beam than the modern, overpowered Down East lobsterboats. Wallace, a man who had sighted many a sheerline and lots of battens during his career, thoroughly knew the meaning of "fair."
According to George, ALBATROSS is 36′ 1¾″ LOA with a beam of 10′6″ and a draft of 3′6″. The somewhat deeper-than-usual draft, together with topsides one plank higher than usual in commercial lobsterboats and with a built-down skeg, allowed Wallace to place the Palmer engine completely below the wheelhouse floor under flush hatches, a convenience that neither of my own working lobsterboats had. ALBATROSS's trunk cabin extends 16′ aft, a bit farther than in working boats, allowing for a larger fo'c's'le. Below, just aft of the forepeak where the anchor rode is stowed, she has a V-berth. Then comes a galley with counter, drawers, and sink to starboard; and an enclosed head and hanging locker to port. It worked even for George's family, with his daughters bunking in the wheelhouse, and Mike recognized it as the perfect cruising boat.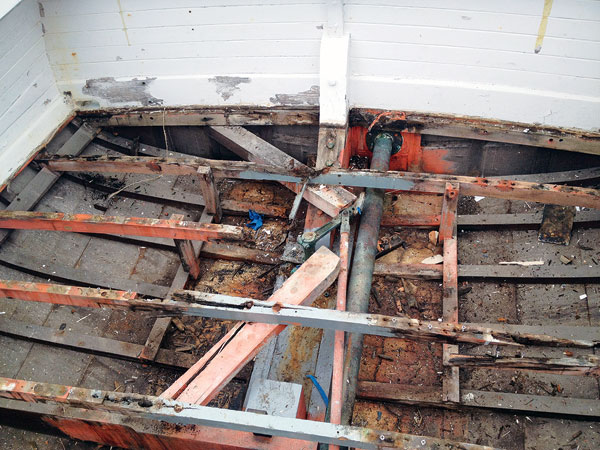 Wallace built a nicely proportioned, simple, flat windshield with three windows, which had extended curves at the bottom, much like an old locomotive. The wheelhouse has 6′ of standing headroom, and the dash formed by the top of the trunk cabin creates a nice and deep place for navigation gear. George altered the wheelhouse about 20 years ago, lengthening it to accommodate an additional window. The helm is situated to port, and the tongue-and-groove bulkhead staving makes a handsome backdrop for the varnished mahogany wheel and a vintage folding shift lever. This bronze lever stands vertically between the wheel and companionway, and situated between the lever and wheel is a black oval instrument panel with "Palmer Power" etched on it. There are two comfortable helm chairs with mahogany backs, one for the helmsman and one for the critic. That's about the whole setup: uncluttered, clean, and painted, with a blessed lack of plywood and plastic.
Oh yes, I almost forgot the air horn, which has received some notoriety in Noank. It is a nice brass trumpet bell mounted on a long cylindrical air reservoir fitted with a hand-operated piston. A steady pull on the lanyard gives you a most satisfying PWAAAAP. Apparently the Buell Company still makes and sells these delights.
Mike lent me some copies of George's ALBATROSS movies, which George shared with Mike. Not really knowing what to expect, I thoroughly enjoyed an evening in front of the screen and found myself transported back to cruising Long Island Sound as it was 50 years ago, on the waters that I know well. George's movie, shot in color, starts with the delivery trip that he and his red-haired wife, Martha, made from Thomaston to Madison, Connecticut, in 1954. They stopped at Kennebunkport and transited the Annisquam and Cape Cod canals on their way down. I was thrilled to see footage of old workboats underway, including Eastern-rigged draggers and trap boats towing seine skiffs. Many of the boats and yachts that George saw and filmed are long gone. What stands out is the uniqueness of their designs, so unlike today's cookie-cutter cruisers. Many were converted working craft, while the sailing yachts have the big, old, long-boomed sail plans that required a large crew.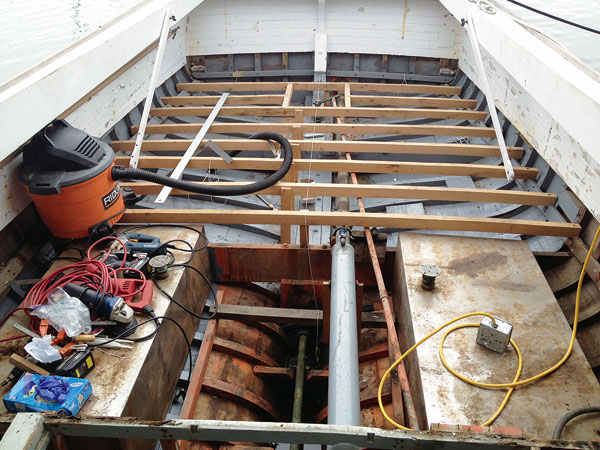 The Gilberts were certainly well traveled in ALBATROSS. Ports of Eastern Long Island and Block Island Sounds are easily recognizable: Greenport, Coecles Harbor, Sag Harbor, and East Hampton; Old Harbor and New Harbor on Block Island; Point Judith, Mystic, and the Connecticut River, with Hamburg Cove and Essex. They cruised in company with MALLARD, which also features prominently in the footage, usually puttering along abeam or behind, showing off her slate-blue hull and sweet sheerline. Those were very different times. There are many swordfish boats and swordtails nailed to pilings.... Men with long-billed caps and khaki pants that appear to be belted just below their ribcages.... Clam bakes on the beach with driftwood fires, many sunsets and stunning footage of Irving Johnson's brigantine YANKEE sailing by Point Judith in a summer sou'wester with all sails set and drawing, headed east.
George was lucky that Mike took a shine to ALBATROSS. Mike, like the rest of his generation, is a savvy Internet navigator and a fellow living very much in the present. However, his Noank roots go way back, and he is a waterman who would have had no problem fitting in with the crew of the Noank-built well smack EMMA C. BERRY in the 1870s. Mike's grandfather and uncle were both high-line lobstermen out of West Cove, and his great-uncle fished offshore and ran a boatyard on the east side of Mystic. Mike is a 2002 graduate of The Landing School's traditional boatbuilding program and holds a 100-ton license. Besides being self-employed in yacht restoration, Mike has skippered survey vessels from Maine to North Carolina, often well offshore. There isn't much that Mike can't do when it comes to the care and feeding of ALBATROSS.
ALBATROSS had never been rebuilt or altered in any significant way in 50 years. Because of George's meticulous and knowledgeable care, Mike acquired a boat that mostly just needed deck and finish work. The original canvas on the cabin trunk and wheelhouse roof was deteriorating. Also, the cedar cockpit sole was leaky and tired, and the windshield had a bit of rot in it. Mike opted for a modern repair for the decks and coach and wheelhouse roofs (see sidebar below), which was a wise choice: a hull this old regardless of its condition needs a watertight lid.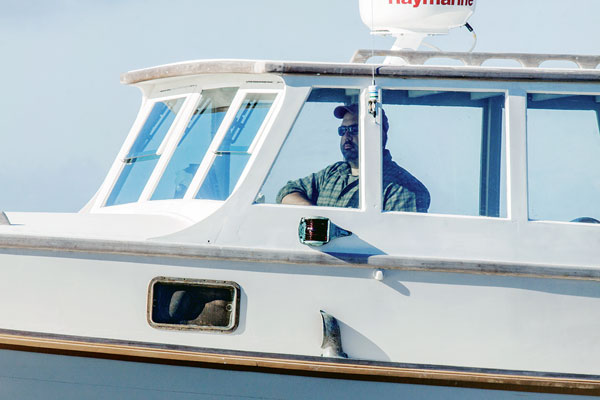 Stripping all the paint from the fo'c's'le ceiling, overhead, and joinery was a time-consuming but ultimately rewarding task; Mike has done all this and much more as well, having, for example, replaced the glass in the windshield and made and installed new white oak rubrails and ipe toerails that should last for years. George has been mighty pleased with progress. Mike has accomplished a tremendous amount of work, yet has managed to keep ALBATROSS in the water and in commission the whole time.
Last summer, Mike and ALBATROSS puttered over to Montauk Harbor, which lies 10 miles south of Noank across Block Island Sound. The old Palmer ran a little hot, but that was to be expected—George had been running it ever easier as the years had gone by. ALBATROSS nosed into Lake Montauk for a quiet night, and I don't doubt that she remembered being there with George 15 years before, when he rode out a ferocious thunderstorm that blew in from the Connecticut shore. I can only hope that there was still someone at Montauk who recognized ALBATROSS, that beautiful little cruiser from Maine.

Walt Ansel is a shipwright at the Henry B. duPont Preservation Shipyard at Mystic Seaport in Connecticut, and he also teaches regularly at WoodenBoat School in Brooklin, Maine.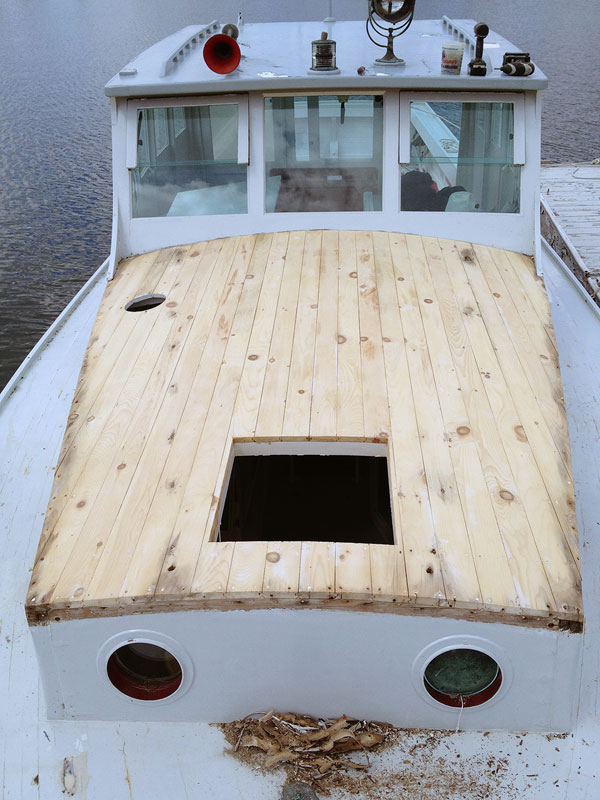 New Decks for ALBATROSS
There's an old saying among watermen and boatbuilders that boats rot from the top down. Fresh water is the enemy. Leaky decks are bad news. Windows, low points in the sheer, and badly bedded moldings and rubrails are also vulnerable. If topside caulking has been neglected, rainwater can work its way into the underlying structure, allowing rot to damage hard-to-replace, expensive frames. Mike Coyle knew this when he surveyed ALBATROSS, and although he found her hull to be in excellent condition he knew that her aging decks would be another story. Sure enough, they were already damaged from leaking; left as they were, they would cause major problems down the road.
ALBATROSS's painted side decks and cockpit sole, which were unsheathed, leaked. The canvased-over roofs of the trunk cabin and wheelhouse were still tight but needed to be resheathed. Mike decided to work on the boat while it remained in the water, starting by removing grabrails, hatch coamings, half-round moldings, and then the canvas itself. Underneath, the pine tongue-and-groove decking showed some iron staining but was in good shape overall. It had been face-nailed with common galvanized nails, which Mike supplemented with 1½″ × No. 12 stainless-steel wood screws. Then he sanded the surfaces to bright wood and filled any dings and voids with thickened epoxy. After another sanding to fair the cured filler, he rolled on a coat of epoxy to seal the surface.
At this point, Mike was ready to apply new sheathing to replace the original canvas, which had been bedded in white lead paint. Lead compounds were the most common bedding for canvas sheathing when I was a kid, but the quality of today's cotton canvas isn't what it used to be, and lead paints and compounds have fallen from favor. The best alternative today is fiberglass cloth set in epoxy over a plywood substrate, which makes a very long-lived and watertight covering. Canvas sheathing "gives" with the swelling and shrinking of deck planking, but such movement would eventually crack a fiberglass sheathing at the seams, allowing water to penetrate. Plywood over the planking gives the fiberglass sheathing a dimensionally stable foundation.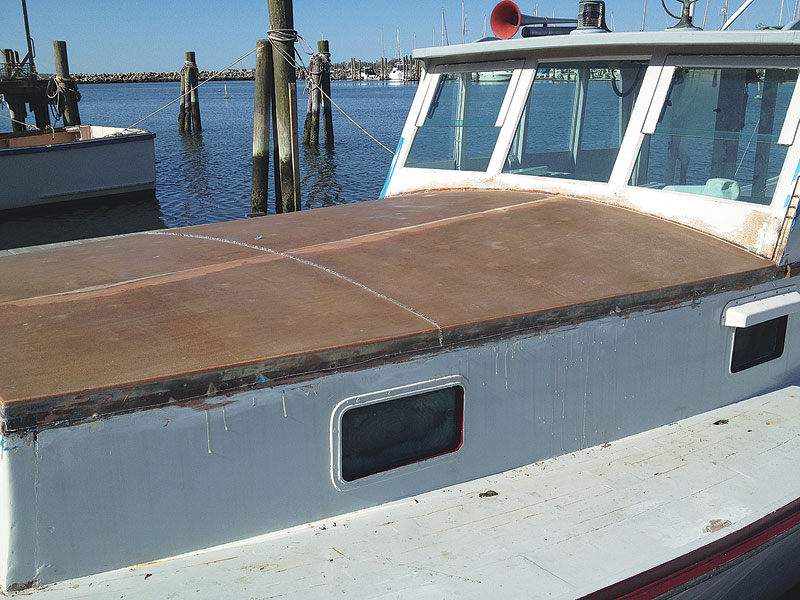 The 'glass sheathing method that Mike used is a variation of one used by our friend Thomas Townsend, an experienced builder who specializes in lobster yachts (see WB No. 189). Mike works at Tom's shop, which in a couple of restorations has had good results using epoxy to glue ¼″-thick mahogany plywood over original decking. The thinness of the plywood makes it easily conform to the crown of the deck. Epoxied scarf joints ensure a seamless surface, since square butts would eventually "print through," risking a crack in the sheathing. For ALBATROSS, however, Mike chose to use ⅜″ medium-density overlay (MDO), which costs one-half to one-third as much as imported mahogany plywood. Plus, Townsend and his crew had been impressed with MDO's durability during the restoration of a 60-year-old Penbo trawler that had a wheelhouse built of MDO.
For the trunk cabin roof, Mike made the panels large enough to overhang the sides. First, the surfaces were wetted out with epoxy, and then epoxy thickened to a peanut butter consistency with silica fibers was spread with a notched trowel to glue the panels down effectively. He temporarily fastened the new panels with drywall screws driven through fender washers, set 8″ apart in a square pattern to ensure good squeeze-out. (Alternatively, the scarfs could also have been held down with temporary tape-covered battens in order to ensure even pressure along their edges.) After the epoxy cured, the screws were removed, using the trick of holding a hot soldering iron to a screw head when necessary to loosen the epoxy bond. The resulting holes, along with the scarf joints, were filled with epoxy, thickened with adhesive fillers for strength, and then faired. The overhanging edges were cut back and planed flush with the cabin sides, then given a ⅜″ radius to accommodate the fiberglass cloth that was to follow.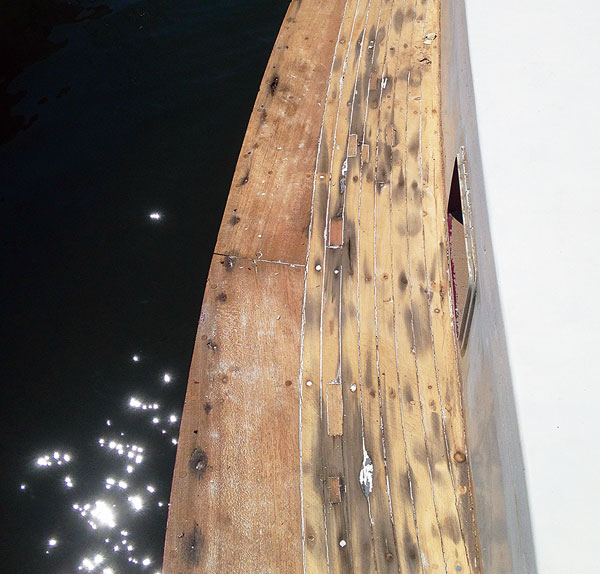 After fairing the surface, Mike rolled on a sealer coat of unthickened epoxy, sanding it well after it cured. The first layer of 10-oz 'glass cloth was fitted dry so that the selvage, or finished, edges would butt together but not overlap, with tape holding the pieces in place until wetted out. The cloth followed the radius of the edges and was left a little long to run down the sides, where he taped off before the cloth went down to give the sheathing a clean edge, which would later be covered by half-round moldings. He used 2″-wide tape for this purpose, with paper taped on as well to protect the cabin sides and decks from drips. Later, when the epoxy was set but not yet fully cured, this taped edge would allow Mike to use a sharp utility knife to cut off the fiberglass cloth to a crisp edge just above the tape.
Using slow-cure epoxy, Tom and Mike worked together to wet out the stretched-out cloth, pouring from small containers and spreading the liquid with 7″-wide, metal-framed, rubber window squeegees. These tools seem to move epoxy evenly and smoothly without disturbing the cloth much at all. They spread a nice, bubble-free layer that penetrates well without floating the cloth off the wood, an essential detail that ensures a top-quality, strong, and fair surface. And the good news is that these squeegees can be cleaned with acetone and reused—even for cleaning windows.
After the layup had cured and the amine blush was washed off with fresh water and detergent, Mike used 80-grit sandpaper to rough up the surface for a good mechanical bond with the second layer of 'glass cloth. This layer was applied the same way as the first, but with the selvage-edge butt offset to be at least a foot away from the first layer's butt. The second layer was wetted out the same way as the first and allowed to cure. Washing and lightly sanding between coats, Mike filled the weave with two additional coats of unthickened epoxy to achieve a smooth surface. He painted with a commercial coating of linear polyurethane. After the primer, he reinstalled grabrails, coamings, and moldings, all well bedded. Preparing for the nonskid surface, he masked off to provide waterways around those pieces. He applied three coats in the area receiving the nonskid surface, then removed the tape and applied a final top coat without nonskid.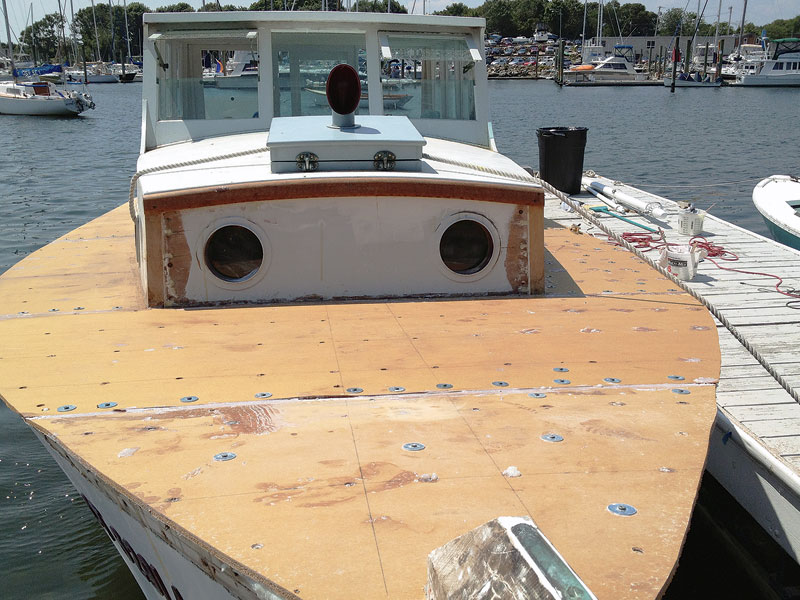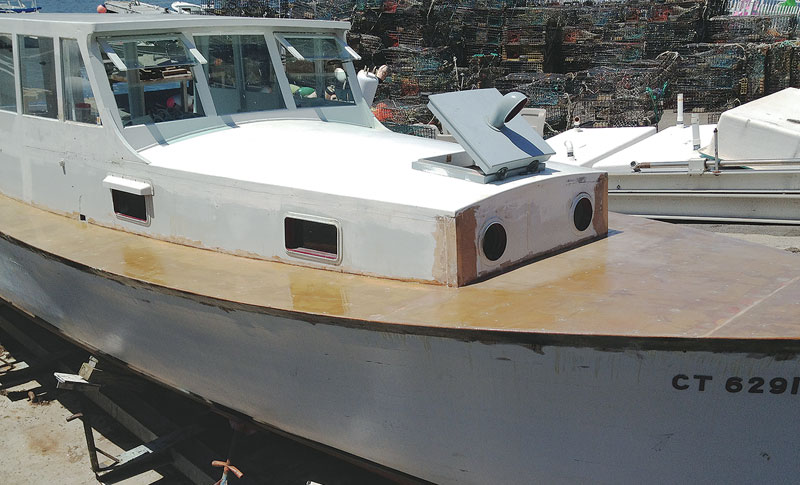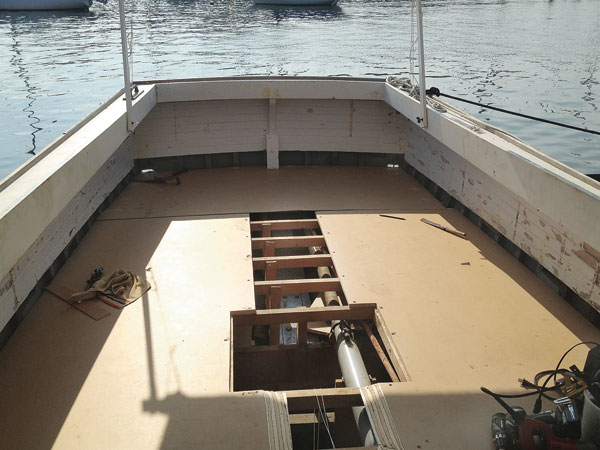 Next, Mike turned his attention to the deck. George Gilbert, the boat's only previous owner, had patched it with many graving pieces over the years, which had been its salvation. The covering boards and kingplanks were mahogany, while the rest of the planks were pine, all fastened to the deckbeams with galvanized nails, which he supplemented with stainless-steel screws. He then capped the deck with plywood, as with the house-tops, giving the edges a radius that would allow the 'glass cloth to extend down onto the sheerstrake, where it would be covered by the rubrails. The new toerails were set inboard a little to reveal the rounded deck edge. For the critical joint between the decks and the house sides—often the source of wet bunks, if done improperly—Mike prefit the 'glass to stop at the face of the house sides. Later, after completing the layup and painting, he installed quarter-round moldings, thoroughly bedded, wherever the deck and house sides met.
Mike's last challenge was the cockpit sole, which was in worse condition than the deck or cabintops. He removed all of the cockpit planks and beams and started over. While the bilge underneath was exposed, he removed the fuel tanks for cleaning and inspection and painted the inside surfaces of the planks. He was able to save the stringers that supported the beams. Margin boards around the perimeter of the cockpit—which around here all the lobstermen call "mop boards"—had to be replaced to ensure a new, watertight, self-draining sole. Mike made his deckbeams out of white oak, tracing the camber off one original deckbeam that had been screwed to the forward bulkhead, which was probably the only one that had not flattened out over time. He made the sole of ¾″ MDO, with butts scarfed and glued. 'Glassing proceeded in the same way as for the deck and cabintops. An interesting detail to me was the mop board installation—he extended the sole outboard all the way to the frames, and only then sheathed it in 'glass and epoxy. The mop boards were then screwed in place, like ceiling planks, to the frames. Their lower edges were fitted to the cockpit sole, where they were generously bedded, then painted. Mike also used MDO to make the engine hatches, which could be supported by brass strips since they were under the protection of the wheelhouse, where drainage was less of an issue.
I rode on ALBATROSS last summer with Mike, George, and my wife, Carol. When George took the wheel, he had a big grin on his face, and I couldn't imagine a happier former owner or a more deserving boat. —WA