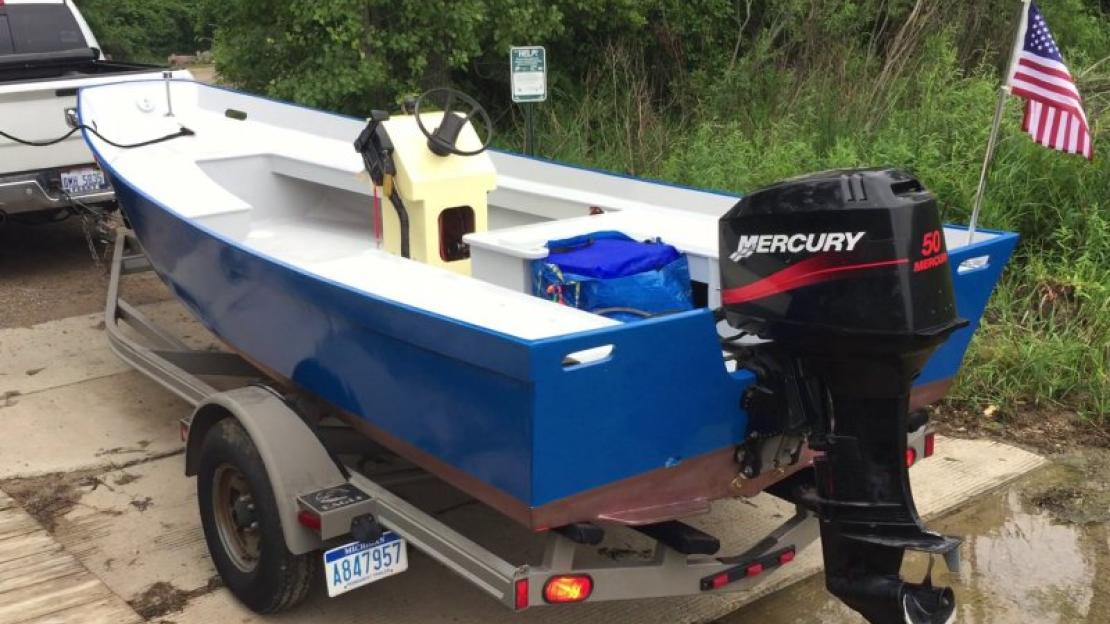 Motorboats - Outboard
Workstar 17
The Workstar 17 concept of plywood/epoxy boat building was the result of a co-operation between Working Boats UK Ltd and Humphreys Yacht Design, which enabled people with no experience in building boats to put together, from a comprehensive kit of profiled parts, epoxy and FRP tape, a Workstar 17, a rugged and very capable small garvey which could be built anywhere, with no dedicated workshop and no power tools and by those with no previous boat building skills.
The Workstar 17 design is essentially that of a very tough and robust small workboat. The Prefix System™, of tabs, slots and wedges means the profiled parts pull the hull together as the kit is assembled: no building frame is required. The parts are then bonded with epoxy fillets, with the chines, around the bow and stern transoms and along the keel internally and externally, reinforced with Bi-Axial FRP tape. No mechanical fasteners are used in building a Workstar 17.
Originally intended as a small workboat, the Workstar 17 plywood/epoxy boatbuilding method was embraced from the start by amateur boatbuilders who had been put off building their own boats by the complexity – and the mystique – and the skills required to build their own boat. The Workstar 17 has also been built by organisations such as the UK Sea Cadets, the City of London School, the Heritage Coast Sailing & Rowing; in replacement workboat aid projects in Papua New Guinea, the Solomon Islands, Madagascar and Argentina, and used for teaching modern boatbuilding in maritime colleges in the England, Wales, France and Germany. Over forty Workstar 17s have been built in over a dozen Countries around the World.
The Workstar 17 features:
• A moderate Vee, refined garvey hull shape
• A watertight, self-draining load deck
• Fore and aft buoyancy compartments
• Ample locker space
• Substantial all-round fendering (optional)
• Seating for 8-12 pax
• Pram-hood shelter (optional)
• Tow post (optional)
The Workstar 17 is not sold as a kit, nor as a set of plans. Purchase of the Building Licence releases the Cutting Files in .dxf format to the builder, to have a CNC kit cut from 18mm (3/4″) and 12mm (1/2″) marine plywood. The parts profiled in each sheet are identified and labelled using the Sheet Schedule and the boat is built using the very comprehensive and well-illustrated Assembly Manual with Supplements, video and the Construction Drawings. The Workstar 17 decals are sent by mail.
The Workstar 17 Starter Pack is available FOC on application to: workingboats@hotmail.com
Design Specifications
Designer
Rob Humphreys Yacht Design/Working Boats UK Ltd
Displacement
700lbs/318kg
Cost
Building Licence fee USD440