A journey to the effortless and unconflicted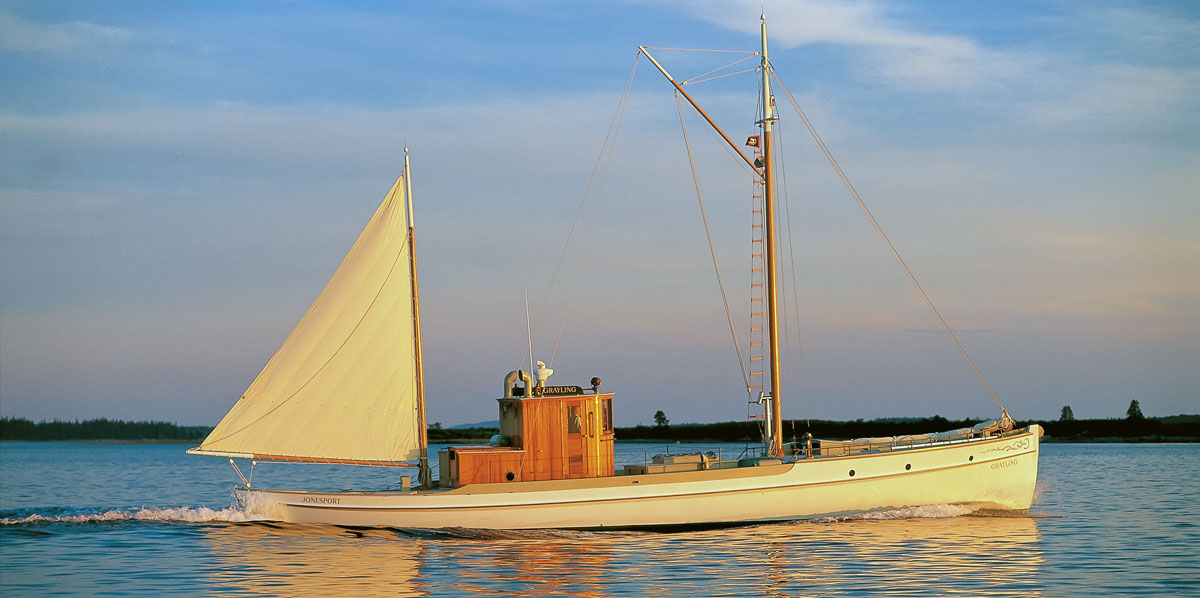 Artist: One who expresses or applies human creative skill and imagination, typically in a visual form such as painting or sculpture, to produce works to be appreciated primarily for their beauty or emotional power.
In September 2003, the former sardine carrier GRAYLING made her annual autumn delivery trip from Brooklin, Maine, to Mystic, Connecticut. Aboard her were Maynard Bray, this magazine's longtime technical editor and historian of wooden boats; Matt Murphy, editor of WoodenBoat; and Doug Hylan, who had recently led the rebuilding of the vessel and her conversion into a yacht.
GRAYLING had been built as a mackerel seiner in 1915 by Frank Rice of East Boothbay, Maine, for his brother, George. The tired vessel was still in workboat trim when her new owner, Ted Okie, hired Benjamin River Marine, where at the time Hylan was a partner, to do the upgrade and conversion.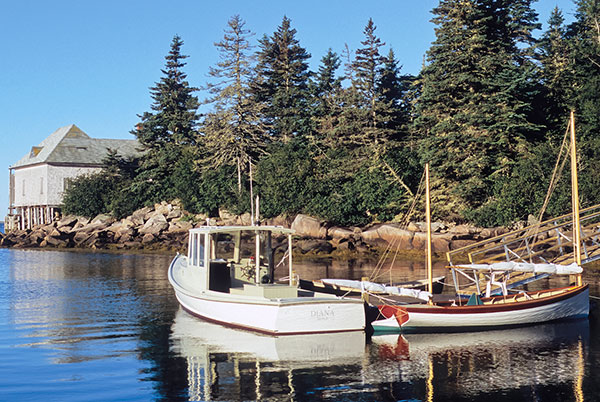 Hylan measured the vessel and drew up her lines and construction, but for the interior redesign he suggested bringing in a more experienced naval architect. Okie, however, found the candidate designers too willing to depart from GRAYLING's workboat essence, and so he asked Hylan to draw up the new accommodation plan. When that looked sensible, he ceded much control of the project to the yard, and from his home in New York he monitored progress and influenced the execution of details through lengthy phone calls with Hylan almost every day.
Characteristically, Hylan still deflects the credit for the success of the GRAYLING project to Ted Okie and Maynard Bray, as well as to the designer-builders Bud MacIntosh and Joel White. All of these men participated in the job, but it was Hylan and his former business partner, John Dunbar, and their crew, who actually did the work. Hylan jokes now that half the crew thought they were restoring a fish boat while the other half thought they were building a yacht. "GRAYLING," says Hylan, "was the project of a lifetime, an example of real shipyard work with beautiful materials." The result shows a restrained application of refined aesthetic sensibility, as well as a deep sensitivity to the vessel's working-boat heritage.
"There was a moment," Murphy recalls of that delivery trip back in 2003, "that I realized just what a success the GRAYLING conversion was." He remembers entering Gloucester Harbor in Massachusetts after a full day of steaming along the Maine and New Hampshire coasts, and encountering a rust-streaked steel dragger purposefully outbound and about four boat lengths to port. The worlds of pleasure boating and industrial-scale commercial fishing tend to go about their businesses in parallel, and rarely intersect or acknowledge each other. But "on that sparkling September day," Murphy said, "a weathered crewman standing on the deck of that dragger stared at GRAYLING as the vessels drew close; as the dragger came abeam of GRAYLING, he covered his heart with both hands. His knees buckled slightly and his expression melted into a smile of half joy, half longing. He waved and then continued to stare long after the boats had passed."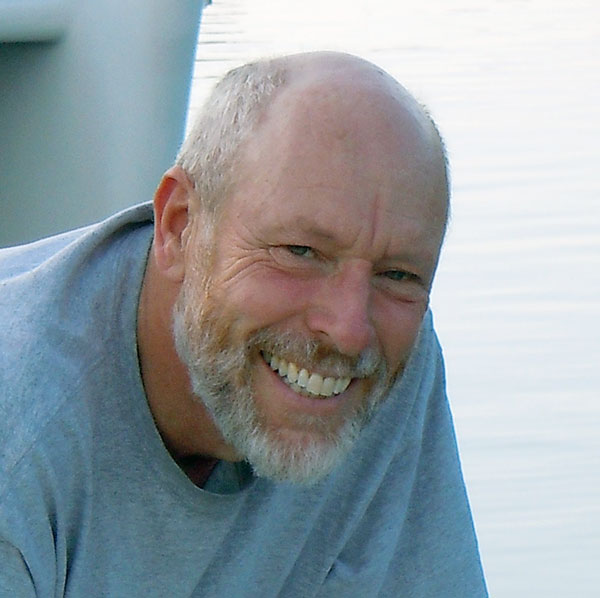 "I am not an artist!" Doug Hylan said emphatically when I visited his shop recently. "I have spent my career adapting historic boat types designed by other people. I haven't done anything very original." The term "artistic" is tossed about casually in the world of yacht design, and artistic merit is, ultimately, a subjective judgment. But I have long been enthralled—moved—by Hylan's work, and his statement left me wondering: Is Hylan naturally inclined to attribute his excellent work in wooden boat repair, construction, and design, to other people? Or is he simply seeking an honest assessment of the nature of his accomplishments?
Despite having grown up in a suburban Massachusetts Baby Boom family with no nautical inclinations, Hylan, as a young man, "was fascinated with boats. I built models from kits and from scratch," he said during a recent conversation at his boatyard on the Benjamin River in Brooklin, Maine. "My father had a motley assortment of tools in the cellar, and I spent a lot of time down there." He was also drawn to nearby Lake Quannapowitt, which was something of melting pot of now-classic one-designs—Snipes, Turnabouts, Town Class sloops, 110s, and one hot-molded Flying Dutchman.
When his brother began building a plywood skiff with a sailing rig, and soon tired of the job, Hylan completed it. But as a budding critic of boat performance, he found that boat not equal to the zippy Snipe, nor even to the more lumbering Turnabout, so he sold it. In high school, he again tried his hand at building a full-sized boat, this time a plywood catamaran. And again, the design critic within him emerged.
"It was a terrible boat," he recalls. "It was quite hard to build and not that hot a sailer once it was done. I sold her to go to college." And that might have been the end of Hylan's career in boatbuilding and design analysis, because he majored in chemistry and went to work as a chemist after graduation. But the corporate world he'd entered grew stale for him within a few years, and he and his wife, Jean, escaped that life in greater Boston to a fixer-upper farmhouse alongside a stream in Mount Vernon, Maine. And there Hylan pursued a more artistic inclination. He became a potter. But there was a boat, too. While working on the house and throwing clay pots, Hylan and a partner began building a Mackinaw boat—an 18′8″ ketch-rigged open workboat designed by Nelson Zimmer, but based on a 19th-century Lake Michigan workboat type. After six years the house was considerably upgraded, Hylan had earned professional chops as a potter and finish carpenter, and he had partially built a traditional wooden boat. He and Jean also had a hankering for the coast. They'd earlier visited WoodenBoat's Brooklin offices to purchase the Mackinaw plans, and on a spring day in 1979 they drove back to Brooklin, "just to look around." That casual day trip set in motion a journey that, 30 years later, would earn Hylan a résumé of… well, artful wooden boat restorations, new builds, and designs.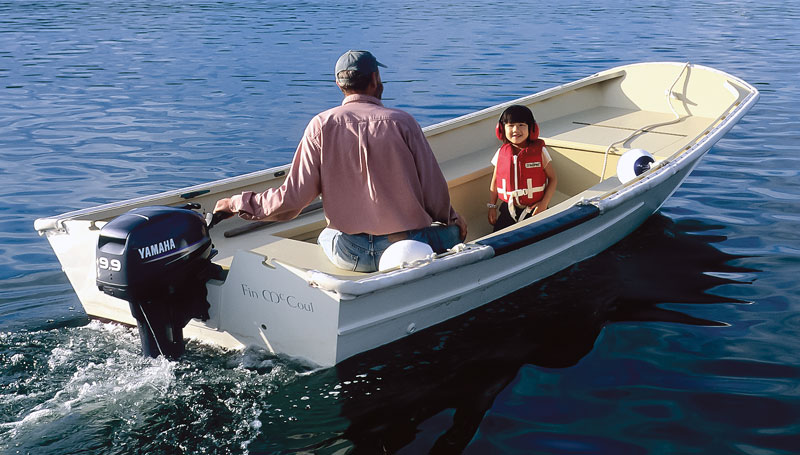 That second visit to Brooklin resulted in Doug and Jean buying a three-story building in the center of town that soon became their residence, pottery studio, and workshop—and before long gained the nickname "The Hylan Mall." After completing the Mackinaw and welding up the hull of a small cruising boat he casually called the Margaret Thatcher, Hylan took a job with Jim Steele—not building the peapods for which Jim was so well known, but instead turning out kitchen cabinets for the high-end residences that were Jim's primary livelihood. A stint at Brooklin Boat Yard followed, which was then operated by designer-builder Joel White. Then, in partnership with John Dunbar, came the founding of Benjamin River Marine, a small yard that would specialize in building and caring for wooden boats. Here, Hylan's learn-as-you-work approach became vastly accelerated when Bray referred a call from Ted Okie, who inquired about building a Dynamo, the 38′6″ Bill Garden-designed troller-cruiser that WoodenBoat had recently featured in its Design Section.
Okie is a sailor, yachtsman, and self-identified fanatic for historic wooden working craft. In their conversation, he and Hylan discovered that they share an appreciation for efficient sailboats with lovely aesthetics—and for the designs and writings of L. Francis Herreshoff. In fact, Herreshoff's classic tomes The Compleat Cruiser and Sensible Cruising Designs were touchstone books for Hylan—works that shaped his identity as a designer and writer. Okie and Hylan soon abandoned the Dynamo idea and ultimately decided on a Rozinante, the exquisite 28′ canoe-sterned pocket cruiser designed by Herreshoff.
"What boatbuilder on earth would turn down the chance to build one of those?" Hylan asked me, rhetorically. The result was RED HEAD, launched in 1994, whose rig Hylan slightly modified, changing it from a ketch to a yawl. It was a bold move to tamper with Herreshoff's carefully wrought design, and not without its critics, but the boat was a resounding success. Hylan credits the yawl rig idea to Bray, but be that as it may, RED HEAD is the most beautifully built Rozinante I have ever seen. The project began a friendship and collaboration that would result in Okie becoming the major patron of the Hylan shop. And this has resulted in a diverse succession of unique boats built for Okie, and a flourishing of Hylan's career and talents.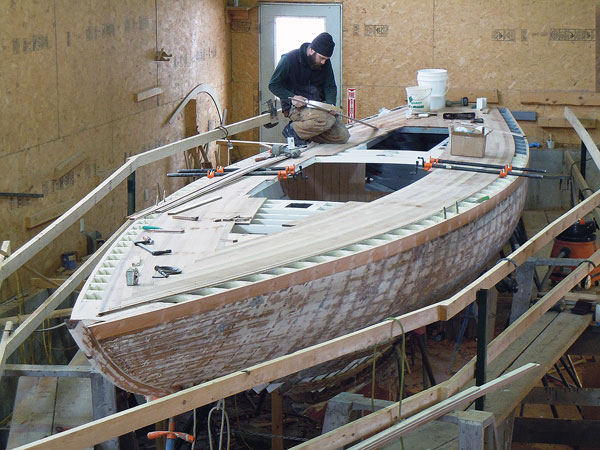 The GRAYLING project began a few years after RED HEAD's launching, when Hylan was with Bray and owner Michael McMenemy delivering the R.O. Davis-designed motorsailer BURMA to her summertime mooring in Brooklin. They detoured to take a look at GRAYLING, by then a rather decrepit ex-sardine carrier hauled out on North Haven. She was headed downhill, but had potential. It took only another visit and a bit of arm-twisting for Bray, Hylan, and the marine surveyor Giffy Full to convince Okie to purchase the boat and transform it into a pleasure vessel capable of cruising between Maine and the Bahamas—and to do so while still remaining true to its roots.
GRAYLING stretched Hylan's skill even farther. In order to accomplish the necessary design work and produce accurately detailed plans, he taught himself Turbo-CAD, a 2D computer design program. Later he moved on to 3D CAD, which is not necessary to prepare boat plans, but helps with aesthetic factors that are so important. Hylan says, "A lot of what makes certain hulls look good are the shadows they create," and he was able to experiment with this subtlety of hull shape by modeling boats on the computer.
Okie also asked Hylan to design a tender for GRAYLING—something with workboat roots that would skip along behind the mother ship on the end of a towline and not only row, but be set up for sailing or for a small outboard. The result was the Chesapeake Crab Skiff. That simple design commission inspired Hylan to experiment with more small-boat designs, and soon he was selling plans for a variety of small boats inspired by regionally significant historic types. The onetime chemist, potter, finish carpenter, and now boatbuilder had become a designer, too.
As Hylan continued cruising in his own and others' boats, he encountered workboats, especially the V-bottomed Chesapeake Bay types, that he thought could be easily built of sheet plywood and adapted for recreational use. The theme of taking already excellent, proven commercial small boats and updating and beautifying them became his stock in trade as a designer. He banked many of his ideas for the day he could have a dedicated design office.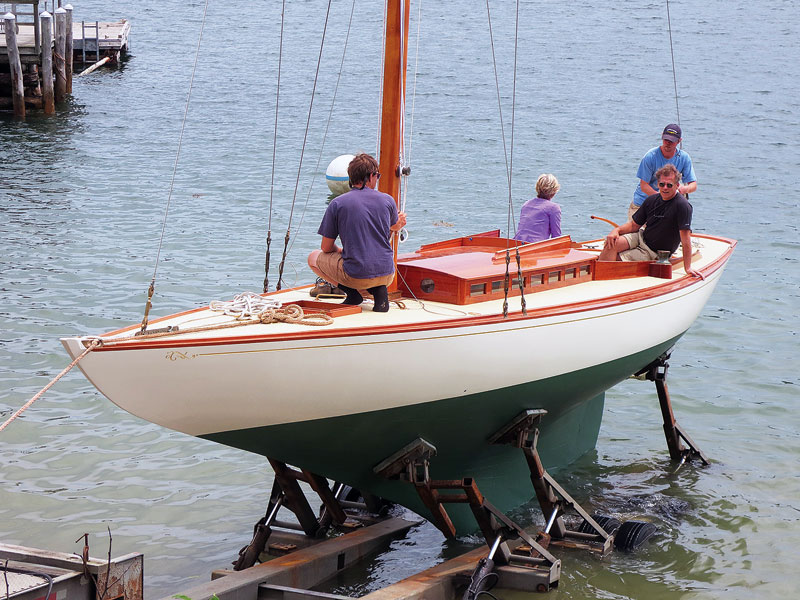 When Hylan's partnership in Benjamin River Marine dissolved and he acquired the property next door, he erected a new shop and converted a small waterfront building to an office and design studio overlooking the Benjamin River. He called the new enterprise D.N. Hylan & Associates. That was 1999, and by then the quality of his design work and his authoritative boat knowledge were widely known. Although he was still active in the shop, he found himself spending as much time behind a computer screen as in front of a workbench.
One of his first projects under the D.N. Hylan shingle was the construction of a hard-chined 21′ Handy Billy launch, which was designed by Harry Bryan after the earlier, pioneering powerboat design work of William Hand. That project gave rise to three more Handy Billys from the Hylan shop over the next two years, as well as a how-to-build series Hylan wrote for this magazine in 2001 (see WB Nos. 159–161). And another Rozinante followed in 2002—this one an exquisite slight enlargement of the original design for Gil Butler, who, like Okie, would become a patron of the Hylan shop in the ensuing years.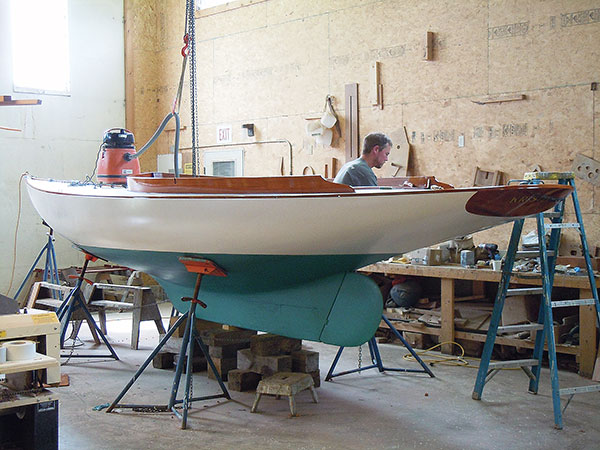 The shop also took on several restorations in the early 2000s, among them the C.C. Hanley cat-yawl MOLLIE B, whose phased rejuvenation spanned the years 2002–16; the 46′ Herreshoff sloop NELLIE (2003–08); and the Alvin Beal-designed lobsterboat DIANA for Ted Okie. The DIANA project inspired a new design by Hylan: a cold-molded version called D'Anna.
Hylan, in fact, was by now building his portfolio of small-boat designs inspired by historic examples. He was also resurrecting a long-dormant Herreshoff daysailer called Coquina. This striking 16′8″ cat-ketch was one of Herreshoff's most-used personal boats, and yet a new boat had not been built to the design for decades. Collaborating with Bray, who is a historian of Herreshoff boats, and under license from the MIT Museum, which holds the Herreshoff plans, Hylan drew up a set of detailed plans and patterns for the boat. In 2004, he built two—one for Okie and one for Butler.
The Coquina plans consist of 11 sheets, and include the usual views and lines plan, as well as the original Herreshoff drawing and four sheets of full-sized patterns and the plank layouts. The package also includes more than 500 photographs detailing both the original construction and a glued-lapstrake plywood variation, as well as rigging and sailing. This level of detail is a study in the Hylan ethos.
And what is the Hylan ethos? Perhaps Hylan's current business partner, Ellery Brown, put it best: From its beginning, Brown said, D.N. Hylan & Associates has had one overarching goal: "If a boat was launched with Doug's name on it, whether it came out his own shop on Benjamin River, or out of a garage in Detroit, whether it was built by a master craftsman or a rote amateur, he wanted to do everything he could to ensure it was structurally and aesthetically correct, and he would do that from behind a computer, rather than a tablesaw. He would research and consider, draft and adjust every detail before he pressed 'print.'"
Brown came to work for Hylan in 2008 as a young recent graduate of the Apprenticeshop in Rockland, Maine. It turned out he possessed many of the attributes Hylan would begrudgingly own up to in himself.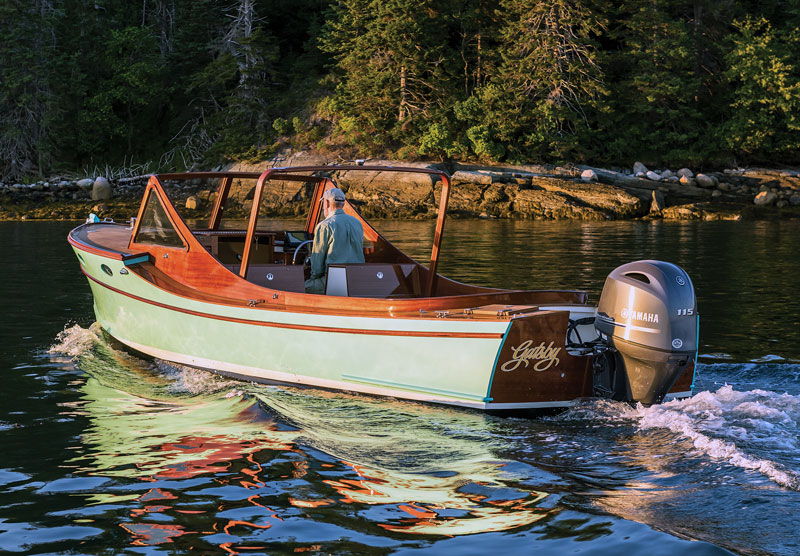 Hylan, said Brown, "was 50 when he struck out on his own, but he had the energy to survive the 100-hour weeks" required of the startup business. "But he knew he wouldn't always—and wouldn't always want to. He had other goals in life. He wanted to build a little house on the knoll behind the shop for himself and Jean. He wanted to go cruising for an extended period of time." Brown also notes that Hylan did not want to sell the business he'd devoted his life to building. "He needed a partner, someone to tutor in the business and the trade, to bring along slowly and eventually trust enough so he could step back some, and disappear sometimes, but maybe not ever walk away." He and Brown agreed to a partnership, and the name of the business has recently changed to Hylan & Brown.
Brown arrived on the scene around the same time Hylan took on the restoration of AIDA, the iconic 33′ Herreshoff yawl that Bray and his wife, Anne, had owned for many years, and which he'd recently sold. That same year, Okie, inspired by one of the workboats in WoodenBoat's new book Designs to Inspire, asked for a boat with similar purpose and look to GRAYLING, but smaller, shallower, and more economical. The 43′ DELIVERANCE was the result. She is sturdily built, round-bilged and carvel-planked, but displaces less than half of what GRAYLING does. It was Hylan's first time undertaking a big design and construction project on his own.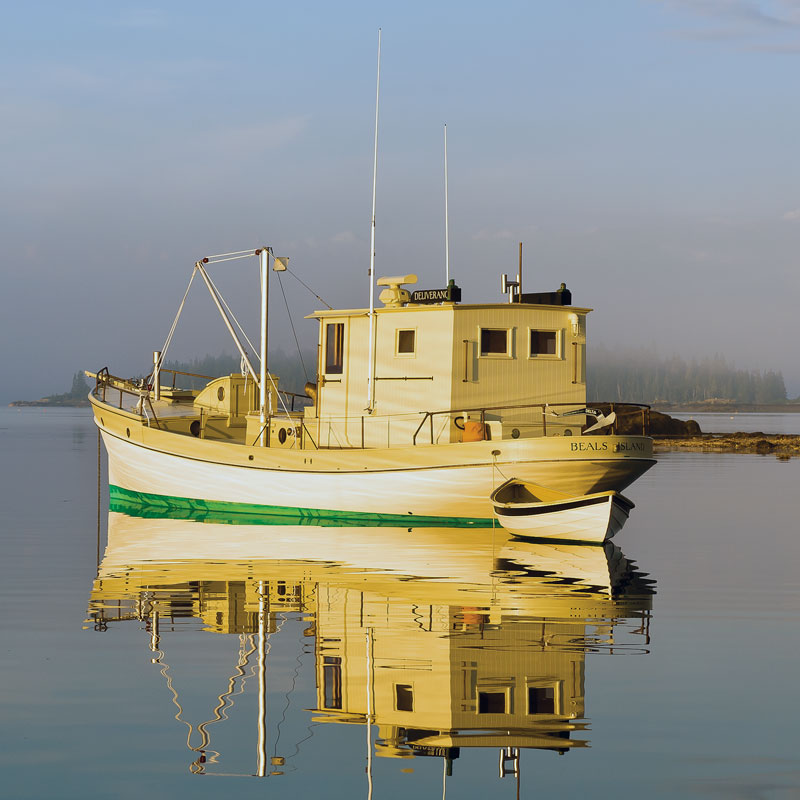 The 26′ power cruiser GATSBY, built during the winter of 2017–18 while Hylan and Jean were on an extended cruise, was the first new build on which Brown had "any significant creative input." The boat's owner, Spencer Youngblood, had this simple design brief: "Mid-sized, enclosed head, minimal overnight accommodations, outboard power, moderate speed, spacious cockpit and, above all, great looks!" Youngblood had studied Hylan's Bowler design but wanted something "lower, faster, and shinier," according to Brown. "I drew an outboard profile concept for him. It was a Top Hat hull, but with a transom-mounted outboard, a curved and raked windscreen, forward- and aft-facing runabout-style forward seating, and a distinctive round coaming with wraparound aft seating." Brown's concept drawing captivated Youngblood, and several days later a deposit arrived in the mail. Brown recalls that he then "had to confess to Doug that I'd sold a concept that needed to be designed. After scolding me for pitching features I hadn't considered how to build, Doug got straight to work turning the concept into a buildable boat."
Unlike his previous designs, Hylan left much of the detail decisions in GATSBY to Brown and the yard's foreman, Matt Elwell. Previously, Hylan would have specified the smallest details for accurate execution in the shop. But the institutional memory of the building crew made this a workable and efficient way to meet the short deadline. Brown says Elwell has gained, through his 20 years working with Hylan, the "skill and aesthetic and engineering sense necessary to make sound decisions."
But does this add up to artistry? I am moved by Hylan's boats in the same way that I am moved by art. But Hylan asserts that he is not an artist. Brown helped me see through this conflict.
"He considers himself neither an artist nor an engineer," Brown said. "He brings to the drawing board a curiosity for, and understanding of, the physical world—the depth and breadth of which is remarkable. So while his designs are the result of neither art nor engineering, he is a master of comprehending and negotiating those disciplines. His success lies in that struggle—but the absence of evidence of that struggle in the actual boats is profound.
"They are sweet, effortless, and unconflicted."

Art Paine built his first wooden boat, SCRATCH, a Blue Jay-class sloop, starting at age 13. He and his twin brother, Chuck, won hundreds of races in that boat. Art is now a marine artist, boat designer, writer, photographer, and boatbuilder. Approaching age 75, he still gets up and goes to his job, steaming in ribs, spiling planks, and rigging boats. He was once a top sailboat racer, and still sometimes wins in LUDICROUS, his Luders 16.
Hylan & Brown (www.dhylanboats.com) are currently working on the phased restoration of a 50′ Elco motoryacht called PATIENCE, and putting the finishing touches on a 43′ Reuel Parker-designed power cruiser to be called MAGIC II.