Disassembly, reassembly, foraged parts, and glorious outcomes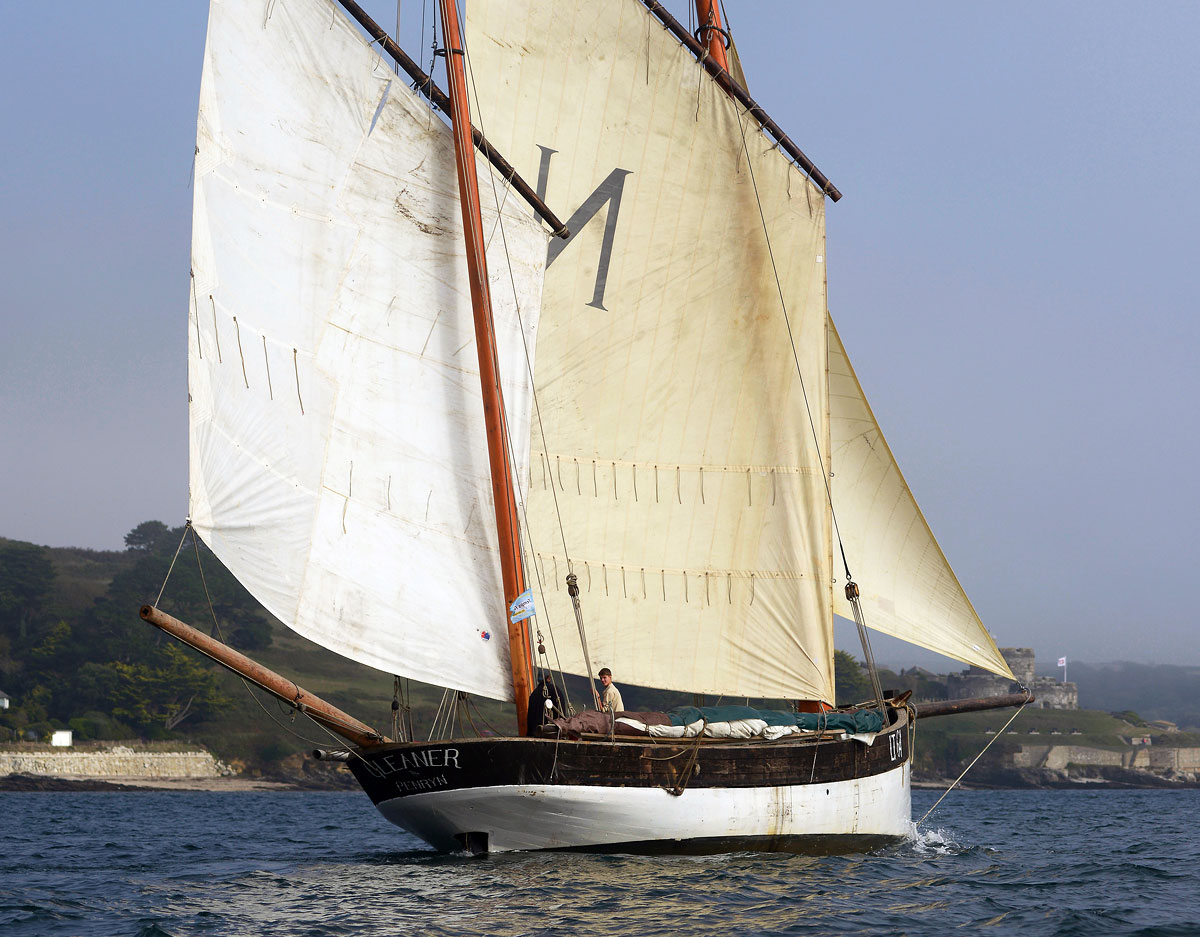 The Sea Salts and Sail festival in the Cornish village of Mousehole was, by all accounts, one of the best British sailing events of 2018. Roughly 50 boats were packed in the picturesque little fishing harbor at the southwestern tip of the U.K., less than 10 miles from Land's End. There were sculling races, music, poetry, model boat races, flag-making, and cooking demonstrations. There was even a boatbuilding event, with a group of people planing down a 35′ pole on a boat moored up at the quayside.

The work taking place aboard that boat wasn't a demonstration. The pole was to be the bowsprit of the 1878 Lowestoft drifter GLEANER, newly restored by the Penryn, Cornwall, shipwright Spike Davies. Spike had four-sided the pole before leaving Falmouth two days earlier, then led a crew in eight-siding it while GLEANER was anchored off Mousehole, and continued finishing it off in the harbor so that GLEANER could join the races.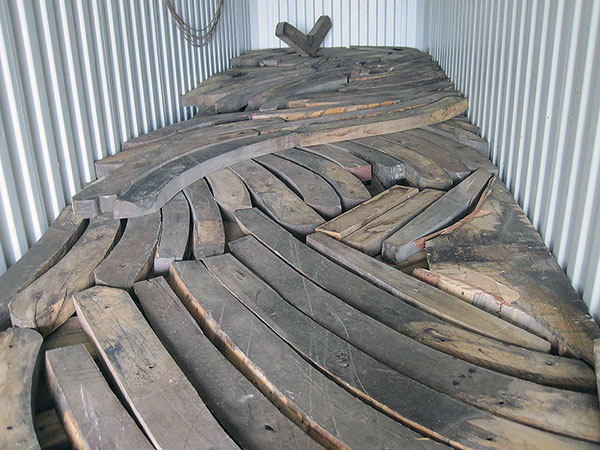 Thus, on the first day of racing, while the rest of the fleet sailed around the sparkling waters of Mounts Bay in what would prove to be England's hottest summer on record, Spike and friends were busy rounding off the last corners of GLEANER's new bowsprit. They joined the fleet on the second day, setting her giant 1,500-sq-ft fore lug, which Spike and his girlfriend, Elle Demaus, had stitched together out of donated sails only one week earlier. The opening for the new bowsprit wasn't quite right, so, as GLEANER drifted around the course in the gentlest of breezes, Spike and friends chainsawed a more suitable aperture through the boat's bulwarks. They eventually gave up racing and retired for lunch, but they were able to set off that afternoon with bowsprit in place and with GLEANER fully rigged for the first time since she was brought ashore more than 40 years earlier.
It was a momentous occasion for Spike: the culmination of five years' work that started by dismantling the boat's 60′ hull in Germany and transporting her component parts back to the U.K. in a container, then reassembling her and completing her restoration on a muddy beach in Penryn. Along the way, he worked on several other boats to raise money for this project, learned to mill his own timber and weld his own steel fittings, and received donations ranging from an antique tiller to a propeller, sails, spars and 10 tons of lead ballast, not to mention a large amount of volunteer help. His story demonstrates how much can be achieved through a combination of enthusiasm, ingenuity, skill, collaboration, determination—and very little money.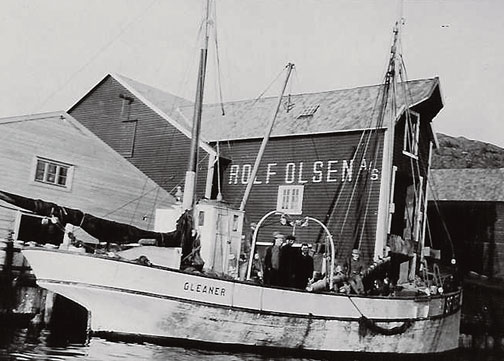 When GLEANER was built at Richard Kitto's yard in Porthleven (on the other side of Mounts Bay from Mousehole), she was nothing out of the ordinary. There were hundreds of wooden sailing drifters operating from what was to be her home port of Lowestoft, on the east coast of England. Most of these boats were originally three-masted luggers that fished for herring in the North Sea in winter before heading to Cornwall for the summer. In the mid-1800s, fishermen removed the middle mast from these vessels to make more space on deck to work the nets, and the foremast's lugsail was replaced with gaff sail for trawling in summer. This combination, with a lug-rigged mizzen and a gaff mainsail, became known as the "dandy rig" and was popular for several decades, until sail was entirely replaced by steam in the early 1900s.
If her building date of 1878 is correct, GLEANER was launched in the middle of the "dandy" era, and would have had either a lug or a gaff mainsail, depending on what type of fishing she was engaged in. She went through a string of owners in her first 15 years, before being sold to Norwegian owners—a common occurrence at a time when a 15-year-old boat was considered old. Initially based at Skudeneshavn in southwestern Norway, she again had a succession of owners, and gradually worked her way north until arriving in Holevik at the country's northwestern tip in 1939. She was probably fitted with her first engine, a 20-hp Askøy, sometime between 1912 and 1919. Her rig was correspondingly reduced, and pictures of her at this time show a modest gaff ketch configuration.
LIST OF OWNERS:
1878 Built by R. Kitto, Porthleven, Cornwall, for
W. Breach & J.J. Goldsmith, Lowestoft (reg LT 64)
1880 J. Mickleburgh
1884 J. Lincoln
1888 Henry Smith
1893 B.J. Reynolds, sold to T.S. Høines, Skudeneshavn in Norway (reg JMLQ)
1912 Mons Hansen Toft, Herdla (reg MNSQ,
engine fitted)
1919 Truls Johnsen Birknes, Byrknesøy (reg SF 10 G)
1923 H. Halsøy, Bulandet (reg SF 133 A)
1939 Olav Holvik, Holevik
1980 Sold to West Germany
If you have information about GLEANER's whereabouts or owners for times when her history lacks detail, please contact the editors.
Her history after the war is hazy, but by the time she turned up in Germany in 1980 she was in poor condition and in need of major work. She was taken out of the water and completely rebuilt from the keel up—the original keel and the fore and aft deadwoods being the only bits of the original boat not replaced. The work was done to a high standard (probably better than the original) but mistakes were made in the staggering of plank butts and, strangely, the stern was widened to create a wineglass transom rather than the elliptical stern she would originally have had. There was also confusion about her provenance, with contemporary reports referring to her as a pilot cutter.
When the new owner ran out of money, the shipwright working on the boat took over the project, but he died before completing the planking. The next owner, Bernard Lang from Hamburg, persuaded the Technology and Transport Museum near Stade to give the boat a home. She was duly put on a barge and transported up the Elbe River to her new abode. An enormous lean-to shed with its own storeroom was built, but no work was actually undertaken on the boat itself. And so GLEANER sat for years, apparently abandoned, until local officials decided they wanted to develop the site into a supermarket complex. The entire museum was then moved 100km (about 62 miles) away, but local government officials ordering the move had no interest in transporting an old, half-restored, English-built wooden boat to the new site. Instead, the museum announced that, unless the "schoner" (all big boats are schooners to the general public) was moved by a certain date, it would be demolished.
Spike hadn't even been born yet when GLEANER was taken out of the water in Germany. His parents were living on the 37′ East Coast smack IBIS when he came along in 1983, and soon after his birth they acquired another wooden boat: the 44′ Mounts Bay lugger SNOWDROP. When they separated a few years later, his mother, Helen, kept IBIS and his father, Chris, kept SNOWDROP. Spike spent most of his childhood living on one or the other of these two boats, surrounded by other "alternative" types of liveaboards on a variety of (mostly wooden) boats on Penryn Beach. At age 12, he was given a Silhouette Mk2, a 17′ plywood pocket cruiser, which, together with his father, he restored and used as a summer annex.
For his 18th birthday, Spike received ROSA, a 1945 Belgian fishing boat in need of restoration. It was in many ways a classic Spike enterprise: a big project tackled with minimal resources and a great deal of guts and verve with huge support from the local boating community.
"From the start, I made a very conscious effort to follow a labor-intensive, not financially intensive, path," Spike says. "In reality, it would often be much easier to earn the money and pay for the thing you need, but maybe less fun, depending on your idea of fun! People have been very supportive and donated many things to the various projects I have been involved in. The things are normally not exactly what's needed at the time, but with a bit of lateral thinking and ingenuity can be adapted to serve the purpose."
In no time at all, he had collected a pile of wood being chucked out at the docks that would do for the planking, followed by a load of fastenings that was surplus to someone else's requirements. Reluctant to waste his resources on yard fees, he and his girlfriend at the time, Charlotte Whyte, did all the work right on the beach, including replacing most of the underwater planking, refastening the hull and, seemingly impossibly, floating the boat onto a new keel in between tides. It was, by force of circumstance, rough and ready work, but good enough for Spike to sail ROSA across the Atlantic and for him and Charlotte to spend a season sailing her in the Caribbean before returning to the U.K.
Once home, they sold ROSA and split the proceeds. Charlotte bought GLADYS, a beautiful 40′ Isle of Man nobby, a type of fishing boat used in northwest England, which she spent the next few years restoring, with help from Spike. With his share of the proceeds, Spike bought a fiberglass boat that provided a home for the couple and their son, Jake, while they restored GLADYS. But his heart was never in the fiberglass project, and after a couple of years he sold it for what he'd bought it for and started looking for something more worthy of his attention: an old wooden boat.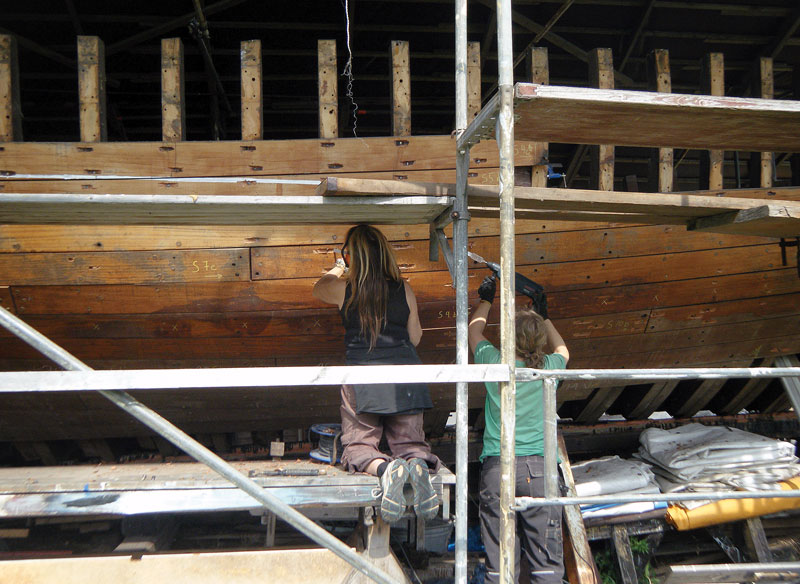 This was when boatbuilder Ashley Butler (see WB No. 189), now based in Falmouth, sent him photos of a boat in Germany that needed rescuing. GLEANER was in a sorry state: her deck had been removed, she was only partly planked, and, worse still, several planks had split when moles dug under the supports that were holding her up and sent the boat crashing onto her starboard side.
But, as the pictures of the boat came through on his mother Helen's not-so-smart phone, Spike was immediately hooked. He, Charlotte, and Jake drove to Germany the following week and, within minutes of seeing the boat, he had shaken hands with the local council and agreed to buy her—not at the council's asking price of €10,000 ($11,340) but for a "symbolic sum" (their words, not Spike's) of €2,000 ($2,268). Elmar Specht, a local wooden boat enthusiast, provided the vital link here, facilitating negotiations and effectively saving the boat from destruction.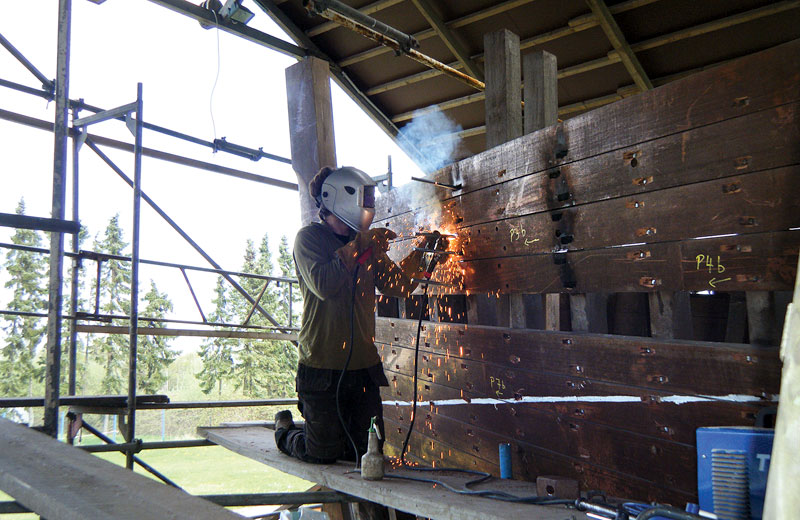 It was not as rash a decision as it might at first seem. "About 60 percent of the boat was there...the hard 60 percent," Spike says. "Nearly all the framing was there, and most of the planking. And 95 percent of what was there was new—apart from a bit of deadwood aft, a bit of deadwood forward, and the old keel, it was all new. I knew that as a result of going from a 40′ boat to one that was 60′ the work would increase exponentially. But it was a chance to jump ahead of where we were; it was too good an opportunity to pass up."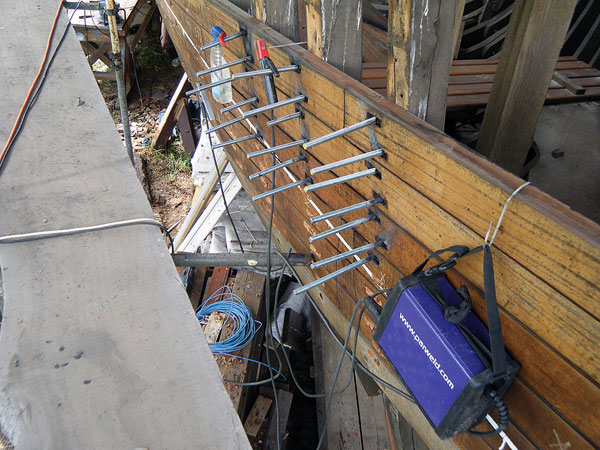 Spike then had the problem of how to get the delicate 60′ structure back to Cornwall before the bulldozers arrived. The original plan was to patch up the hull, install a temporary engine, chuck her back into the Elbe, and motor her home. But it soon became apparent there was too much boat missing for this option, not to mention the impossibility of satisfying German maritime health and safety laws. The cost of putting her on a flatbed truck to England, never mind all the way to Cornwall, was €15,000 ($17,010), double the money Spike had left after paying for the boat, "which seemed an awful lot just to transport a large volume of air, as the hull was completely empty."
While they were discussing what to do, Spike's friend James Evans casually observed that containers were the cheapest form of transport. The idea of packing the boat into a big steel box was initially dismissed as ludicrous, but as all the other options fell by the wayside, they began looking more seriously into doing just that.
"When we looked at how she was put together and what was broken, we realized we were going to have to take her apart anyway," Spike says. "The longest run of beam shelf was only 22′, and there was a row of plank joints which created a hard spot where she had already broken, so most of those planks would have to come off to stagger the joints properly. Also, there was no bedding between the frames and the planking, which I think is good practice to keep the moisture out. Taking her apart would be a good opportunity to see how she was put together and sort out some of the problems."
As Spike points out, the idea wasn't without precedent: didn't Hernán Cortéz famously dismantle a fleet of ships and transport them overland to Lake Texcoco to defeat the Aztecs in 1521? And there are numerous examples of warships being dismantled and carried across land to do battle in both world wars.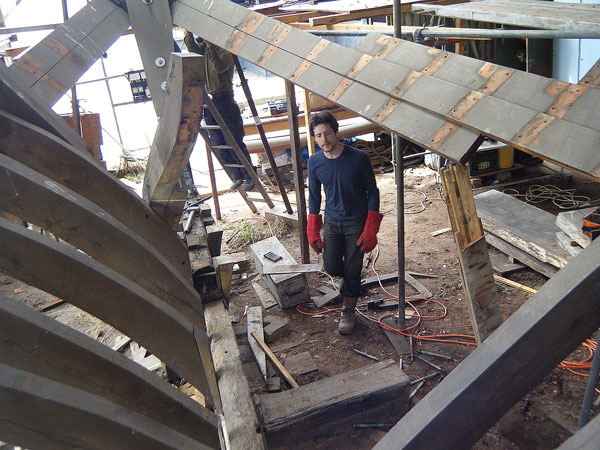 Key to the GLEANER project was that all the planking was new and the boat hadn't been in the water since she had been replanked, so the fastenings were not corroded and were easy to locate and remove. In fact, they had all been painstakingly countersunk and covered with wooden bungs, something her original builder would surely not have bothered doing. James made "an advanced mathematical projection" that suggested the volume of wood would fit into a 40′ container, with space to spare.
Back home in Penryn, Spike experimented with different ways of extracting nails from planking and devised a system whereby a short length of studding was welded to the nailhead, a slide hammer was then screwed to the studding, and the nail was knocked out with the slide hammer. The system worked well enough on his workbench, but how would it work in practice, extracting 2,500 nails from a big old boat in the middle of nowhere?
In April 2013, Spike and a team of friends (Aidan Begbie, James Evans, native German speakers Ralph Pottoff and Henrika Gabor, and his parents Chris and Helen) set off from Cornwall to find out. Once in Germany, they split into teams, with Helen and Henrika locating the fastenings, chipping out the bungs and grinding the galvanized finish off the nailheads. They were followed by Spike and James on one side and Chris and Ralph on the other side, welding the studding to the exposed nail heads and extracting the nails. Once the nails were out, they were knocked off so the studding could be reused. It took the six of them a week to remove all the fastenings—a surprisingly fast turnaround given the scale of the project.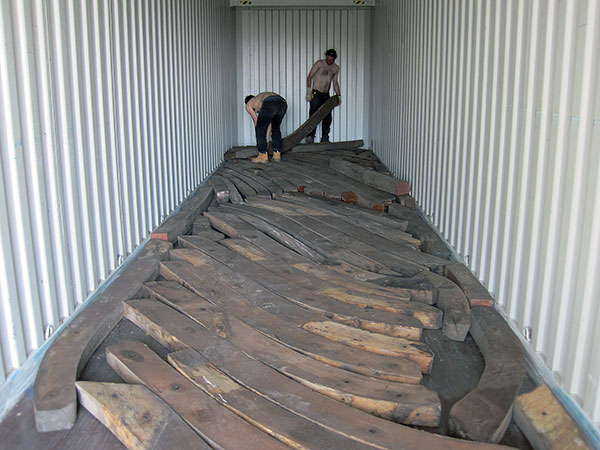 By the time the boat was dismantled, there were about 500 pieces of wood that all had to be carefully labeled for re­assembly. Helen was in charge of labeling and spent three days coding the parts with a paint pen.
As James had predicted, the dismantled boat easily fit into the container, with enough extra space for the steel hull supports and the tarpaulin from the giant shed, which would save money later. Although the keel was one of only three original pieces, it had been patched where it had evidently leaked, and it split right down the middle when they tried to remove the fastenings. With the weight in the container becoming an issue (the boat weighed 22 tons when she was moved in the 1980s), Spike reluctantly decided to leave the keel behind.
In June 2013, the container arrived at Freeman's Wharf in Penryn, and, with only a few hours to unload it, Spike organized the first of many work parties to help ease the project on its way. Some 22 people turned up to welcome GLEANER back to Cornwall, probably her first visit to the land of her birth since she was sold to Norway 120 years earlier. With so little time, all Spike could do was to decide which way 'round he was going to rebuild the boat to put the starboard parts on the starboard side and the port parts on the port side.
Buoyed up by how quickly they had taken the boat apart, Spike set off full of optimism, imagining she would come together almost as quickly. He was to be proven sorely wrong. It would take him weeks just to reorganize all the piles of boat parts, and he regretted not writing the codes on the ends where they would be most visible once the wood was stacked. The next step was to lay the new keel, but the space where this was to lie was presently under a couple of boats that would, he was assured, soon be moved. So he had to start setting up the frames before the keel was in placed. Then, after the boats were out of the way and the keel laid, the planking went on after carefully lining up the holes in the planks with the holes in the frames. Galvanized carriage bolts instead of nails were used this time. (Spike contemplated using wooden trunnels, but after cutting 400′ of the needed 4,000′ of these wooden fastenings, decided to focus his energy elsewhere.)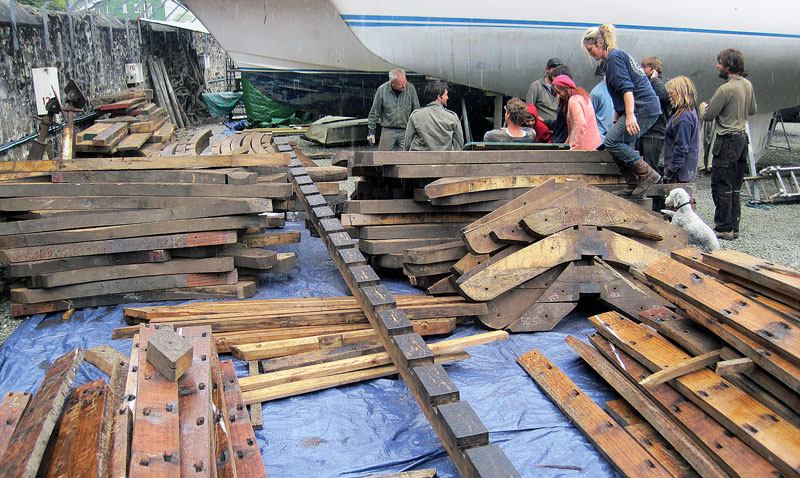 He used nearly everything brought over from Germany, apart from a couple of frames that needed replacing, and in addition bought four big larch trees for £1,500 ($1,900) to complete the planking. But it still wasn't enough. When a massive oak tree came down over a nearby footpath, he bought a chainsaw on eBay and chopped it into manageable pieces to tow back to Penryn Beach. When the chainsaw gave up, Charlotte tracked down a Wood-Mizer mobile sawmill that Spike then spent weeks fixing to turn the log into planks. "It would have been cheaper to buy the wood, but at least I ended up with a useful resource at the end of it," he says.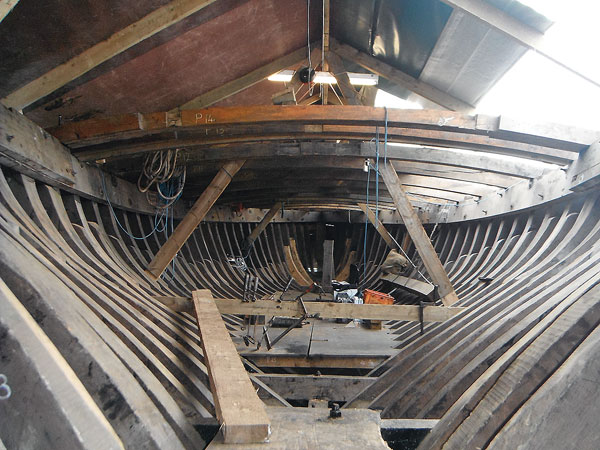 In September 2014, GLEANER was back in the water for the first time in at least 35 years, but she still didn't have a deck or any accommodation. With two big wooden boat projects on the go, Spike took some time out to work on GLADYS, which he and Charlotte sailed in the Looe Luggers Regatta in 2015. The winter of 2015–16 was a low point: Spike had run out of money, he and Charlotte had split up, and he was living on his mother's boat, IBIS, which he'd moved out of when he was 12. His father, Chris, bought a 50′ Cheoy Lee ketch, then hired Spike to help refit it; the project helped to restore his spirits and his finances.
In March 2016, GLEANER was back at Freeman's Wharf, this time to load the 10 tons of inside ballast that a local benefactor, David Noax, had donated to the project. Spike had spent years collecting old ballast keels for just such an occasion, but the offer of a free load of lead was irresistible, as it would take less space and meant he could lower the cabin sole for more room belowdecks. With the help of Ellie Hughes, a Falmouth-based boatbuilder and artist, and anyone else who got too close, lead ingots were cut to allow a tight tesselation and carefully arranged in the bilge, then encapsulated with concrete.
While GLEANER was at Freeman's Wharf, the engine and the timber for the deck were also loaded. The engine itself was an ancient Lister JPM diesel, the same engine his father had had in his old boat. Spike had always wanted one for himself but had "never had anything to put it in." The engine was saltwater-cooled and had rusted out, so a couple of the manifolds needed welding. Spike and his friends sorted it out and got it running.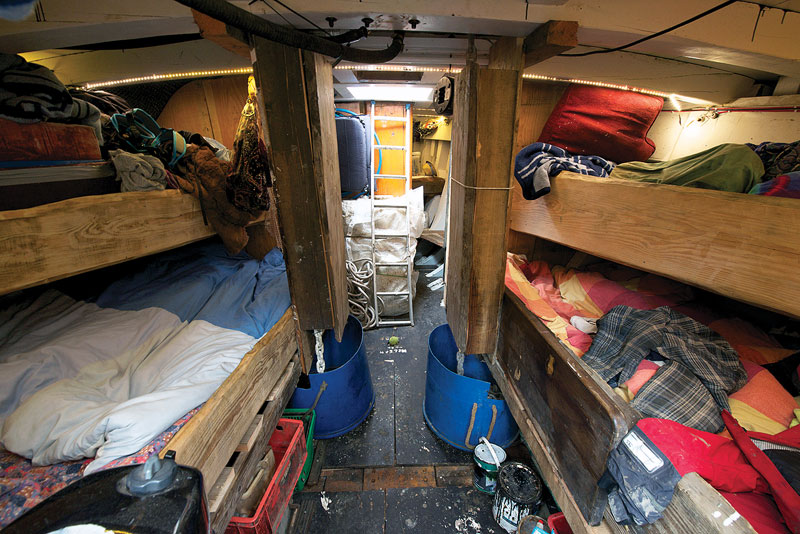 By September, Spike had run out of money again, so he took time out to help Charlotte restore an old picnic launch that they'd found on eBay, then sold it at a reasonable profit. About this time, Spike received a timely inheritance of £7,500 ($9,547), which enabled him to buy the wood for GLEANER's mast. Once again, the increase in scale from GLADYS was exponential: whereas GLADYS's foremast was 40′ long and 9″ in diameter, GLEANER's was 60′ long and 18″ in diameter. Even the mizzenmast was 12″ in diameter, and bigger than most boats' mainmasts. After Spike milled the Douglas-fir for the foremast into 24′-long staves, he found the individual staves too heavy to lift on his own and had to organize another work party to move them from shore to boat.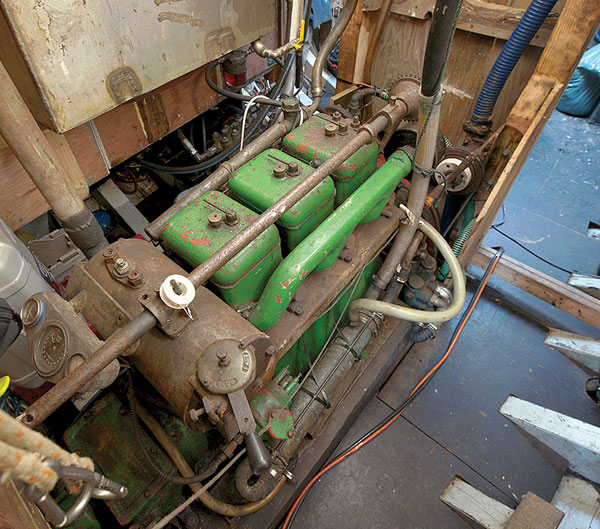 Finally, in the summer of 2017, Spike started assembling the masts—not in the comfort of a workshop but right onboard GLEANER, which by then was back on Penryn Beach. "This was not the best decision of my life," he says. "GLEANER has 2′ of sheer, so by the time the mast was raised over the fore and aft bulwarks, it was ridiculously high in the middle. When it started raining, I had to put the tarpaulin back on, and there was less than a foot between the tarpaulin and the mast. The deck was covered in wood shavings, and I was having to lift the pieces with a chain hoist."
Apart from the difficulty of working in such a cramped space, there were other negative repercussions. The resorcinol glue in one end of the mizzenmast, which was sticking out of the tarpaulin, failed to cure due to the cold temperature, which, as we shall see, became evident halfway through the boat's first cruise.
It was a very different matter when it came to the rest of the rig. All the spars were gifted to Spike by the local wooden boat community: the Falmouth-based charter boat EDA FRANDSEN (see WB No. 140) donated her old mast, as did the gaff yawl VOLUTA and the Falmouth working boat VICTORY. GLADYS's old mast was likewise recycled. In each case, the donors' mainmasts would serve as smaller spars on GLEANER after being whittled down to the right diameter—an indication of the scale of the rig. Spike left cutting them to length until after the sails were made, because "you never know what you're going to end up with."
It was a wise decision, because all the sails were donated, too—or, in one case, fished out of a dumpster. An old mainsail from the Bristol Channel pilot cutter MASCOTTE became GLEANER's mizzen, saving Spike significant time and money. The 1,500-sq-ft lug foresail was a "collage" of six sails, including an old genoa, which had evidently become unfurled in a gale and shredded along the leech before being dumped as garbage. The luff of that sail was still good, though, and once the ripped section had been cut away, the remainder formed the basis of the new sail. Another genoa from a Jeanneau 45 formed the new leech, which Spike and his new partner, Elle Demaus (herself a former tailor, with experience in pattern cutting), laid out and stitched together in an open field.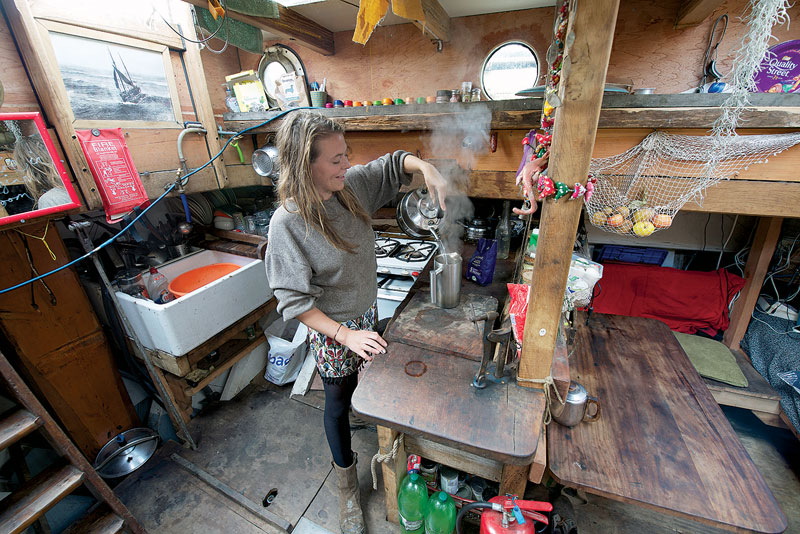 "Luckily it was amazing weather, so we could make the sails outside. We needed a big space where we could stretch the fore lug and leave it overnight while we were working on it. Potager Garden let us use the field for free and allowed us to cut the grass really short. Once we had the leading edge and the tail, we just filled the middle with the other sails. It took us a week to sew it all together."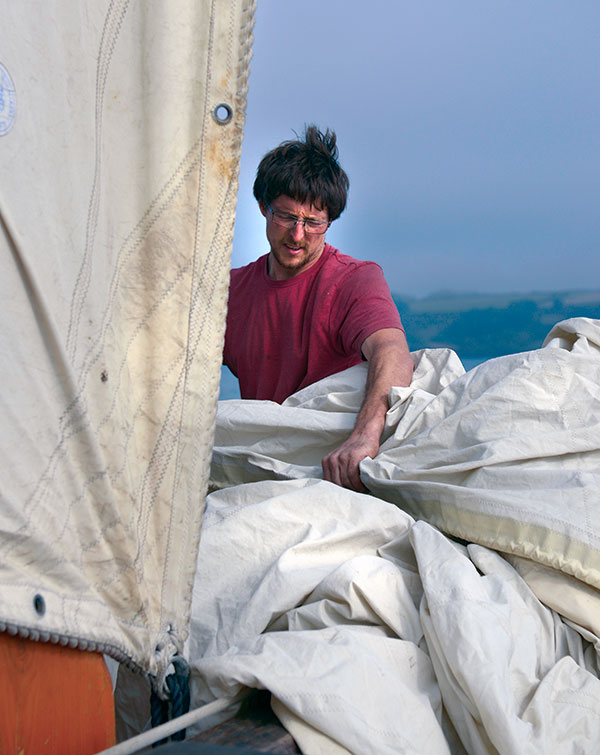 Despite the glorious weather, they were behind schedule, and GLEANER wasn't ready in time for the Falmouth Classics in June 2018. Spike and Elle sailed on GLADYS instead, and it was a mad rush to have GLEANER ready in time for the festivals at Mousehole and in Douarnenez, France, the following month. The crew would need somewhere to sleep if they were going to sail across the Channel to France, so he, Elle, and new crew member Amber Middleton threw together a set of rustic bunks forward of the workshop.
Finally, on July 11, 2018, the same day as Spike and Charlotte's son Jake's birthday, GLEANER sailed for the first time in over 40 years. The next day, she headed down to Mousehole with eight crew onboard, including Richard Hingley, who had lent Spike his forge (and lots of patient advice) to do the metalwork. The bowsprit was eventually fitted and oiled, and the accommodation finished off before Spike and friends went to Brittany for the biannual wooden boat jamboree at Douarnenez. The idyllic summer continued, but on their return to the U.K. they were hit by a "half-gale" and the base of the mizzenmast started coming apart due to glue failure. Later, during a stopover in Wales, they pulled the mast out, sawed off the bottom 2½′, and scarfed on a new section. It was another lesson learned.
I joined GLEANER in Penryn after she'd gotten back from her travels. She was moored up alongside the town quay, and it was hard to get a feel for the boat, though there was no denying the size of that enormous, unstayed mast sprouting from the foredeck and the impressive bits of kit on her deck. Belowdecks, I loved the rustic fit out, more like a treehouse than a yacht's interior, and reminiscent of one of my all-time favorite books, Handmade Houses: A Guide to the Wood Butcher's Art, by Art Boericke and Barry Shapiro. It's rough and ready, but put together with skill and an eye for color and shape.
There was a party up the Carrick Roads to celebrate EDA FRANDSEN's 80th anniversary, and most of GLEANER's usual crew were sailing their own boats there to raft up and make merry. With only four of us aboard, and me too busy taking photos to be really useful, it seemed a very small number of people to handle a boat that would traditionally have a crew of ten. But Spike has taken advantage of some intermediate technology to make sure GLEANER can be sailed shorthanded, if necessary, by two. A huge antique, hydraulic windlass on the foredeck (donated from the yawl ANNA MARIE) not only operates the anchor chain but can be used to hoist the foresail, while a small winch on the afterdeck makes light work of raising the mizzen.
GLEANER has four lugsails in her wardrobe, three of them small enough to be set from either mast by a small crew: the big mizzen serves as the foresail and the smaller mizzen goes aft; the jib is optional. The sail that's not in use simply sits on a pair of steel fork-like brackets set into the bulwarks. With a full crew onboard, the 1,500-sq-ft dipping fore lug can be set on the foremast along with the biggest mizzen (MASCOTTE's old mainsail) and a jib tacked to the bowsprit. Rigged this way, she spreads some 3,000 sq ft of sail. This versatility is one of the interesting features of a lug rig and is no doubt one of the reasons it was so popular with fishermen.
As we were shorthanded, the first job was to replace the dipping-lug foresail with the big mizzen. Watching Spike and James (assisted occasionally by friend Alister Kyle and myself) move the boat's rig around was a lesson in mechanical advantage—one of the few areas of physics I find genuinely fascinating. These are heavy weights, as I discovered when I tried to manhandle the outer end of the sail. If you don't use a combination of gravity, leverage, and pulleys to your advantage, then you'll quickly end up with crushed bones.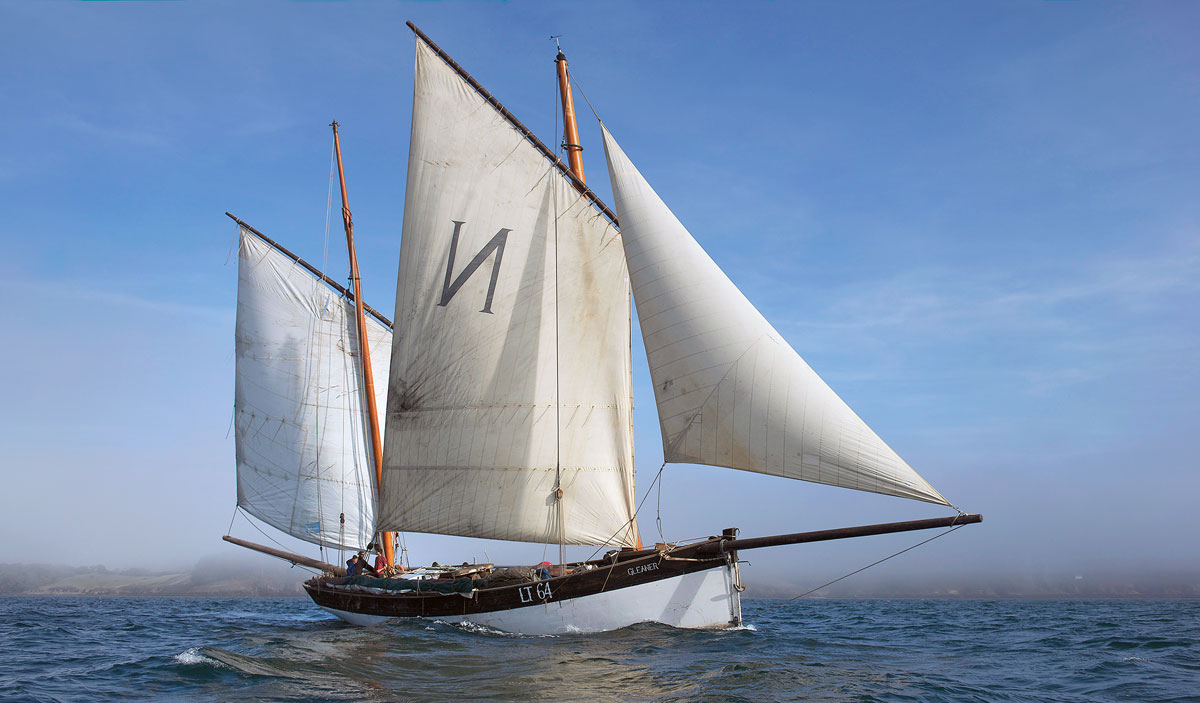 The apparent ease with which Spike and James swung, winched, and levered the rig into place was more like watching a modern ballet than men at work. Even so, I was still thinking of GLEANER as a lumbering beast of burden: solid rather than graceful, rustic rather than elegant...until I climbed into the dinghy to take photos. That's when I saw how stunningly beautiful and graceful she is. All those chunky frames, hefty planks, tons of ballast, and stout masts had ensured the boat's survival for nearly 150 years. All that material weight suddenly became secondary to her grace as she built up speed in the shelter of St. Anthony's Head, off Falmouth. She just looked supremely purposeful, and almost serene.
It helped that the breeze had materialized, and that there were no waves to interrupt her progress. Perhaps the small rig showed off her elegant sheer to greater advantage because she made an astonishing sight, cantering across the bay, with mist swirling behind her, and just two people on deck (Spike was by now in the galley rustling up a delicious lunch). If this was the vision Spike had in mind when those photos came through, pixel by pixel, on his mother's phone five years before, then it's no wonder he considered the project "too good to be true."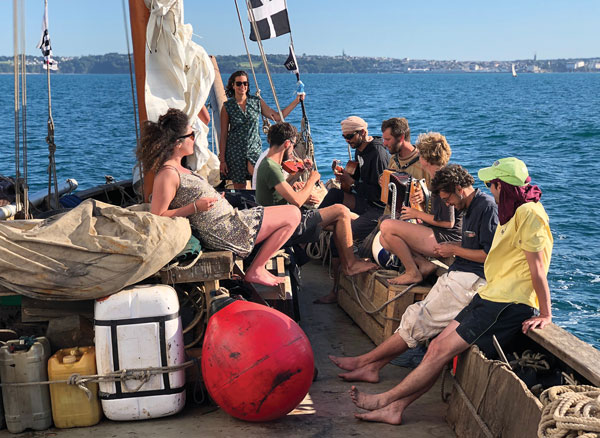 With three major wooden boat restorations under his belt, along with a handful of smaller ones, it's easy to assume that this is a man who has found his vocation and will just go on finding more projects. But Spike won't be so easily pigeonholed.
"I'm not a boatbuilder; I just rebuild boats to go sailing," he says. "After ROSA, I didn't want to buy another big wooden boat, but they are always the ones that are going cheap! The next boat might be wood, or it might not, depending what comes along. For me, it was always about sailing; it's just involved more and more work as the dreams got bigger. I need to remember that."
And so do we all. Happy sailing, Spike.

Spike sends his thanks to George Moore, Cathy McWatt, Ian McGilvray, Kenneth Henderson, Mark Tyndall, Nick Downing, Richard Clapham, and Simon Allan.
Nic Compton is a freelance writer and photographer based in
Devon, England. He has written about boats and the sea for 24 years and has published 14 nautical books, including a biography of the designer Iain Oughtred (available at www.woodenboatstore.com). He currently sails a 14′ Nigel Irens skiff and a 26′ Chuck Paine sloop.