The roots and legacy of a classic Finnish one-design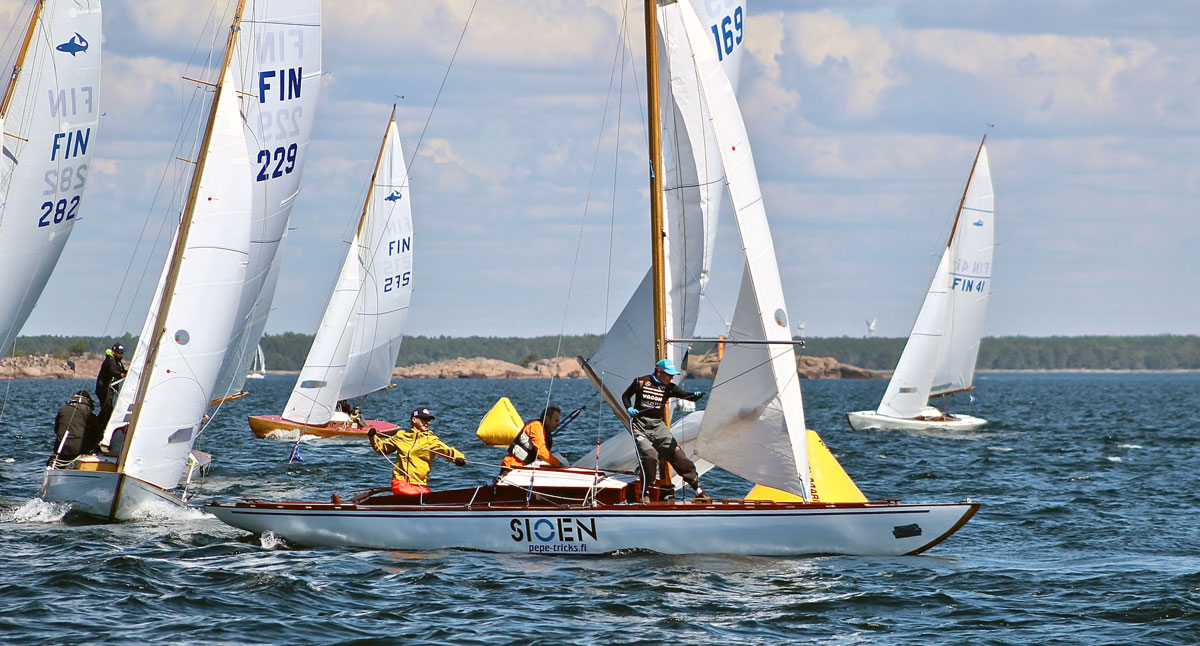 As we headed out to the starting line in her Hai-boat, KAUNE, Anita Saksi reminded me about the jaska (boom vang). Our three-person crew consisted of Anita as skipper, Heidi Nieminen handling the foredeck, and me between them in the "pit" position. I was in Naantali, Finland, for the 2018 National Championship (SM 2018) of the Hai class. When I left Maine a few weeks earlier, I had no idea that I would be sailing in this regatta. My hope was to watch the races from a spectator boat, but that was before I got to know the sailors of the Hai class.
I first saw a Hai (named MARUFFA) in Maine in the late 1970s, and I fell in love with the lines of the boat. In 1984, I bought Hai No. 22. Since then, I have been the proud owner, sailor, and occasional surgeon of this great boat, which was originally named SUOMI and is now called MAKO. In celebration of my 60th birthday and 34 years with MAKO, I decided it was time to travel to Finland in search of her origins and relatives.
I planned my trip to coincide with three weekends of racing. The first was the three-day EVLI Hangon Regatta in the town of Hanko. This is one of the largest sailing events in Finland, held annually since 1945. Two weeks after that regatta, the Hai S M 2018 would take place in Naantali, with a local regatta also in Naantali on the weekend in between.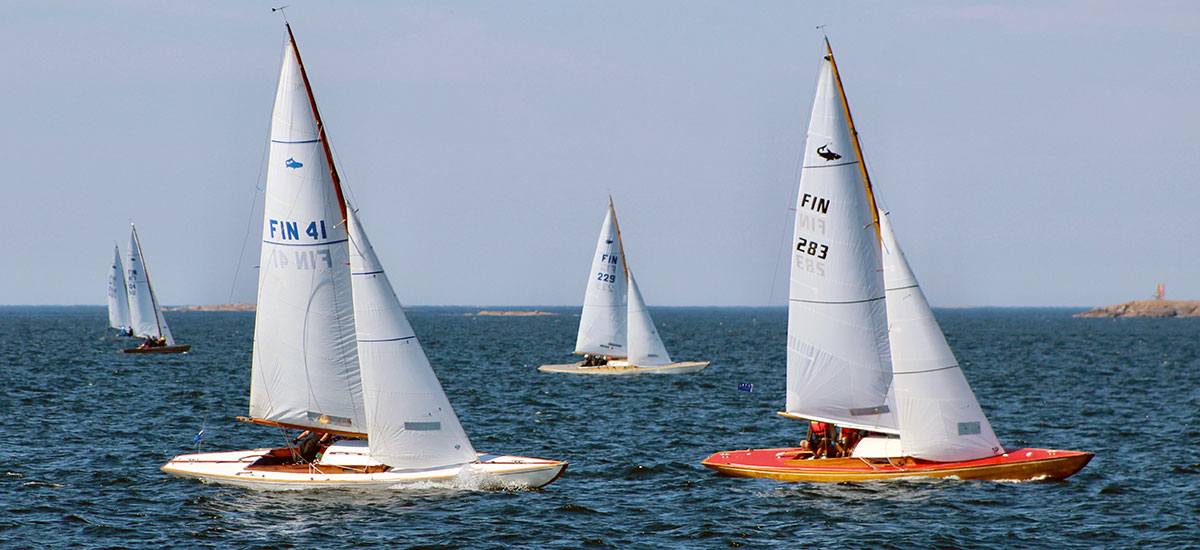 I arrived in Hanko the day before racing began and watched the crews launching and rigging their boats. A fleet of Hais was tied up in a row, sterns to buoys and bows to the dock. Nearby were various International Rule boats—5-, 5.5-, 6-, and 8-Meters—and A-boats, all beautiful wooden boats with gleaming paint and varnish. In addition, there were several classes of fiberglass keelboats, catamarans, and dinghies.
The next morning, I sat on a bench near where the Hais were moored and watched the preparations and then walked to the harbor mouth and took pictures of the boats sailing by. As they raced, they were no more than white sails in the distance. I inquired at the race headquarters about spectator boats but was told there were none. However, I was determined to keep searching for a way to see the races up close.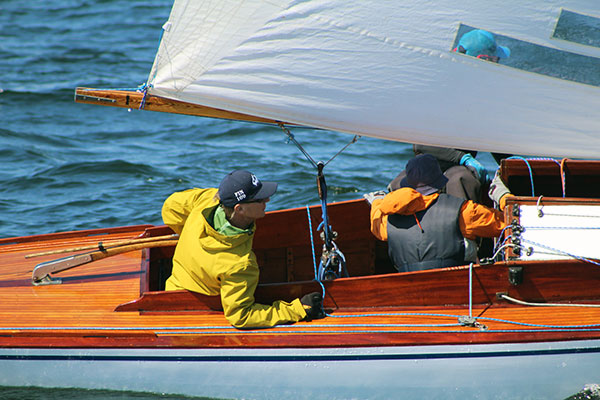 The next morning I got my chance. As I watched the fleet preparing to leave the dock on that second race day, I overheard a conversation in Finnish, which I do not speak, and surmised they were discussing going out to watch the Hais racing. I asked, in English, if I could join them. Sure enough, they were going out to watch their son, who was crewing in one of the boats. They said yes, and we spent the afternoon motoring up and down the course under blue skies and fair winds observing the 22-boat fleet.
After the race, I joined my hosts and their son on the sailing club deck to meet and talk with other sailors. One of those was Heikki Nieminen, an accomplished Hai sailor. Heikki told me that his sister, Anita, needed crew for the local Naantali races the next weekend. I immediately volunteered for the job, and we exchanged contact information. This was when I really began to learn about the friendliness and openness of Hai sailors. Not only did Anita ask me to crew in the local regatta, she then extended the invitation to include the nationals, and she and her husband, Harri, also invited me to stay in their sauna cabin. During one of the weekdays between regattas, Anita even suggested that I take KAUNE out for a sail by myself—an opportunity to explore the island-studded bay beyond the race course.
How did I end up sailing a Hai boat in its native waters? Well, I suppose it goes back to 1932, when A.L. Anderson of the Camden (Maine) Yacht Club, journeyed to northern Europe in search of a class boat for his club.
After visiting several boatbuilders in Sweden and Finland, Anderson chose a new design by the Finnish yacht designer Gunnar L. Stenbäck. It was called the Hai (Haj in Swedish, meaning shark, and pronounced "hi"). Over the next three years, the great Finnish boatbuilder Åbo Båtvarf shipped 25 of these boats to Maine. The Swedish spelling of the name was adopted in Maine (Stenbäck preferred the Swedish language, and the boatbuilder was in a Swedish-speaking region of Finland), where they are also referred to as "Finnboats."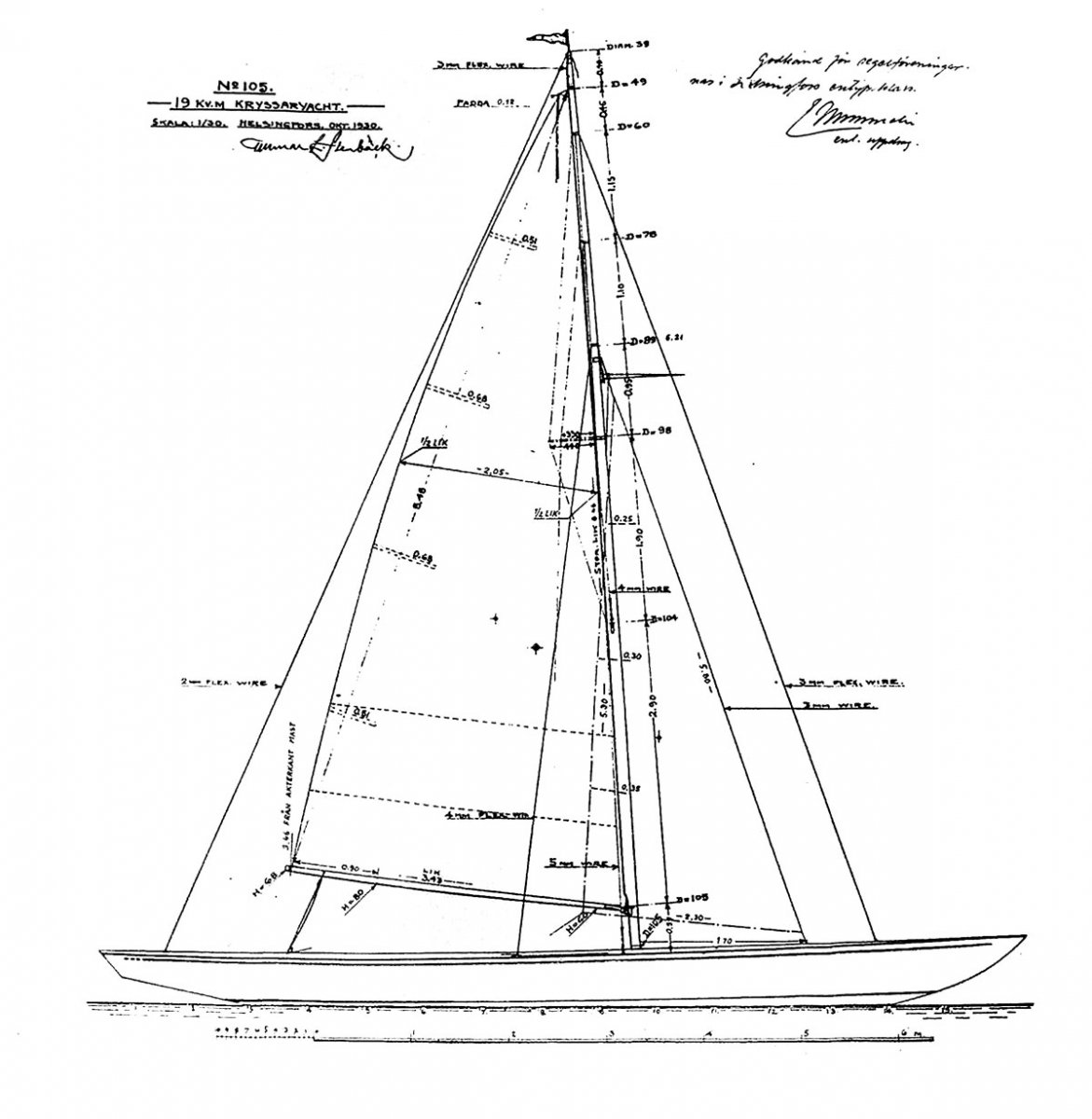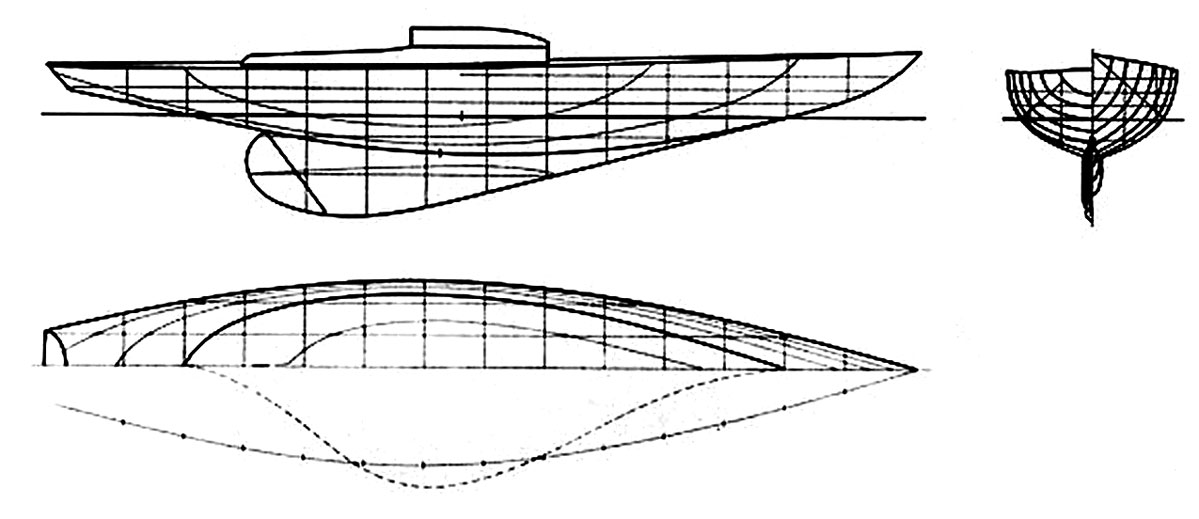 The Hai had been conceived in 1930, when representatives from several Finnish yacht clubs met to discuss their concern about the trend toward expensive custom race boats. They decided to have a new boat designed to these parameters: it must be inexpensive, of high quality, built using local materials, designed for racing as well as for cruising, and be a "monotype," or one-design. In addition, the boat should be beautiful and able to be safely handled by a crew of three both along the coast and in open water. The idea of a boat for people of modest means was shared by others in the region: the president of an Estonian yacht club joined the Finnish selection committee in choosing Stenbäck to design this new class. Stenbäck stressed that adapting mass-production methods pioneered by the U.S. auto industry would allow the boats to meet the potentially conflicting requirements of low cost and high quality. In a departure from other designs of the time, he designed the boats with no reverse curves or difficult sections, making them easy to build. The resulting Hai-boat cost about 30 percent less than a Dragon, a similar keelboat designed in 1929 by Johan Anker.
Hais are narrow and low, with a beam of just 6′3″ (1.9m) on an overall length of 31′6″ (9.6m), and carry a small, high-aspect rig of just 231.5 sq ft (21.5m²). The waterline of 24′7″ (7.5m) is relatively long, which helps reduce pitching in choppy seas, and the draft of 3′7″ (1.1m) allows access to many areas. The cockpit is deep, with two athwartship seats, one at the aft end and one in the middle, and there is a small cabin with two bunks. Hais have been compared to Dragons and Tumlaren (see WB No. 262) in having a long, low hull with a sail plan that is kept well inboard, and for being a solid, inexpensive racing and cruising boat. The class, which quickly gained popularity, was named a national class by the Finnish Sailing Association in 1932. Being a one-design meant that racing success depended more on the crew's skill than the amount of money spent on design, as is so often the case with development class yachts such as the 6-Meters. This, combined with the low initial cost of the boats, allowed many people to buy boats and compete in regattas, just as the developers had intended. There have now been 291 Hais registered in Finland.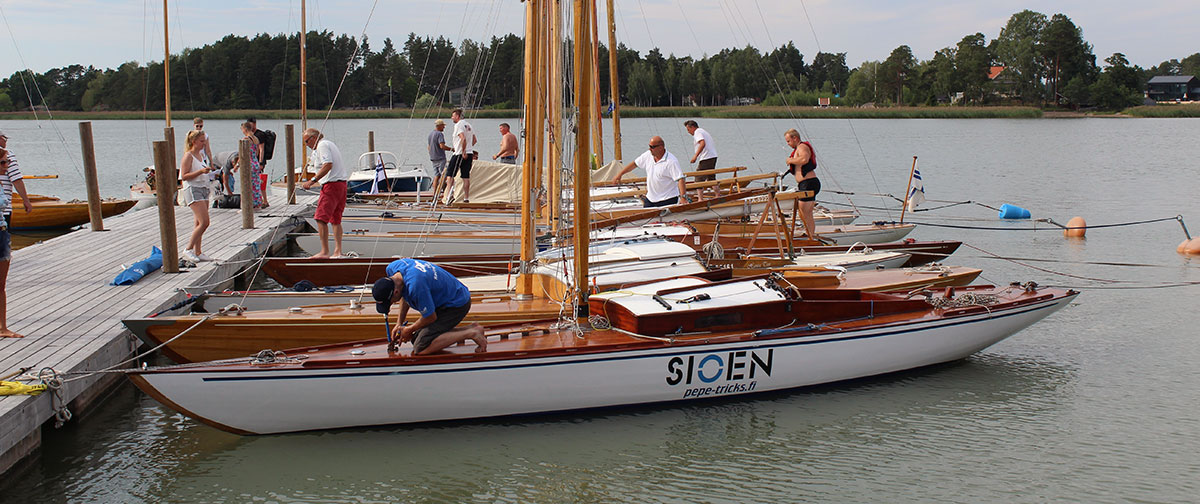 Because of the involvement of the Estonian club, several of the early boats were sent there. Soon, Hais were being built in Estonia, where 19 were registered before World War II. Some competed in the Helsinki-Tallin race across the Baltic Sea in the 1930s. During the war, many Estonian Hais were destroyed or sent to Germany. Others were evidently used to escape to Sweden. Only one Estonian Hai survives, and it is now on display at a maritime museum in Tallin.
In addition to the United States and Estonia, Hais were exported to Latvia, Sweden, Germany, and France. German and French boatbuilders started building them, and the design was seriously considered as an Olympic class in 1936. When the Olympic Games resumed after WWII, however, the Dragon was chosen instead.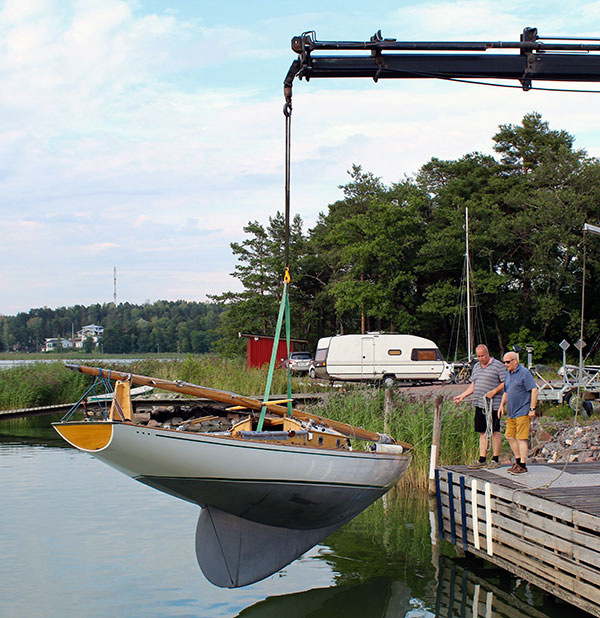 The Hai class particularly caught on in France, where they are called Requin. In 1934, Åbo Båtvarf shipped French sailors their first two Hais. At the buyers' requests, the sail area was increased to 25m² by lengthening both the mast and boom and moving the jib tack forward. Subsequent boats for French owners adopted this larger sail plan, and the new specifications were included in the Requin class rules in 1935 when the Association Française des Propriétaires de Requin (AFPR) was created. In that same year, four Requin left Le Havre for a race across the English Channel to the Isle of Wight and back, thus beginning a French tradition of offshore racing and cruising in Requin. The longest trip so far was a 3,000-mile cruise from France to Helsinki and back for the 1952 Olympic games. Beginning in 1957, and continuing until 1982, the French navy used the Requin as the official boat for the sailing clubs on its bases, including the base at Dakar, Senegal. In fact, at one time 30 Requin raced in Dakar at two clubs—one civilian and one military. Requin in France have been built in fiberglass since 1978, although a new wooden one (No. 498) was recently built at the boatbuilding school Skol ar Mor (see WB No. 253). The AFPR was careful to keep the weight of the fiberglass boats consistent with wooden hulls, ensuring boats of both materials would remain competitive.
Only one boat was added to the U.S. fleet after 1935, to replace one lost in a 1954 hurricane. U.S. boatbuilders did not build any Hais, and the class was not adopted by yacht clubs other than the one in Camden. Eventually, the fleet dwindled as the boats aged and were replaced by fiberglass classes. Of the original 25 U.S. boats, I currently know of only four others besides MAKO that are in sailing condition. Another was on land awaiting a full restoration until it was cut up and burned last year. I was very sad to see that boat destroyed and wonder how many other derelict hulls are still left. One of my desires is to help rebuild the Hai fleet here in Maine, and my experience in Finland has only increased that desire.
True to her designer's intentions, Hai boats are beautiful, easy to sail, and a joy to race with a crew of three. The narrow hull moves easily through the water, leaving only a small wake. One of my favorite experiences is sitting on the rail of MAKO as she drives to windward. I steer with a tiller extension in one hand and make only slight corrections to hold her on course. Due to the narrow beam and slack bilges, Hais heel easily at first. However, they stiffen up noticeably as the rail approaches the water. The iron ballast accounts for 57 percent of the boat's 1,750kg (3,860-lb) displacement, keeping it upright in even a strong blow. And in light winds, a Hai will ghost along as if by magic. It doesn't seem possible a boat of that size with such small sail area could move so effortlessly, and yet it does. Even the harbor seals in Maine seem to be fascinated by a Hai ghosting along, often coming up to watch.

Being the pit, or middle, person when racing on KAUNE in Naantali, I was in charge of all the halyards, control lines, and jib and spinnaker sheets that were arranged across the cabintop. A piece of tape below each cam cleat identified each line in Swedish, since most sailing terms in Finland come from Swedish, so I got to learn some new terms. My job got hectic during mark roundings as I raised or lowered the spinnaker, adjusted the pole, tightened or loosened the boom vang, and trimmed the jib or spinnaker. Anita was driving and handling the main, and Heidi was on the foredeck handling the spinnaker pole and helping with spinnaker sets and take-downs. Heidi and I were also relaying information to Anita and giving her tactical advice. Though the wind was light for all three days of the nationals, the racing was exciting. The courses had short legs, so starts, roundings, and other maneuvers were crucial. The boats were matched closely enough in speed that the lead often changed during each race, although the best crews did manage to find their way to the front with more regularity than the rest of us. On KAUNE, we had bursts of good speed, and often gained during the spinnaker runs, but our newness as a team showed in some of our boat handling. Many of the other crews had sailed together for years, and their superb teamwork reflected that experience. In fact, the winning team on HARRINIVA (No. FIN256) included the brothers Kai and Harri Saksi, who began racing Hais together approximately 50 years ago. We ended the regatta with a best finish of 15th and an overall standing of 22nd.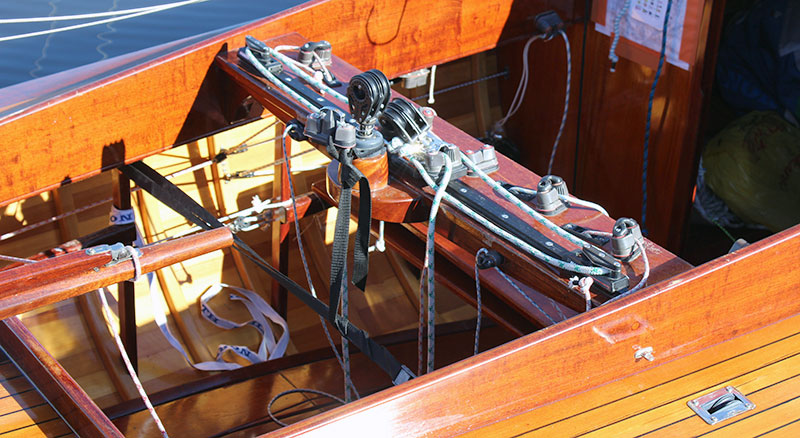 In order to qualify as a national championship, the race must have at least 20 boats representing five different sailing clubs from around the country. At Naantali, we had 24 boats from 12 clubs. Most of the fleets are located along the coasts of Finland, although there is also an active fleet at Tampere on a large lake in the interior. The boats are easily trailered to regattas, where they are launched by crane. Most boats have a single lifting ring attached to a keelbolt. In less than 15 minutes, a boat can be lifted off its trailer, placed in the water, and the mast stepped. The boats at Naantali represented a wide age range, from KAUNE (No. FIN26 of 1934) to PIKKU MYY (No. FIN286 of 1993). I enjoyed seeing old boats out racing hard against newer ones, showing the care taken by their owners.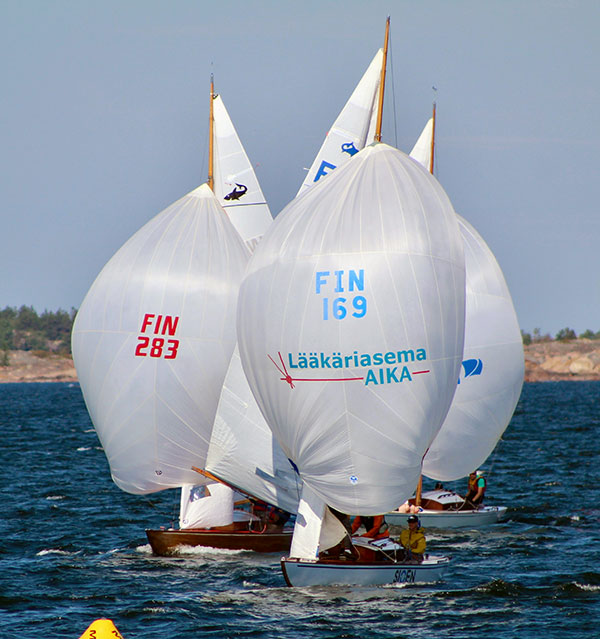 When not racing or exploring the countryside, I enjoyed studying the boats and variations in cockpit layouts. These boats are not time capsules; they have been updated to make them easier to sail and faster. Each boat is set up according to the owner's preference, with halyards and control lines led to the cockpit, and extensive use of modern hardware and cordage. All of the boats now have a mainsheet traveler that divides the cockpit into an aft area for steering and a forward area for the two crew. MAKO does not have this, and I wondered if the traveler would make the cockpit feel cramped. However, I found the layout to be a logical design that provided better sail control, and it did not feel crowded.
The Hai's mast is distinctive, with short spreaders, one shroud per side, and diamond jumper shrouds. The original sail plan included running backstays and an outer headstay to support the top of the mast. Once larger spinnakers found their way to the fleet, the outer headstay was found to interfere with their set. The outer forestay was removed from every Hai I saw in Finland. Likewise, the running backstays can complicate spinnaker setting and retrieval, so most owners had removed those as well. The masts are solid and made of Douglas-fir, so they are considered strong enough even with these pieces of rigging removed.
In Finland—unlike France—hulls and spars of Hais must be built of wood to qualify for class racing. The planking is a local pine (Pinus sylvestris) which is a hard, resinous, and durable wood. (It is one of the trees that yields the "pine tar" that protects our boats and make them smell nice.) Planks are scarfed rather than butted, today using epoxy glue instead of paying the joints with white lead and fastening them with copper rivets. The hulls were originally built tight-seamed, but today the planks are edge-glued to create a stiff hull that does not leak. The plank keel and floor timbers are of pine and the stem and frames of ash or oak. Early boats were fastened with copper rivets; screws are now used. Decks are generally of Douglas-fir (known in Finland and elsewhere as Oregon pine). The decks are varnished, which looks beautiful but to me seemed likely to be slippery. When I asked one skipper about this, he commented that it was not a problem for him because he stays in the cockpit; I later learned firsthand that a varnished deck is not too slippery if you have good sailing shoes.
The keel profile is roughly triangular, with a gradually sloping leading edge. An advantage of this keel design is that the boats can be anchored by the stern with the bow line tied ashore to a rock or tree. In this way, it is possible to bring the bow so close to shore that the crew can step on and off—a great feature when cruising in the Baltic, where there is little or no tidal variation. The keel shape is also beneficial in a grounding, because the boat gently slows rather than hitting hard—a helpful feature in the Finnish archipelagos, which are full of unmarked rocks. I experienced the benefit of this keel shape firsthand, when MAKO gently grounded on an unmarked rock; a push with a long oar easily freed her.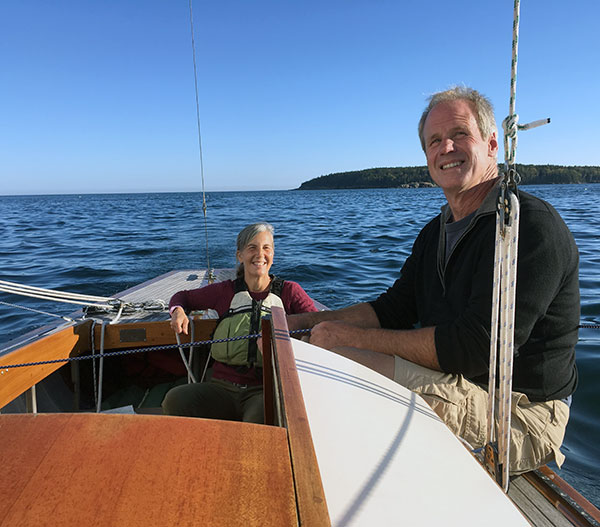 One aspect of MAKO's construction that has been troublesome to me in Maine is the iron ballast, keelbolts, and floor-timber bolts. While iron ballast reduces the initial expense, the rusting bolts damaged one section of MAKO's timber keel to the point that I had to replace it. And now I'm replacing the forefoot due to damage from iron floor-timber bolts that were replaced 20 years ago. Though the new bolts are not rusty, rust remained in the wood and continued causing deterioration. While removing the old forefoot, I thought about the boats I saw in Finland, and how the Baltic's low salinity makes the use of iron and steel in wooden boats much more feasible. Of course, by epoxy-coating the iron ballast and using bronze or Monel bolts, the problem can now be avoided.
Although not permitted to race in Hai regattas, some fiberglass Hais sail in Finland. In 1998, a boatyard in Kokkola obtained the Requin molds from France and built what is known as the Hai 2000. These are fiberglass Hais with the Finnish rig, although the yard also built some boats with the French rig for export to France. At least 20 Hai 2000s have been built. They were allowed to race against the wooden Hais until the Finnish Hai association decided that race boats should remain all wood and use wooden spars.
After a day of racing at Naantali, the boats were tied to a dock next to the one-room building housing the local sailing club. Sailors spent hours on the grounds of the club, eating sausages and drinking beer while visiting with friends from around the country, or sitting in the sauna inside the clubhouse. In Finland, many sailors take a sauna after the race, emerging wrapped in a towel to walk down the dock and jump into the water. While I heard of strong rivalries and even tension between people, my overall sense was of a close group of friends with a strong bond and a shared passion for the boats—a passion that has kept the class going for almost 90 years.
On Saturday night in Naantali, the racers had a dinner outside on club's lawn, with a local singer providing entertainment to start off a lively party that went on until after midnight, when the northern sub-arctic sky finally darkened. It was fun to talk with people about our love for Hais. Many wondered why I'd traveled to Finland for their regatta, and when I told them about my Hai they were surprised to learn about the type's U.S. connections. At the awards ceremony the next day, they gave me a trophy for joining them, and also an English translation of a French book about the Requin, The Requin: A Legend, from Its Inception till Today.
While my time in Finland was focused on racing, I also learned of some cruising exploits in the boats. During the week between two regattas, I visited Piertarsaari (aka Jakobstad, in Swedish) where the most recent Hai (No. FIN291) was built at Jakobstads Båtvarf in 2005. On the evening I arrived, I saw the crew of a Hai getting ready to sail. The next day, they were gone, and I learned that they had sailed to Sweden—an open-water passage of 60 miles—with two other boats. Back in Naantali, I found that three Hais had sailed from Helsinki to the regatta in Hanko, then cruised the archipelago off Turku before arriving for the races in Naantali. After the nationals, they left to cruise back to Helsinki.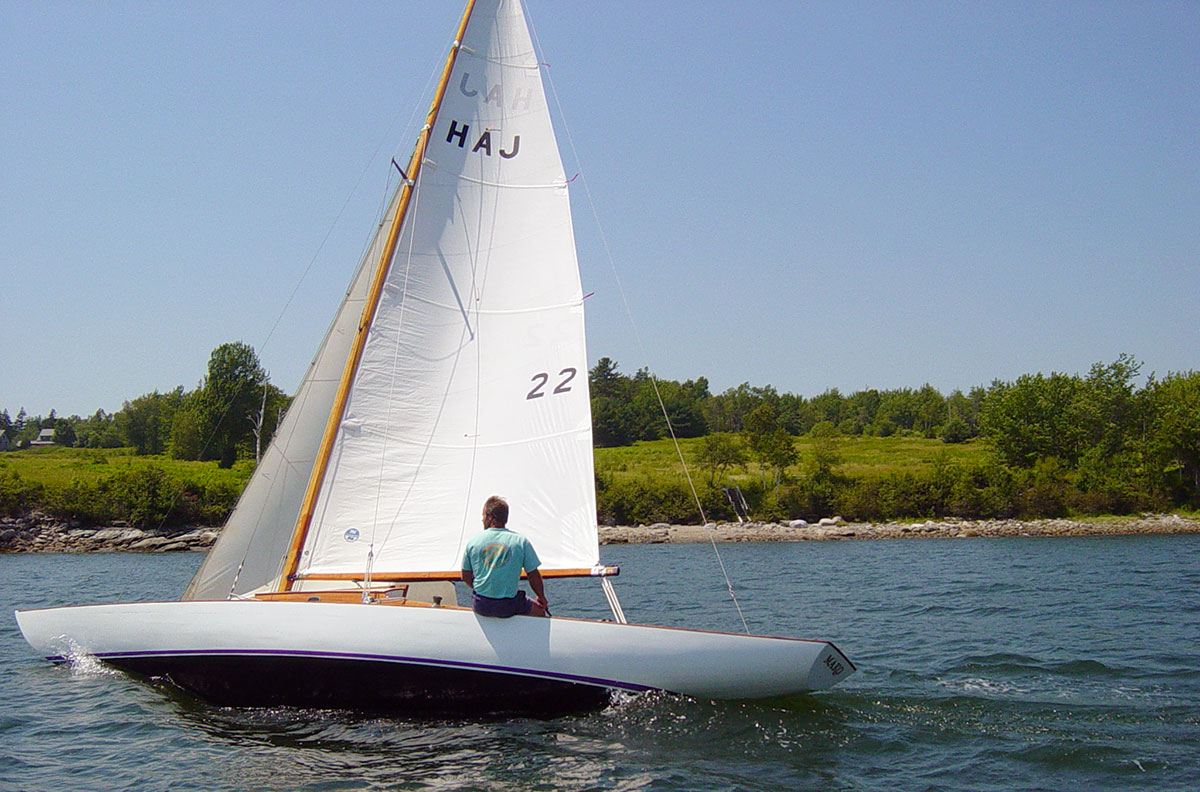 After I left for Maine, Anita and Harri went cruising in KAUNE for a week, balancing their time between secluded anchorages and places with a sauna that could be rented. It sounded like a lovely way to spend the long northern days of summer, and a great tribute to Gunnar Stenbäck's vision. Hais are an enduring classic that have brought joy to many sailors, and I hope they will continue to do so for years to come.

Greg Smith is a sailor and boatbuilder from Rockland, Maine. You can reach him at haj22me@yahoo.com.