May / June 2020
The schooners of W. Starling Burgess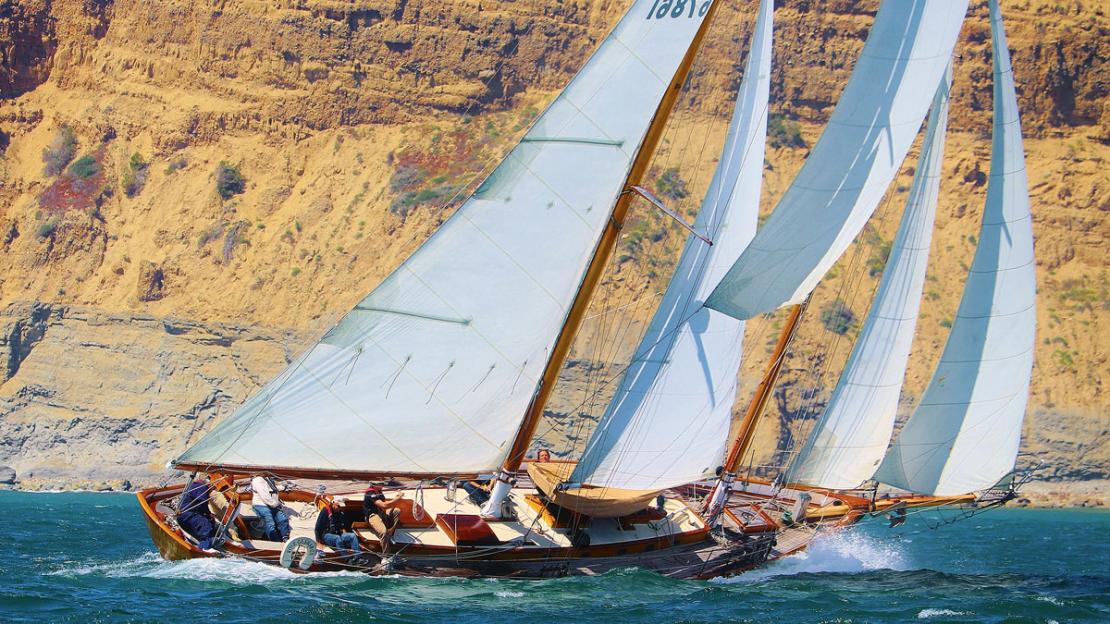 ROSE OF SHARON is one of three 51′ LOD schooners designed by W. Starling Burgess in 1929 and launched in 1930 at Eastern Shipbuilding in Shelburne, Nova Scotia. In 1970, Byron Chamberlain brought the yacht to the West Coast, and after completing her restoration he cruised and raced her for decades. In 2018, he donated her to the Maritime Preservation Trust of Los Angeles. She is seen here in the 2019 America Schooner's Cup race off San Diego.
The Southern California sun is baking salt spray to a crusty film on my sunglasses. I'm down on my knees in the scuppers, soaked in a torrent of seawater rushing over the leeward rail, cranking on a winch to sheet in an immense genoa.
This, I think, is possibly a form of madness, considering I'm 70 years old and my ride, the W. Starling Burgess–designed racing schooner ROSE OF SHARON, is on the cusp of 90. It's as if something's causing my lizard brain to take over, urging me to throw all caution to the wind. It's really hard to muster the common sense that says I need to be throttling down both my body and this boat.
I'm one of the skippers who sails ROSE for the nonprofit Maritime Preservation Trust in Los Angeles. Today, ROSE OF SHARON and I are in San Diego at the America Schooner's Cup regatta with a crew of a couple of seasoned schooner vets and a cadre of young, post-college mariners and shipwrights who are looking to up their seafaring skills by learning how to sail an old-school staysail racing schooner.
Designed by Burgess in the late 1920s, this schooner is a thoroughbred from that bygone era. She is a relatively small boat at 51′ LOD and 25 tons displacement, but ROSE can carry an immense amount of sail. She has about 2,000 sq ft of canvas aloft at the moment. And, one by one, she's ticking off her competitors, smoking to windward at over 9 knots. She loves it. The young mariners who are sailing with me love it. I love it.
ACCESS TO EXPERIENCE
Subscribe Today
Subscribe by October 14th and your subscription will start with the November/December 2023 (No. 295) of WoodenBoat.
1 YEAR SUBSCRIPTION (6 ISSUES)
PRINT $39.95
DIGITAL $28.00
PRINT+DIGITAL $42.95
Subscribe
To read articles from previous issues, you can purchase the issue at The WoodenBoat Store link below.