May / June 2020
A one-design tradition lives on in Falmouth and Chichester Harbour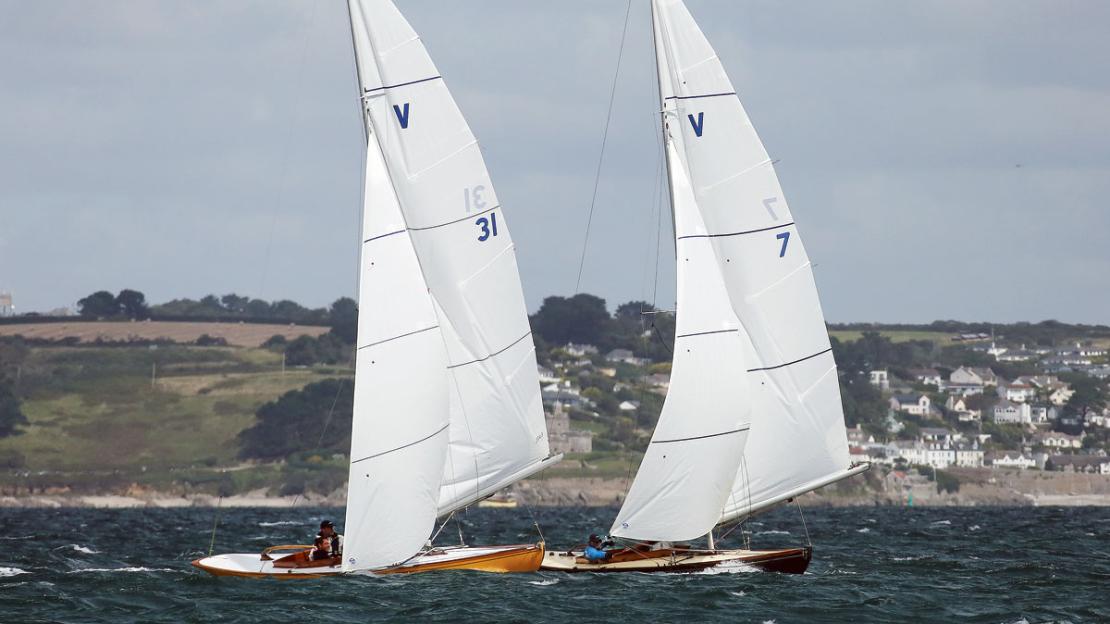 Boats of the Sunbeam one-design class, designed by Alfred Westmacott on the Isle of Wight in the early 1920s, have been racing since 1923. The unusual sail configuration allows the tack of the jib to be poled out for downwind efficiency.
Alfred Westmacott arrived in 1899 on the Isle of Wight, off the south coast of England, at a propitious age and time: he was 31 years old and had moved to a  burgeoning yachting area to start a career as an independent boatbuilder and designer. He was well established by the early 1920s, the years when post–World War I interest in one-design racing was reaching new peaks, and it was then that he created what many people think is his finest design: the Sunbeam.
The story of the 26' 6" LOA Sunbeam one-design class is one of remarkable endurance. Two fleets emerged: Solent Sunbeams in The Solent and surrounding waters and Falmouth Sunbeams in Cornwall. Both are still active today.
Nearly a century has passed since the Hamble River Sailing Club near Southampton, opposite the Isle of Wight across the legendary waterway known as The Solent, asked Westmacott to produce a new design. The club members had in mind a yacht specifically for the newly fashionable Bermudan sloop rig, with the idea of improving on gaff-rigged and earlier Bermudan-rigged classes.
Westmacott had come to the Isle of Wight from Newcastle in northeastern England, where his father, Percy, had founded the shipbuilding division of industrial firm of Armstrong, Mitchell & Company on the River Tyne. Westmacott apprenticed there and returned after studying naval architecture at Glasgow University. Soon, however, he was eager to go out on his own with an emphasis on small craft instead of ships. He moved to the eastern end of the Isle of Wight to form his own firm, Westmacott, Steward & Company. Only five years after doing so, his company absorbed the Woodnutt & Company boatyard near Bembridge on the west side of the island, which included sailmaking, chandlery, and rigging operations.
ACCESS TO EXPERIENCE
Subscribe Today
Subscribe by October 14th and your subscription will start with the November/December 2023 (No. 295) of WoodenBoat.
1 YEAR SUBSCRIPTION (6 ISSUES)
PRINT $39.95
DIGITAL $28.00
PRINT+DIGITAL $42.95
Subscribe
To read articles from previous issues, you can purchase the issue at The WoodenBoat Store link below.