A Norwegian pilot boat circumnavigates the Americas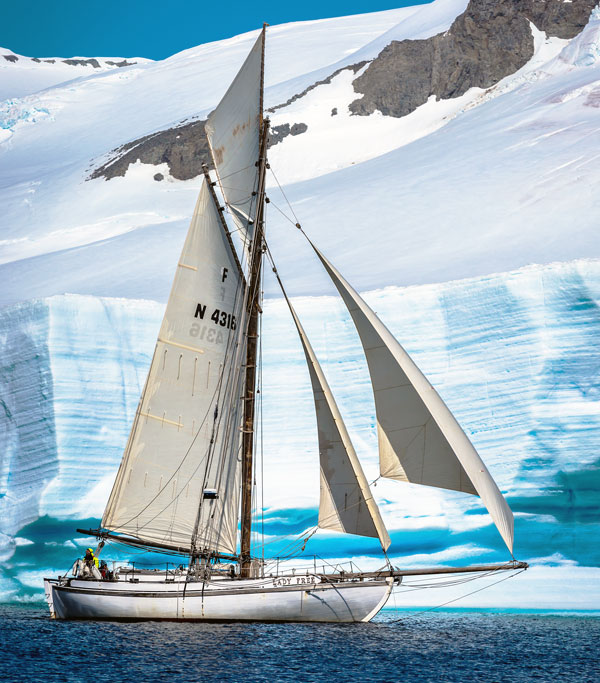 In 2018, the 40′ LADY FREE became the first Norwegian vessel to successfully complete a circumnavigation of the North and South American continents. The 32,000-nautical-mile odyssey, which took two-and-a-half years, is all the more remarkable for having been accomplished, for the most part, shorthanded in a 20-ton, double-ended wooden boat whose lines and traditional gaff topsail rig have remained essentially unchanged since they were conceived more than a century ago by Colin Archer, the great Norwegian designer of Scottish descent.
LADY FREE's clockwise journey around the continents was meticulously planned for a decade and was accomplished largely under sail. Her 67-hp Perkins auxiliary diesel was used sparingly. Heavily built and strip-planked in Norway pine at Ålesund in 1983, LADY FREE is based on Archer's lodsbaad (pilot boat) No. 104, designed at Larvik for Josef Wilhelmsen in 1905. Her young crew, some of whom were novice sailors, handled the rig without the aid of winches, hydraulics, or modern mechanical contrivances of any kind. To sway the topsail aloft or set the jibs on her 21′-long jibboom, for example, they used traditional block-and-tackle gear and belaying pins.
Full credit for the success of this extraordinary voyage goes to LADY FREE's owner and skipper, Dr. Jan Martin Nordbotten. A 37-year-old professor of mathematics at the University of Bergen, he is a lifelong sailor with a profound love of traditional wooden boats and the sea. His earlier passage west across the Norwegian Sea from Bergen to the mountainous grandeur of Greenland left a deep and abiding impression on Nord­botten. It also inspired him to embark on an arduous voyage that was to have encompassed both the Antarctic continent and the high Arctic.
Once underway, however, he realized that such an ambitious undertaking was bound to be fraught with potentially serious consequences when it came to sailing through Russia's Arctic territorial waters. In Argentina, a frustrating encounter with heavy-handed bureaucrats convinced him not to risk a repeat performance by provoking the xenophobic Russians. Instead, he settled upon Antarctica as his major goal. "Although my original idea of making a polar circumnavigation really appealed to me, the bureaucracy I encountered in South America scared me off the idea of tempting the Russians. I didn't want the voyage to end in tears."
In Alaska, he decided to sail east instead of west. "We never thought of sailing around the Americas as a goal in itself. It was only later, when we were in the Northwest Passage and very close to home, that we started to hear people speak about what an unusual journey we had made."

The circumnavigation first involved rounding the fabled Cape Horn at the southernmost tip of South America and taking in Antarctica and the vast Pacific Ocean, then cruising among the islands of French Polynesia and the Hawaiian Archipelago. LADY FREE next sailed north to Alaska and the hazardous, ice-strewn Northwest Passage, which was first conquered by Norway's famous polar explorer, Roald Amundsen, in 1903–06. By any measure, it all adds up to one of the world's most extraordinary recent small-boat voyages.
When I offered Nordbotten my congratulations in a phone interview from my home in Australia, he laughed off the praise. "For us, it was just about being out there, having fun, and seeing the world. When I am under sail at sea, I have a really strong sense of calm and peace, so I don't mind the long stretches. It is possible these days to buy a cheap airline ticket, fly to a remote place, rent a car, and see certain things. But for me, sailing is about seeing the things that you cannot see when you go by land. Antarctica is, of course, a very clear example of that. I had enjoyed sailing the boat in Norwegian waters for several years, but then I realized that I had an opportunity to really go sailing, to go out there and keep going. And of course, when such an opportunity presents itself, one really has no choice but to respond wholeheartedly."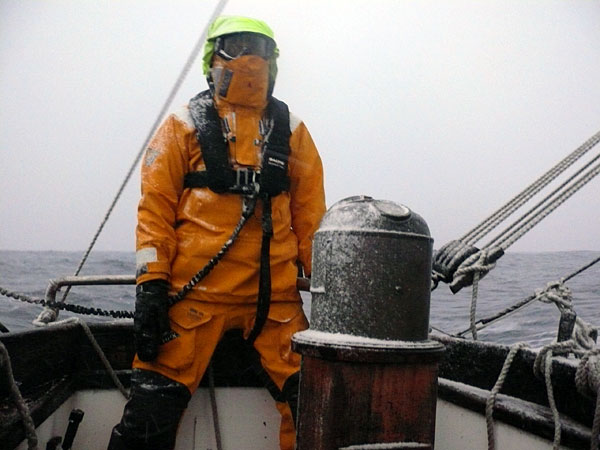 When I expressed astonishment at the way he seemed to have risked everything, and not the least his own life, by sailing close to the notorious pirate-ridden coast of West Africa, he said, "Well, my sense of these things is that the world always appears to be more dangerous from afar. Seen from the other side of the world, your impression is dominated by the bad news, but when you get closer, you find the bad things are actually quite spread out. I never felt in any danger on the coast of West Africa. Before we came to Brazil, we did hear reports of some youths attacking cruising vessels. That was perfectly true—there were criminal gangs doing that—but we found the trouble was actually coming from only one town, and the simple solution was to steer well clear of that particular place."
During a 5,000-nautical-mile passage from Bergen to Brazil, which he undertook singlehanded, Nordbotten dealt with solitude by occupying his mind with mathematics.
"The most important thing in sailing alone," he says, "is to be sure that the boat can sail herself. Gaff-rigged boats like LADY FREE have very long sail plans, fore-to-aft, even when sloop-rigged. By balancing the trim of the jib and the aft part of the main, you can get these boats to balance on almost any point of sail, even downwind. This means you have quite a lot of control when you're sailing alone. This frees up your hands so that you can prepare food and get some sleep.
"The critical part is always the sail changes. For the most part, I sailed with the tiller locked in position with a pin. This generally worked well, although occasionally I had to go aft to make some small adjustment. For downwind sailing, I rigged a small dinghy sail inside the staysail, and I led the sheets to the helm to make a sheet-to-tiller system (see WB No. 221). This steering sail worked perfectly and allowed me to sail quite good angles downwind. That system took us right across the North Atlantic without incident. Even in gale force winds of 45 knots, she sailed with the tiller locked and no problems."
Even so, he pointed out with masterful understatement, singlehanding a big rig does require careful planning. "It also requires that you be a little bit prudent when setting the topsail. After I set it by myself a few times, I learned the technique, the old way of sailing. The beautiful thing and indeed the thing I love about these old wooden boats is that you really don't need to use winches and excessive muscle-power. I find a very great pleasure in doing everything correctly so that the forces of nature are working with you, helping you to keep the boat sailing."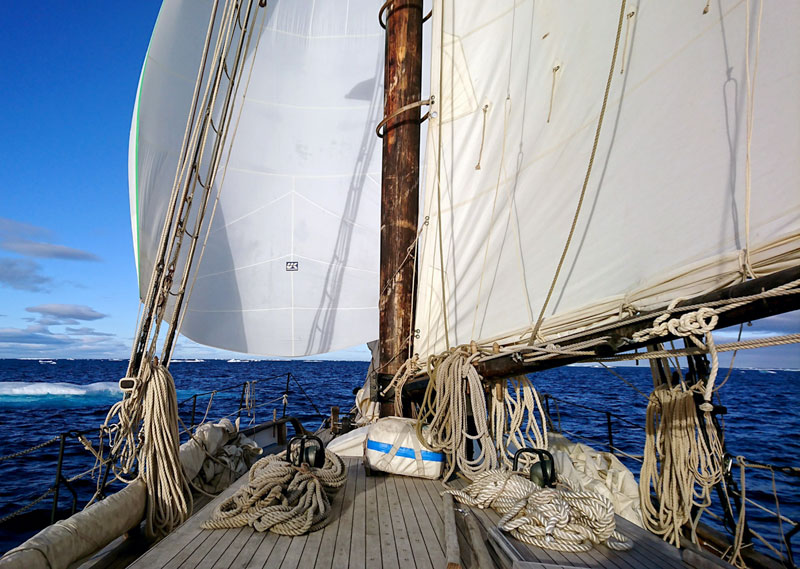 In Salvador, the colonial port city on Brazil's northeast coast, Nordbotten was joined by Cecilie Evjen, his partner and colleague at the Norwegian Academy of Sciences. Although she was a novice sailor when they met in Oslo some years previously, she has subsequently shown herself to be greatly adept in the boat and is now a passionate enthusiast for long ocean voyages. "Cecilie delayed my return to Bergen by quite a few months after we met the first time," Nordbotten recalled. "She didn't much like the idea of my sailing off alone in the depths of winter, so she offered to sail home with me. By the time we sailed out of the Oslo Fjord heading for Bergen, it was Christmas and the temperature was –15˚C [5°F]. We sailed out into the Skagerrak, the strait between southeast Norway and Denmark, into some quite rough seas left over from a low-pressure system that had passed. She was throwing up for the first 12 hours, but in between each of those episodes she was still smiling. We sailed nonstop around the Norwegian coast up to Haugesund. We stopped there for a rest, then continued north to Bergen, at which time the sails were covered with frozen sleet, so that we couldn't get any grip when taking them down. Cecilie was still smiling and enthusiastic at the end of that 478-nautical-mile voyage. I figured, 'Well, since she has survived her first sailing trip in such high spirits, she is certainly going to be a good sailor.'" Nordbotten and Evjen were married in French Polynesia midway through their circumnavigation of the Americas.
Two of their close friends, Magnus Brandseth and Florian Doster, joined LADY FREE at Port Stanley in the Falkland Islands. Both Florian and Magnus had already sailed more than 1,000 miles on LADY FREE before the trip to Antarctica. Florian sailed with Nordbotten from Amsterdam to Barcelona a couple of years earlier and Magnus crewed with him on the previous expedition to Greenland. The four braved the passage around Cape Horn and south to Deception Island, a drowned volcanic caldera at a latitude of 62˚S in the South Shetland Islands off the northernmost tip of the Antarctic Peninsula.
"Their sailing experience, or lack of it, was not important to me," Nordbotten said blithely. "I knew I could teach people sailing. I needed tough people with endurance whom I could trust to stay outside in the worst weather with freezing spray and ice on the decks. In those conditions those two guys just get tougher. Florian is a German mountain-bike rider. He has incredible strength and stamina. He loves nothing more than climbing up and up mountain trails on a bicycle. Magnus is also tough. His idea of fun is trekking alone through the mountains for a couple of weeks with a 40-kilo pack [about 90 lbs] on his back. These are the kind of people who don't give up."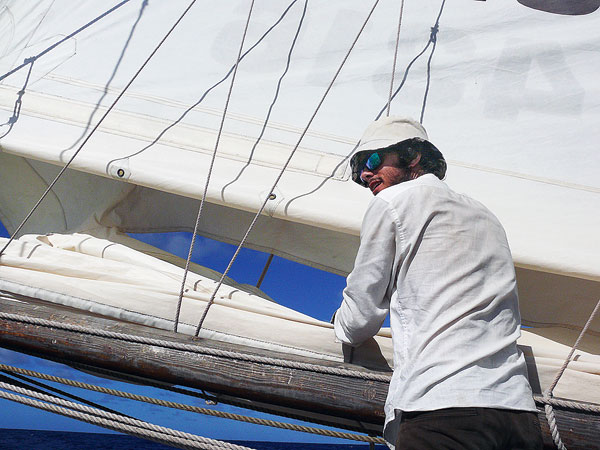 During the notorious westbound passage around Cape Horn in January 2016, LADY FREE battled through some of the worst weather of the voyage. "The day before we reached the Horn," Nordbotten said, "we received a forecast via text message from my dad in which he said a westerly would probably be blowing at something like 25 knots with increasing strength as we approached the Horn. As it turned out, that was the understatement of the entire voyage. Seeking shelter in Beagle Channel, we found a little fleet of steel-hulled charter yachts huddling in Puerto Toro," in Tierra del Fuego. "They had been waiting for two weeks for the wind and seas to ease. It was raining cats and dogs and, of course, blowing a strong gale. It was some of the roughest weather we had seen. We don't carry instruments to measure these things, but there were all the typical signs of a Force 9 gale," on the Beaufort Scale's description of high, rolling waves with dense streaks of foam along the direction of the wind, corresponding to winds of 41 to 47 knots.
Brandseth and Doster flew home to Norway from Puerto Williams on Navarino Island in Tierra del Fuego, which is Chile's southernmost province, leaving Nordbotten and Evjen to complete the Beagle Channel transit and carry on into the Pacific.
They sailed to the fabled Marquesas, the Tuamotus, Tahiti in the Society Islands, Christmas Island (Kiribati), and Hawaii before eventually heading into high northern latitudes, and eventually to the cold of Nome, Alaska. There, two new crew members joined them: Johann Rodas, a Colombian they had met on their journey; and Nordbotten's brother, Eirik Veim, who has had a wooden boat of his own for many years. They helped to handle LADY FREE as she slowly made her way under sail through the icy maze of the Northwest Passage.
The ice began to clear around Point Barrow, the northernmost tip of Alaska, on July 15, 2017. "That was our starting signal," Nordbotten said. "The ice on the Alaskan side was not so bad, and we departed on schedule in mid-July. We encountered some gales rounding Point Barrow, and that's also where we ran into the ice. Fortunately, the wind calmed down just as we began threading our way through the maze. The Canadian Coast Guard had been very kind to us. We met them at sea west of Barrow, and over VHF they gave us waypoints for the best course through the ice east of Point Barrow. After a day and a half, we found the passage relatively free of ice as far as Cambridge Bay. Although we had limited access to satellite data at that stage, I was able to make contact with a friend on shore who sent us information about conditions. Toward the end of the passage, off the Tasmania Islands in Franklin Strait west of the Boothia Peninsula, we found as much as 70 percent ice cover. Some boats got stuck in the ice, one drifting in the ice for three days and three others anchored in a remote bay for two weeks waiting for the ice to clear. We were fortunate enough to be there in weather that allowed us to get through relatively safely with minimum delays, although at one point three of us were standing on the ice with poles trying to open a small passage that would allow us to float the boat through.
"The Northwest Passage is known for its very light winds, but it was my intention to sail as much as possible. So we set our topsail and even our spinnakers, and often had over 1,900 sq ft of sail set. Most of the boats going through the passage relied more on their engines, with decks crowded with ugly jerry cans. To me, that was not an attractive option, neither from an aesthetic nor a seaworthiness perspective. We only carried the diesel that the boat's own tanks allowed, and we found that was quite sufficient." Veim stayed aboard until Pond Inlet, a small Inuit settlement on Baffin Island. Rodas left at Nuuk, Greenland's capital. Nordbotten and Evjen then sailed across the North Atlantic and home back to Bergen.
I asked Nordbotten to reflect on the single biggest lesson he had learned on LADY FREE's voyage. Without hesitation he replied that this was "the inestimable value of careful planning and being properly prepared."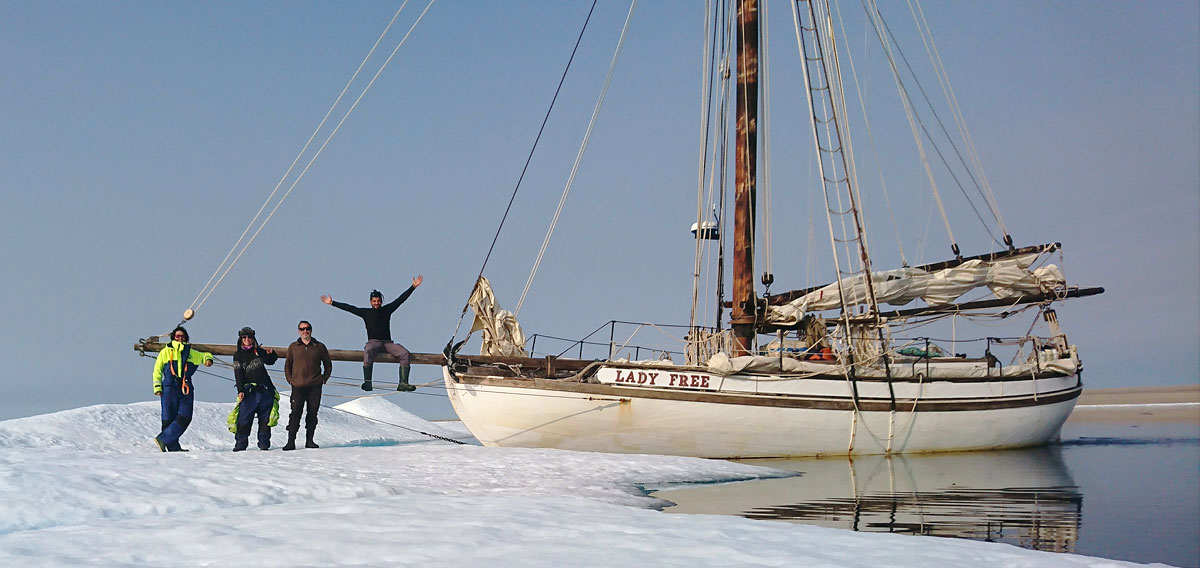 "When we sailed home from Antarctica," he said, "we essentially had no drama. If one had tried to make a TV series out of our experience, it would have been quite boring. But that is something of which I am actually quite proud. I had the overriding responsibility of bringing everyone home safely, and that was exactly what I did. While it is impossible to eliminate some dependence on luck in such waters, success nevertheless comes more easily with careful planning and being well prepared for most eventualities. We had a good boat, and I selected good people who were strong and resourceful and whom I knew I could trust. If you took a happy-go-lucky, carefree approach to sailing, you could also be lucky. You might survive. But that is not the way I like to do things."
Nordbotten and Cecilie plan to continue sailing LADY FREE shorthanded. In summer 2019, they will make a transatlantic passage from Bergen to Boston, where Nordbotten will spend the winter on a research sabbatical at the Massachusetts Institute of Technology. When they sail home the following summer, they hope to have a chance on the way to return to Greenland and later to circumnavigate Spitsbergen, the largest island in the Svalbard archipelago in northern Norway. "There is something about the magnificent appearance of the light in the polar regions that is particularly compelling to those of us who live in Norway," Nordbotten said. "The way in which it reflects the beauty of the sky and the sea gives me particular pleasure. It's something that draws me back."
And what of LADY FREE? "I once read a book on How to Buy a Sailboat," Nordbotten said. "One piece of advice that I took to heart was that if you make the right choice, no matter where you sail in that boat you should be able to look around at all the other boats and feel pretty happy about the boat you're sitting on. That certainly is the case with LADY FREE. No matter where we've gone in the world, we have always had good reason to be very proud of our boat. It is a feeling that always bubbles to the fore whenever we invite visitors aboard. We have fetched up in places where we have been anchored near luxurious megayachts. When the captains of those yachts come aboard, they all say they would happily trade their fancy megayachts for our little boat. Unfortunately, they are usually only the captains, not the owners. They're sailors, and they know what they're looking for. You wouldn't believe how many people have wanted to trade boats with us on this journey."

Bruce Stannard is a regular contributor to WoodenBoat.