Ocean Reef Club Vintage Weekend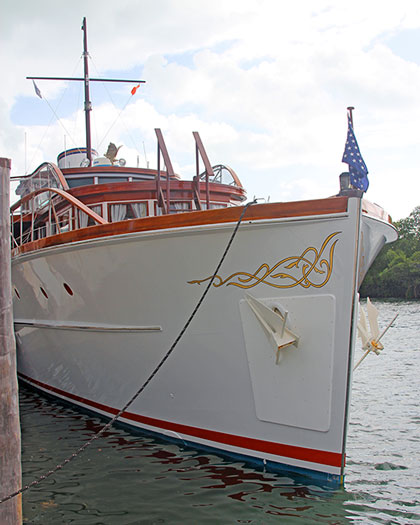 HONEY FITZ, 92′ Defoe.
Staging a classic and vintage boatshow (or a classic car show or a vintage aircraft fly-in) is a major project, but combining all three—boats, cars and planes—into one event is monumentally more complicated. The Ocean Reef Club in Key Largo, Florida, has pulled this off for almost two decades, and the 18th Annual Vintage Weekend drew the largest and, arguably, the most eclectic group of vehicles yet.
More than 125 boats, planes and cars arrived for the four-day celebration of oldness, ranging from the 1931 Defoe-built 92′ HONEY FITZ, once the Presidential Yacht for John F. Kennedy, to one of only two dozen WWII B-25 bombers still in existence, to a 1911 Rolls-Royce Silver Ghost.
Of course, such a gathering takes very special facilities and the Ocean Reef Club has what it takes. A luxurious private enclave in the Florida Keys, Ocean Reef features a marina suitable for yachts to 175′, a 4500′ airstrip, and acres of parking space.
If there was an unofficial theme to the weekend, it had to be a passion for vintage and classic vehicles that easily transcended sanity and which could instantly empty bank accounts in a moment of madness. No matter how much money you have, you don't take lightly the work needed to maintain POSH, a 1937 53′ Huskins, which is entirely varnished from boot top to masthead. Nor do you drop by your auto parts store to pick up a set of sparkplugs for a 1942 P-51 fighter plane.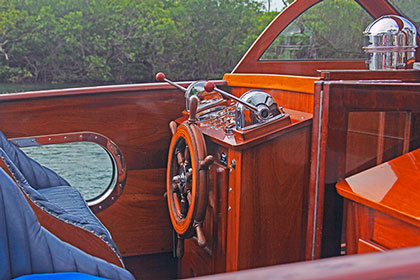 POSH, 53′ Huskins.
The Spectator's Choice Award for boats easily went to Anthony Bucknole's HONEY FITZ, the 1931 Defoe which still bears the Presidential seal on the cabin sides and which also served presidents Franklin Roosevelt and Harry Truman (Truman used it for poker games with Winston Churchill while cruising the Potomac River).
The Spirit of Tradition Award went to Todd Warner's POSH, a near-sistership to bandleader Guy Lombardo's TEMPO, and a smaller version of the classic THUNDERBIRD of casino owner Bill Harrah.
The Excellence In Craftsmanship Award went to STINGRAY, the 55′ Hunt design owned and rebuilt by Steven White of Brooklin Boatyard in Maine.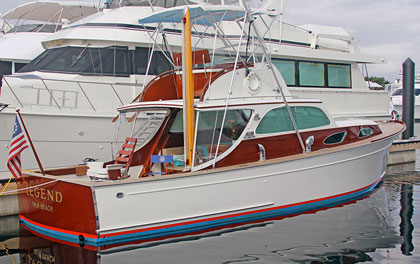 LEGEND is a classic 1949 37′ Rybovich.
Florida being sportfishing territory, it's no surprise that several classic Rybovich fishing boats were present, including LEGEND, the 1949 37-footer that is the last of four flybridge Rybos with straight sheers and trunk cabins. The boat was restored by Michael Rybovich in 1989-90 and looks as fresh as the day she was launched in Palm Beach.
Not all the woodies were in the water, however, and one crowd favorite was the 1943 Boeing Stearman N2S3 biplane with its fabric-over-wood construction. Bright yellow and nicknamed the "The Yellow Peril", thousands of Stearmans were used to train pilots during World War II.
Another vehicle that stopped traffic on land was Chris and Kathleen Koch's 1950 Mercury Deluxe station wagon, a woodie restored to pristine condition and lacking only a Velzy surfboard in the back to be a time-warp into the '50s.
The four day celebration, with many owners and participants wearing vintage outfits, included a road rally, champagne social, airshow, lectures, and a dinner with the theme of a World War II canteen dance.
Dates for the 2013 Ocean Reef Club Vintage Weekend have been set for December 5-8. For information, visit www.oceanreef.com.