A 42-foot Catamaran—My Seventh Cruising Sailboat?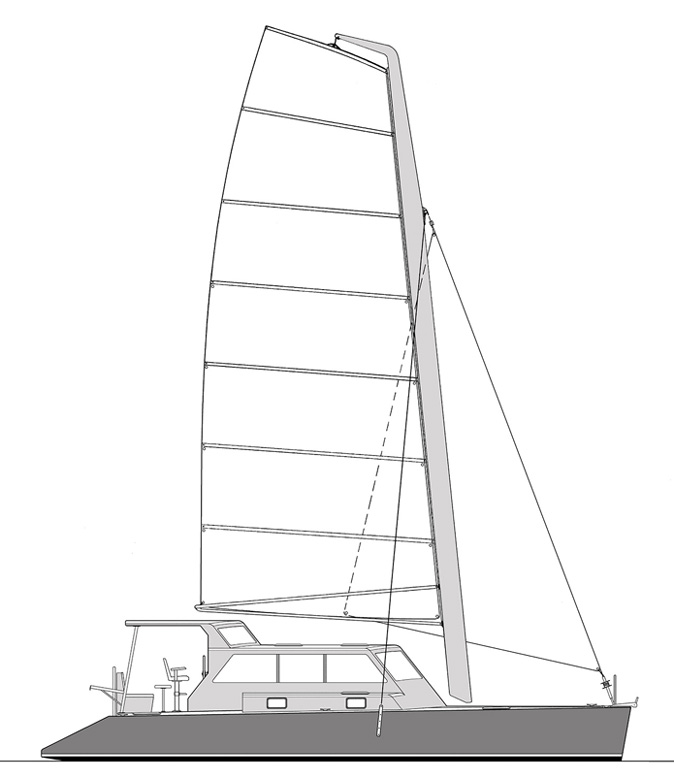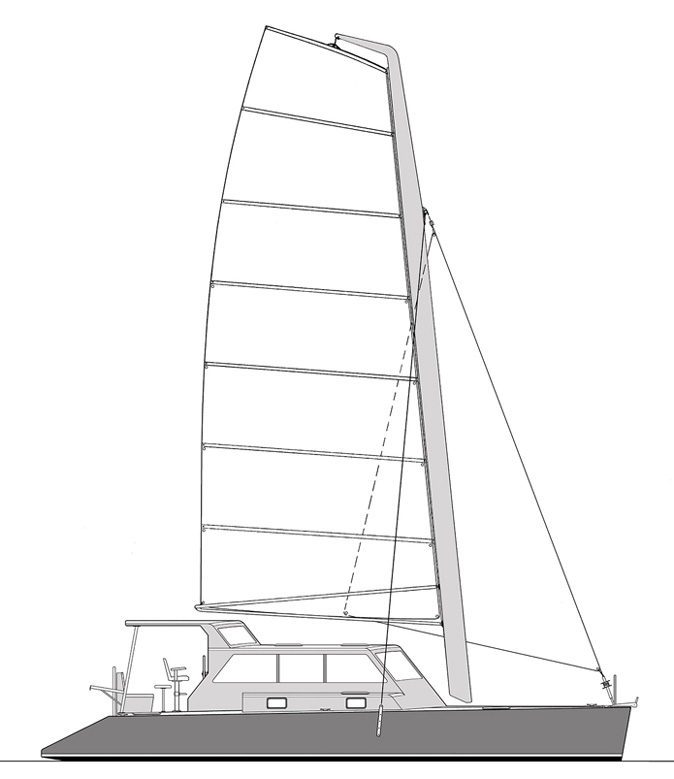 As a cruising sailor, I have noted for many years the increasing numbers of cruising catamarans. Despite the fact that all my cruising has been in monohulls, multihulls have always been of interest to me. I sailed on a Piver trimaran in the Bahamas with a friend many years ago, and sailed on a couple of the big charter "cattlemarans" in Key West. I have numerous friends who design, build and captain big catamarans, including people at Gold Coast in St. Croix. I have seen Wharram cats everywhere I have sailed, and followed with great interest the designs and writing of James Wharram and Chris White, among others. And because of my interest in early human history, anthropology and underwater archeology (especially migration), I have read every book I could find about Polynesian people and their vessels.
Hence I decided years ago that I would start designing cruising multihulls. I first designed a 40-foot fast cruising trimaran in 2003, the prototype of which is being built (very slowly) in North Carolina. I also started a design for an ultralight, ultramodern 60-foot cruising catamaran, but never completed it. Then, in 2012, I had a brainstorm for a cruising catamaran concept: Make the hulls using cold-molded full-sheet plywood with flat bottoms and radiused chines—essentially modified sharpie hulls—but with deep V shapes forward. I worked for many weeks on this design, creating many more pages of drawings than I typically do. I employed several innovations in the design, including my "L-Head" rotating wing mast (See Blogs #9 and #10), and the employment of manufactured glue-lam beams in the cross-beams (Akas).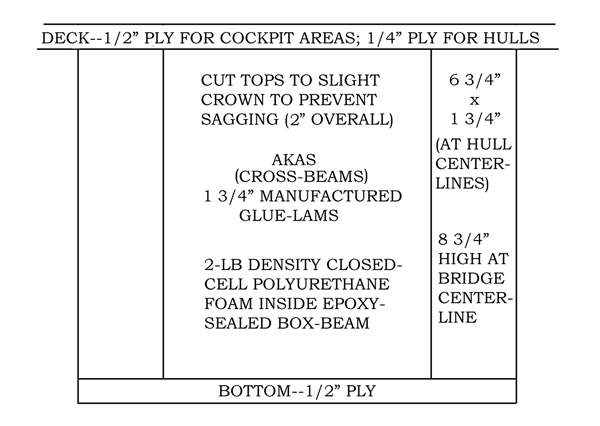 One of the chief weaknesses I see in most cruising catamarans is their bridge deck configuration, shape, and especially clearance above water. Particularly in manufactured fiberglass cats, the clearance is often less than 18-inches, which seems inherently unsafe to me. In any real seas, these low-clearance structures can get severely hammered. A girlfriend of mine once sailed from Key West to Cuba on a catamaran, and feared for her life when the vessel got out in the Gulf Stream and threatened to come apart in seas that were of average (four to six feet) height! In my new design, I therefore strove for very strong foam-core deck construction employing bi-directional structural members, with a clearance of 1′ 10 ½″.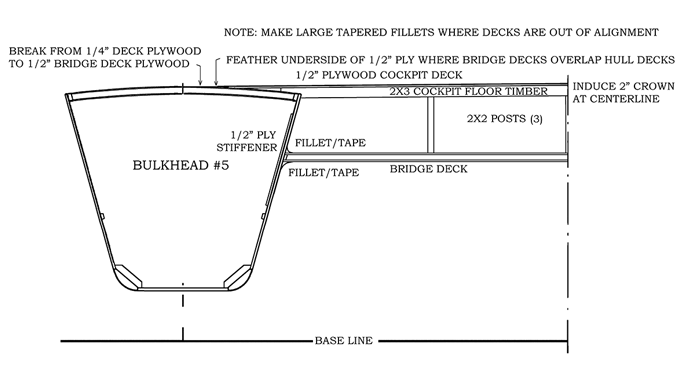 I asked my engineer, Tom Lokocz Adams, to review my structural connections, and on his recommendation I added plywood laminates inside the hulls adjacent to the bridge deck connection points. I designed my bulkheads to be made using 3mm plywood laminated over 1 ½″ closed-cell polystyrene foam. I also designed decks, cabin sides and coachroofs to employ foam cores. For polystyrene foam-core material I have had excellent results using Dow and Owens-Corning residential insulation products. These glue to plywood with epoxy, creating very light, very strong structures, at very low cost.
I designed my radius chines to be made from two laminates of solid wood—Douglas fir or spruce—with rabetted corners formed by the laminates to receive plywood planking (see the Construction Sections drawing below). All plywood in the boat should be high-quality marine-grade mahogany such as Shelman or Okume products. Headliners and cabin sides are specified to use 3mm. Hull sides and bottom planks (½″ and ¾″) are scarfed full-length. The main cabin bridge deck is foam-core with internal 2x2 athwartship beams. Outside, underneath this structure are box-beam-stiffeners running fore & aft. I designed a tapered center-deck structure extending forward of the cabin, which joins the forward aka and supports the forestay, dolphin striker and anchor rollers. The V-shaped bottom of this structure is intended to divide waves before they strike the rounded front of the bridge deck. The aft cockpit deck is hollow, providing space for pumps, electrical devices, plumbing, batteries and stowage. Four large solar panels on the hardtop will provide for all electrical needs, including refrigeration. All tanks are integral.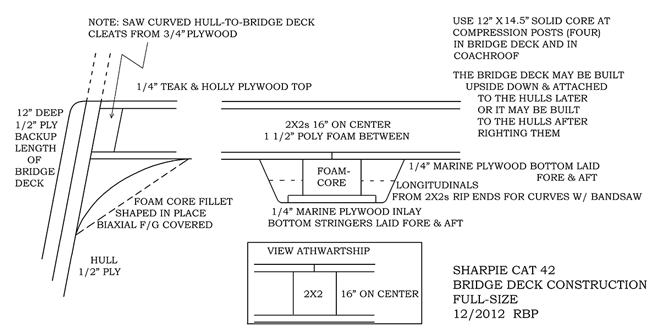 For foam-core components (including the cockpit hardtop), I call for internal structural members from spruce 2x2s and sawn spruce beams 1 ½″ square. I wanted rounded sections for the cabin side-to-top joints, but also designed a simpler section (not shown) that would be less labor intensive.
I designed NACA foil-shaped daggerboards and kick-up rudders, for performance and beach-ability. The daggerboards are intended to break before rupturing their boxes, and are of plywood and foam-core construction. It would be prudent to keep a spare on board. The sharpie cat, with her flat-bottom hulls, can be pulled up onto the beach for maintenance using PVC pipe rollers.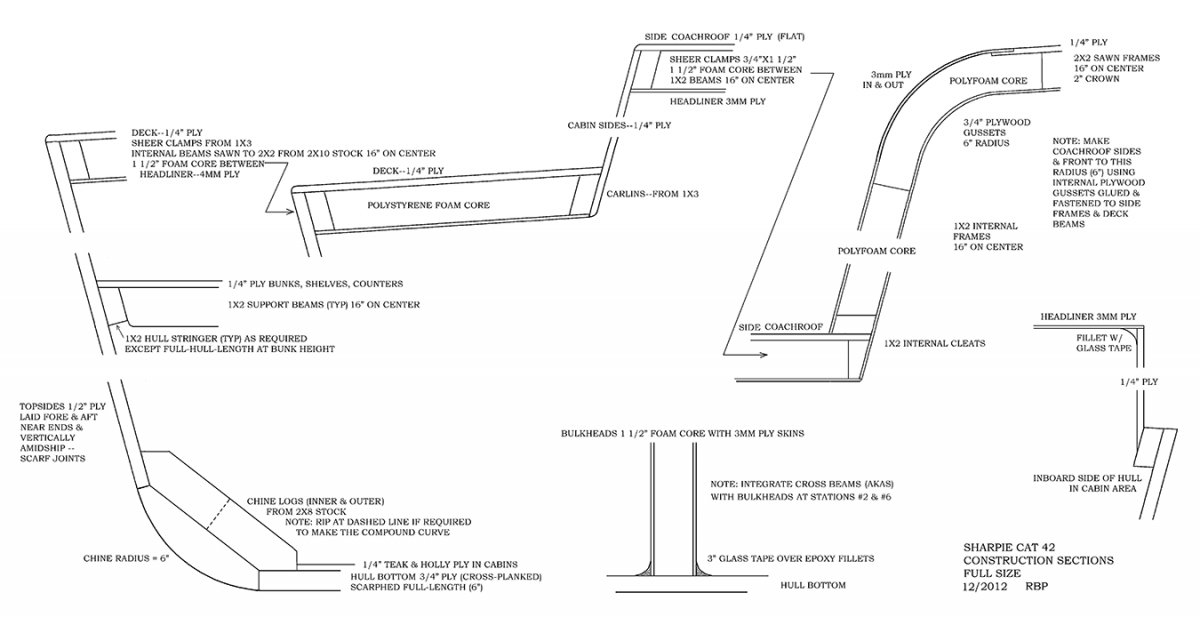 One thing I wanted to avoid is the awkwardly high freeboard of most production cat hulls. To achieve this I designed partial deck-cabins that provide over six feet of standing headroom, and are joined to the main bridge deck cabin in such a way as to provide comfortable companionways between hull cabins and bridge deck main cabin. The hull cabin-tops will also function as lounges or seats on deck. I gave the main cabin over six feet of headroom, with a large galley, office and two settees with tables. One feature of the Gunboat cats that I admire is having a second cockpit forward, with a companionway to access it in the front of the main cabin. I employed my own version of this to allow direct, safe egress through the cabin without using the side decks. This will also promote excellent air circulation and fast access to the mast and rigging.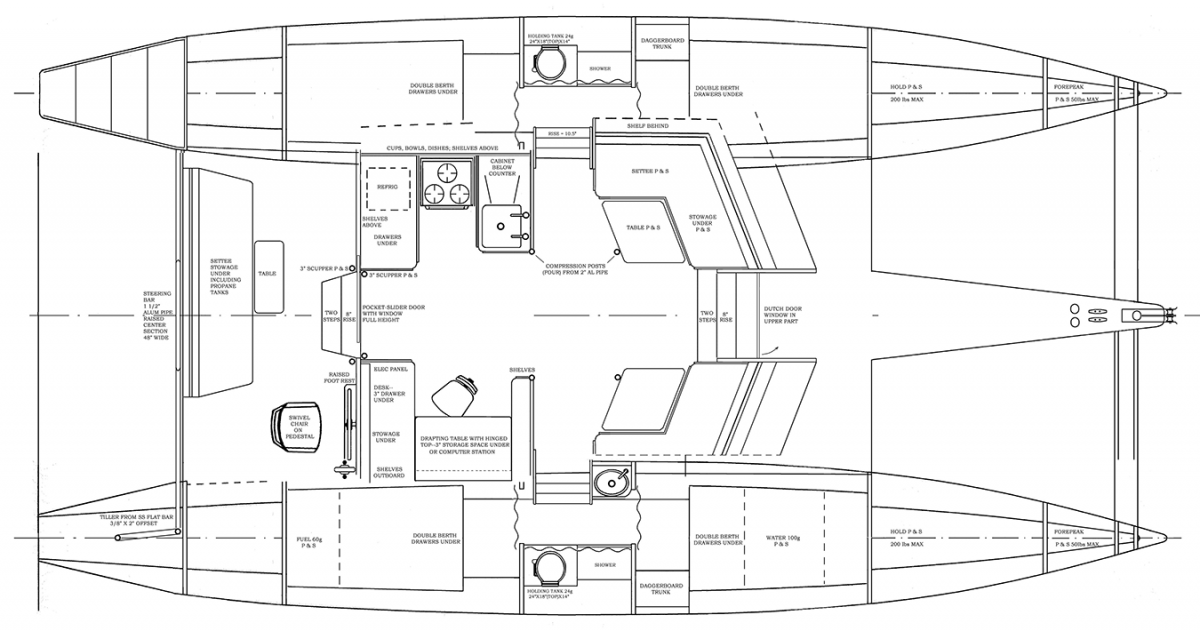 I gave each hull two private double cabins, with shared heads between. The berths are slightly narrower and slightly longer than standard double beds, and can use standard fitted sheets. I located the engine rooms aft in each hull, with the option of small inboard diesels or 4-stroke outboards on vertically-lifting transoms. With the outboards raised, hull-doors automatically close the bottoms of the wells, eliminating underwater drag. My Exuma 44 TERESA had this arrangement, and I was shocked to learn how much faster hulls with no underwater machinery are! The outboards, while inconvenient, will provide a much faster cat than the inboards will.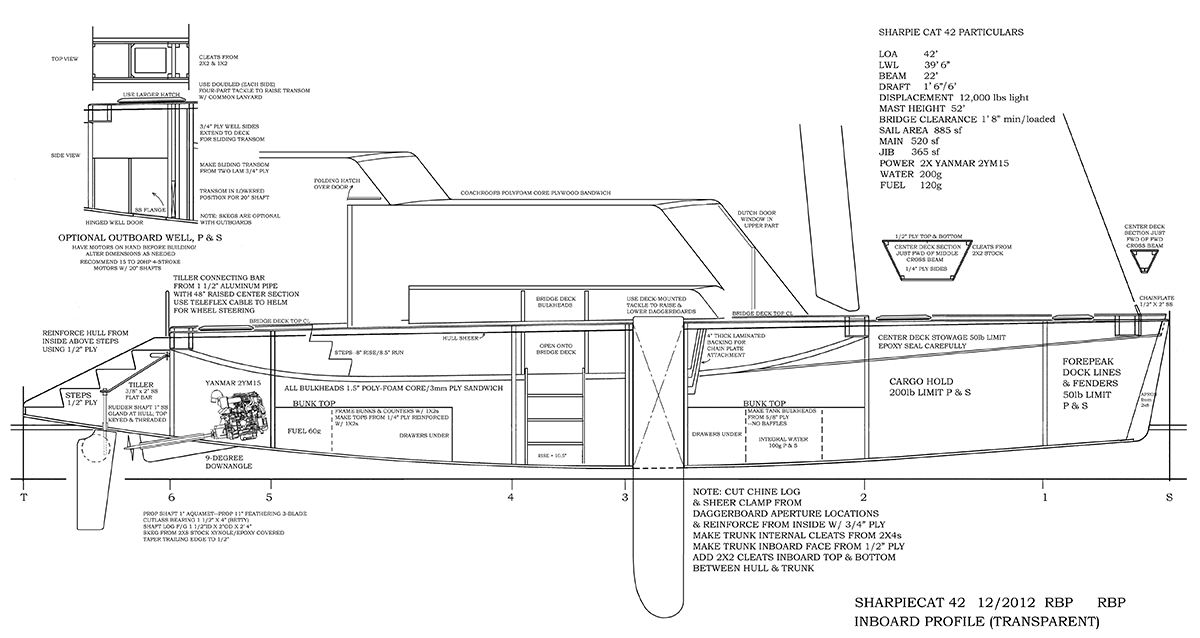 Specifications for the Sharpie Cat 42:
L.O.D.: 42′
L.W.L.: 39′ 6″
BEAM: 22′
DRAFT: 1′ 6″/6′ (3′ 8″ Rudders Down)
SAIL AREA: 900 sq. ft.
DISPLACEMENT: 12,000 lbs. light/14,000 lbs. laden
CAPACITIES: Fuel: 120g; Water: 200g; Payload: 1,500 lbs.
RIG: Sloop/Fully-battened mainsail/Rotating wing mast
MAST HEIGHT: 52′
DECK CLEARANCE: 1′ 8″ aft/loaded; 1′ 10 ½″ forward/light
POWER: 2x Yanmar 2YM15 OR 2x 15 hp Four-stroke Outboards in wells
TYPE: Fast Cruising Catamaran
ACCOMODATIONS: Four double berths in separate cabins, two heads.
HEADROOM: 6′ 1″ average
CONSTRUCTION: Cold-molded wood hulls, plywood intensive for fast one-off construction, composite marine plywood/foam-core deck and coachroof covered with epoxy-impregnated Xynole-polyester or Dynel fabric. Mast: laminated using aircraft plywood and epoxy. Boom and Davits: aluminum. Gaff: laminated wood
PAYLOAD: 4,000 lbs total: water, fuel, stores, crew
Building, living in, and cruising on a catamaran would be very different experiences for me. I have no real insights into whether or not I would like it. But building and sailing the Sharpie Cat 42 would almost certainly be the best career move. I have never sold a set of plans for this boat, much to my dismay, because I believe it is one of my best designs, and I believe it has properties that set it above most cruising production catamarans on the market. I am also certain (we priced it out) that it can be built by a professional yard (such as BoatSmith in Jupiter, Florida), for half the cost of a similar-size production cat.
So—should this be my cruising retirement home?
Suggested Reading: Two Catamarans, Two Girls, by James Wharram/Sailing the Apocalypse, by Scott B. Williams/The Cruising Multihull, by Chris White
5/21/2015, Appleton, Maine