Resurrecting a working rowboat from Ireland's Shannon River Estuary (from WoodenBoat Nos. 249–250)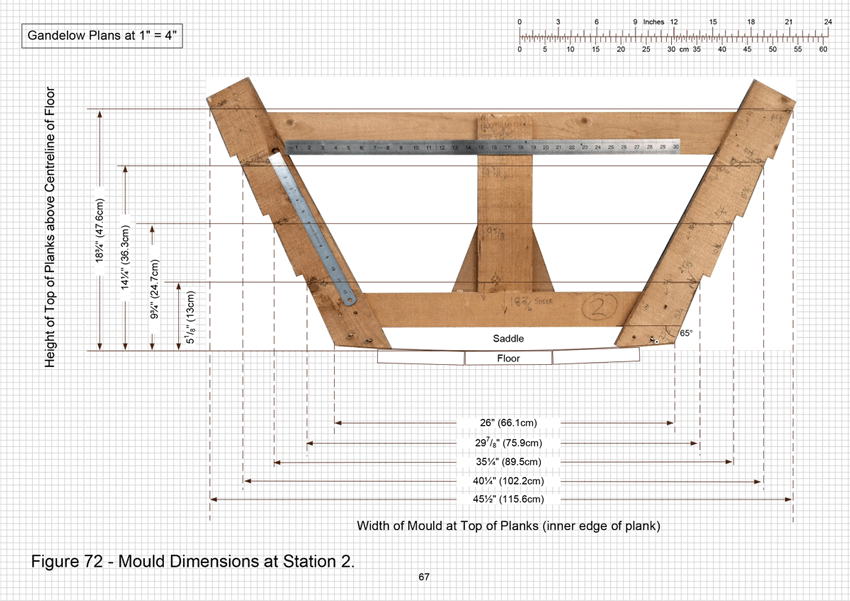 In WoodenBoat Nos. 249 and 250, author Patrick Beautement describes in detail how the A.K. Ilen School of Wooden Boat Building in Limerick, Ireland, built four boats known as "gandelows." The gandelow is a general-purpose type of rowing craft once common in the River Shannon Estuary. These boats are hard-chined, with a rounded bottom to make them easier to work free from the mud after grounding out. Their lapstrake-planked sides are straight, like a dory's, for most of the boat's length. However, after the garboards are completed, the second plank twists from nearly vertical amidships to nearly horizontal at the transom, making it a challenging—and therefore interesting—plank to fit. The transom shape, and the fit of these so-called "butterfly planks," give the Limerick gandelow its distinctive and lovely shape. Patrick published a small book about the project, which was completed in 2014.
Historically, gandelows were built by eye, with individual builders bringing their own ideas and adaptations to the type. The boats upriver at Limerick—the square-sterned variety presented in Patrick's article—were distinctly different from those in the exposed waters near the mouth of the river, which had "tombstone" transoms, like dories. Hence, the lines plans commonly known to students of boatbuilding are not available for gandelows and only exist from a few boats that have had their lines taken. For the school's project, a range of boatbuilders and sources were consulted, then a prototypical boat was "lofted," or drawn out full-size so that construction patterns could be made.
The three sets of downloadable PDF files displayed here show all of the information needed to build a 23-footer. The plans sheets are arranged in three sets:
Patterns for six molds.
Detailed patterns for individual pieces.
Sketch plan and tables of measurements.
Anyone seriously interested in building a gandelow should review Patrick's articles in WoodenBoat and consider purchasing his book to supplement the information presented here. For information about the book, see www.beautement.com/boats.htm. He promises more plans in the future for a smaller boat, a 15′ Limerick gandelow.