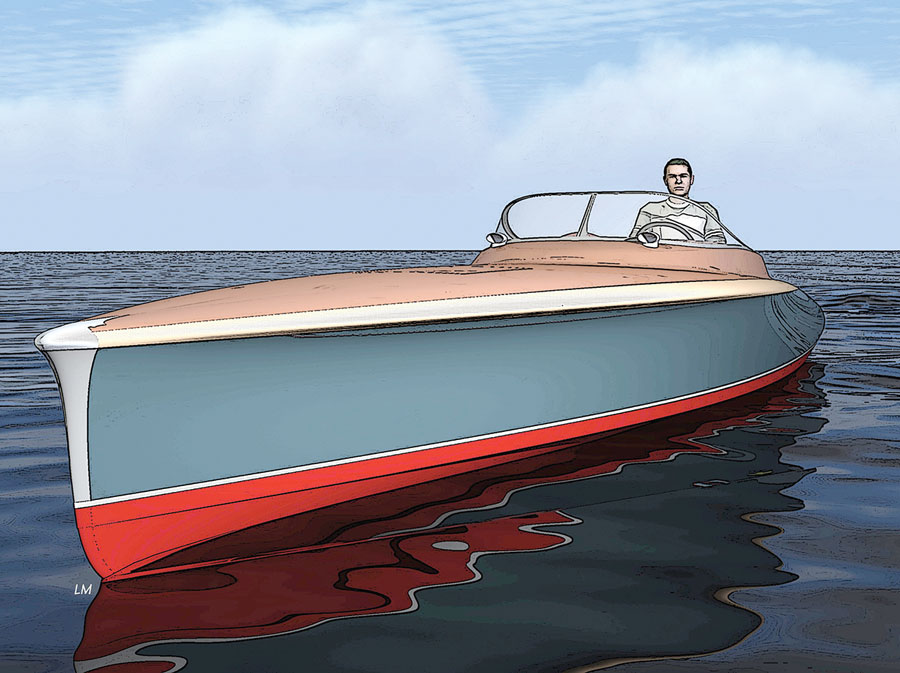 WB No. 253, Nov/Dec 2016: FLAIR is an update of the early 20th-century auto-boat type. Auto-boats took their styling cues from the fledgling car industry; they were the precursors to the later runabout.
Particulars
LOA: 29′ (8.84m)
LWL: 27′9″ (8.47m)
Beam: 6′9″ (2.06m)
Beam WL: 5′9″ (1.76m)
Draft: 22″ (0.56m)
Displacement (half-load): 2,840 lbs (1.29t)
D/L ratio: 59
Prismatic coefficient: 0.64
Electric motor LEMCO Swordfish

twin 200-D135 @ 72V system
26kW (35 hp) continuous
53kW (71 hp) peak output
FLAIR's hull shape combines a narrow waterline, a nearly flat run (and flat sections) aft, and a sharp entry, all of which promise good semi-planing speed and economy. The tumblehome continues below the water's surface, presenting a non-tripping shape in tight turns.
At 35-hp, FLAIR will travel in the mid-teens. And she'll do that in near-silence with an electric-propulsion unit.
FLAIR's shapely hull is meant to be cold-molded or strip-planked and sheathed in fiberglass. The deck receives a decorative overlay of teak or mahogany.
The boat's three-bladed propeller appears conventional, but it's not: This is a Juan ("zjou-ann") treated prop, meaning its tips are shaped to direct water in a nozzle-like fashion. The result is a smoother and more efficient boat.
---
Laurie McGowan is a Nova Scotia–based boat designer in with a diverse on- and below-water work history. He specializes in energy-efficient commercial and pleasure boats. More of his work may be found at mcgowanmarinedesign.com.
Do you have a boat concept you'd like to see Laurie McGowan develop in WoodenBoat magazine? If so, send it to Sketchbook, WoodenBoat Publications, P.O. Box 78, Brooklin, ME 04616, or email it to sketchbook@woodenboat.com. Your letter should be no longer than 500 words.