My Six Cruising Sailboats—#1 FISHERS HORNPIPE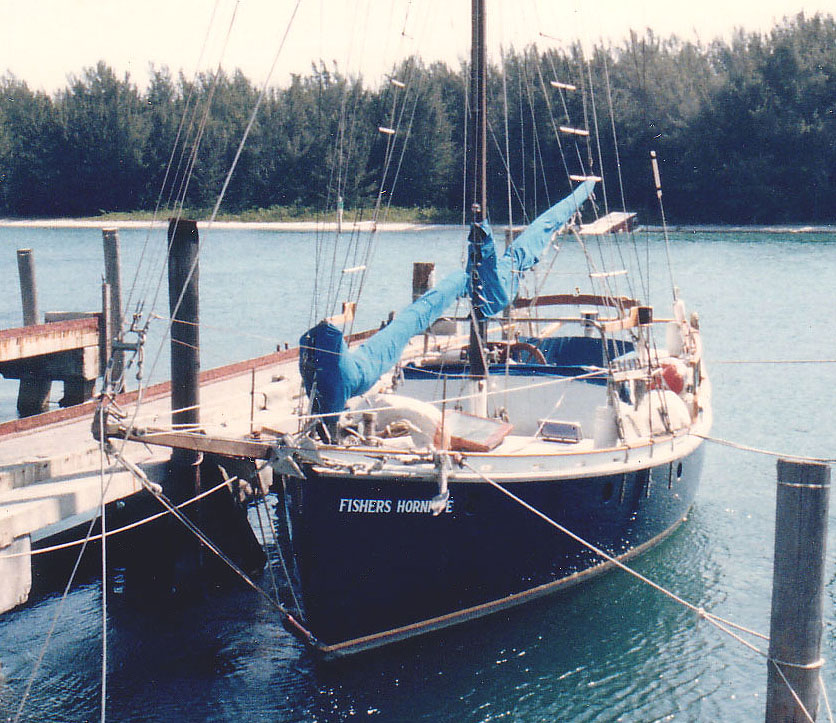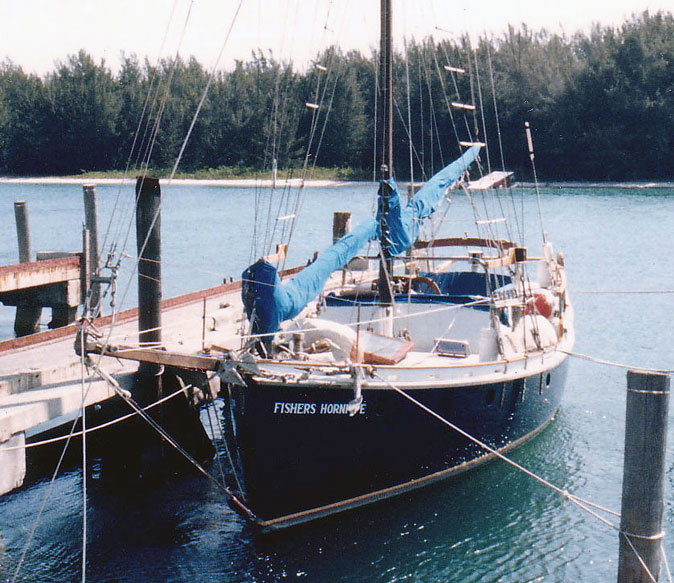 In early 1973 I decided I wanted a big sailboat—and that I wanted to sail off into the sunset, as the old cliché says. I lived on the California coast at that time, and I commenced looking around for a used boat. I soon realized I couldn't afford anything I wanted. My cruising sailboat criteria were based more on research and dreams than on practical experience, but I still knew what I wanted. Despite the fact that I had been designing and building boats since age twelve, I had never sailed on a large cruising boat, and I had never been to sea. Most of my experience was with small power and sail, and a few weekends on medium-size power cruisers on the Great South Bay, Long Island. I had grown up around boats, constantly on the water, and I felt it was time to sail away for real.
Through friends in Half Moon Bay, I met a charismatic sailor named James Patrick Cotten. "Pat" designed and built big cruising sailboats in ferrocement, and had a small cult following. His designs were pretty unique, in that they were BIG for their size. Think "ARK." They were geared for the dreamer who not only wants to sail away, but also wants to "take it all with him." His construction methods were also unique, in that his hulls were of frameless "monocoque" design, incorporating many layers of highly compressed poultry netting encasing double-diagonal steel rods. And only his hulls were ferrocement, not frames, decks or bulkheads. I liked his design for a flush-deck 40′ cutter, and contemplated building her in wood—traditional plank-on-frame—or with the new cold-molding techniques that were then in their early WEST System promotional stages. Pat told me I was nuts. I started working with him on a new boat he was building for himself, and eventually caved in to the fact that the only practical hull material for my pocketbook was indeed ferrocement.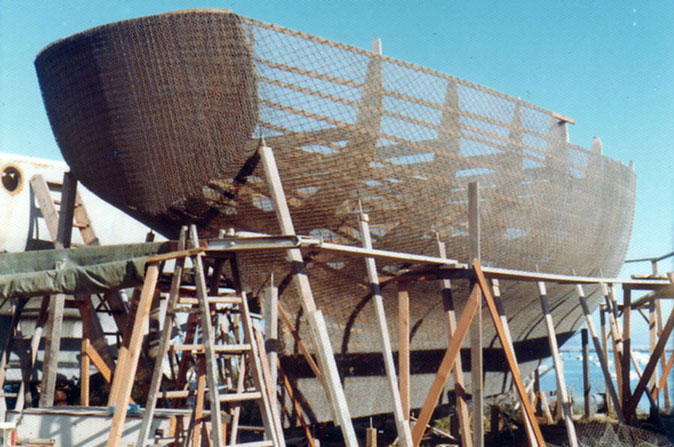 Hence in early 1974 I began construction on a Cotten 40, in the Village Boatyard, in El Granada. I built the bare hull using Pat's excellent methods in five months, for a total cost of less than $3,000 including rent. Plaster day alone cost a third of that figure.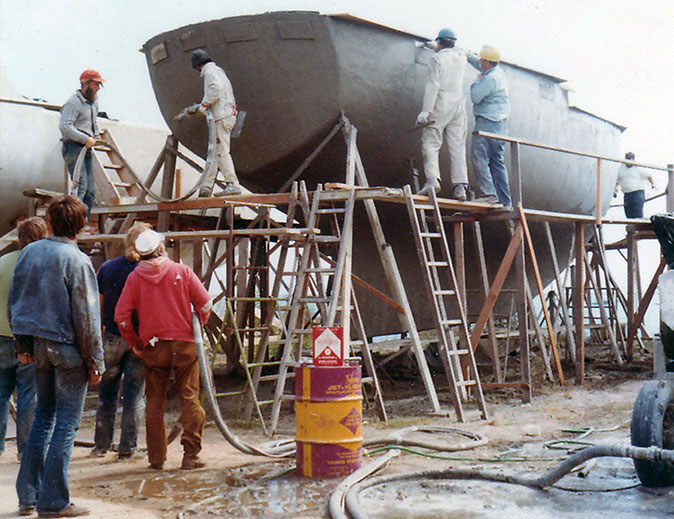 After the ferrocement hull, FISHERS HORNPIPE was entirely a wooden boat. Decks, frame structure, bulkheads, interior furniture, cockpit, bulwarks, stern davits, and spars—all wood. I earned money as an "outlaw" general contractor and residential architect, and because I did high-end work, I was able to finance my dream in an ongoing—if haphazard— fashion, and I built her in five years. I finished her enough to where she could sail anywhere in the world (leaving some interior cosmetics lacking), and in late 1979 packed her with everything I owned (tools, books, musical instruments) and headed south. I had two ex-girlfriends as crew, and various friends joined us along the way. I was on a steep learning curve, and I was both ecstatic and terrified on a daily basis. But the HORNPIPE was a very solid boat, very well thought out, carefully built, and equipped to go anywhere—in comfort and safety.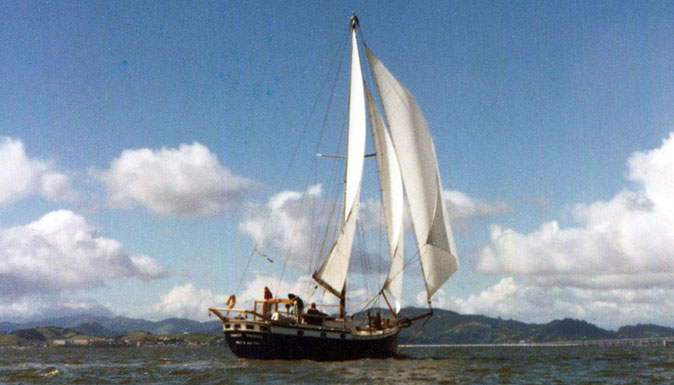 The Mexican west coast was a fantastic first experience, and the HORNPIPE was like a small sailing palace. She was a very comfortable home, and I was having the time of my life. I sailed her to Costa Rica, where I stayed for several months, then to Panama and through the Canal to the San Blas Islands. I had many wonderful people as crew, and we lived on next to nothing. I navigated by the sun and stars, and by the seat of my pants, and fate was kind to me. The HORNPIPE was an excellent sea boat, and she took me safely through numerous full gales at sea. She could beat to windward in 20-foot seas and 45-knot winds! As a cruising boat, she was stable and powerful, and with her great aft cabin, she hosted many excellent parties. I sailed her north through the western Caribbean, up and down the Atlantic coast, and south through the eastern Caribbean, visiting dozens of islands and countries everywhere I went. Cruising in the Grenadines, I fell in love with my first mate, as well as the islands and the people.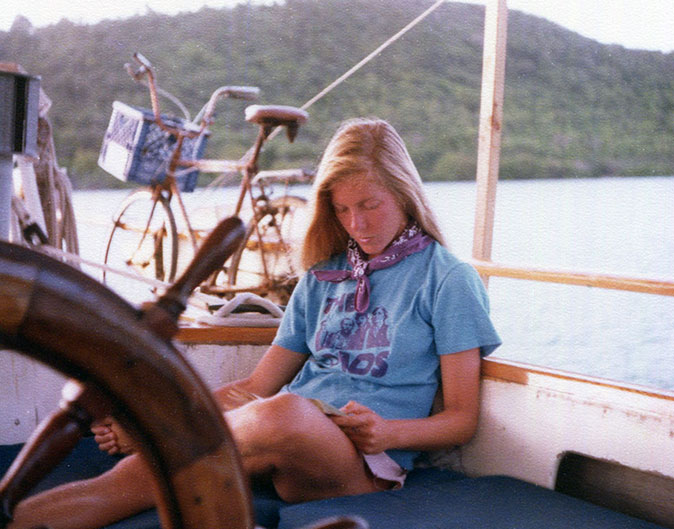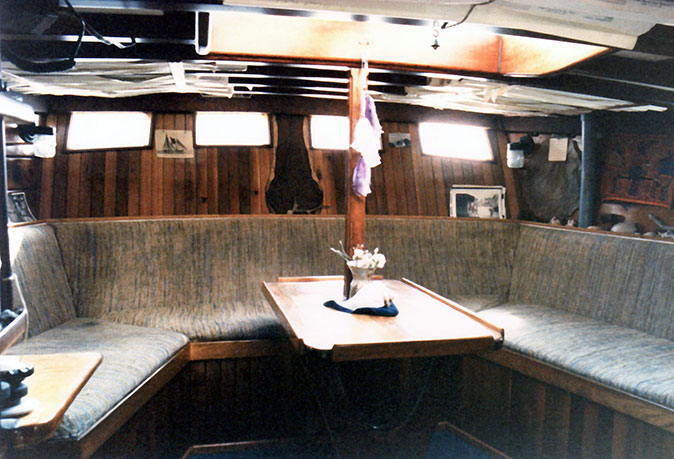 FISHERS HORNPIPE slept six in three double cabins, had two wood/coal stoves for heat (plus a propane stove for cooking), huge skylights for ventilation, and a four-cylinder Isuzu diesel for auxiliary power. Her nemesis was her deep draft—the HORNPIPE, laden for world travel, drew seven feet. I sailed her to twenty foreign countries, and ran aground in every one!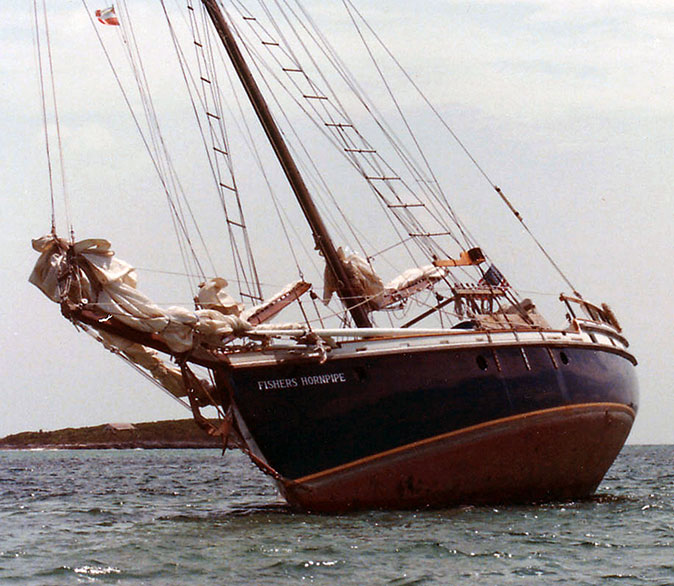 I lived the cruising lifestyle for five years, stopping to work as a shipwright when I needed money, and I sailed as far north as the Maine coast, and as far south as Grenada, when it was still a communist country (before we invaded it). It was a truly great life, but like anything, I eventually needed a break. In 1984 I sold FISHERS HORNPIPE at the Newport Used Boat Show to an oil-rig shuttle boat captain named Paul Dunn. He loved her, and after his death, his daughter told me that "she was his life." She certainly was mine, also.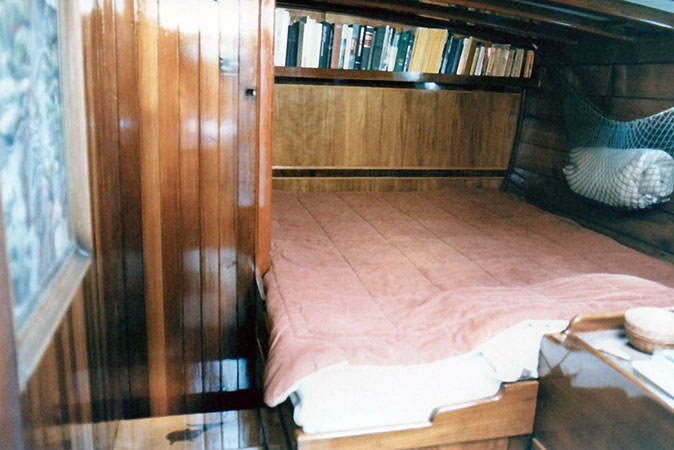 A few months ago, I received an order for my third book, The Voyages of FISHERS HORNPIPE from a woman who told me that her son Matt had been sailing on her in the Caribbean. She emailed me some pictures, and as always, I felt her tugging at my heart strings. She is alive and well, a forty-year-old ferrocement sailboat, running dive charters out of the Cayman Islands. Whenever I see pictures of her, I am shocked to see how original she is.
Specifications for FISHERS HORNPIPE
LOA: 40′
LWL: 36′
L SPARRED: 54′
BEAM: 14′
DRAFT: 7′ laden
DISPLACEMENT: 46,000 lbs (23 US tons) laden
SAIL AREA: 825 sq ft (1125 w/Genoa Jib)
DESIGNER: James Patrick Cotten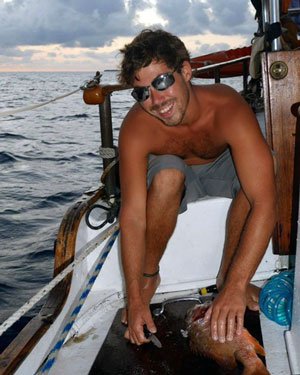 There is nothing like your first love, and FISHERS HORNPIPE certainly was that for me. She changed my life forever. Her extraordinary deep draft taught me that, for the kind of cruising I love to do, I was going to need a shallow draft boat. While I love crossing oceans, being in those long deep-water swells, I also love gunkholing.
In 2005 and '06 I collected my newsletters, log books, and memoirs, and proceeded to write about my cruising life in FISHERS HORNPIPE. I had been working on this project since 1984. The result became my third book.
I had been teaching myself marine architecture since childhood, and my educational background included physics, math and engineering drafting. By 1984 I hung out my shingle as a yacht designer, and embarked on a new career. That same year I completed the design for SARAH, my first Exuma-Series boat, and I built her with her owner in ft. Pierce, Florida. In early 1985 I built TERESA, my second Exuma, which will be the subject of another Blog.
Christmas Day 2014, St. Lucie Village, Florida