Home of 1936 Olympic gold oarsmen may be preserved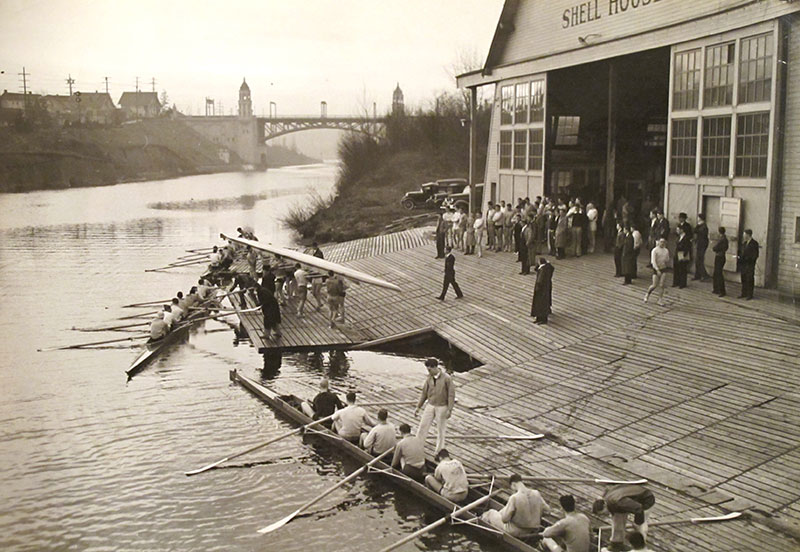 Good stories, well told, can resonate in unexpected ways. One example now comes from the University of Washington (UW) in Seattle, where a building that housed the crew team's rowing shells and the workshop of their builder, George Pocock, had a central role in Daniel James Brown's 2013 book, The Boys in the Boat: Nine Americans and Their Epic Quest for Gold at the 1936 Berlin Olympics. The ASUW Shell House, as it is called, was repurposed from its original use as a World War I seaplane hangar, and it had largely receded into obscurity before Brown's book became a sensation. Now, with a new film coming soon from George Clooney, the building is back in the spotlight.
Brown may have reintroduced Pocock to a broad audience, but the name wouldn't have come as a novelty to WoodenBoat readers. For one thing, Brown himself published an article in our pages (WB No. 233) on the UW's 1936 Olympic crew team. Pocock was featured in the magazine first in WB No. 21, and when the Pocock Company's last wooden shell builder retired in 2003, the company donated replacement parts to the Lake Washington Rowing Club (Currents, WB No. 174) and patterns, forms, and materials to the Northwest Maritime Center, with boatbuilder Steve Chapin designated to carry on the tradition of building wooden single shells in Port Townsend (WB No. 198). Pocock's boats are still treasured by their owners. In Brown's book, the Pocock eight HUSKY CLIPPER, built magnificently of western red cedar, can be counted as one of the main characters; it hangs today from the ceiling of UW's Conibear Shellhouse, the "new" crew headquarters building as of 1949.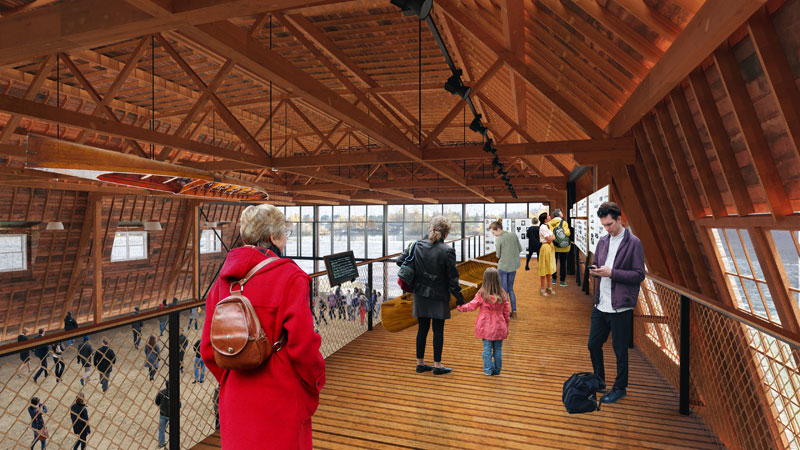 The book helped to raise the old Shell House from obscurity, and now, according to the UW's Nicole Klein, the university is running a capital campaign to raise about $13 million to restore, preserve, and repurpose the building. In the loft up a flight of stairs, the boatshop is still there, now empty but with varnish built up on the floor in the outline of numerous shells built there. "The Pocock shop is just the heartbeat of the building," Klein said. "If you walk in there, even if you don't know why, or what was in there, you feel an energy shift. It still smells the same. Historic buildings tell all these stories, by their scars." Pocock built shells there from 1921 to 1949, then moved elsewhere; the company still builds high-tech shells in Seattle. Rowing is still a strong component of UW's athletic program: "Our male and female athletes are consistently the top-ranked academically, and we sent I don't know how many to the Olympics this year," Klein said. "The men are current national title winners, the women are third again."
The building's old hangar doors, inoperable for eight years, will likely be restored to function. However, and alas, "right now, there's no plan for it to be an active boathouse," Klein said. Not only has the waterfront eroded, but permitting on a U.S. Army Corps of Engineers waterway would be difficult and expensive. Also, "that is the freeway," she said, pointing to the narrow and busy channel connecting Lake Union with Lake Washington. "If you launch from here, you have to know where you're going—fast. You're at the very end of the Montlake Cut, which is like a congested pipe."
The building was saved from destruction in 1975 and named to the National Register of Historic Places. "For some people it's not a pretty building," Klein said. "It's utilitarian. It has a kind of grittiness compared to the Harvard boathouse. But in a way it shaped them, the heroes that were trained in here…. It's still standing here, and it has all these stories inside. Historic buildings can be storytellers, and they have the ability to capture a moment in time."
For more information, see www.bit.ly/UWShellHouse.