U.S. Army Air Forces crash boats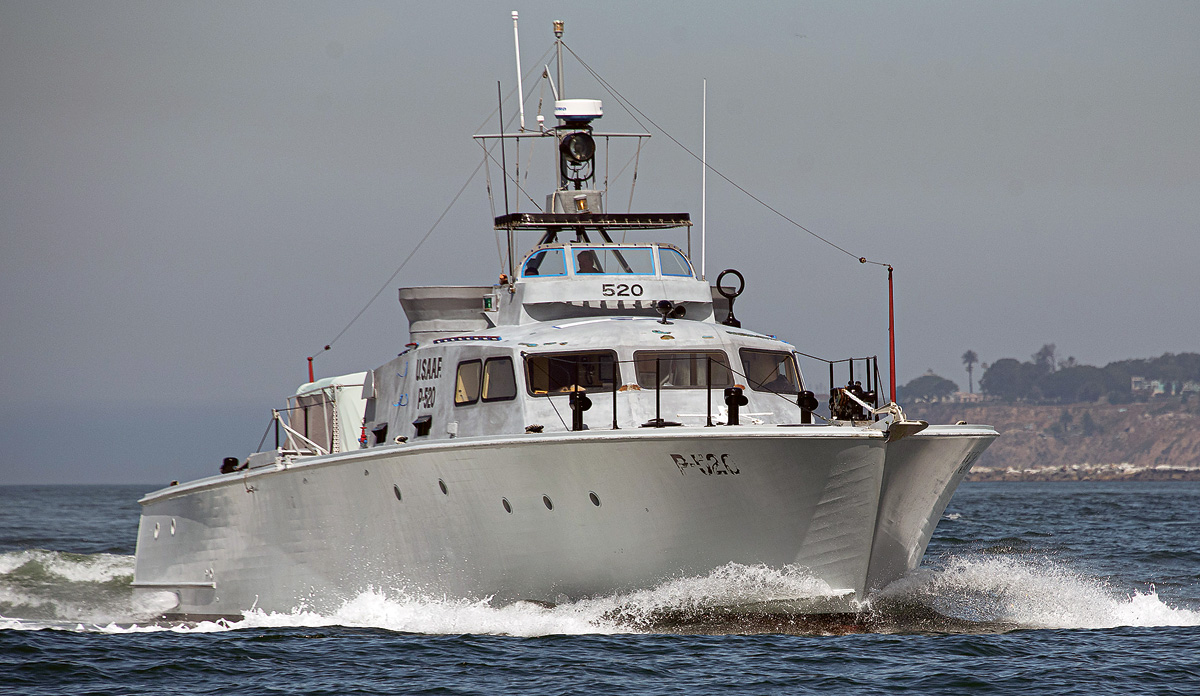 The most amazing thing happened," says Jerry Tretter. The year was 2005 and Tretter, his father, Bud, and a crew had taken their restored 85′ Army Air Forces crash boat P–520 from their home in Long Beach, California, to Puget Sound to lead a parade of tall ships. After the parade, as the boat and crew were sitting dockside, all manner of World War II and Korean War veterans started coming aboard to share their memories of crash boats.
"We had one crash boat sailor from WWII, and he was telling us how during his time in the South Pacific his crash boat rescued any and all aviators, American or Japanese, that ditched at sea. The next thing I knew, an elderly Japanese man came aboard. He had been a pilot downed in a dogfight and rescued by a U.S. Army Air Forces crash boat. Turns out the American vet who was telling us his crash boat stories was on the same boat that rescued the Japanese flyer. There were a lot of hugs, a lot of tears. A reunion like that after all those years. What are the chances? Unbelievable."
If the Tretters ever had any second thoughts about committing eight years and over a million dollars to restore P–520, this reunion of former enemies made all their efforts and the expense seem worth it.
Before helicopters took over the job of air-sea rescue in the mid-1950s, crash boats and amphibious aircraft such as the Navy's PBY were the primary tools for saving lives at sea. During WWII, crash boats rescued thousands of aviators and shipwrecked sailors. In the Korean War, crash boat missions became even more diverse. Yet today the crash boat service is at best an asterisk when it comes to an inventory of small-boat contributions to the war efforts. PT boats get all the glory. Their combat missions were primarily offensive exercises. Crash boats' missions were generally defensive.
Ironically, when Hollywood wanted to celebrate PT boats in films such as PT–109 or the TV show McHale's Navy, a number of crash boats were enlisted to play the parts of PT boats because most of the PT boats had already been destroyed.
History
According to crash-boat historian Carlos Ruth, son of one of the Army officers who developed the modern crash-boat force during WWII and the Korean War, the term "crash boat" refers to "an armed rescue boat deployed to save air crews who crashed or had to ditch their plane." During WWII, such boats were commonly called Air Rescue Boats (ARBs) or Emergency Rescue Boats (ERBs), but by the Korean War the newly frocked United States Air Forces simply called these fast, wooden lifesavers "Crash Rescue Boats."
Ruth manages the website www.uscrashboats.org, where he has collected details and lore about crash boats and their crews. He says that although fast Army and Navy speedboats began rescuing downed aviators as early as World War I, the modern American crash boat owes its origins to the Royal Air Force (RAF) operations during the Battle of Britain in 1940–41. Impressed by the RAF's use of high-speed launches to rescue airmen in the water during the air battles fought over the English Channel, the U.S. Army Air Forces (AAF) sent a team to England to study the RAF's rescue program. In short order, Gen. Hap Arnold, head of the AAF, requested that the U.S. War Department support an RAF-style water-rescue capability at American airbases with over-water traffic patterns.
The American crash-boat program began formally in 1941 with a rescue boat school at the New Orleans Yacht Club on Lake Pontchartrain, Louisiana. In 1943, the government hired Higgins Industries (builders of PT boats, crash boats, and landing craft) to operate a training school at Army Air Base New Orleans. Trainees were generally enlisted personnel with non-commissioned officers as boat skippers. In 1944, the AAF moved the rescue-boat training school to Keesler Field at Ocean Springs, Mississippi. Called "Main Base," the facility was the hub for other air-sea rescue training sites in New Orleans; Mobile, Alabama; and Gulfport, Mississippi.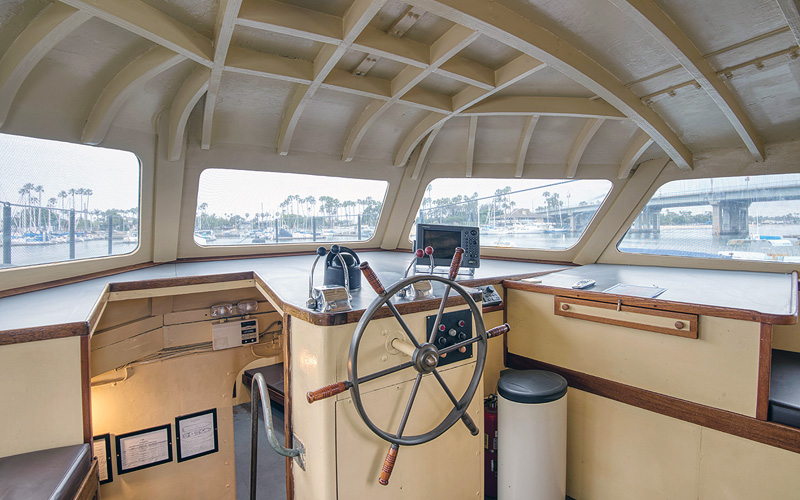 "At the start of the war, finding officers with any marine experience was especially challenging for the AAF," Ruth says. "I think they latched on to my father because he was already an officer in the Army Reserve, had owned a couple of small race boats, and, at the start of the war, had been a member of the Capital Yacht Club. That was enough marine experience for them at the time. He went active in 1942 as a second lieutenant."
Boats and Crews
In the early 1940s, the United States experimented with crash boats ranging in size from 24′ to 104′, but in the end it was the fast PT-boat-look-alike 63-footers and 85-footers that were built in large production runs for extensive wartime service. Before WWII ended, a host of American builders launched 740 iterations of the 63-footer and 140 copies of the 85. By comparison, U.S. shipyards produced 531 PT boats ranging in sizes from 74′ to 80′ LOA.
Both the 63′ and 85′ crash boats were designed for three- or four-day patrols. The 85s carried a crew of 14 to 16 men, while the 63s carried 9 or 10. Given their original mission to rescue downed airmen, all crash boats carried medics and extensive medical and galley supplies to treat wounded, injured, starving, dehydrated, and hypothermic fliers.
When not on patrol, crews usually quartered and messed at their stand-by location near an airbase. Crash-boat duty during WWII could often be a good assignment, since AAF bases were often on the edges of major American coastal cities such as Miami, New Orleans, or Los Angeles. Even overseas postings in such places as the Caribbean and Panama were none too shabby. Every base commander and every general wanted his own private crash boat for joy-riding and beach parties to impress the locals and Army nurses.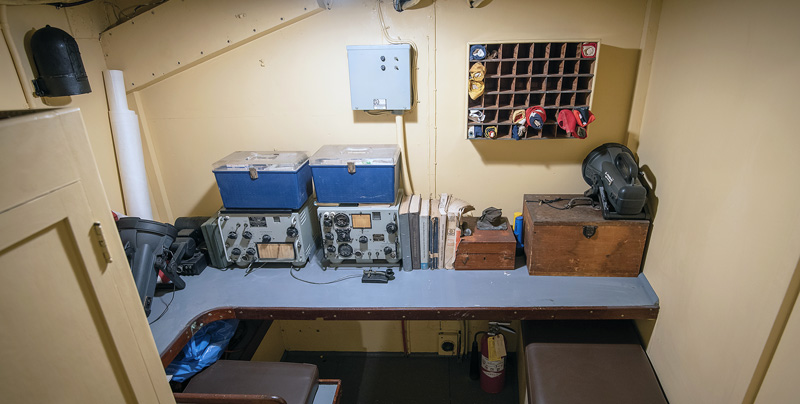 But for the crews of 85-footers in the Aleutian Islands of Alaska during WWII, and later in Korea, crash-boat duty was harsh. Both the 63s and 85s were designed for temperate or tropical climates. Even when modified by their crews with plywood interior ceiling and much larger heaters, life aboard crash boats could be miserable.
Korean War veteran Bob Frankovich says his crew was living aboard their 85-footer for up to two months at a time. It was so cold, they slept in "mattress sand­wiches." The men wrapped themselves in blankets and then slipped between two mattresses stacked on their berths.
One crewman had this advice for a novice shipmate: "If you're spending the night on a crash boat and there's an air raid, don't worry about a thing. The roof of the cabin is of sturdy plywood—and the bunks are mattresses laid over large gas tanks. What could possibly go wrong?"
Design
During 1940, Miami Shipbuilding submitted a proposal to build crash boats for the Union of South Africa, a predecessor to today's Republic of South Africa, and won a contract to build eight boats. Designed by naval architect Dair N. Long, these 63′ prototypes had their origins in the planing hulls of 1920s-era Gold Cup speedboat racers of Gar Wood and the high-speed attack boats developed by the British, Italians, and French in the 1930s. Looking much like American PT-boats of the time, these 63-footers had a deep-V in the bow softening to a flat bottom at the stern.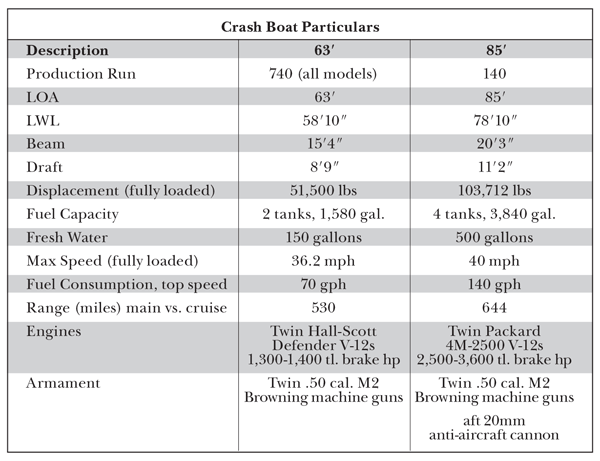 In March 1941, Miami Shipbuilding conducted official trial runs of Long's eight prototypes along what is now the MacArthur Causeway in Miami. All eight boats exceeded their projected 42 knots. The speeding crash boats caused traffic jams along the causeway with sightseers in their cars trying to race them. Propelling the boats were four Kermath 500-hp Sea Raider engines. Later, two Hall-Scott V-12, 650-hp Defenders became the power for the 63s.
"The ship channel along the causeway was only 300′ wide," according to an article by Jean E. Buhler, Chief Technical Officer of Miami Shipbuilding, in The Northern Mariner, "and it was quite a sight to see the boats make a 180-degree turn at full speed in the channel."
In the summer before the 1941 Japanese attack on Pearl Harbor, a squadron of Navy Elco PT-Boats showed up in Miami with frames that had broken during their delivery south from their New Jersey builder. Miami Shipbuilding and the Merrill Stevens yard made the repairs. After the reframing, Miami Shipbuilding crews conducting sea trials on the 63-footers could not resist a little nose-to-nose competition with the PTs. During a 30-mile dash north to Hillsborough Light, the 63-footers outdistanced and outmaneuvered the Elcos. So began another facet of the Army–Navy rivalry that would last throughout WWII.
Construction
Sometimes called a "plywood wonder," a new crash boat could be completed in one to two months. But crash boats, like PTs, were never built using much plywood. As built by Miami Shipbuilding, Long's 63s and the scaled-up 85s had stem, keel, and chines of Honduras mahogany. The structural watertight bulkheads were hollow, built of two layers of ¼″-thick Douglas-fir plywood separated by 1⅜″-thick spruce stiffeners.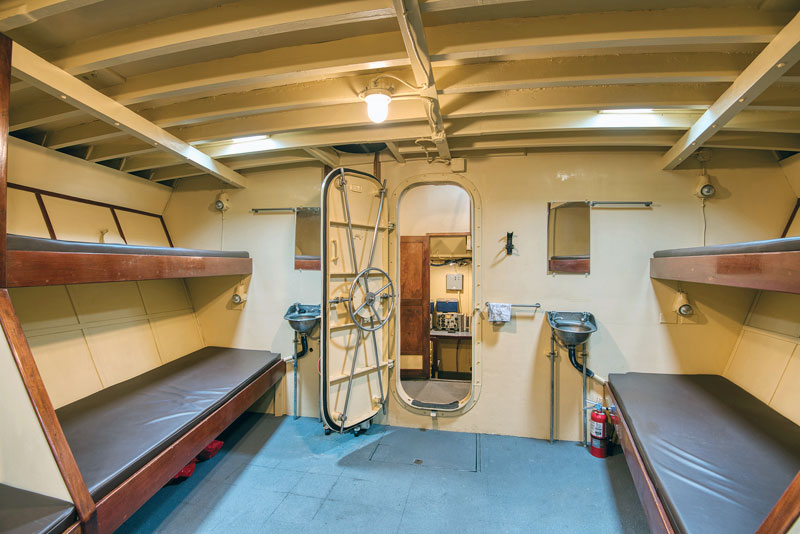 The hulls were initially built right-side up, although some yards eventually built crash boats upside-down. They had spruce stringers, spaced 1′ apart, fastened into notches in the bottoms and sides of the bulkheads. Steam-bent white oak frames 1⅛″ × 1⅜″ (on the 63s) were placed inside and outside the stringers to form "I-sections." Knees and gussets of ⅜″ fir plywood were fitted and screwed to both sides of the frames at the sheers and chines. Before a boat was planked, the engine bedlogs of built-up box girders with oak runners were fitted through the transom framing and bolted in place. Along with the keel and chines, the engine bedlogs formed the main structural members in the bottom of the boat.
Crash boats were double-planked. The inner planking on a 63-footer was cedar, ½″ thick on the bottom and ⁷⁄₁₆″ on the sides, hung on a 45-degree diagonal, screwed to the keel, chines, and sheer clamps and copper-nailed to the frames. The builders put 8-oz cotton duck, set in aviation glue, over the inside planking, then hung the outer planking longitudinally, using Honduras mahogany ¾″ thick on the bottom and ⁹⁄₁₆″ on the sides.
The outer planking was fastened through the inner planking into the frames, keel, chines, and sheer clamps with bronze screws. The inner planking was further "back-fastened" to the outer planking with wood screws from the inside. The deck consisted of Douglas-fir plywood ¾″ thick, fastened with Monel Anchorfast nails to 1⅜″-square spruce deckbeams. The deck was then sheathed with 12-oz canvas set in pasty white lead paint. The deckhouse structure was built of ¾″-thick Douglas-fir plywood with mahogany trim.
Builders
Miami Shipbuilding Corporation, founded in 1939, was in its first year of operation when it won the South African contract for eight prototype 63s. By 1944, the yard employed about 1,800 people on both sides of the Miami River and was the second-largest employer in Miami–Dade County. Soon the Buhler family's Miami Shipbuilding had a contract to build 50 crash boats for Russia, and by the end of the war the yard had sent at least 150 more 63s to England, Holland, Australia, and South Africa, as well as building more than 120 crash boats for the AAF and the U.S. Navy.
Although Miami Shipbuilding launched the most 63-footers over the course of WWII, 14 other builders (including premier yacht builders such as Herreshoff, Trumpy, and Stephens Brothers) constructed 11 different variations on Long's design for the AAF and the Navy, totaling 740 boats. Although gray was the standard color for crash boats in WWII, a few—similar to the Navy's PBY Black Cats amphibious aircraft—were painted black for stealth during special operations in the Philippines. During peacetime, their hulls were painted white, decks yellow, and the superstructure orange.
Compared to PT boats, 63s were lightly armed with four, 50-caliber machine guns in two gun tubs. But many crews in the South West Pacific Theater mounted 50-caliber machine guns on the bow. A few 63s modified as submarine chasers carried depth-charge racks.
Each 85-footer also carried twin 50-caliber machine guns but added a 20mm anti-aircraft gun. With more engineroom space, 85s had Kohler 110-volt generators and twin aluminum-block Packard Marine 4M-2500 engines. PT boats used three Packards, but the 85s were lighter than PTs and could still clock speeds of 35 knots, compared to more than 40 knots for PT boats. Among the 13 companies that built 85-footers, a number of famous yacht yards got into the act. Burger Boat in Wisconsin, Fellows & Stewart and Wilmington Boatworks in Southern California, the Herreshoff Manufacturing Co. in Rhode Island, and the Henry B. Nevins yard in New York City all built 85′ crash boats for the war effort.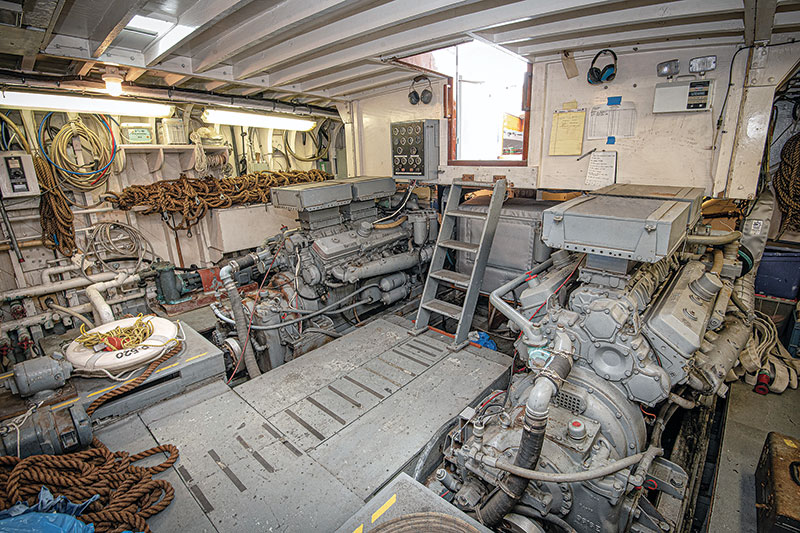 Search and Rescue
Rescue practices developed by crash boats and search planes during WWII involved coordinated search-and-rescue methods that remain the protocols for rescues at sea today. As every flier and mariner knows now, the most effective rescues at sea involve the use of search aircraft teaming up with fast rescue boats. But it took the experience of thousands of downed aviators and shipwrecked sailors during WWII to advance these modern search-and-rescue techniques.
At the beginning of the war, the AAF and the Navy hoped their PBY Catalina flying boats (called OA-10s by the AAF) could spot downed aircrews or shipwrecked sailors, then make water landings to rescue them. But open-ocean landings and takeoffs proved extremely difficult. Instead, the Navy and the AAF decided to develop significant crash-boat fleets.
The crews of the flying boats and the B-17, B-24, and B-29 search planes that succeeded them learned that their best chance of locating people in the water was by flying slow grid-search patterns at about 500′ of altitude. If two search aircraft shared a search mission, one would search at an altitude of 1,500′ to complete a fast, rough search while the plane flying at a lower altitude made a more discrete reconnaissance. The higher plane could also act as a relay for VHF radio signals from the lower aircraft and crash boats.
Missions
In order to protect shipping lanes along the coasts of North America, the U.S. government exchanged surplus warships for leases to build military bases in British protectorates such as Bermuda, the Bahamas, St. Lucia, Jamaica, Trinidad, Antigua, British Guiana, and Newfoundland. Eventually, many of these bases became homes for AAF and Navy air-sea rescue boats during WWII. In addition, crash boats served at widespread American bases stateside.
Documenting crash-boat contributions to the Allied war effort in WWII and the Korean War has proven difficult for researchers because boat skippers turned over their logbooks to their base commanders, who were only required to retain them for a year. But a look at records that do survive—those of operations in New Guinea during 1943 and 1944—offers a glimpse of the huge number of lives that were saved by the crash boats. The first American air-sea rescue unit in that area, using coordinated aircraft and boat operations, made more than 455 rescues. When the U.S. Fifth Air Force's 2nd and 14th crash-boat squadrons arrived, they rescued 300 downed aviators within six months.
The United Kingdom's RAF was responsible for rescue missions in Europe, the Mediterranean, and the China Burma India Theater. But by 1943, AAF crash boats and OA-10 aircraft were operated under the control of the RAF to support operations out of North Africa and during the invasion of Sicily. In addition to rescuing downed aircrews, crash boats were laying smokescreens along invasion beaches and engaging in deception and clandestine missions out of Italy against German-occupied Yugoslavia. In the China Burma India Theater, 63-footers carried some of the first scuba divers to sink Japanese cargo ships.
During the middle years of WWII, the United States shipped 63s and 85s to combat zones in the Mediterranean, North Atlantic, South Atlantic, and throughout the Pacific as deck cargo on Liberty ships. In addition to rescue missions, field commanders used crash boats to ferry parts and supplies (sometimes a lot of beer) and to conduct intelligence-gathering operations. In the South Pacific, crash boats joined PT boats to insert, supply, and evacuate Australian coastwatchers at Japanese-held islands. As the end of the war approached, U.S. forces moved crash-boat squadrons to Okinawa to support aviators and ships conducting massive American bombing raids on Japan.
In an interview with Bill Clagett, crash-boat veteran Tom Odiorne remembered, "In mid-1944, with a shipload of GIs, I crossed the Pacific into another world…. I had been living in a military dream world [Miami], complete with sandy beaches, hotels, palm trees, girls, boats that looked like yachts.… Once in the Pacific I saw a pure hell that for many years I have chosen to erase from my mind.… Our rescue efforts were concentrated on those poor souls, both military and civilian, who had been shot, maimed, or who did not make it to the beaches, or who were floating helplessly in the water praying to be seen and rescued."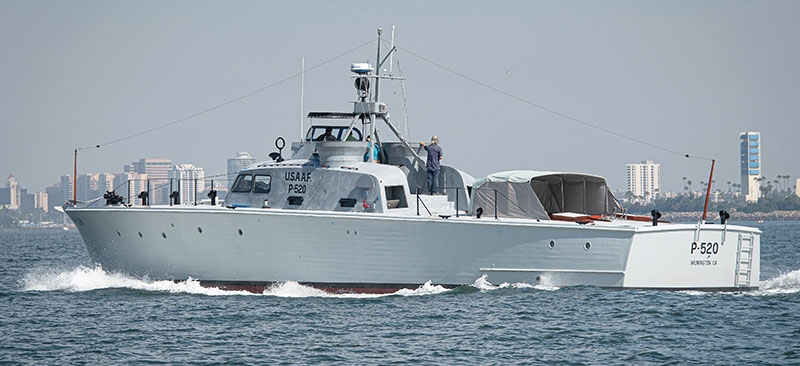 End of an Era
After the Japanese surrender in 1945, the AAF declared that all boats over 45′ were excess equipment and yielded responsibility for open-ocean rescues to the U.S. Coast Guard. In the mainland United States, the Coast Guard got much of the army fleet, and the Navy got a few. Meanwhile, in the Western Pacific, the U.S. Navy surveyed most of the PT boats and crash boats in the area and judged that these boats had outlived their useful service lives. Many of them were among more than 200 boats that were beached and burned at Samar Island in the Philippines. In 1946, many remaining 63s were stripped of military hardware and used as targets and sunk.
"Five years later," says crash-boat historian Carlos Ruth, "the USAF [the U.S. Air Force, which replaced the AAF in 1947] was scrambling to get their hands on all the 63- and 85-footers they could get for use in Korea." The United States and its allies were losing at least a plane a day from ditchings at sea. Eventually, the Air Force found six 63s and four 85s at Pacific bases such as Guam that could be sent to Korea to form the 22nd Crash Rescue Boat Squadron for traditional rescue missions but also to engage in unconventional warfare. The group grew from a nucleus of 85 crewmen to more than 400.
No 63s operated north of the 38th Parallel. But four 85s operated out of an advance base near Inchon, at Cho-Do Island 50 miles north of the 38th Parallel in enemy territory.
"During the winter the North Yellow Sea iced up to the extent that at times we were iced in and you could walk around the boat on the ice," crash-boat veteran Bud Tretter told the Colonial Yacht Club in California. "Occasionally we would use a bazooka to blow holes ahead of us to break up the ice so that we could launch a mission.… Most of our missions were to insert teams of spooks into North Korea, Manchuria, and China itself.  Places we were not supposed to be.
"It was fairly common for all the 85′ boats to insert spies and counterfeit money, ration and identification cards, anything to undercut their economy. We have tied up in the Yalu River for three days, waiting for a team of spooks to return, with MIGs passing overhead from their base at Antung, Manchuria. We had running gun battles with big diesel-powered junks…, operating together with South Korean Elco PT boats."
These missions in Korea were the last hurrah for crash boats, and finally they had a chance to show their offensive capabilities. Back in the United States, the government was selling decommissioned crash boats to private owners for use as fishing vessels, dive boats, ferryboats, yacht conversions, and film props. Sea Scout groups in San Francisco as well as on the East Coast and in the Pacific Northwest operated 63s until the early 1970s. Only a few lucky boats have been restored and survive.
Due to the explosive nature of gasoline—and since an 85-footer burns about 140 gallons per hour of aviation fuel with both engines turning at 2,000 rpm—most of the boats that ended up in the hands of private owners or the Sea Scouts were converted to diesel engines.
The Simms Brothers yard in Dorchester, Massachusetts, delivered the last crash boats (46-footers) to the Air Force in August 1956. That same fall, the Air Force decommissioned their last crash-boat squadrons. A few boats were transferred to special units and the Army Corps of Engineers. The rest were auctioned off as military surplus.
The Navy used crash boats until the late 1960s or early 1970s, but these boats were no longer saving lives. The heady days of angel missions on the high seas and top-secret stealth operations were long gone…but still unforgettable to the thousands who served aboard and the thousands whose lives they saved. Mission accomplished.

Randall Peffer is a regular contributor to WoodenBoat. His latest book is Dangerous Shallows, co-written with shipwreck diver Capt. Eric Takakjian.