Soul of a sardine carrier, mission of a yacht

"I've always admired these boats," Taylor Allen told me when I asked him late last summer why he personally took on the total reconstruction and yacht-conversion of a 50-ton sardine carrier. Twelve years had elapsed since he had moved the partially rebuilt vessel, the WM. UNDERWOOD, into the barn-red main shed of his boatyard, Rockport Marine, which is perched at the head of Maine's Rockport Harbor.
Taylor had launched the boat, now looking sparkling new, just a few weeks before our conversation. His succinct answer to my question is characteristic for a man whose unembellished, clear-thinking, and direct approach to projects fueled the growth and worldwide reputation of his business, which over the course of three decades has built and rebuilt a succession of fine wooden boats and yachts.
Now Taylor is stepping away from that business, passing the helm to his stepson, Sam Temple, and the newly launched WM. UNDERWOOD is to be his retirement vehicle—a true vessel in which to cruise the Maine coast, the Canadian Maritimes, and perhaps farther afield. The occasion of the boat's completion provided an opportunity for reflection on a few basic questions, such as: How did a small, subsidiary business become one of the region's most recognized builders and restorers of wooden yachts? How, and why, do some of the Maine coast's best marine artisans, engineers, and craftsmen remain loyal to the yard for years? And what, exactly, is so enticing about sardine carriers?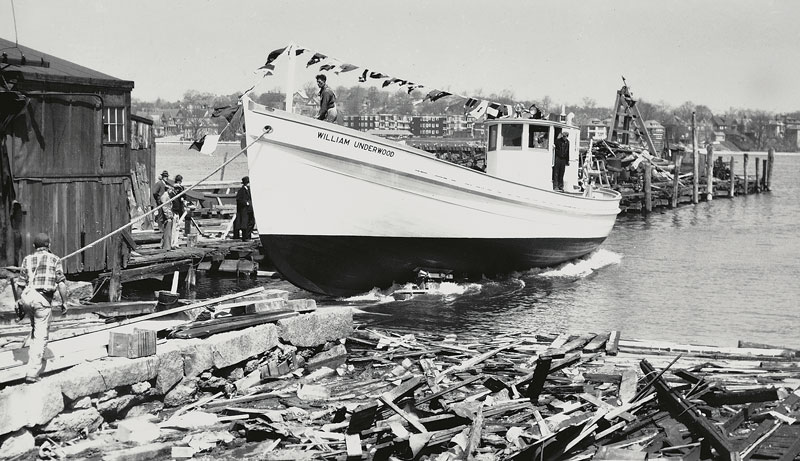 On that August morning, Taylor was showing me around the UNDERWOOD as she sat on blocks and stands next to the shed, having been hauled on the yard's barn-red Travelift, days after the ceremonial relaunching, for a few final touches. Tim Watts, who was under the boat on the day of my visit working on the propeller-shaft aperture, "did most of the work," said Taylor. "I did most of the systems, and other people fixed what I screwed up."
Such self-deprecating deflection of credit eclipses the fact that, for the past couple of years, Taylor has worked seven days per week, 10 to 12 hours per day, on the UNDERWOOD. When she arrived at Rockport Marine in 2007, the WM. UNDERWOOD's hull had been gutted and mostly reframed under the direction of her former owner, O.D. Hopkins, who then owned Atlantic Boat Co. in Brooklin, Maine. Todd Skoog, who now works for nearby Brooklin Boat Yard, did that work in 2007, meticulously, along with Jacob Berry.
Skoog had previously done much of the heavy lifting on the restoration of the sardine carrier GRAYLING, which was rebuilt and converted into a yacht under the direction of Doug Hylan (see WB No. 269). The GRAYLING project was beautifully executed and high-profile, and it no doubt influenced several subsequent sardine-carrier acquisitions. But the concept of sardine-carriers-as-yachts was not original.
In 1950, Drayton Cochran had commissioned the German yacht builder Abeking & Rasmussen to build the steel-hulled motoryacht LITTLE VIGILANT to the lines of the WM. UNDERWOOD. Sardine carriers offer three critical elements to such yacht adaptation: (1) they are efficient to operate, (2) they have plenty of cargo space that can be converted to accommodation space, and (3) they are good-looking.
LITTLE VIGILANT cruised Europe's canals, and the Mediterranean, for several years, but had never been in the United States. She was well known on these shores nonetheless, having been featured in a 1960 National Geographic article, "3,300 Years Under the Sea." Her most recent former owner, Richard Armstrong, purchased her in 2005 after she'd been lying for some time in a shed in Poole, England; considerable refurbishing ensued, and she was for many years a fixture on the New England classic-yacht circuit. Armstrong recently donated her to Mystic Seaport in Connecticut.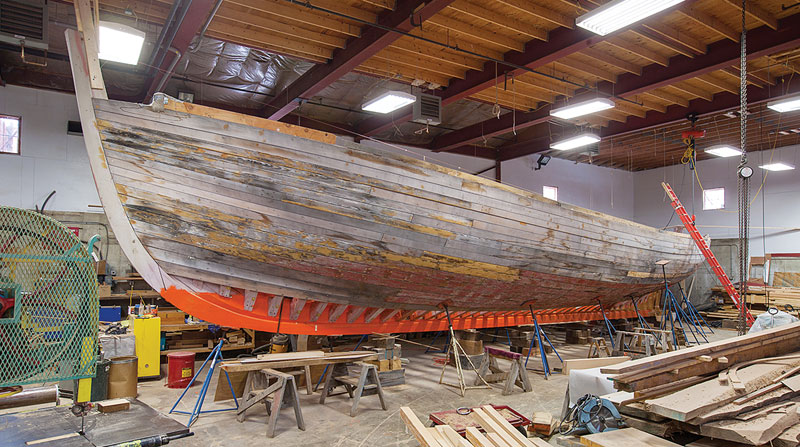 Although her hull lines, which were drawn by Eldredge-McInnis, are identical to LITTLE VIGILANT's, the UNDERWOOD was built of double-sawn oak frames and planked in yellow pine. She was launched by Simms Bros. in Dorchester, Massachusetts, in 1941, nine years before LITTLE VIGILANT. A pure working boat, she was meant to haul fresh sardines expediently, and as was typical for workboats of her era her hull was iron-fastened.
Iron and oak have an uneasy relationship in boat structures. The tannins in oak react with iron, over time creating a reddish, blackish, brownish mash-up and fusing the iron fastenings to the oak frames. In an "iron-sick" hull, it's difficult to discern where the metal ends and the wood begins, and the fastenings become virtually impossible to remove. Bleeding rust degrades the surrounding wood. The iron-and-wood combination is a proven one in workboats and some yachts, and in fact high-quality iron used in conjunction with low-tannin wood such as Douglas-fir, or high-resin-content wood such as longleaf pine, can portend a long life. But all too often, an iron-fastened, oak-timbered hull has a predictable end. And that was the plight of the WM. UNDERWOOD's structure at the end of her long working life.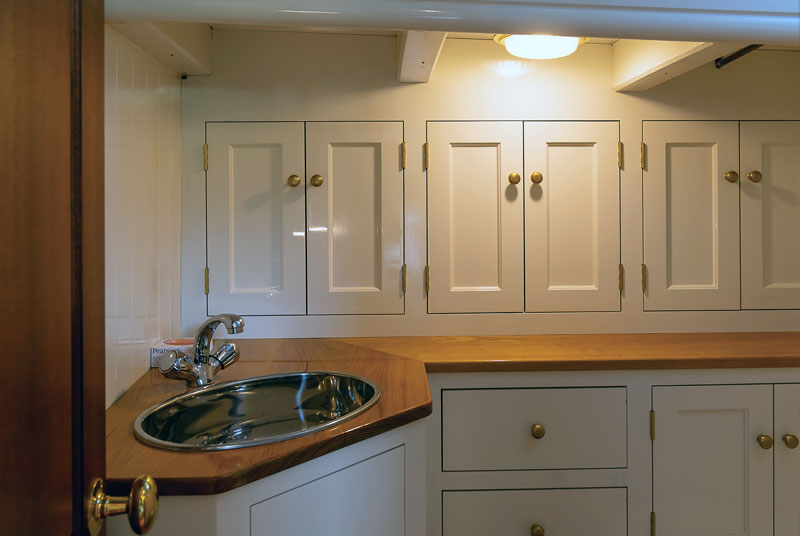 The UNDERWOOD was built in the waning days of an industry that began in the 1890s with the sail-powered "carryaway boats" of Passamaquoddy Bay, whose function was to transport herring, quickly, from the weirs in which they were penned to the canneries at which they would be processed and packaged. Powered sardine carriers required the easily driven hulls of sailing vessels to accommodate the low horsepower of early gasoline engines—typically, 25 hp to drive a 50′–70′ hull. Indeed, the adaptability and propulsion fluidity of these hulls is illustrated by the LEWIS R. FRENCH, a 55-footer built as a coasting schooner in 1871, later converted into a powered sardine carrier, and subsequently converted back into a schooner and still carrying passengers under sail on the Maine coast.
In his classic book Coastal Maine: A Maritime History, Roger Duncan writes, "The sardine carriers were slim, handsome, fast vessels, sometimes as much as 70 feet long but usually less, with a mast and h'ister"—h'ister being a mast-mounted tackle for handling cargo. "A sardiner," he continued, "usually carried a pile of salt bags forward of her pilothouse; the salt was scattered on the fish in the hold….
"The lightly salted herring were rushed to the sardine factory and canned at once in oil, mustard, or tomato sauce. When a carrier came in to the sardine factory wharf, the whistle blew and local women lined up at the tables to pack the cans. A conveyor belt took the cans to be filled up with oil, sealed, and pressure-cooked. The whole process moved very rapidly. It took less than twenty-four hours, often much less, from weir to can."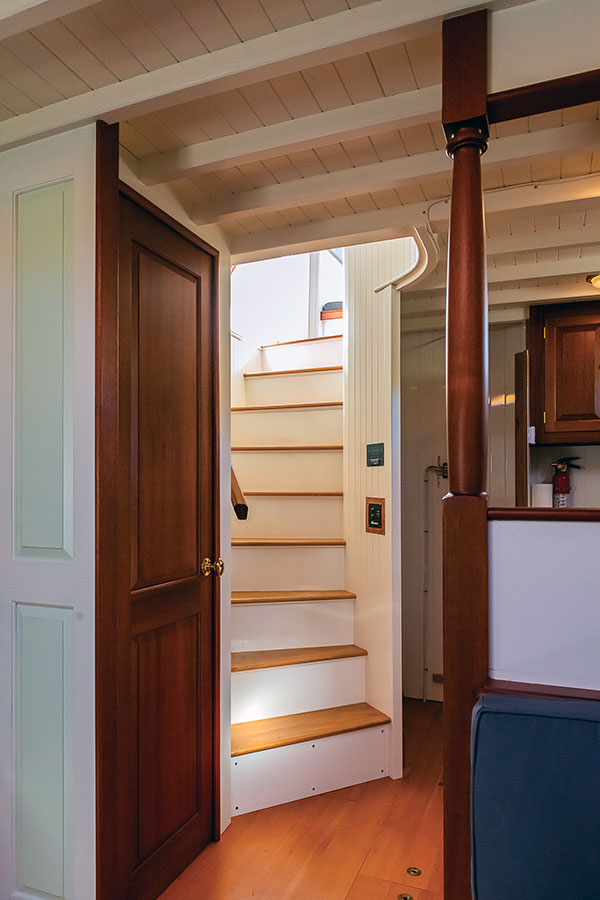 The WM. UNDERWOOD was named for the founder of the William Underwood Company, established in 1822, and famous for its canned "deviled" ham. The Underwood Co.'s products fueled the settlers of the western United States in the 1840s through 1860s, and, later, Union troops during the Civil War. Indeed, the pioneering company is credited with coining the very word "can," when an employee truncated the oft-used word "canister."
William Underwood died in 1862, and the company would not join the sardine industry until 1881, when manager Henry O. Underwood began canning sardines in Jonesport, Maine. In 1900, the company built a 63,000-sq-ft facility—the largest on the Maine coast—and employed 250 workers in the high season. Their product was higher-priced than their competitors', and generally considered to be of higher quality. After struggling through—but surviving—the Great Depression, the Underwood Company ramped up production in anticipation of The United States' entry into World War II. "To meet increased demand," writes John D. Gilman in Canned, his epic two-volume history of the sardine industry, "the factories needed more herring than the weirs could produce, so competition became stiff. The Underwood carriers cruised the coast from Portland to St. John, N.B., in search of herring. Speed and price became critical factors in whether the plants worked or shut down." This is the milieu into which the new WM. UNDERWOOD was launched. She was a replacement for a 60′ double-ended sardine carrier of the same name that had been built in East Boothbay in 1924.
The war years were boom years for sardine factories, with the government purchasing most of their output and shipping it to troops overseas. But canned sardines, as a result, were absent from grocery-store shelves during the war, and Americans therefore lost their taste for them. In the meantime, fish stocks, and the industry, declined. Michael Crowley, writing for Maine Boats and Harbors in 1993, recalled that "The last sardine carrier to slide down the ways is believed to have been the BOFISCO III, launched in 1953 from the yard of Riley and Adrian Beal on Beals Island." Thus ended a 60-year tradition of construction.
The sardine industry itself steadily declined, and the Underwood Company quit the business in 1966. "The fleet of Underwood carriers has disappeared," wrote Gilman in 2001, noting that one legendary boat, KINGFISHER, rotted away while "tied to a tree in Jonesport." Another, FISH HAWK, "was run ashore on Beals Island." The WM. UNDERWOOD was sold to the Stinson Canning Co., renamed MARION H, and rigged for the winter shrimp fishery. Under later ownership she was converted into a dragger. She was still named MARION H when O.D. Hopkins purchased her and began restoration in 2000.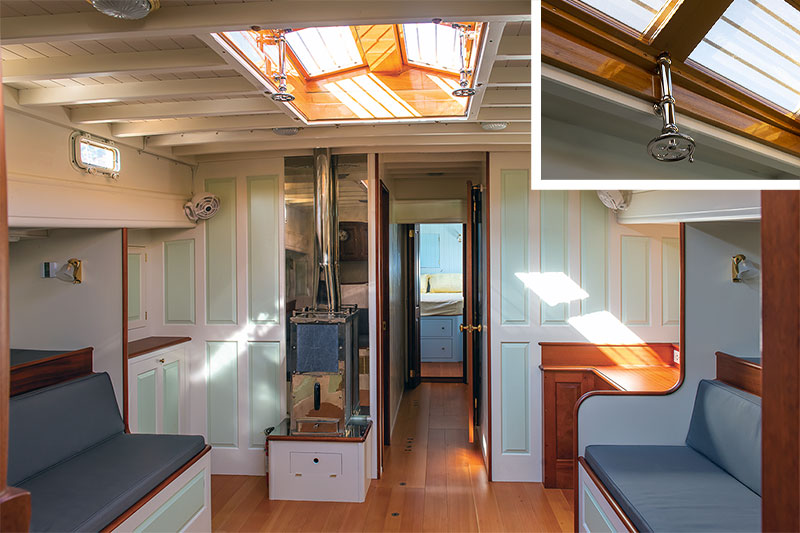 In her recent rebuilding, the only things in the WM. UNDERWOOD that were not replaced are the engine, propeller, and propeller shaft. Skoog's reframing, said Taylor, "really laid the foundation in a wonderful way," replacing everything but the portions that cross over the top of the keelson. The hull was replanked in Douglas-fir from Richard Simon at America's Wood Company in Washington, Maine. The oak for the new backbone, which was shaped and installed by Glenn Pease, came from Duke Besozzi, whose Cornwall, Connecticut-based business, New England Naval Timbers, specializes in big oak for big vessels. Everything is now fastened with bronze.
The engine is a 250-hp six-cylinder Cummins of 1980s vintage. While that's ten times the horsepower of early gasoline-powered carriers, Taylor notes that it is "not a lot for this displacement"—a clear illustration that these hulls are easily driven. Although this engine was not replaced, it was removed and sent to Billings Diesel & Marine in Stonington, Maine, for rebuilding. This, and the subsequent re-installation, were accomplished under the direction of Rockport Marine mechanic Scott Whiting.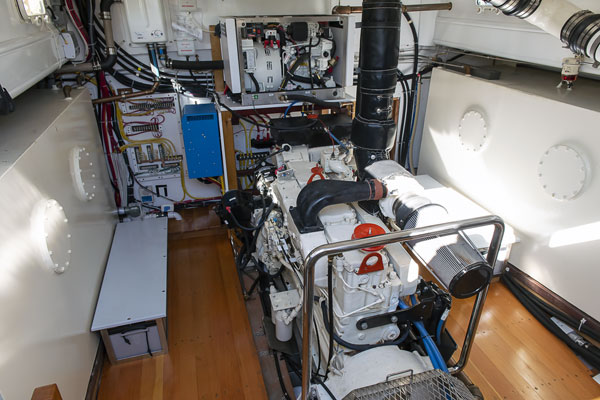 The pilothouse, which once sat directly above the engine, was rebuilt farther forward. It was moved to allow a companionway, a curving, locust-treaded staircase that leads from the pilothouse to the voluminous accommodation. The yard's in-house designer, Sam Chamberlin, drafted the vessel's interior layout and guided the design of the pilothouse. He is careful, however, to not take full credit for the pilothouse's subtle beauty, which is a symphony of slight angles and curves. Such a structure, he says, is best drawn very simply at the design stage, and then "given to a good boatbuilder. You never have good references," Sam said of trying to control the entire design from the board. "Getting the sweeps and walls and overhangs right," he said, "works out really well when you have a builder fine-tuning all the shapes. These details are hard to judge on paper."
Sam said he had a "rolling start" on the job. His predecessor in the design office, Brendan Riordan, had begun the project. And the boat had arrived with some drawings by Doug Hylan, GRAYLING's restorer—although these were a diverse set of incomplete concepts.
Aesthetic principles guided the alterations, as did the requirements of Taylor and his wife, Martha White, for cruising. "If you're restoring a sardine carrier and want to retain the DNA—the ethos—then the profile is very important," said Sam. He expanded the original deckhouse forward and aft "for socializing," annexing space that in the original boat "was for trucking."
The challenge, says Sam, was to make the interior work for cruising, but from a distance to have the boat say, "sardine carrier." While Sam blocked out the space for the companionway stairs, Taylor worked out their details—the geometry, steepness, and tread depth—in construction. Such "leap-frogging" of the design-build process was common in the UNDERWOOD project: Taylor sometimes went ahead and built, and Sam would then draw what was built to have a baseline for subsequent design work. The day head, a spacious and well-laid-out toilet room serving the yacht's common spaces, is another good example of this design-as-you-build process. Taylor worked out its details; Sam says, "I don't think I would have achieved those ergonomics on paper."
There was plenty of volume with which to work belowdecks, where Tim Watts and Parker Hackett did most of the heavy lifting. The saloon has settees and upper berths. A passageway leads forward from the saloon, and off this passageway is a stateroom, with a pair of stacked single berths, to port; opposite this, to starboard, is a head with a shower and locker. All the way forward, aft of the chain locker, is a forward cabin with a large centerline berth. The trunk cabin was extended forward to increase headroom. This, Sam says, shows a little above the bulwark—which remains at the original height—but not egregiously so.
Face frames, some doors, and drawers are painted white, as are the stiles and rails of the raised-panel bulkheads—the panels of which are painted a pleasing, contrasting light green. Accents of brightwork in bulkhead trim, fiddles, and sole add warmth, but don't overwhelm. Sam says it all adds up to a "pretty standard cruising-yacht interior."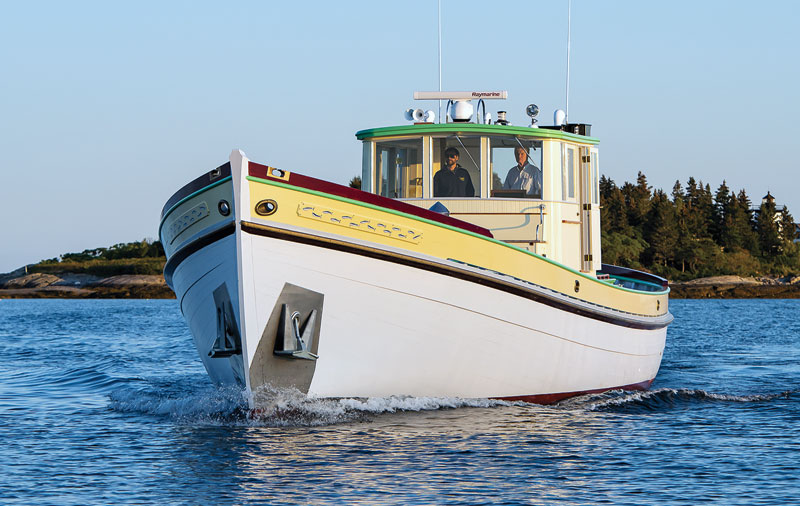 After we toured the WM. UNDERWOOD, Taylor and I stood in the main shed's doorway with Sam and Taylor's stepson, Sam Temple, who is now an owner and managing the yard. We discussed their past projects and future ambitions. We talked about how, 20 years ago, when they were building the replica privateer LYNX, a rakish 76′ topsail schooner, the yard had a lot of metalworking ahead of them, and so made a serious commitment, in terms of talent and machinery, to bring much of that in house. "It's nice to have control over schedules and quality," Taylor said.
And then Taylor was startled by a thought. "I should have shown you the hatch adjusters!" he said. "They're unbelievable!" And he motioned us back to the WM. UNDERWOOD and set up the ladder, and we climbed aboard for a follow-up tour. The stainless-steel adjusters have some internal parts made of bronze, and they are, indeed, unbelievable. Their screw-actuated mechanisms control the heights of the butterfly hatch's two wings. They work like Swiss-clock movements, and are polished to perfection. Taylor said that the yard's in-house machinist, Carl Waterman, had made them.
And in that statement lay a truth about Taylor that I recognized nearly 30 years ago, when I first met him, have seen repeatedly over the years when I have toured his projects, and which is still fresh to this day. In that moment, Taylor did not own those hatch adjusters. Carl Waterman did. Taylor not only praises and encourages his crew, but he is genuinely in awe of their skills and talent. His crew, in turn, tends to stick around for a while—decades, in some cases.
Taylor, of course, reduces all of this verbiage to its essence: "We're all learning from each other here," he said.

Matthew P. Murphy is editor of WoodenBoat.