A battery-powered barrelback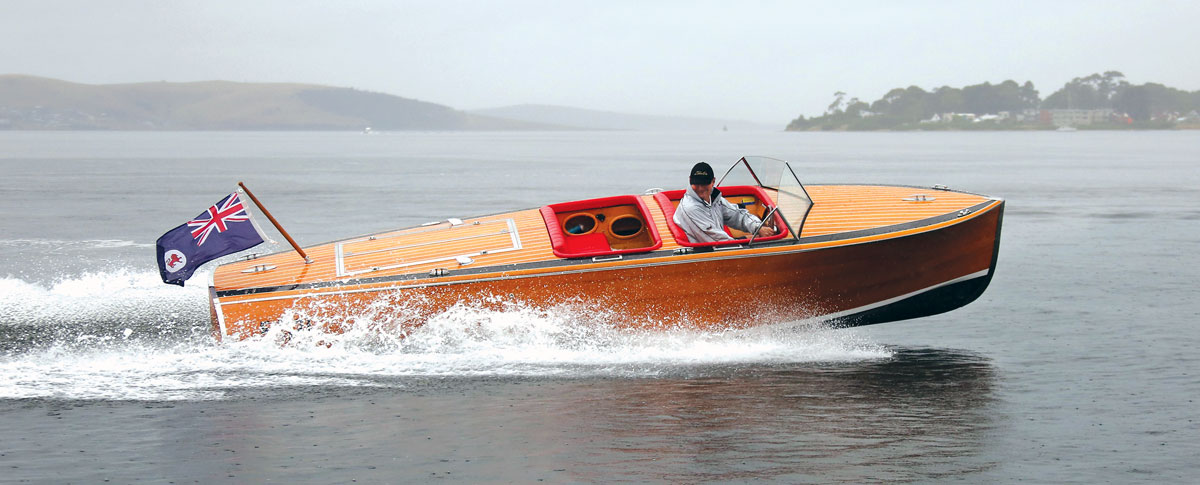 David Warren has been fascinated with batteries since he was a small boy. He has also been a keen sailor for a similar length of time. So, it was probably inevitable that one day he would have an electric-powered boat.
About a decade ago, David met Andy Gamlin, who at that time was director of the Wooden Boat Centre, an Australian boatbuilding school in the town of Franklin, Tasmania, just south of Hobart. Both of them were interested in electric boats. David, in fact, had by then advanced his youthful obsession with batteries, and in 2008 he built an electric vehicle, a microlight airplane that he thinks was the first electric aircraft to fly in the southern hemisphere. This was followed by an electric-car conversion and an electric quadcycle he built for a sheep farmer.
David and Andy came to an agreement whereby Andy would buy and restore an old boat and David would design and install the electric power system. The result was the 1938 GEORGINA, a 20′ displacement powerboat that was a "sunken hulk" when Andy found her. But the hull was built of the wonderfully durable Tasmanian timber Huon pine, and was in remarkably good condition. With her electric propulsion system, GEORGINA had a cruising speed of 5.5 knots. Although Andy officially owned the boat, which he kept for about five years, David used her 90 percent of the time.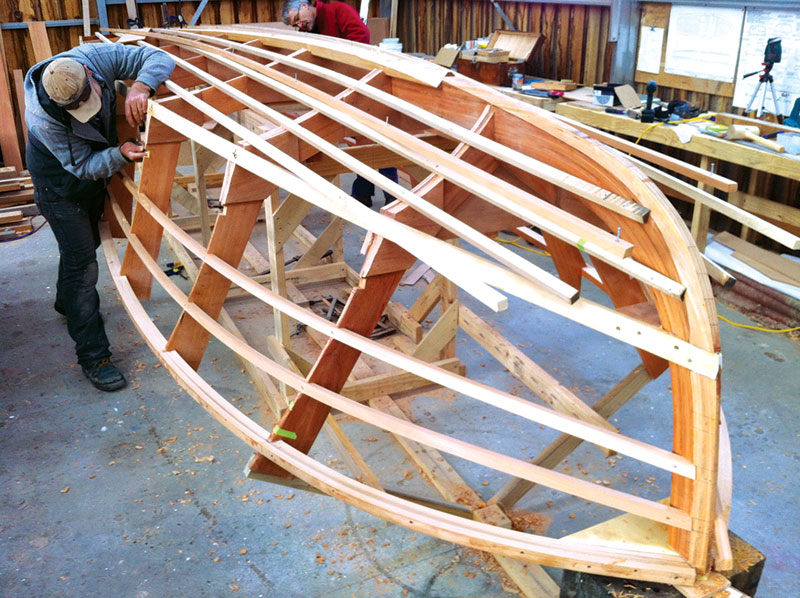 His experience with GEORGINA confirmed for David that he really would like an electric boat of his own. He had long been attracted to the Chris-Craft Barrelback designs of the 1940s, so he decided to build a slightly stretched version of the Barrelback 19, to plans from Glen-L Marine Designs. As with GEORGINA, the Wooden Boat Centre would build the hull and David would install the propulsion system.
The hull construction benefited from three superb boatbuilding timbers that grow only in Tasmania: King Billy pine, Huon pine, and celery-top pine. All of these are increasingly hard to obtain; Andy sourced the required quantities of now-rare King Billy pine through a government register that gives priority access to boatbuilders, so they can obtain good, clear stock.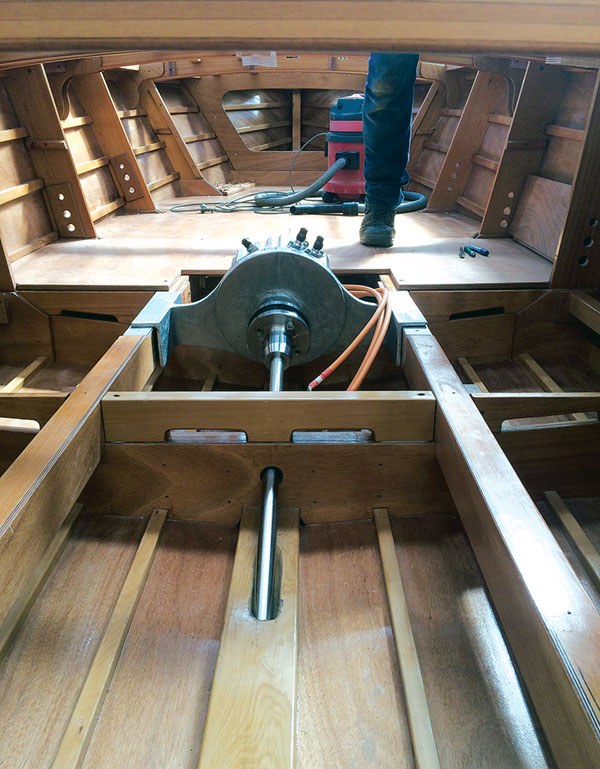 With the King Billy pine in hand, David agreed that construction should go ahead. The hull framework used celery-top for the keelson and King Billy pine for the frames, stringers, and laminated stem. The hull planking was a hybrid of plywood and solid wood: The topsides had two layers of ⅛″ plywood and the bottom planking three layers, followed by ¼″ King Billy planks about 4″ wide laid over the plywood. There was some difficulty fitting the second layers of plywood without distorting the first because, as Andy said, "we didn't want too many stringers inside the boat." The bottom is fiberglass sheathed and the topsides are coated in Awlwood, a durable clear coat that David says is "rock hard and doesn't scratch at all readily." The laminated deckbeams are of King Billy; the deck consists of a ⅜″ plywood subdeck sheathed with ¼″-thick King Billy planks with a white sealant in the seams. The majority of this work was carried out by Mark Cooper.
The choice of electric motor—a Yasa-400 90 kW—seems to have been an easy one. David describes it as "the best motor you can buy on the planet for any price. It is light and compact for its size and weight, and the operating efficiency is better than 90 percent over a very wide range of torque and speed combinations." Andrew designed and cast its custom aluminum mount, which is supported by a pair of longitudinal Douglas-fir engine bedlogs.
The motor is powered by 72 lithium-ferric-phosphate battery cells, each of which provides 100 amp-hours at 3.2 volts, for a total of 230 volts and 23 kWH. They are installed in two groups of 36 inside stainless-steel boxes aft of the electric motor. "The specific energy density of a lithium-ferric-phosphate battery is three times that of a lead-acid battery," David said. "But the rate of discharge is 15 times [better], so that means they are 45 times better at making things move." Every cell has its own circuit board, which measures its voltage and temperature and provides this information, via a battery controller, to one of the gauges—which displays information regarding the weakest cell and the average of all the cells every six seconds. The cluster of period-correct gauges is mounted on a Huon pine console.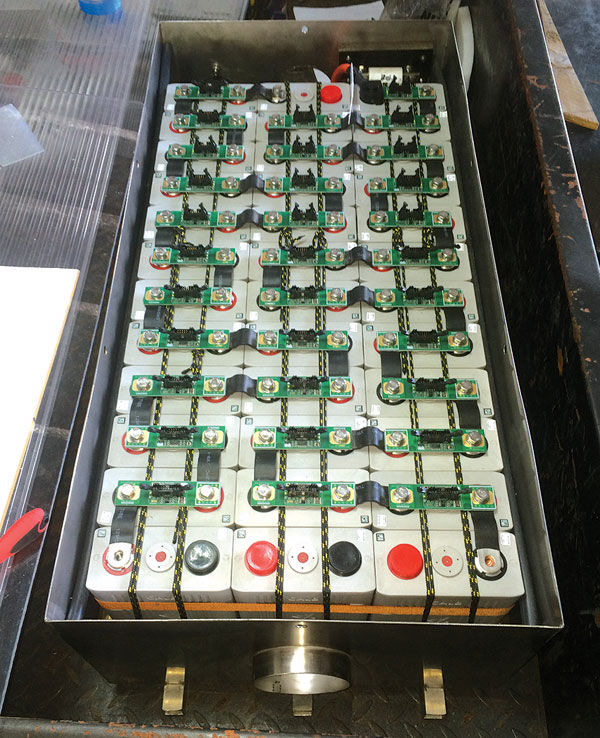 The Teleflex steering system is controlled by a mahogany-rimmed stainless-steel wheel that David found online; it was "exactly what I wanted," he said. "It mimics the iconic automotive 'banjo wheel' of the era." The stainless-steel fabrications, the boat's trailer, and the canvaswork and cushions were locally made—the fabrications by John Cartwell from MAAS Welding and the upholstery by Wayne McPherson from McPherson's Auto and Marine Trimmers. David initially wanted leather upholstery, but Wayne recommended a more-durable specialist marine vinyl; David is "very happy" with this choice.
Perhaps the attention to detail in the boat's construction is best embodied in the four deck cleats. David wanted them to visually match the boat's reverse sheer. "I couldn't find anything, although I have done since," he said. "Every cleat I found at the time was curved upward to make it easy to get lines around." The solution was to buy standard stainless-steel cleats, cut the top bars off, turn them over, and weld them back on. After polishing, they look perfect. Once the hull construction was complete, David moved the boat to a shed at the Derwent Sailing Squadron in Hobart. And there he installed the electrical systems himself.
Three years after construction began—he had been expecting it to take half that—David launched the boat in January 2017 and christened her ZELECTRA. "Everyone calls their electric boats ELEKTRA," he said, "and it's a bit ordinary." The total cost of the project was "in the order of AU$300,000 (about US$214,000)." That sum, like the build time, was significantly more than David had originally expected. "But it was a hugely rewarding project and worth every penny," he said.
ZELECTRA, like her Chris-Craft forebears, is difficult to maneuver at slow speeds, although the trick, as David showed me, is to always try to turn to starboard and use the right-handed propeller's prop-walk to advantage. Other than that, she is a delight to drive. At 25 knots she can turn around in about four boat lengths while her speed reduces to about 20 knots; turning her more gently at that speed is a much more pleasurable experience.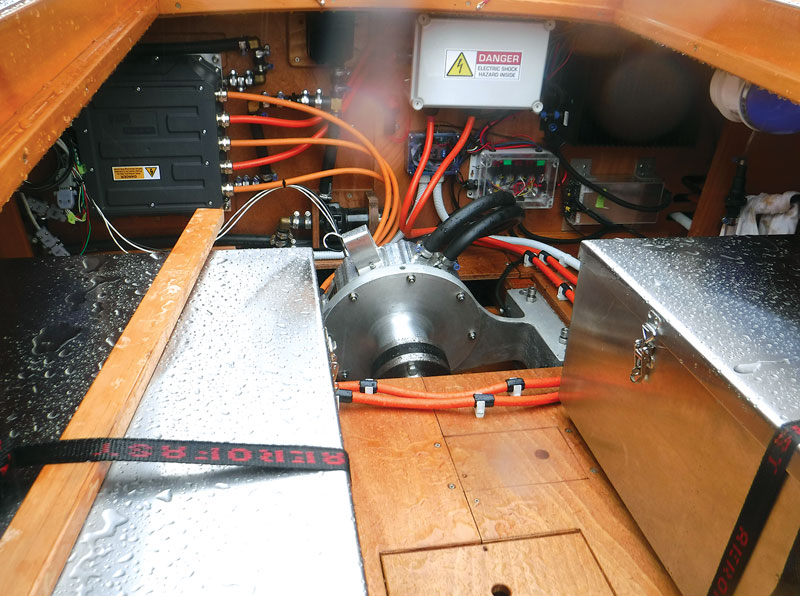 Her acceleration is impressive: she went from stationary to 16 knots in just over five seconds with two of us aboard. Her most noticeable attribute is the lack of sound. There is just a barely perceptible shaft noise at slow speeds; at higher speeds, the whir of the engine-space cooling fans is evident, but it is almost overshadowed by the pleasing sound of spray being directed outboard by the chines.
The throttle is controlled by a small rotating knob and is fairly sensitive. David fitted a guard over it, partly to avoid its accidental operation but also to allow the driver to rest three fingers on the guard while controlling the knob with thumb and forefinger. He is planning to add a switch to limit the available power to 10 percent when maneuvering in tight spaces. Immediately above the throttle knob is the gear control, a small push-pull, three-position button.
At 5.5 knots David can get ten hours of use from one charge of the battery system, allowing him to explore 55 nautical miles of the beautiful Derwent estuary. But as the speed goes up the range comes down, eventually very markedly. The two-hour rate is 8 or 9 knots, the one-hour rate is about 13 knots, the half hour rate is 18–19 knots. At 27 knots, the top speed with one person aboard, the batteries will last just 20 minutes. "Going fast is always expensive," David said.
Even as ZELECTRA was being completed, David had an eye to the future with regard to battery replacement. He anticipates that in three or four years, developments in battery technology will allow him to install lithium-cobalt-oxide batteries, which will provide a significant improvement. "ZELECTRA already goes fast enough, but these new batteries should give her three times the range for the same weight," he said.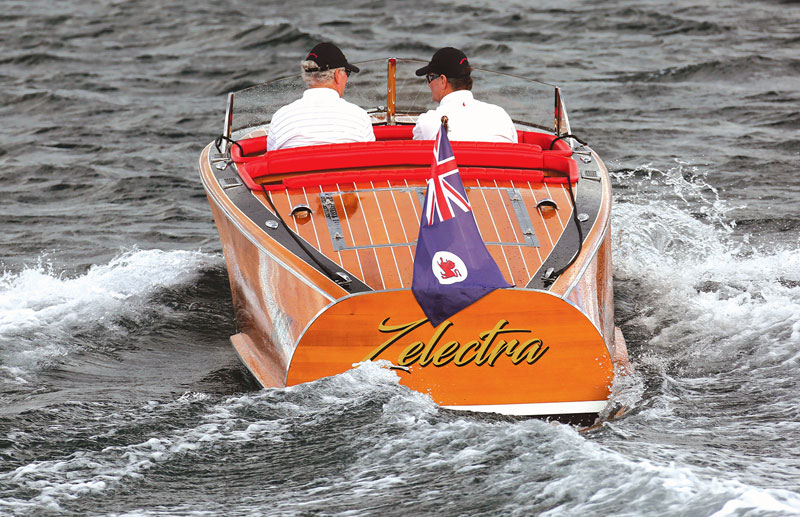 ZELECTRA can seat a total of six people, with which the maximum speed is 20 knots. Often, however, only David and his wife, Michelle, are aboard. On a typical day, they set off from Sandy Bay in the morning and go 3 miles across the Derwent to Bellrive, where they go ashore for coffee. They then come back across the river to the center of Hobart, moor in one of the marinas there, and go ashore for lunch. They might then go up the river and under the towering Tasman Bridge to the Motor Yacht Club of Tasmania at Lindisfarne before returning home. If they are sensible about speed, there is plenty of battery capacity for such a day.
For David, one of the great enjoyments of ZELECTRA is connecting with people who are enthusiastic about her. "ZELECTRA attracts attention because people recognize the iconic design and because it is a gorgeous floating piano case. Every second person wants to know about it and they are fascinated by how quiet she is."
"Everything," he said, "is better shared."

---
Nigel Sharp ended a 35-year career in the British boatbuilding industry in 2010 when he started work as a freelance marine writer and photographer. Last winter, he explored the classic-boat cultures in New Zealand and Australia. View his work at www.nigelsharp.co.uk.