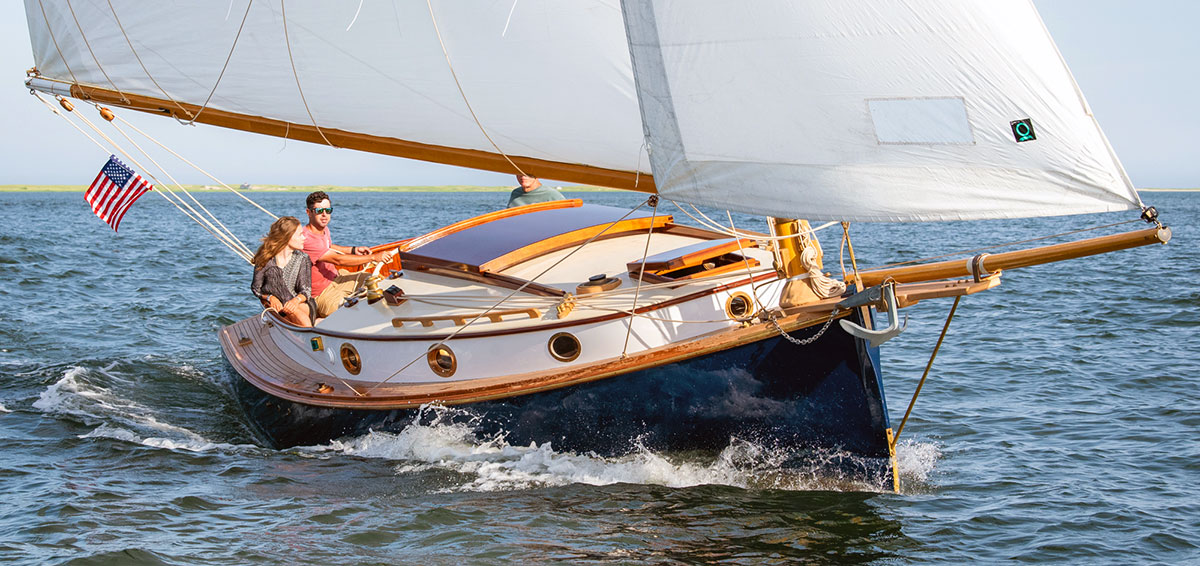 LIBELLULE particulars:
Length: 24′ LOA
Beam: 10′8″
Displacement: 6,300 lbs
Draft:
Centerboard up: 2′3″
Centerboard down: 5′7″
The eastern shores of Cape Cod, Massachusetts, are among the most beautiful waterways in New England, bordered by endless white sand beaches, towering dunes, and low marshes. One could spend a lifetime exploring the bays and coves there without growing restless; however, much of this region is too shallow for even the most modest cruising boat. For this reason, the maritime history of the Cape is built upon the decks of catboats. The widespread use of these wide, shallow-draft, easily handled boats has certainly diminished since their hardworking days as fishing and all-purpose boats for shallow waters, but the appreciation and love of the type has never been lost. In many New England anchorages, chances are good that there will be one or two catboats enjoying the skinny water the rest of us are only able to explore with our jeans rolled up.
Opened in 1954, Arey's Pond Boat Yard (APBY) is tucked into the upper water of Pleasant Bay in South Orleans near the Cape's "elbow." These shallow waters, often measured in inches instead of feet, have easy access to Nantucket Sound and the open Atlantic. The sheltered Arey's Pond waterfront provides the perfect backdrop for a family-run boatshop specializing in quick, agile daysailers and capable coastal cruisers.
Earlier this summer, the yard celebrated the launching of its largest catboat to date—a 24′ custom cat named LIBELLULE ("dragonfly" in French). Designed by company president Tony Davis and Bill Nash, the boat is a beautiful combination of traditional style, modern construction, and an interior customized for a love of cooking. The hull is cold-molded with ¾″ western red cedar planks over frames of laminated Douglas-fir. A final longitudinal ⅛″ layer of western red cedar was vacuum-bagged to the planking and then covered with 10-oz fiberglass cloth set in epoxy, with a second layer of cloth below the waterline. Her teak decks and cockpit sole are laid over marine plywood.
I am not a catboat expert or sailor, and the balance of immense mainsails and minimal draft has always seemed close to magic to me. But after spending an afternoon chasing LIBELLULE around in a moderate breeze, I found myself quickly understanding why designs such as this are so well respected. Through all points of sail, the hull showed a graceful motion under her powerful rig, but she was never unmanageable for her minimal crew. Back on the dock, her accommodations felt as comfortable as those of yachts nearly twice her size and she was well equipped for coastal cruising.
After only one day with the APBY crew, I found my daydreams drifting toward shallow water and the shop's next design: a 29′ cat waiting for an owner.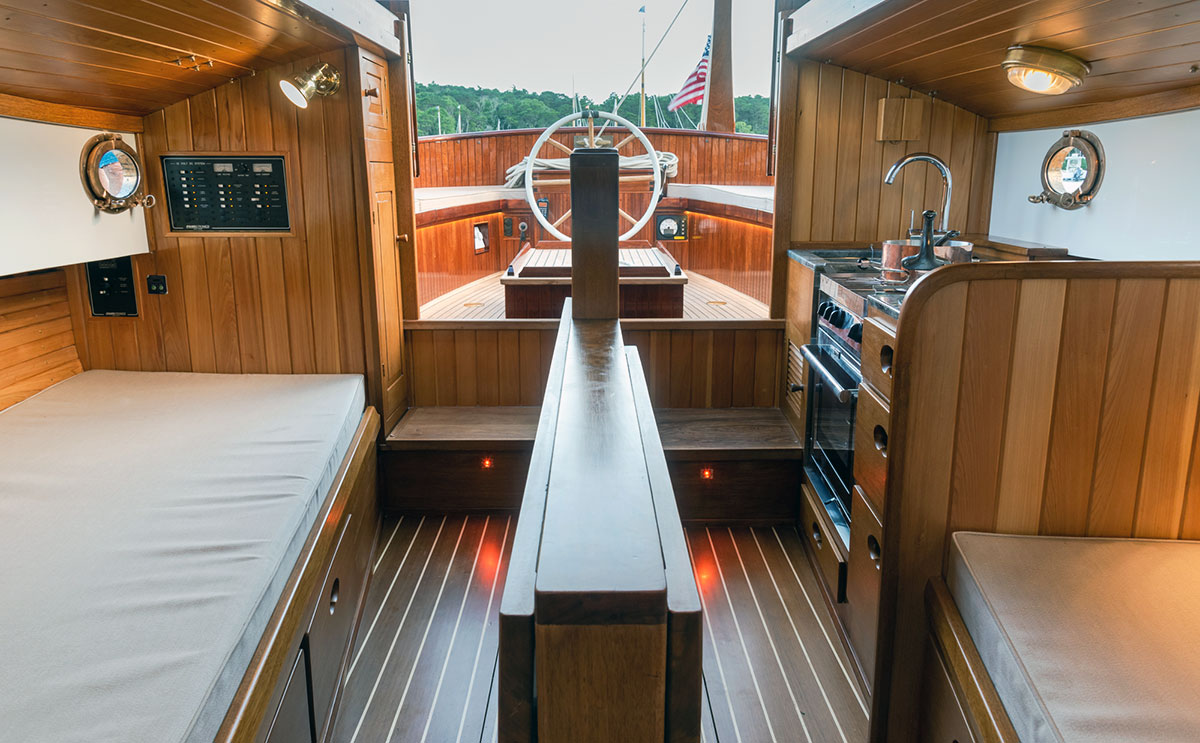 A Big Saloon for a Small Boat
At 24′, LIBELLULE is at the short end of the cruising-boat spectrum. However, her beam more than makes up for the loss of interior volume that her modest length gives up. Her main cabin is divided amidships by the centerboard trunk that also serves as the backbone for a generous walnut saloon table with drop­leaves to port and starboard. Though the space is split in two, there is enough room in the cabin to move comfortably past either side of the trunk.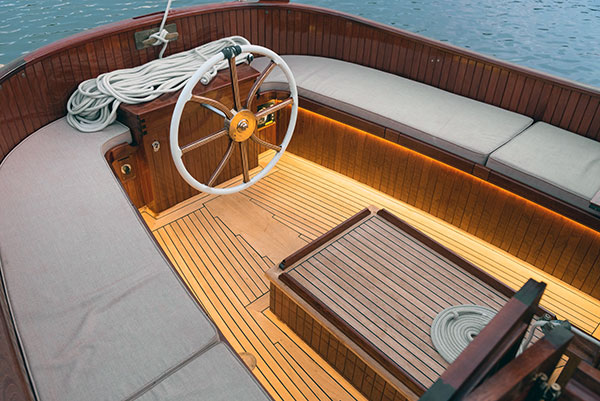 An Illuminated Cockpit
LIBELLULE's teak sole and mahogany trim create character befitting a classic yacht, but the traditional feel has a modern complement with strips of wrap-around LED lights under the cockpit seats. This cat was fitted with a custom wheel—a first for Arey's Pond—in place of the more-typical tiller. Davis designed and built the wheel; the curved, laminated structure is of ash and mahogany, and the rim is finished with a soft leather wrapping.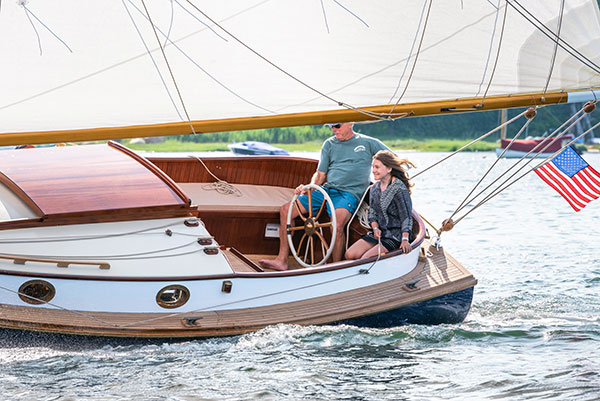 Accessible Controls
The generous cockpit, familiar to any catboat sailor, must seem like a luxury to those who sail boats with slender beams. LIBELLULE's layout, though the cockpit is large, makes all halyards accessible from within the cockpit, and the sheets are within quick reach of the helm. Engine controls are to port and a Simrad autopilot is to starboard under the aft benches. To complete the navigation equipment, a magnetic compass and large B&G chartplotter are built into the forward bulkhead.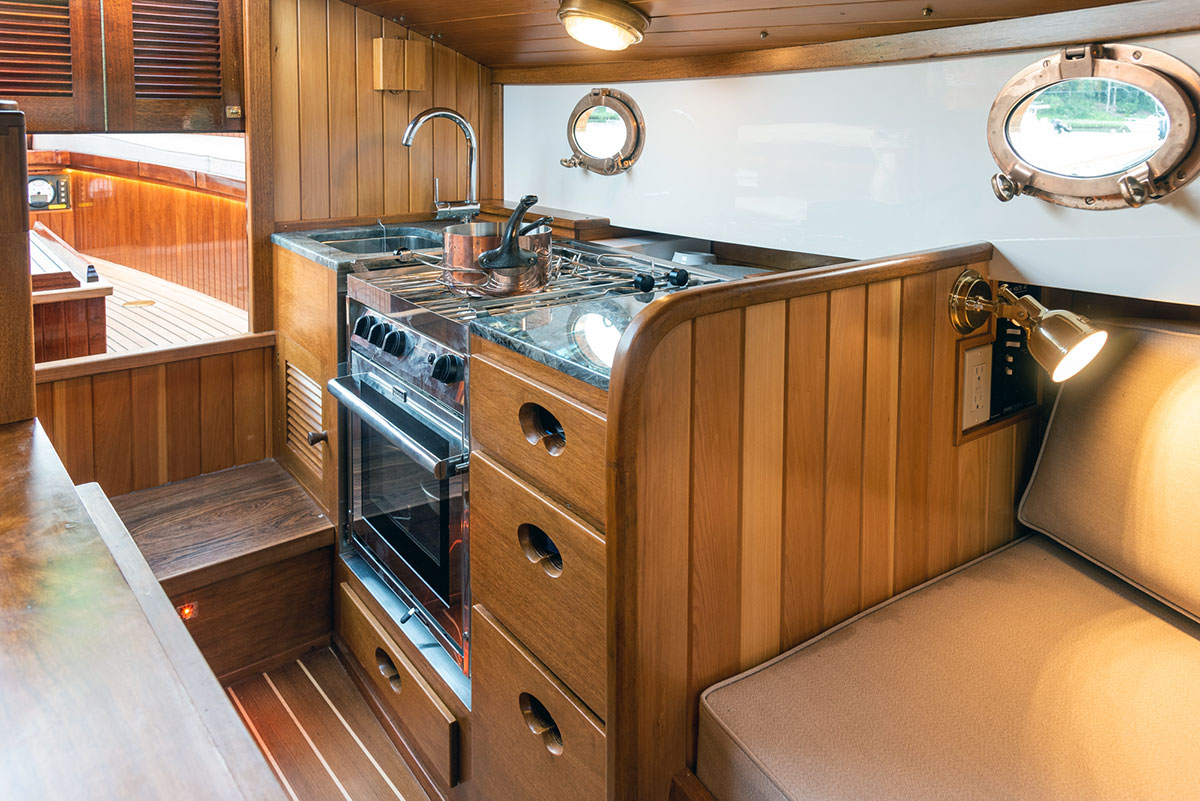 Galley for a Professional Chef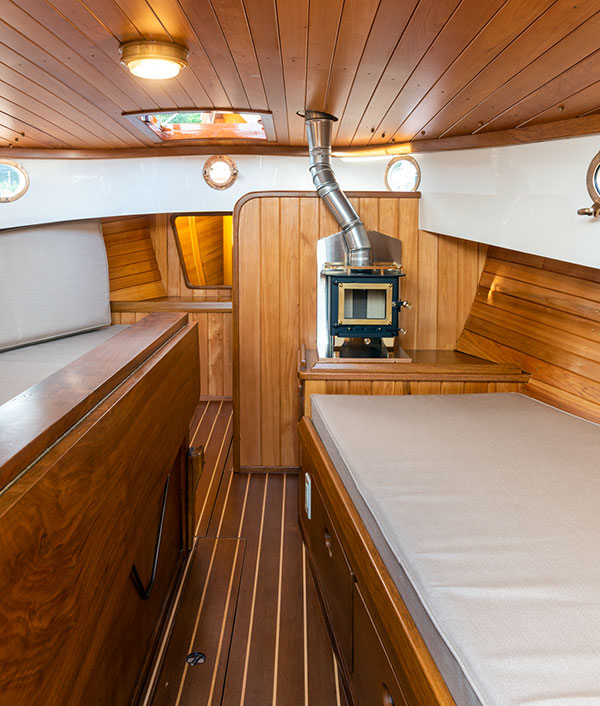 There are few cruising boats afloat with a galley to rival a high-end kitchen ashore. For the owner, a professional chef and restaurant owner, the ability to prep and cook food was one of the main design requirements, and no corners were cut in this pursuit. The heart of the galley is a gimbaled Force 10 stove and oven. Aft of the stove, a deep stainless-steel sink is equipped with pressurized hot and cold running water. To complement the walnut joinery, an extraordinary green granite was chosen for the countertops. With all of this, as well as built-in refrigeration and the ample space provided by the dropleaf table, there are few limitations to the culinary options.
Belowdecks
Looking forward from the companionway, the interior is warm and welcoming. The western red cedar ceiling, bulkheads, and overhead, along with the walnut furniture, were all finished with satin varnish. Bronze portlights, traditionally styled cabin lights, and a large hatch forward provide plenty of light throughout the interior spaces. Accommodations include a pull-out double berth to starboard and a single berth to port. Just forward of the starboard berth, a Cubic Cub Mini woodstove is mounted for comfortable cruising in the shoulder seasons. There is a small head forward of the main cabin, separated by a partial bulkhead for privacy.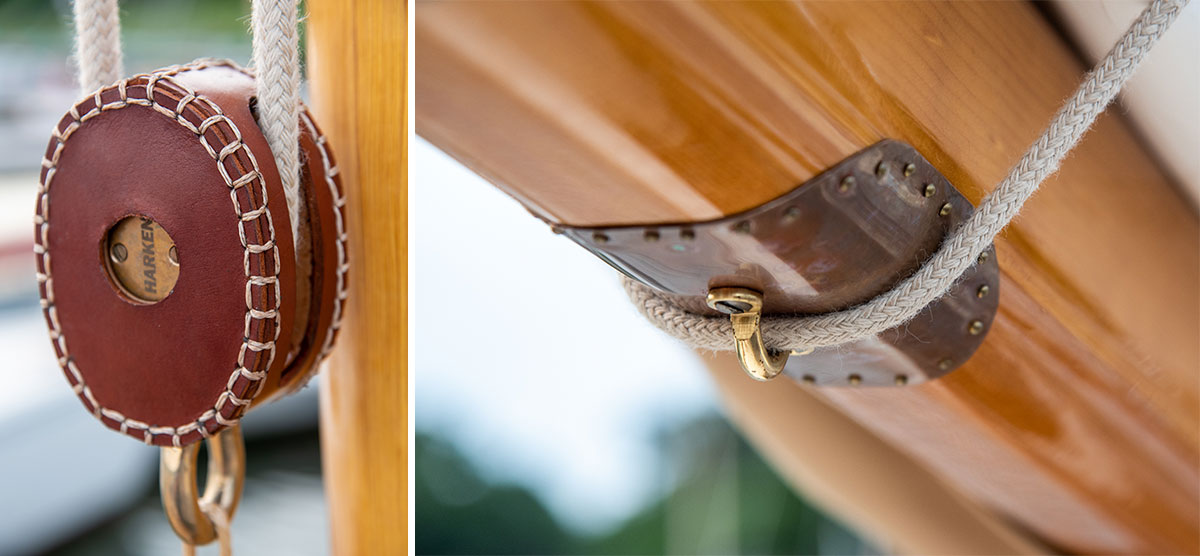 Performance Rigging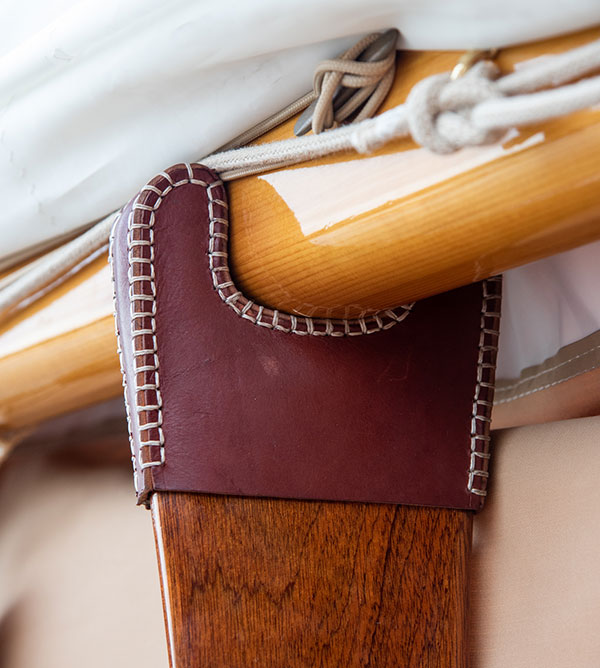 The rigging hardware is a mix of small bronze blocks by J.M. Reineck and Harken's line of classic wood blocks; both have traditional style and modern performance. The same has been done for the running rigging, forgoing three-strand for vintage-looking Sta-Set double braid. One of the main goals when designing the rig was to ensure easy short-handed sailing. Single-line reefing inside the boom and an APBY-designed gaff saddle, to prevent some of the snags that traditional jaws create, work together to make handing the large sail area smooth and efficient.
Utilitarian Beauty
In locations where additional protection from bumps and bruises is needed, hand-stitched leather covers have been fitted. Where heavier chafing or forces would cause damage, thin bronze and copper pads have been cut and installed, as in the lazyjack chafe protection under the boom.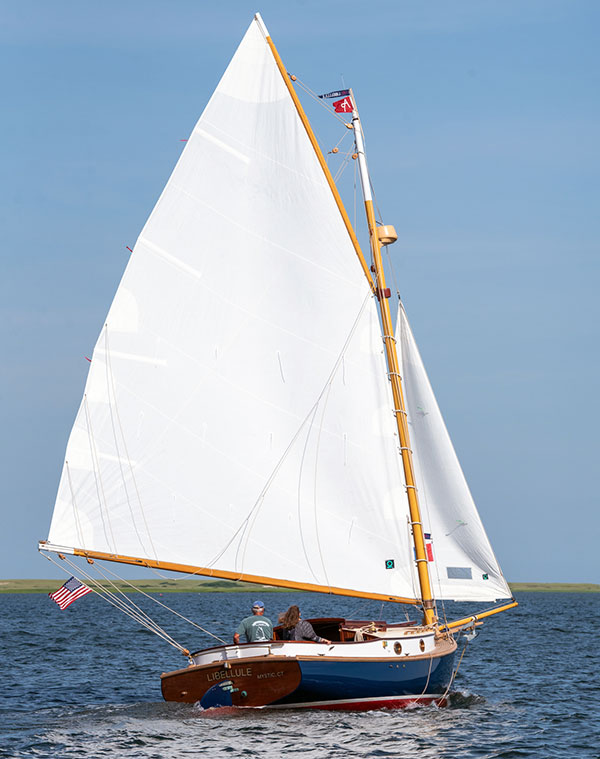 Mixed Media Spars
For dramatic weight savings aloft, LIBELLULE's mast, which was built by Forte Spars, is made of carbon fiber. It was given a faux wood-grain finish making it nearly impossible to identify as carbon. Her gaff and boom are hollow, made of Sitka spruce laminated by the APBY crew. To increase her speed off the wind and reduce weather helm, a 12′ bowsprit was added to accommodate a roller-furling jib. The final 6′ of that spar is a carbon-fiber extension. Her sails were built by Thurston Quantum of Bristol, Rhode Island, and her canvaswork was done by APBY's in-house canvas shop.

Tyler Fields is a regular contributor to WoodenBoat. His article on hand-forged caulking irons appears on page 68.