A 16′ (4.88 m) harbor workboat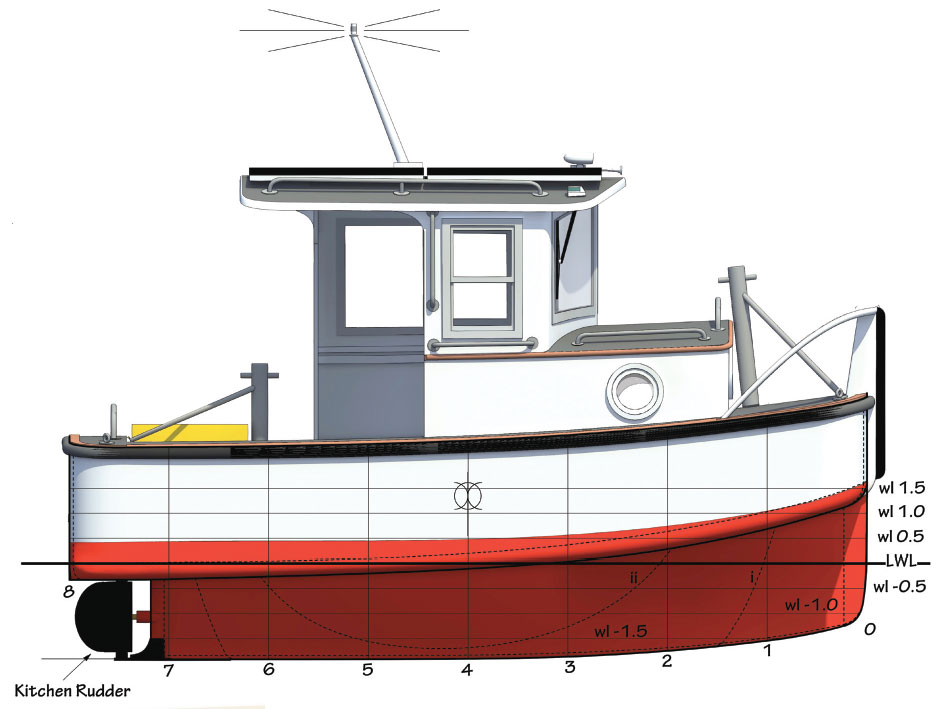 From WoodenBoat magazine No. 259, November/December 2017: BOXER carries a box-keel, somewhat like William Atkin's Rescue Minor, below its scow-shaped hull. This distributes the volume better and provides a storage space for the motor—either diesel- or electric-powered.
The wheelhouse has standing headroom, and the below-deck space has a small galley, a work bench doubling as a berth, and a head forward. The seat near the helm can also serve as a work bench and has a tool locker inside.
BOXER has a fairly efficient powering curve, and the 100% torque at all rpms of the electric motor makes the boat perfect for moving heavy things around at slow speeds.
Particulars
LOD: 16′ 1″ (4.90m)
LWL: 16′ (3.88m)
Beam: 8′ 0″ (2.44m)
Draft: 1′ 11″ (0.60m)
Displacement: (half load) 3,620 lbs (1.64t)
Displ./length ratio: 395
Block coefficient: 0.23
Prismatic coefficient: 0.63
Lbs/inch immersion: 453 lbs
Solar panels: 4 @ 100 watts each
Batteries: 4 x 12V @ 210 Ah, plus 1 house battery 12V @ 80 Ah
Powering options: 20-hp diesel, 20-hp diesel/15kW electric @ 48V, parallel hybrid, or 15kW electric @ 48V/6kW diesel genset, series hybrid
---
Laurie McGowan is a Nova Scotia based boat designer with a diverse on- and below-water work history. He specializes in energy-efficient commercial and pleasure boats. More of his work may be found at mcgowanmarinedesign.com.
Design Sketchbook appears in every issue of WoodenBoat. McGowan takes readers' ideas of their ideal boats and designs a vessel to those specifications. This is 3-D concept drawing to supplement the installment found in WoodenBoat issue 259, September/October 2017. See the article for lines drawings and more details. Do you have a boat concept you'd like to see Laurie McGowan develop? If so, send it to Sketchbook, WoodenBoat Publications, P.O. Box 78, Brooklin, ME 04616, or email it to sketchbook@woodenboat.com. Your letter should be no longer than 500 words.