Restoring a legendary Irish ketch

Northern gannets circled overhead and dolphins wove swift and graceful patterns alongside as the 56′ A.K. ILEN made her way toward the village of Baltimore in southwest Ireland. The newly restored ILEN—the "A.K." stands for auxiliary ketch—is among the country's last surviving oceangoing wooden vessels, and despite considerable odds she was sailing again in Irish waters after a 10-year restoration. Our captain, Paddy Barry, now in his late 70s, had made this same passage in ILEN 21 years ago after the boat was shipped back to Ireland from her longtime home in the Falkland Islands.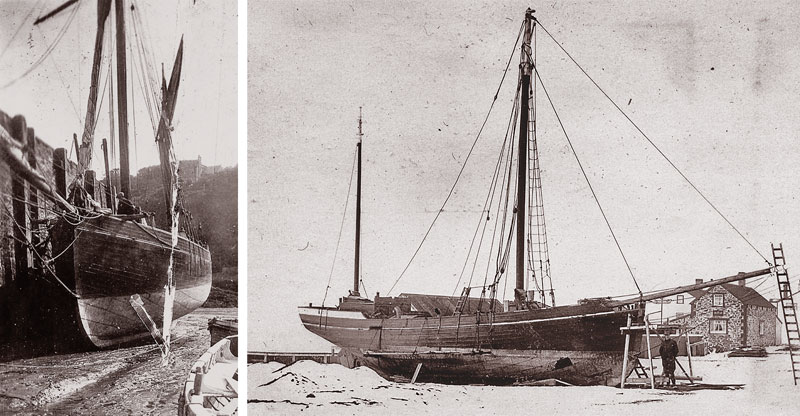 ILEN was built in Baltimore in 1926 and operated in the Falklands for 70 years as a transport boat, hauling sheep, people, and supplies to various island farm communities. She was the serendipitous result of a stop in the Falklands by the legendary Irish sailor and author Conor O'Brien, who, on a global circumnavigation, had rounded Cape Horn and made a stop at Port Stanley. The locals were fascinated with his modest boat, SAOIRSE, and how she had endured the vast Southern Ocean. This led to a commission for O'Brien to design, build, and deliver a larger version of SAOIRSE for the Falkland Islands Company, to operate as an inter-island cargo trader.
When O'Brien returned to Ireland, he worked with the draftsman Tom Moynihan to design the new vessel, a ketch, at his sister's property on Foynes Island, County Limerick. And he engaged the Baltimore Fisheries School to build her. Construction commenced in 1925, and the newly launched vessel, under O'Brien's command, set sail for Port Stanley in July 1926. She arrived there on January 8, 1927.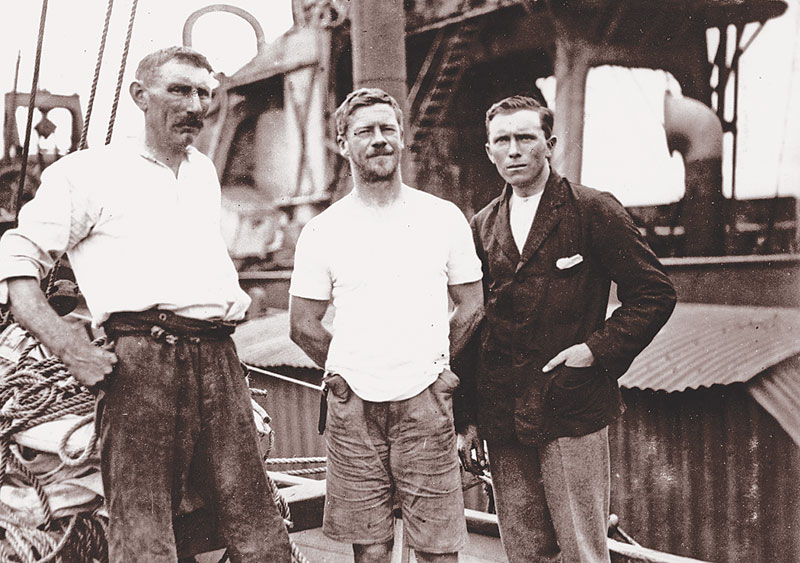 ILEN's seaworthy and full-bodied hull won the confidence of her many skippers and crews. She operated continuously for 50 years, servicing outlying sheep farms and carrying all manner of cargo and passengers in the roadless archipelago. She was retired in the mid-1980s due to a combination of old age and the effects of new economic and social investment following the 1982 Falklands War. She had, finally, become obsolete.
ILEN was still in the Falklands in the late 1990s when Gary MacMahon, a young man from Limerick fascinated with O'Brien, discovered that the vessel was not only still extant but was also still floating. "Without hesitation," he now recalls, he "called the owner, made an offer, wired a deposit, and hitched a ride to Port Stanley on an RAF Lockheed TriStar to view the ketch and arrange her repatriation to Ireland. I was in my late 20s, when men are apt for overconfidence."
Why did he make so hasty a deal? "I knew she was the last surviving Irish wooden sailing vessel," he said. He was captivated by O'Brien's interest in building a boat to an old-style design during the 1920s, when O'Brien could easily have designed and built a boat that was modern for the times. He describes ILEN as a "technological speed bump."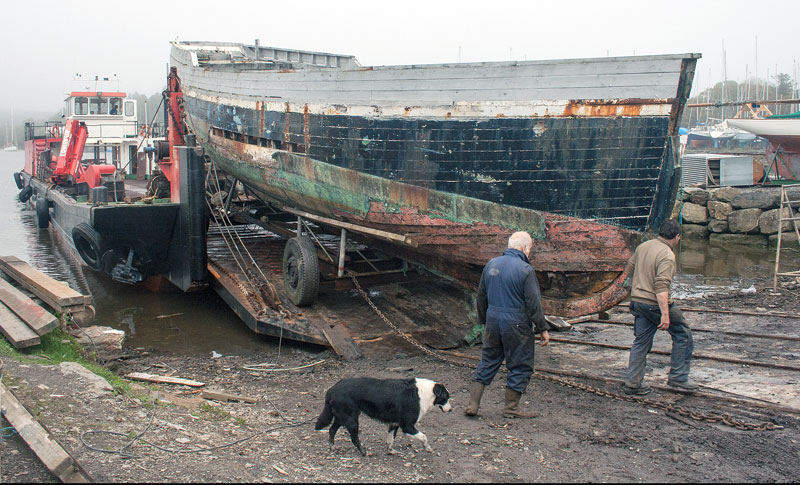 MacMahon, who is director of a media company, says he coined that phrase "to convey how casting back to earlier cultural forms is less the reaction of a Luddite and more the action of a traditionalist, who sagaciously knows that tradition is not inimical to change. Rather, it simply seeks to modulate its accelerating speed and the deleterious social and individual effects of it." He says that although ILEN was built in the early 20th century, "her design belonged more to the previous one and earlier." This, he said, was due to two factors: The first was that the Falkland Islands Company needed a boat that could safely sail on if the engine failed. The second was less prosaic: "O'Brien," he said, "was an architect by training, and he had a deep reverence for the medieval. He cherished big timbered forms, and this was manifested in both of his boats, SAOIRSE and ILEN. These boats might be said to be born of the social and cultural philosophies of the 19th-century Arts and Crafts movements, both English and Irish."
In the epic tome on Irish working craft, Traditional Boats of Ireland (2008), which MacMahon designed, he wrote that ILEN "fitted neither yacht nor fishing boat classifications…bucking the prevailing fashion of the day." Still, he recalls that seeing ILEN's condition for the first time "induced a sharp intake of breath, but didn't deter me." She demanded a "ground-up rebuild."
On his return to Ireland, MacMahon needed funds, friends, and a crane that could lift the 40-ton vessel onto an Ireland-bound ship. "No crane of that capacity was operating in Port Stanley at that time," he said. But, "with a significant element of serendipity and a good measure of blind overconfidence—and with the vital assistance of Gerry Boland of Limerick—I put the operation together." ILEN was cradled and placed aboard a Russian cargo ship in the Falklands in October 1997, and a month later she landed in Dublin. MacMahon then pondered his next move.
MacMahon had had the backing of an Irish philanthropist for ILEN's repatriation. When that sponsor "decided to cede ownership" to a museum, and the museum decided to not pursue restoration, MacMahon and a friend, Brother Anthony Keane, negotiated the purchase of the vessel and incorporated as the A.K. ILEN Company. "Thereafter," MacMahon said, "I had to commence fundraising and figuring out how to move forward—which amounted to years of rumination." Ten years, to be exact.
In May 1998, MacMahon bent on a mizzen he bought from the sailmaker Patrick Selman of Gaff Sails in Cornwall, and obtained a mainsail and headsails from the Galway hookers CONNAUGHT and SAINT PATRICK, respectively. Then he sailed toward Limerick City by way of Ireland's south coast, stopping in Baltimore for a welcome-home celebration. The deck was leaking heavily, and the two-cylinder Kelvin diesel engine was presenting challenges. Having received a warm invitation several months earlier from Liam Hegarty of Hegarty's Boat Yard on the nearby Ilen River at Oldcourt, the very same river that gave the vessel her name, ILEN and her crew moved to that yard. Aside from a few overnight visits to neighboring communities, ILEN "surrendered to the hospitality of Hegartys" for eight years, while MacMahon ruminated on and explored pathways for rebuilding.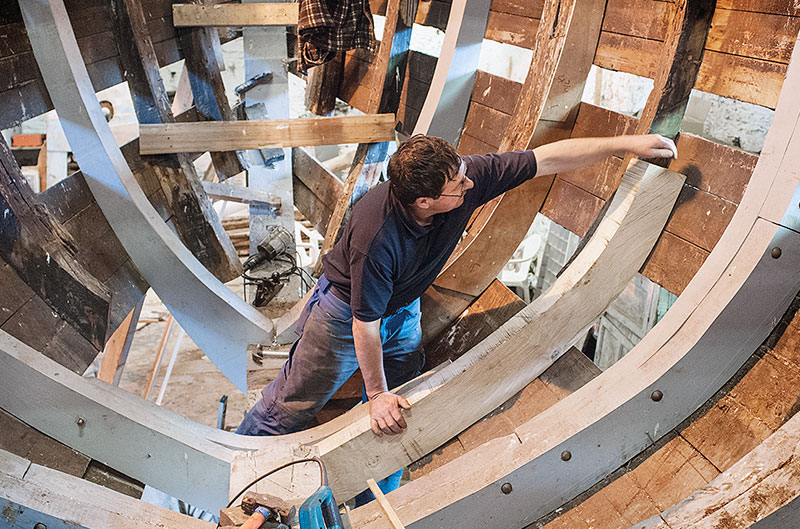 Hegarty's boatyard was founded by Paddy Hegarty, who had begun his boatbuilding career at Skinner's Boat Yard. Skinner's was located beside Baltimore harbor's slip less than a thousand yards from the Fisheries School, where ILEN was built. Paddy had started the yard with only hand tools—handsaws, adzes, chisels—though eventually he brought in power tools. His sons, Liam and John, now maintain the yard's traditional skills; Liam, the proprietor, is generous in assisting people who are "inescapably drawn to the rebuilding of wooden boats," MacMahon said.
In 2009, ILEN received "a burst of project energy," MacMahon said, and was finally pulled into the larger of the yard's two sheds. This 18th-century stone building has dense walls and an earth-on-bedrock floor, providing "a stable microclimate for the task of rebuilding a wooden boat." She occupied that shed until she was launched again in May 2018, and in the ensuing years was transformed into a brand-new vessel. "She arrived in Ireland and waited ten years for her soul to catch up, and then we started to rebuild her," MacMahon said.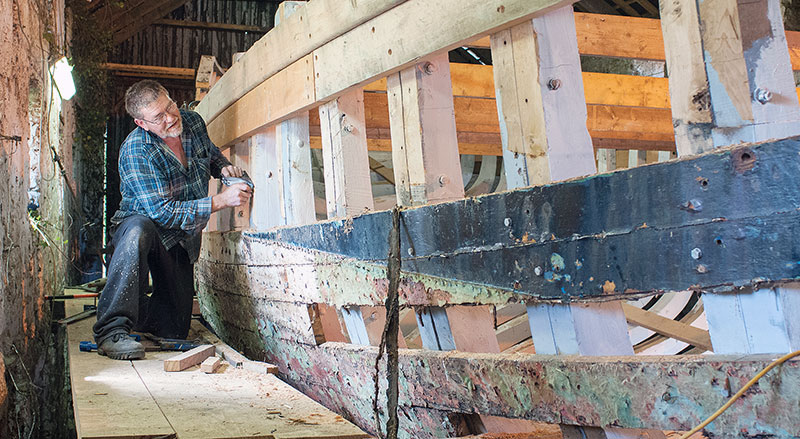 MacMahon initiated the rebuild in 2009 with a series of three- to five-day workshops, each with up to ten participants. They contributed funds, labor, or both. "After trying to fundraise for nine years and being profoundly unsuccessful, I thought we should just start anyway and do something small," he said. "Ireland was also in a recession in 2008, so there wasn't a lot of work, and some people had time to participate in workshops." The first workshop's crew cleaned out the boat and stripped off the hull's copper sheathing. The workshops continued, and money trickled in from across Ireland. Benefactors from Limerick and the United States have provided the "major support," MacMahon said.
Recognizing the Limerick connection, MacMahon found a building there in 2009 to use as a workshop, so concurrent efforts could take place in Limerick and in Baltimore. "We'd take measurements in Baltimore, make the new pieces in Limerick, ship the pieces down to Baltimore, and install them there," he said. James Madigan, a well-known currach builder, led some of the projects in Limerick, and Liam Hegarty and Fachtna O'Sullivan led the efforts in Baltimore. O'Sullivan, who is the most experienced builder at Hegarty's, apprenticed at the Bord Iascaigh Mhara (BIM) Boatyard in Baltimore, which had taken over the site of the Baltimore Fisheries School—which had closed. Matt Dirr, an American boatbuilder who joined the project in 2014 and stayed on for five years, called him "the embodiment of a tradition that carried back well before his time." Indeed, there is a direct line from ILEN's builders to her restorers. MacMahon estimates that more than 300 people have been involved with ILEN's rebuild. And as the project progressed, he himself became more absorbed in management and fundraising and less in hands-on construction.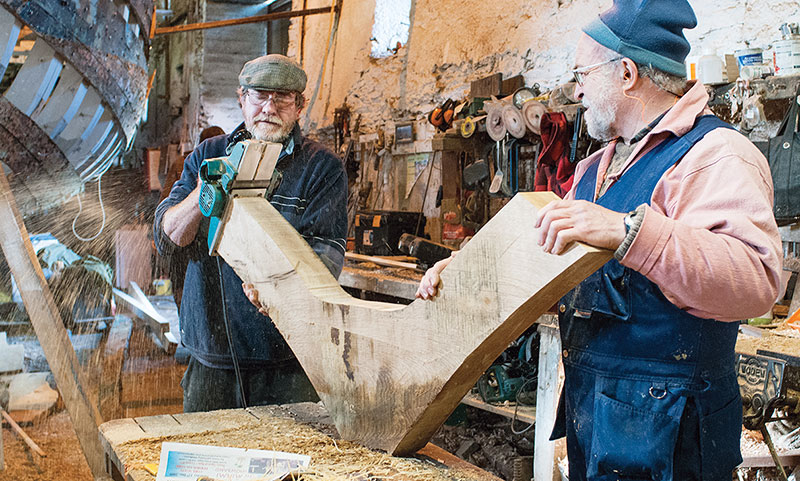 MacMahon said it was challenging to plan projects with much lead time, because of occasional lack of funding. But over the past 20 years he has raised about €1.2 million (about $1.3 million) for ILEN's rebuild. His approach was strategic: he made public celebrations at various key stages of the build, such as installing the whiskey plank, and these events would attract donations. He also researched grants being awarded around Ireland, and shaped the projects at A.K. ILEN to suit such funding. The money came from government grants and Irish and occasionally American donors. The principal money, MacMahon said, was for education programs and not for the boat alone. "At the end, when people started to see that there was actually a boat that was emerging, then they started to contribute money for the boat itself."
The ILEN project had slowed when Matt Dirr, who is a graduate of the Apprenticeshop in Rockport, Maine, came to Ireland to help build a fleet of gandelows for three months at the Limerick workshop (see WB Nos. 249–250). At the conclusion of that project, he went with MacMahon to Hegarty's, to see ILEN. The framing, by then, had been completed through a series of workshops, but only the sheerstrake and the strake beneath it held the hull's shape. MacMahon secured an infusion of funding, and Dirr became focused on ILEN. "The frames had been put in wet and were drying into weird shapes," Dirr said. "So that summer [2014], I went to Hegarty's and Liam, Fachtna, and I planked." But before planking commenced, Dirr refaired all of the double-sawn 4″ × 4″ frames, some of which had moved as much as ¾″.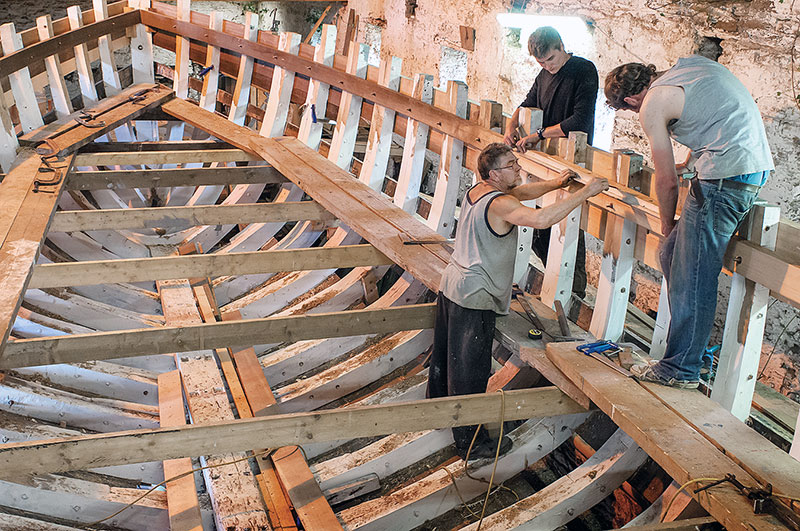 The elm keel, keelson, and floor timbers are all original, but other than those pieces, the entire boat is new. After the boat was cleaned out, each frame had been inspected for rot, and it was then decided to reframe and replank entirely. The original planking—all full-length pitch pine up to 50′ and longer—was not rotted. But it was filled with copper nails for the sheathing, and so none of it was reused.
The new planking stock, of larch, came from south of Frankfurt, Germany. The oak framing stock came from various mills around Ireland. "Since no one is building boats much anymore," MacMahon said, "a lot of the nice framing stock gets cut up for firewood." He would keep frame templates in his van and give them to people in the forestry or lumber business to help him locate particular "curvy oak pieces." All of the oak came from downed trees. "We got a lot of bad stuff, but we eventually found what we were looking for, bit by bit."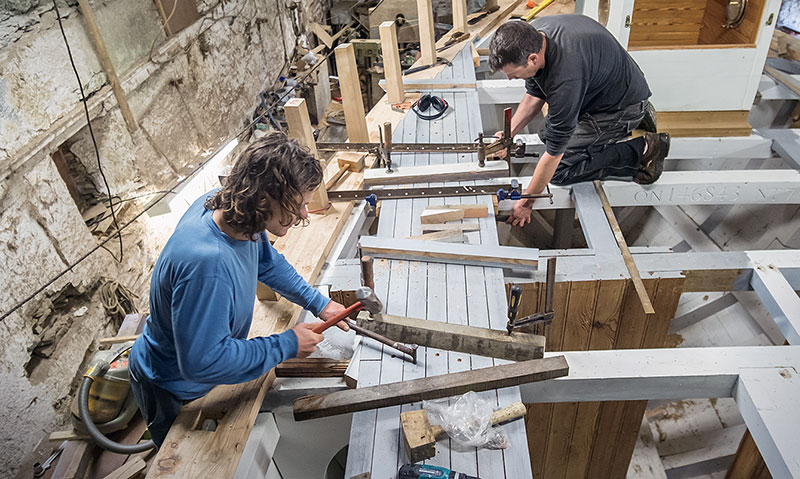 The money, too, came bit by bit. MacMahon said that "the A.K. ILEN network has needed to shrink and expand quickly due to so much uncertainty in the funds from year to year. It's as if you're pushing a stone up a hill. Then you get exhausted and say 'to hell with it,' but then the stone just keeps going. It really has been a community project, 'pushing that stone up the hill,' and affirms certain inclinations that communities can do things."
Dirr said it wasn't always clear to him whether the boat would be finished, but he "enjoyed the nature of the work," nonetheless. "I got to do something different nearly every day. One day I'd be in the bilge doing something gross, but the next day I'd be shaping some really cool piece of wood, and it'd be all worth it. I had good rapport with Gary and my voice was heard for how things were done." And he also gained new perspective on boatbuilding. He previously had been building boats as if they were fine pieces of furniture; the ILEN project taught him to understand working boats as "functional objects" in which the "level of finish wasn't as important" as he'd previously thought it was.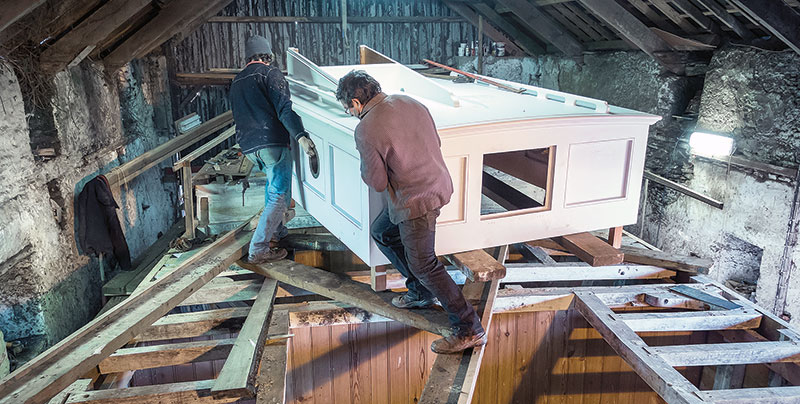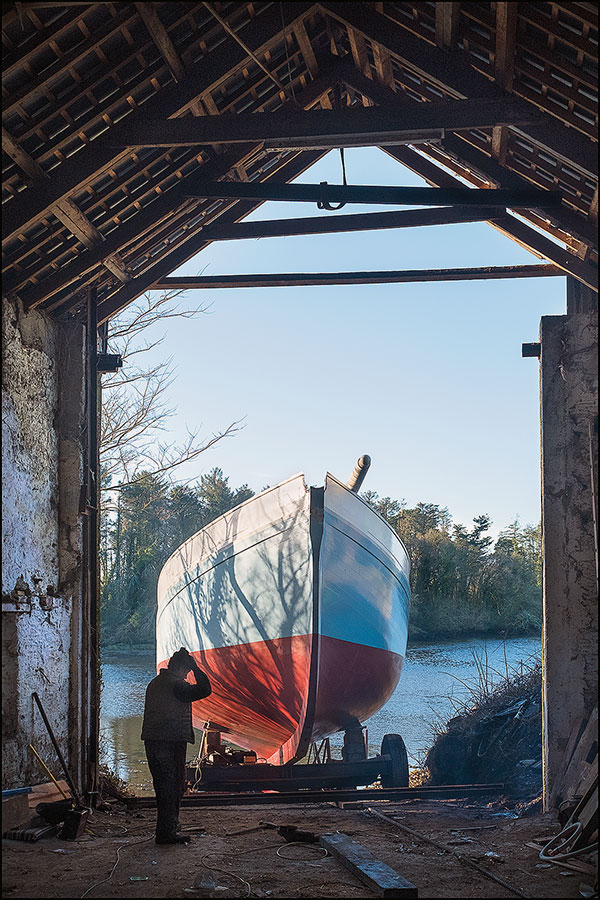 The Douglas-fir deck planking came from the United States, but was found and purchased in the U.K. "It had been sent to a sparmaker in the U.K., but he considered it not to be spar-grade, so he sold it to me," said MacMahon. The new-to-ILEN Gardner diesel engine, a six-cylinder, 150-hp, late-1960s model, was installed originally in a small locomotive and had had a second career in a fishing trawler. MacMahon bought it for €500 ($550) and had it rebuilt for €10,000 (about $11,100). The kerosene cookstove came out of Jarlath Cunnane's former boat, NORTHABOUT, which he'd taken through the Northwest Passage. All of the planks are bronze-spiked, and all of the bronze spikes were made by Port Townsend Foundry in Washington State.
When it was time to rig the boat, Trevor Ross, a seasoned rigger from New Zealand married to a woman from Limerick, "just appeared" said MacMahon. "Turn the corner, and there's a new set of skills to be found. All the crew arrived at just the right time."
Patrick Selman took measurements in 1998 to make the sails, but 19 years passed before MacMahon was able to finally tell him, "Okay, we're ready to go!" The rig has a square sail—a course—which was part of O'Brien's original sail plan. The symbol it carries was designed by MacMahon. It mixes two folk styles: Inuit and Celtic. It depicts wild salmon in the Atlantic, which was the theme for ILEN's 2019 voyage to Greenland.
Greenland? ILEN, said MacMahon, fits into a larger vision called Salmon's Wake, which is meant to call awareness to the declining numbers of wild salmon. Salmon's Wake, he said "is a triple entendre…like an Irish Wake, and how we're following the wake of the salmon, and how we're awakening people to the loss of the salmon." The A.K. ILEN Company had built a salmon cot, a small, two-planked, traditional fishing boat from Limerick, to be offered as a gift to the people of Greenland. They just had to get it there.
Mike Brogan, Jarlath Cunnane, Paddy Barry, and Gary MacMahon suggested that the Salmon's Wake concept be extended to include Greenland. All of these men had high-latitude sailing experience.
In July 2019, with MacMahon in command and a crew of nine, ILEN set sail from Limerick City. She sailed 5,000 miles to Greenland and back to Limerick. The vessel's roomy cargo hold is now fitted out with eight comfortable crew berths forward and amidships. Other modifications to ILEN's original design also accommodate such voyaging. A crash bulkhead was installed. The main deckhouse and saloon are bigger than the originals, and there is a big galley. Over the course of nine weeks, ILEN followed the route that the migratory salmon would have traveled from the River Shannon to Greenland's only salmon river, the Kapisillit near the capital, Nuuk. She arrived in Greenland after an 11-day journey in conditions varying from flat calm to Force 8.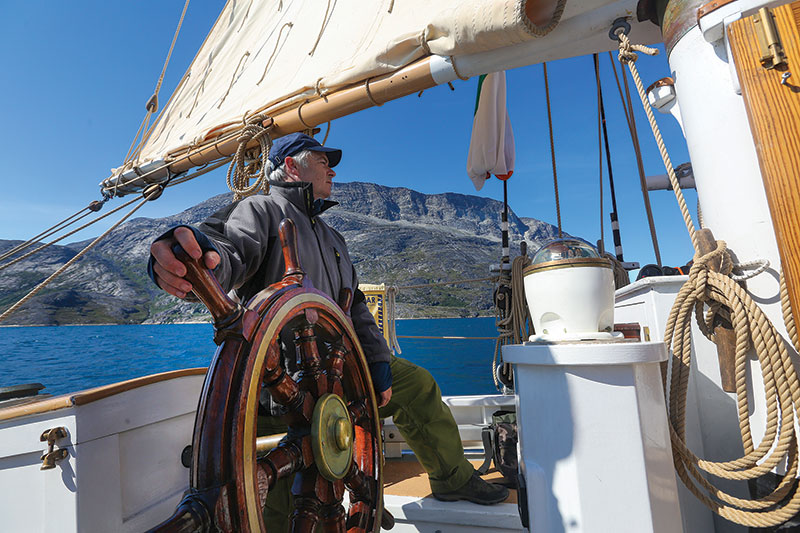 But MacMahon, in general, hopes to keep ILEN sailing locally. The vessel, he said, is just the right size. "She's small enough to be able to maintain without it being too costly, and she's big enough to still feel like a ship." When asked if a voyage to the Falkland Islands was on the horizon, he said, "There are so many places in Europe to go to, we don't need to go 8,000 miles. We're at a similar latitude and are both island communities, except we don't have penguins." He said the biggest challenge now is to "keep it all going. I'd be happy if she just putters around Ireland next year and gets familiar with the Irish community," he said. He's most interested in using ILEN for education, bringing her to various Irish ports, particularly for school tours.
Since ILEN was launched in May 2018, she has been visited by a wide range of people, including schoolchildren and the Irish President Michael D. Higgins. Before she departed Dublin for Baltimore in May 2019, a group of recently immigrated and refugee youth living in Dublin visited ILEN, raised her sails together, and learned some knots.
The shed in which ILEN was restored is now busy with a new construction of O'Brien's own ketch, SAOIRSE, which was wrecked in 1980 during a hurricane in Jamaica. MacMahon is a consultant on that project, and has hanging knees he gathered from the SAOIRSE wreck site in 2017. That project was commissioned by a private owner who will use SAOIRSE as a personal yacht. Liam Hegarty; his son, Paddy; and Fachtna O'Sullivan are the primary builders.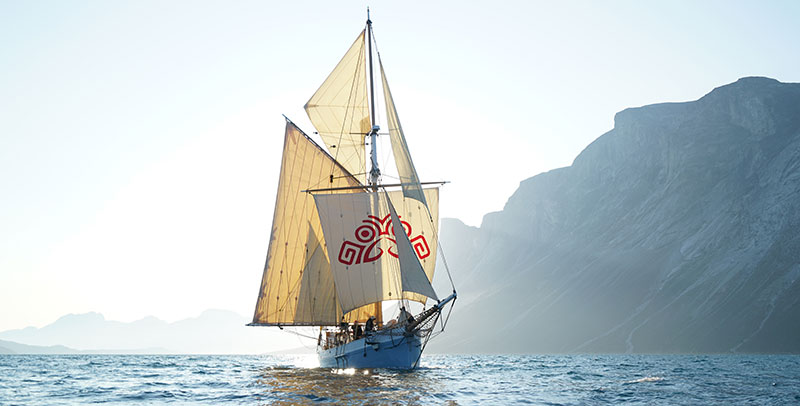 Before entering Baltimore for the annual three-day Wooden Boat Festival there, Barry insisted that the motor be shut down. We proceeded to tack upwind into the long and narrow southwest-facing harbor. With lots of public attention focused on ILEN's arrival, the captain and crew gave extra attention to tidying the boat.
Lines had been loose on deck during the previous days of leisurely, light-wind sailing. Now they were coiled neatly. The crew members stood actively at their stations—the sheets, helm, or mooring lines and fenders. ILEN tied up to the stone quay along with many other traditional boats from around Ireland, including SÍLE A DÓ, a sailing ketch converted from a fishing trawler; AN FAOILEAN, a 28′, 104-year old gleoiteog, a type of Galway hooker (see WB Nos. 141 and 193); and two 26′ Heir Island sailboats once used for lobstering (see WB No. 160). A fleet of 12 black, 25′-long skin-on-frame currachs lined the shore like beached whales, and a variety of other small wooden sailboats and rowboats colorfully decorated the inner harbor docks. ILEN, the largest of them all, was the head-turning focal point in this richly historic scene.

Arista Holden is a regular contributor to WoodenBoat. Her most recent article, on the Viking ship replica POLARIS, appeared in WB No. 269.