March / April 2020
Milford Buchanan and the Shelburne Dory
Carrying on a Nova Scotia tradition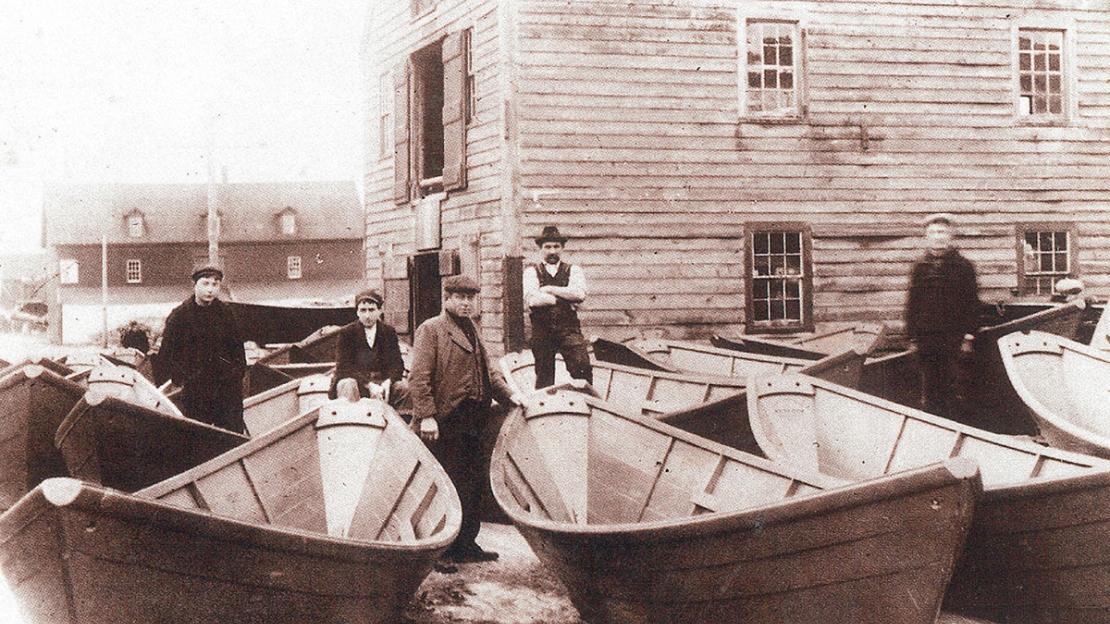 The seven-man crew at the J.C. Williams Dory Shop in Shelburne, Nova Scotia, shown here in about 1900, could send one to two dories per day out of the shop's second-story doors during the height of the company's production.
Milford Buchanan and I had already bent the pre-made bottom of the dory into the building jig—or horse, as he called the ancient cradle on the boatshop floor at the Dory Shop Museum in Shelburne, Nova Scotia. We had wedged the flat bottom tightly in place using posts and jacks that had been used to spring more than 50,000 bottoms to the standard 31⁄2" rocker. All five frames and even the stem and the transom were attached to the bottom before we bent it into place.
Now, I grabbed a spirit level and held it vertically alongside the stem to check it for plumbness. Buchanan looked at me and said, "I guess you could do it that way." He took the level and set it on the workbench, then walked to the end of the shop and shut one of the bay doors. He returned to the boat. "See that stick on the edge of the door? Sidney Mahaney put that there. That's plumb." Mahaney had started building dories in this same building as a teenager, in 1914. Straddling the dory and squinting with one eye, Buchanan directed me to nudge the stem so that it would be plumb before securing braces to hold it there. That's how it's always been done here, where Buchanan, a fourth-generation boatbuilder, has carried on the tradition as the museum's lead builder since 2003.
Shelburne exploded into existence in 1783 with the arrival of about 10,000 British Loyalists fleeing from the newly independent United States of America. They'd sided with the losing team and, no longer feeling welcome in the new republic, sought a friendlier territory that was still under British rule. A well-protected, deep-water harbor seemed to make Shelburne ideal for resettlement, and within a year its population reached 17,000, making it the fourth-largest city in North America. But it subsided just as fast after it became clear that farming the area's spare, rocky soil couldn't support the city's population. Most of the loyalists moved on, and the population fell to less than 1,000. One among those who stayed was a German former militiaman named Conrad Bohannan, who anglicized his family name to Buchanan.
ACCESS TO EXPERIENCE
Subscribe Today
Publishing dynamic editorial content on boat design
construction,and repair for more than 40 years.
1 YEAR SUBSCRIPTION (6 ISSUES)
PRINT $39.95
DIGITAL $28.00
PRINT+DIGITAL $42.95
Subscribe