How computers are revolutionizing wooden yacht construction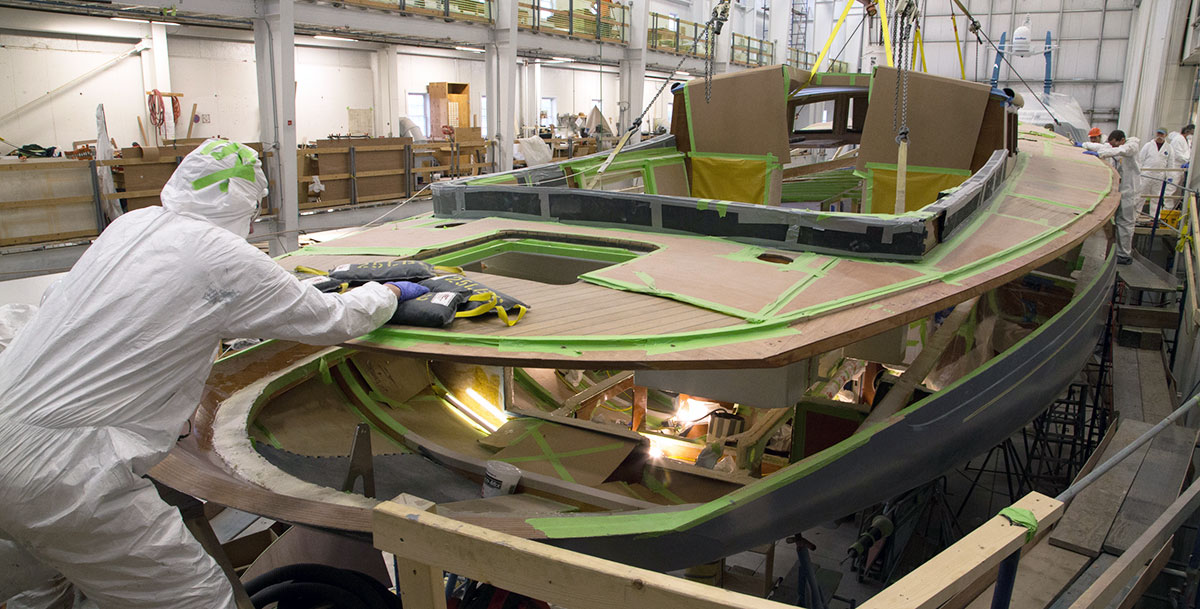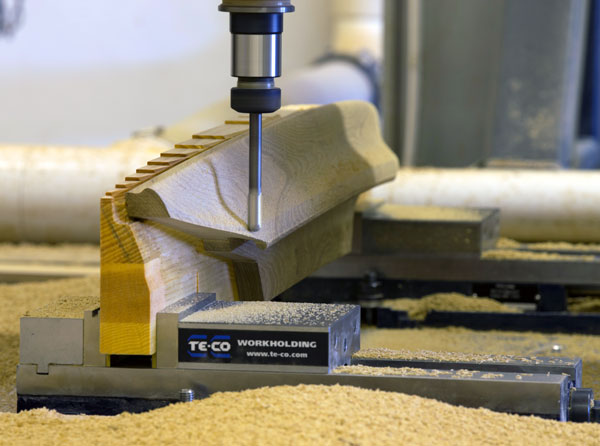 On a mountain trail, pace-by-pace progress over hours sometimes leads to a viewpoint from which the altitude achieved suddenly becomes spectacularly clear. Something similar is going on now in custom wooden yacht construction, as exemplified by two projects currently underway in Maine boatyards that show just how much the boatbuilding industry has changed.
The yachts, both expected to launch this spring, are the 91′ SONNY III at Brooklin Boat Yard and the 65′ ANNA at Lyman-Morse Boatbuilding in Thomaston. Unsurprisingly, both hulls are cold-molded, relying on wood-epoxy planking lamination techniques that were themselves revolutionary when boatbuilders of a generation ago were coming of age. By now, cold-molding over laminated frames has been thoroughly adopted by almost every American boatyard working with new, large-yacht construction—with notable exceptions such as Gannon & Benjamin Marine Railway in Martha's Vineyard, Massachusetts, and Peter Kass's John's Bay Boat Company in South Bristol, Maine.
Cold-molding has, in turn, cleared the path for newer technologies. Chief among these is 3D design software and its marriage with computer numerically controlled (CNC) cutting machines. Like cold-molding before it, CNC cutting, using digital files originating in 3D modeling software, has made dramatic changes in the very nature of real-world boatyard work in just a few years.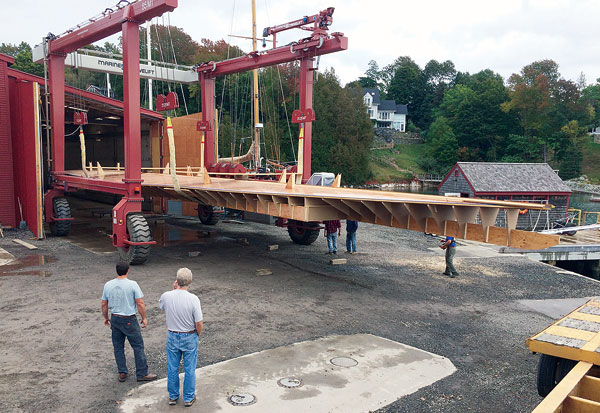 CNC cutting came to midcoast Maine's boatyards first through subcontractors, a prominent one being Hewes & Company in Blue Hill, about 12 miles from Brooklin. The machines are big, expensive, and require substantial floor space, so most boatyards use sub­contractors to do their cutting. However, the sprawling Lyman-Morse boatyard several years ago bought its own advanced CNC cutter—and in late 2017 the yard also added a CNC plasma cutter capable of cutting through 2″-thick stainless steel.
As a high-end residential builder, Hewes & Company bought a CNC machine to gain speed and accuracy for installations such as kitchen cabinetry, countertops, and stairways—all made of flat-panel materials such as plywood or Corian. Those uses soon proved transferable to yacht interiors, especially for production fiberglass-boat builders such as Hinckley Corp. and Morris Yachts. Seeing an opportunity for more growth, company owner Michael Hewes in 2006 hired Gardner Pickering, who had worked 10 years for Morris Yachts (which has since been acquired by Hinckley) to lead the marine side of his business.
Pickering added a line of small-craft kits (see sidebar, page 56), but most of his work involves boatyards such as Brooklin Boat Yard, Rockport Marine, Artisan Boatworks, Arey's Pond Boat Works, and many others, working both in wood and other materials.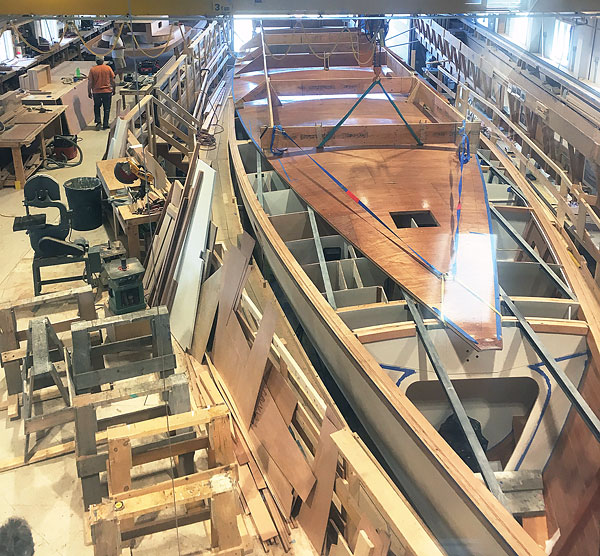 At Brooklin Boat Yard, a sea change came with the construction of FOGGY to a hull design by German Frers with exotic stylistic elements by architect Frank Gehry. "I've been here 13 or 14 years," said Eric Blake, the project manager on both FOGGY and SONNY III, "and this transition has happened in that time frame. But we really cut our teeth on the capabilities of CAD work and CNC routing through FOGGY."
In addition to such then-rarities as 3D­-­printed titanium hardware, FOGGY—which was launched only three years ago, in 2015—had 800 "windows" of uniquely shaped bits of glass flush-mounted in the topsides and deck, working around wildly curved teak planks over curved and cambered deckbeams and carlins. The deck was built separately, and then lifted in its entirety and landed on the hull. Lessons learned in that challenging construction helped inform subsequent work.
Hewes & Company was one of the FOGGY subcontractors, and even though not a single piece of its work became a permanent part of the boat, its CNC machine produced extensive molds, jigs, patterns, and templates, including those used to make the curved laminations and the glass pieces. The relationship has continued on subsequent yachts. "There were weeks last year when I did more for Brooklin Boat Yard than kits for the year," Pickering said. The yard expects quick turnaround times, "but they are fantastic to work with. I jump for them."
The Case of the 91-Footer
For years, Brooklin Boat Yard has worked on a stunning succession of yachts of 70′ LOA or longer, but the 91-footer currently under construction is its largest yet. The boat is a flush-decked sloop co-designed by Bruce Johnson and the yard's in-house design staff. The project had a tight deadline: only 18 months from commission to launching.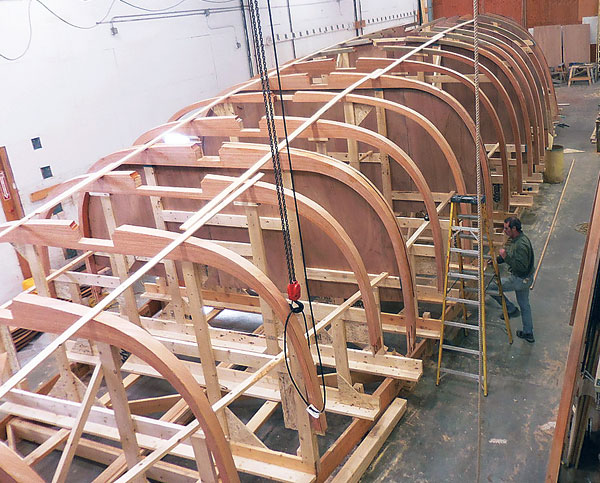 Blake and other boatbuilders today use terms such as "choreography" and "ergonomics" to describe their workflow. Dispersing individual pieces or entire sub­assemblies around the shop floor and mezzanines avoids bottlenecks at the staging and access ramps.
For example, the 91-footer's two cockpits were built off the boat, meaning that Todd Skoog, their builder, could work in a dedicated area next to his bench, with his tools right at hand. Components for yachts have been built that way for generations, even in traditional plank-on-frame construction. However, these cockpits were built over jigs that the boatyard designed and Hewes & Company cut to the precise size and shape needed, including bevels. Six additional smaller CNC-cut jigs for each cockpit assured quick setup for laminating the curved corners and sides, which were then scarfed to their mating pieces and assembled on the main jig.
"Molding up a cockpit that can be built right next to a guy's bench, flipped upside down and prepainted, and dropped into the boat as kind of a finished product, just from the employee standpoint and the ergonomics of working on that, as opposed to taking every stick of wood to and from the boat, is pretty key," Blake said. The same techniques were used for an elliptical settee, which was built off the boat and dropped in as a unit. "We're really pushing the envelope with what you can do with laminated wood. And the level of accuracy that you can get with properly executed 3D models and properly cut parts is really phenomenal."
"Designing and building this 91-footer in 18 months is pretty amazing," yard owner Steve White said. "And for the most part it has been quite trouble-free."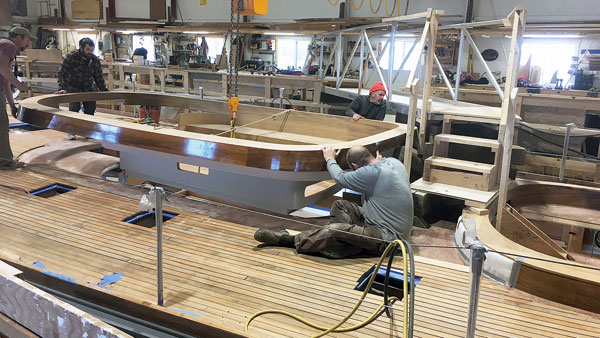 Numerous subcontractors joined in, also using digital files. Rockport Marine, for example, cold-molded the hull, which was then towed on its own bottom some 40 nautical miles to Brooklin—a collaboration that echoes Rockport's construction of the hull for the 76′ yacht GOSHAWK for Brooklin Boat Yard in 2005. The hull construction methods used for SONNY III differ little from those used in GOSHAWK and the W-76 yacht WILD HORSES of 1998—the yards found it most efficient to laminate and bevel frames following full-sized Mylar patterns, supplemented by CNC-cut permanent bulkheads.
Given the demanding schedule for SONNY III, Brooklin looked for any and all efficiencies. The interior cabinetry pieces were CNC-cut plywood, delivered to individual boatbuilders almost as a kit for each specific cabin. Analyzing the man-hour requirements, the yard said, as Blake put it, "Okay, we're going to model and cut the entire interior."
Hewes & Company translated the digital files to its software, augmented by a "nesting" program that assures efficient use of each panel. "Probably 450 sheets of plywood went into that," Pickering said.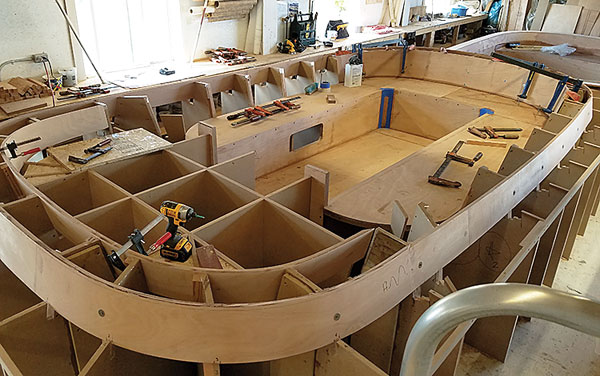 There was nothing new about the process, White said. "We took it further in having most of the interior pieces CNC-cut and sent to us in big stacks. We don't even fit them into the boat. We just go ahead and paint them, because we've gotten to believe that they're that accurate.... When we first started doing this, we had a lot of reservations, and we always sort of built in this little fudge factor—¼″ here, ¼″ there—but pretty soon, we learned that that was ridiculous."
As SONNY III proceeded, the yard again subcontracted with Rockport Marine, this time to build the foam-cored deck. Hewes & Company CNC-cut plywood panels for the 12mm-thick bottom layer and 9mm-thick top layer, and MDF panels on 2′ station lines for the jig. Each panel was scribed to show where to place CNC-cut blocking in way of such things as sail tracks and hardware. The panels had slightly nibbed scarf joints to assure perfect alignment.
"They put tons of hours into that design," said John Florimbi, Rockport Marine's manager for the project. "When we got it, it was like a kit, essentially. It went together really easily." The elapsed time from arrival of parts to having the 91′ × 20′ deck epoxy-coated and ready to ship the 69 miles overland by truck? "Slightly over a month."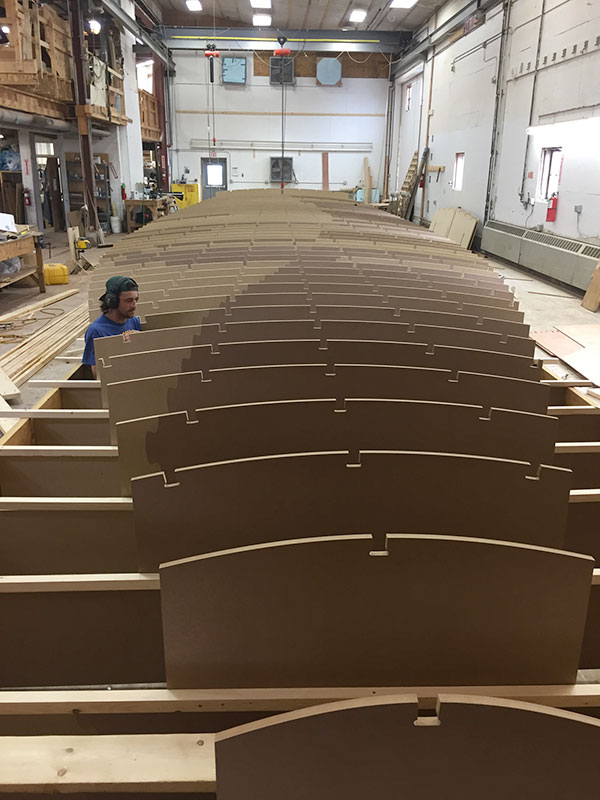 ANNA and Diversification
At Lyman-Morse, yard proprietor Drew Lyman has an ambitious vision of boatbuilding as the foundation for a diversified manufacturing business. His design and engineering staff is using software called SolidWorks, an expensive and sophisticated program that Stephens said was probably overkill for the project—but it is a program often used by defense contractors and land-based architects with whom Lyman-Morse hopes to increase its trade. The company fabricates parts as diverse as specialized alloy piping for the nearby Dragon Cement plant and metal components for skyscrapers.
"Our core business is boats, but we know how to do everything because of boatbuilding," Lyman said, "so let's apply that to areas that are potentially more consistent in business and work. That's what we're doing." Diversification included building ANNA, the first cold-molded yacht the company has built, and the first wooden-hulled boat in many years. "We pride ourselves on our flexibility," Lyman said, "so we can go from an aluminum commercial vessel to this gem."
ANNA's entire interior and cockpit were mocked-up full-size in cardboard, a longstanding routine at the yard. The layout was modified to raise the cockpit height, alter the deckhouse, and reconfigure the transition between the deckhouse and the main saloon.
The hull was conventionally cold-molded over laminated wood frames and a few permanent bulkheads, aligned on a CNC-cut setup structure. Under the cabin sole, a composite structure was CNC-cut to receive the bases of cabin "modules" made as complete as possible, including wire runs, plumbing, and finished cabinetry. For ANNA, Bob Stephens and Paul Waring, of Stephens Waring Yacht Design in Belfast, took their 3D design farther than they ever had before. They had worked with many premade components and knew of module fabrication for large fiberglass and aluminum yachts. But it has been far less common, so far, in wooden yachts. "Once we were in a position to put them in, they just plopped right in," Lyman said. "All the modules went in within a week."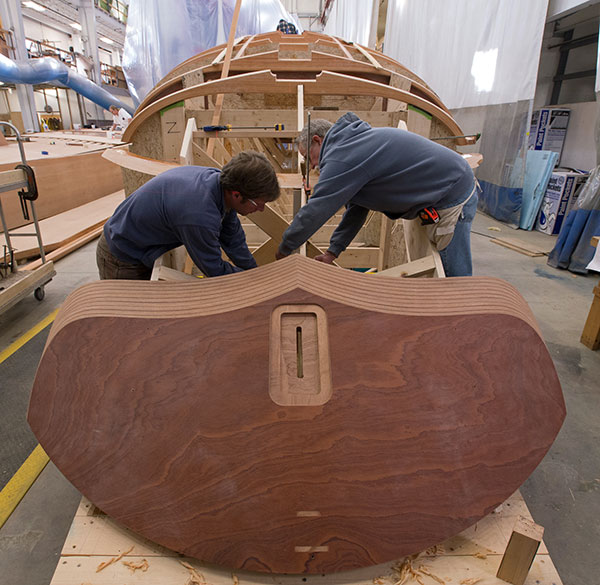 Like the deck of Brooklin Boat Yard's 91-footer, ANNA's was built off the boat. But Lyman-Morse also installed all the teak planking except the covering boards, all the hatches, the varnished deckhouse, and almost all the hardware, including fitting chainplates and winches while access was easy. After the cabin modules went in the boat, the completed deck was hoisted in place by crane. "All the fits on the bulkheads and the interior—it fit beautifully," Lyman said. "And there was no guy in there with a planer, just shaving it down. It gets me excited, because you prove your stuff. You're taking a little bit of a risk there, and you prove yourself.
"I think whatever we can do to keep the individuals, the workforce, out of that hull is going to make us more efficient," Lyman said. "We went to the 'nth' degree with that whole sole system. We took it one more step." Computer design and CNC cutting, with innovative project management, have made his yard 25 percent more efficient than it was a decade ago, he said.
Machines played a key role. To Lyman, however, there is another factor to consider: "Every yard right now is struggling to find the qualified individual that will come in here and just bust their ass for a long period of time, and be loyal to the company." With training for skilled workers having waned in recent decades, those kinds of employees are harder to find, and specialists such as systems installers can be scarce. "So the way to get around that, in my opinion, is to invest in these machines. It's not ever going to take away from the hand-crafted, beautiful work these guys do. But it's going to add to the fact that we can take on more work with the same type of crew."
The degree of detail in ANNA's design was extraordinary. The clients wanted a clear—and tactile—understanding of what they were getting. In the most extreme examples, custom light-switch cover samples were 3D-printed at the yard, and full-sized companionway handrail samples not only allowed the owners to visualize them but also to feel them.
"The clients have been very insistent for, and responsive to, seeing in great detail what all the interior components and details are going to look like," Stephens said, reflecting a trend that he sees increasing. "Lyman-Morse's philosophical bent is to be very thorough in the design process. It's our philosophical bent, too, whenever we can afford to do it—that is, when the clients are amenable and the budget is there for it."
The Rise of the Designers
For generations, some designers have been very demanding about having builders follow their drawings exactly, even when the builders had their own standard practices. But without question, 3D modeling has taken designers farther down that path.
"In terms of making the project less expensive, I think there's very limited movement in that direction as a result of CNC cutting or CNC manufacturing," Stephens said. "In terms of making the project higher-quality and more exact—I think there's tremendous improvement there."
When it comes to hull and interior construction, all designers and builders recognize a line past which CNC cutting might not make sense. But all of them recognize the essential role of 3D modeling.
"I think a lot of people get in their minds that the CNC is what's driving this," Lyman said. "What's driving this is software." CNC machining merely matches the level of accuracy and depth of detail designers attain in 3D modeling software. On the shop floor, that means the builders spend less time puzzling out how things fit together and how piping or wiring runs interrelate.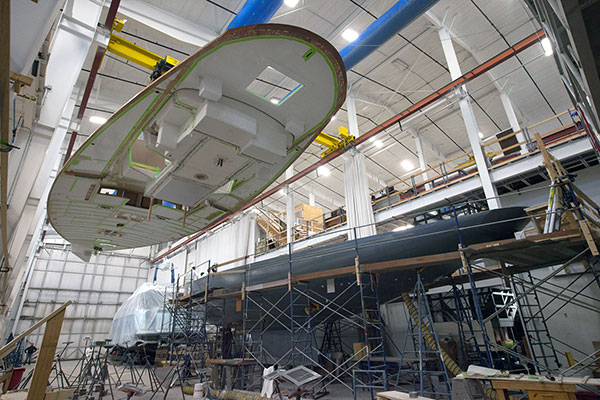 "Owners have become much more demanding and more specific on what they're going to get," Stephens said. "Systems are a big, big driver of it." Yachts are large and getting larger, with sophisticated electronics that range from navigation to entertainment systems, labor-saving devices that run the gamut from hydraulic boom vangs to powered winches. ANNA has a hydraulically lowered boarding platform with automatically deployed steps. All of those systems have to fit the limited confines of the hull. "As we all moved into 3D design, which is a tremendous step forward, we're also capable of providing more," Stephens said.
Traditional lofting—the process of drawing and fairing hull lines full-sized on the shop floor—is going the way of paper-chart navigation. "There's no lofting done any more," Waring said. "It's all done on computer. You can't really call it lofting anymore."
Nevertheless, it helps to have designers who have built boats, as Stephens and Waring did at Brooklin Boat Yard for years. Sam Temple, the yard manager at Rockport Marine, recently lofted a boat traditionally just so his staff would have that experience. He works closely with Sam Chamberlin, the in-house designer, on when and how to use various technologies. "Sam and I talk about how molds might be spaced, or what we may have done last time that we may want to improve on," especially when it comes to the building ergonomics.
"Technology will continue to change and disrupt things," Chamberlin said. "The way I think about using these tools now, as opposed to 10 years ago, is very different, and I'm learning how to integrate those tools into the process on the shop floor in an effective manner, when to ask questions of the builders, and how we get all of our combined knowledge stitched together." Among the builders, he said, "There is a huge amount of knowledge about how things go together. If it all gets done in the design office, you're constraining yourself to too small a pool of experience and brain power."
An experienced builder, Temple said, might point to something like a horn timber in a design and recommend less curvature so that it could be laminated from ⅝″-thick pieces instead of many more ¼″-thick pieces, saving time and therefore cost. "So there are those sorts of considerations that builders will bring to the design element. I feel it's important for the project managers to spend a good amount of time in the design office, checking on how things are being planned."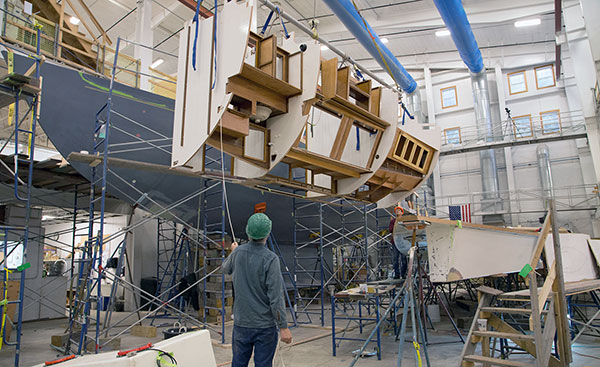 Taylor Allen, who for years managed Rockport Marine before passing the leadership to Temple, his stepson, says he misses "building the boat in my head" by lofting. However, "probably that benefit that I felt 20 years ago may not exist anymore," he said. "My attitude is that we need to do everything we can so the owners get the best value for the lots of dollars they're spending. Often, the computer programs and the machines can do more of the work. And that's to the benefit of the customer."
John Florimbi, Rockport's project manager on the 91-footer's hull and deck, has embraced those changes. "Most of the stuff that the CNC is doing, is stuff I'd rather not do, necessarily," he said. There's not a lot of joy in spending days with a stack of MDF panels, Mylar patterns, and a jigsaw to make molds. "When I first started building boats in the 1980s, it was all about how I did it, getting pieces of wood to fit together beautifully. And that's still my objective, but now it's a lot less about fitting pieces together, and a lot more about how I can make this process more efficient, more accurate, and more economical, so that we're more viable, or more desirable to clients."
When to use CNC cutting? It's a fine line. "Just because you can do something with a computer doesn't necessarily mean you should do it with a computer-controlled tool," White said. For SONNY III's hull construction, Rockport Marine used Mylars as patterns for laminating frames—the same technique that was used on the W-76 hull construction for Brooklin Boat Yard 20 years earlier. The frames become a permanent part of the hull, minimizing waste.
"I'm guessing we're probably 'there,' in terms of the big efficiencies of it," White said. "Literally every piece of plywood that goes into the boat we're cutting on a CNC machine. You can take it even further and further, but it requires even more time in the design office." That level of design can have its disadvantages, as Waring pointed out: the design of a light-switch cover might not hold up the completion of a cabin module—but its exact location might.
The more things change, the more they stay the same. Designers and builders have to find ways to communicate and negotiate their roles, as they always have. The effects of clients' wishes have to be sorted out, as ever. The designers, builders, and clients have all followed technology far down a path, with farther yet to go. And for those of us looking seaward from a height of land, the view promises to be fine.

Tom Jackson is WoodenBoat's senior editor.
---
Websites
The small craft niche
In the public eye, CNC-cutting may well be most obvious in the realm of small-craft kit manufacturers such as Chesapeake Light Craft in Annapolis, Maryland, and Pygmy Kayaks in Port Townsend, Washington. Since their kits from the beginning were developed for plywood construction, the potential for CNC-cutting identical parts from flat-panel stock was immediately clear. The parts also fit together with astounding accuracy and allow a novice builder to sidestep the need for the comparatively advanced skills of lofting and plank spiling.
Small-craft designers have also long been accustomed to marketing their plans to a global clientele. Iain Oughtred–designed boats, for one example, can be found worldwide. But digitized plans enabled broader uses of technology. Such plans can be sent digitally for the customer to have printed locally, for example. From digital plans, it was but a small step to output files for CNC cutting, enabling designers to market not only plans but boat kits. These trends have been in place in the small-boat world for many years.
Oughtred of Scotland, François Vivier of France, John Welsford of New Zealand, Dudley Dix of Virginia, Doug Hylan and Clint Chase of Maine, and too many other small-craft designers to list have worked this way worldwide. Some work through intermediaries—Jordan Boats of England, for example, has developed CNC cutting files for Oughtred and many other designers and handles their interactions with cutting companies, who typically pay a royalty per kit made. Many, Dix among them, release digital files only to preapproved cutting shops.
Vivier (see related article, page 46) is unusual in that he not only partners with CNC-cutting companies but also releases digital plans and cutting files directly to clients. Such a buyer can take the files to a local CNC-cutting shop to have the parts made. Vivier started designing with CNC cutting in mind almost 20 years ago. "It is clear that using computer-aided design tools and either full-sized printing or CNC cutting moves part of the building process 'upstream,'" he said. "The designer decides more and the builder less. For a home builder, this is a good thing. Traditional lofting is not easy for an amateur builder."
Advances in software have had an effect on small-craft designers just as they have on custom yacht designers. Vivier has switched to 3D modeling software—specifically Rhino—about five years ago. "This allows drastically reducing the number of mistakes in the CNC files," he said. "It also makes it possible to get a very accurate weight balance and stability calculations," plus specific drawings for instructional manuals. "Finally, the design working time is also reduced, allowing me to propose more new designs." The spread of technology opens widespread markets. Vivier reports seeing his greatest growth not in his own country but in the United States, Australia, and Russia, particularly for CNC-cut kits.
"The rate of kits associated with plans is growing, in particular in the United States, thanks to my partners," Vivier said. "Today, more and more companies, for example those making advertising panels, are able to cut plywood. This allows people living in many places in the world to benefit from CNC cutting."
One of Vivier's CNC partners is Hewes & Company. Gardner Pickering, its marine branch manager, recognized an opportunity in the small-craft world and added kit cutting to the company's existing repertoire.
CNC cutting for small craft is a niche market, Pickering said, and it is one in which reputation is critical. Oughtred, for example, has agreements with only four CNC-cutting companies in the world to handle his popular plans—Hewes & Company in North America, Jordan Boats and de Boutbouwer of Holland in Europe, and Robert Ayliffe's Straydog Boatworks in Australia. "We don't offer any skiff kits designed in-house," Pickering said, so there is no inherent competition with the designers with whom the company works. "I'm really even-handed about which ones I'm going to sell. The ethics part of it is really important. I'm really careful about that."
Almost all small-craft designers today—from old-timers such as Vivier to comparatively new arrivals such as Clint Chase of Maine, who teaches computer design at WoodenBoat School—are developing designs for light, plywood-epoxy construction with at least the potential for kit development in mind.
"But one thing is sure," Vivier said: "Computers are a good help to design boats, but to design good and appealing boats, the most important thing remains the knowledge of our maritime heritage. My library remains the most important tool." —TJ
Notable websites
\
It begs the question...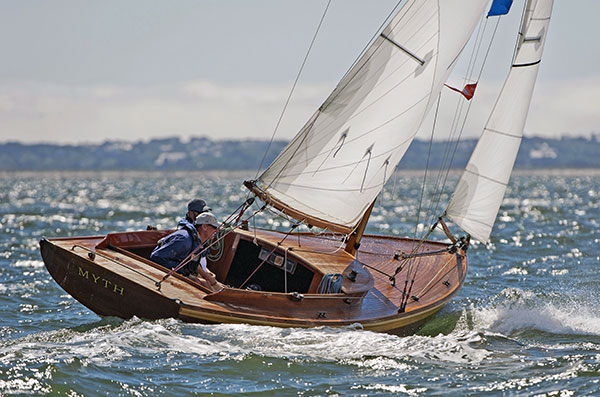 Considerable up-front setup time, the ability to make multiple identical parts quickly with little additional effort, precise accuracy—it all sounds like the definition of a production system. Does it therefore follow that 3D design and CNC machining could open a new era of production wooden boat building?
The prospects are intriguing, but opinions are mixed.
Gardner Pickering of Hewes & Company's marine division notes that even though CNC cutting is at its best for production, his work almost always involves one-off projects.
John Florimbi, a project manager at Rockport Marine, sees some potential: "I've been feeling like it wouldn't be long, until—and certainly smaller people like Chesapeake Light Craft are doing it—production of wooden boats may become a 'thing' again. I could see that happening."
Paul Waring of Stephens Waring Yacht Design is dubious. "In order for there to be a renaissance in wooden boat building at all, there's got to be a demand for it. There just isn't. It's very tiny compared to the rest of the industry. We can make really lightweight, beautiful, great wooden boats all day long, but if there's nobody there to buy them, it's a challenge." He believes other materials—perhaps some kind of 3D-printed panels of highly recyclable, "green" composites—may replace fiberglass eventually. "That's going to make the difference," his partner, Bob Stephens, added. "When people start actually demanding that these are carbon-neutral, or something like that, then there's going to be the opportunity to compete with fiberglass in the small-boat world."
All the same, Brooklin Boat Yard—for the first time in many years—this year will start building boats in production. Owner Steve White said he had bought part of a building where he'll set up for construction of 26′ Alerion-class sloops under license from Sanford Boat Company of Nantucket, Massachusetts.
The last time Brooklin Boat Yard approached boatbuilding this way was in 1996 with the Center Harbor 31s, seven of which were built long before the era of 3D design and CNC cutting. White joked that with alterations and the quest for perfection, each one cost more to build than the one before. But he was intrigued when Alfie Sanford, who started cold-molding his Alerions in 1977, a very different technological age, reported cutting his construction time from 4,500 man-hours per boat to 1,200. "The molds and patterns can be reused," White said. "It's not something you're throwing away," and by reducing construction hours, the way Sanford did, "then the boats start to become economically a lot more attractive to the customers."
Based on ALERION III, N.G. Herreshoff's personal boat, it's a handsome prospect. —TJ