Ann Davison's "small ship" reborn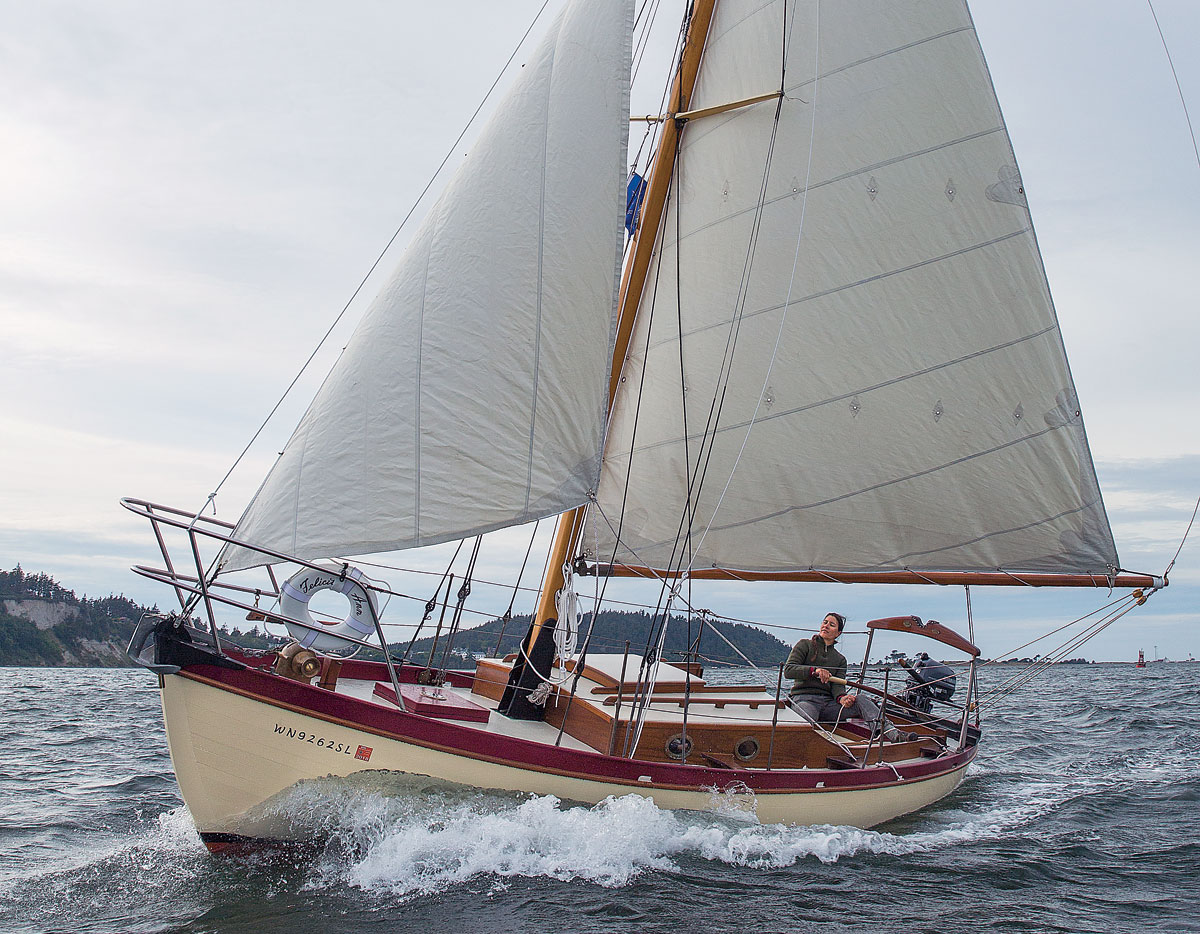 Ann Davison washed ashore, her ship and all her possessions smashed on the rocks. Her husband was dead and his body was lost at sea. Battered, bloodied, and freezing, she clawed out of the surf and up a cliff wall. Possessing only the sopping clothes clinging to her back, she was burdened with deep debt and the haunting prospect of "whispers and suspicions…. You wrecked the ship," she feared people would say. "You dared not face your responsibilities…. Ran…. Suicide…."
"All right," she recalled shouting to the sky in that moment, "you shall have your blood money. I'm going back. Going back. Do you hear?"
Three years later, the defiant Davison became the first woman to sail singlehandedly across the Atlantic. She had courageously reinvented her life, and her voyage in the 23′ FELICITY ANN placed her steadfastly among the era's singlehanded sailing pioneers.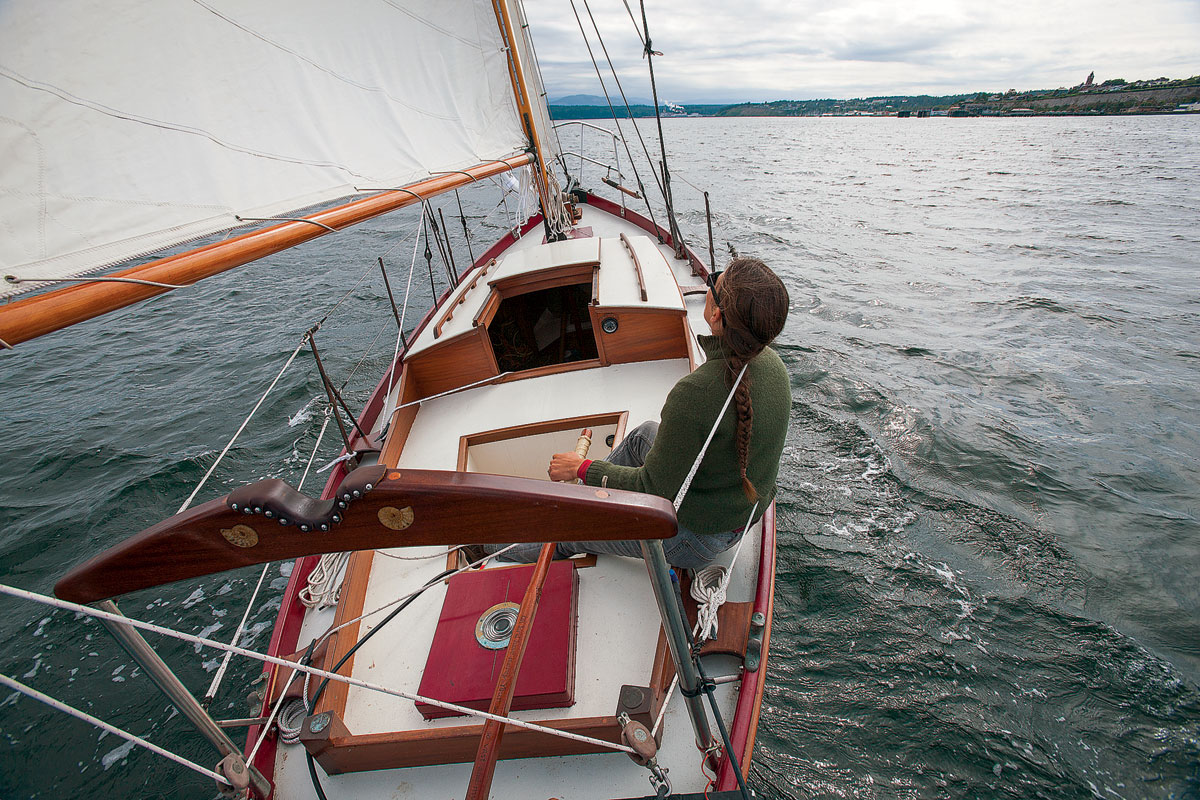 Margaret Ann Longstaffe was born in 1914 in Carshalton, Surrey, England. She preferred to go by her middle name, and early on began crafting a life on her own terms. By age 15 she had twice voyaged to Philadelphia in the SS LONDON MARINER—though she was not yet a mariner herself. She lived and breathed horses throughout childhood, and at 21 she and a friend took a birthday trip on a liner to Buenos Aires to visit a family friend's ranch. While there, her host took her flying in his World War I–vintage Curtiss trainer, and she was hooked. She returned to England and became a pilot within the year, and subsequently eked out a living as one of only a dozen female professional pilots in the U.K. In 1937, she answered an advertisement for a pilot job at Hooton Airfield in Cheshire, which was then owned by Frank Davison, the man she would marry two years later.
Her subsequent career as a thrill-seeking aviator, jockeying mail around the U.K. in her white flying suit, was uprooted by the outbreak of World War II. Civilian aircraft were grounded, and the Davison house and airfield were requisitioned by the RAF. Shortly thereafter, a hangar fire destroyed all their aircraft. Life as Ann knew it was over.
The Davisons subsequently reinvented themselves by taking up farming, using their savings to purchase an island farm in Scotland's Loch Lomond. During the war years, they did their best to raise goats, geese, and rabbits, and with gasoline in short supply, they employed sailing boats to move their livestock and goat's milk to market. 
At first they chartered SHIREEN, a four-and-a-half-ton sloop that had to break ice during their first harsh Scottish winter. Then for £5 they purchased PHOENIX, a 30' double-ended lifeboat hull they rigged for sailing that could carry 30 bales of hay. (A haystack is hard to trim with the wind on the beam, they found!) Frank was the more experienced sailor of the two; he was convinced Ann would be a natural at boat handling "because of some prowess in handling horses and aircraft," but Ann lamented that she never did learn to sail in these workboats.
Yet sailing was key to their next adventure. As the war came to an end, wanderlust took hold, and they sold the island with a dream to buy a boat in which to escape postwar Europe.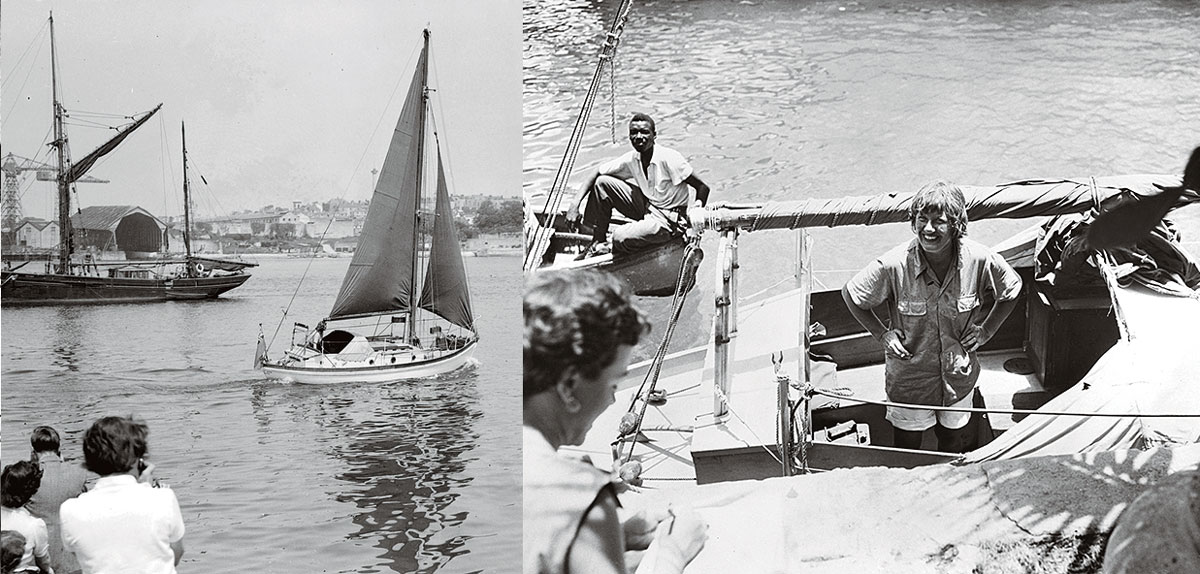 After an exhaustive search, they found RELIANCE, a 1903, 70′ ketch moored at Fleetwood on the Lancashire coast. She was shorn of her rig, and seriously neglected and worn. They paid £1,450 for the bare hull in 1947 ($73,000 in today's dollars), then labored for two years to make her sea­worthy, spending £6,000, some of it borrowed. When their loans came due, they owed £2,000, with one tentative offer to buy RELIANCE for a mere £1,500. And still she was not ready to go to sea.
They needed cash, and considered making RELIANCE a pilot boat, or maybe chartering or selling her, or perhaps they'd enlist her as a South Seas trader. They pondered a number of schemes to keep their dream alive. But, coupled with the loss of the airfield and their farm life, RELIANCE had forced them into desperation. A "writ of repossession" was about to be nailed to the mast, and so, like outlaws ahead of the magistrate, they set sail for Cuba.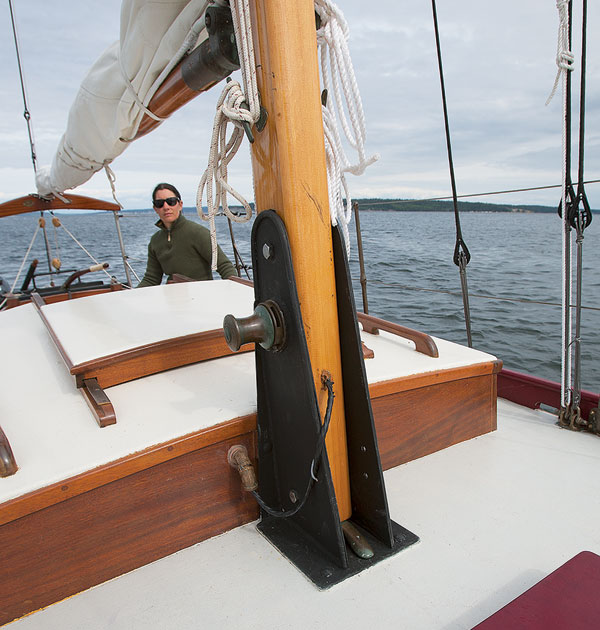 It was May 17, 1949 when they fled, and at first Ann wrote that, "it was splendid…a diamond's fire against black velvet…dark as pitch, with a roaring wind and the gleam of white-topped waves…and RELIANCE flying like Pegasus through the night."
Then, just two days out, a severe Atlantic storm swept them into the teeth of a gale. After several violent days in the Irish Sea, the weary, sleep-deprived, inexperienced sailors misread their position. They tentatively approached the English Channel, desperately trying to avoid ports or assistance for fear of their creditors catching them. Their sails were blown out, their engine faltered, and their steering gear froze. Nineteen days later, the current smashed them onto the rocks along the Dorset coast, near Portland Bill Light.
They donned Mae West life jackets and scrambled into their life raft, a tiny lozenge-shaped ring of cork wrapped in canvas. The current then ripped them out to sea. After a night of icy temperatures and mountainous seas, repeated dousings, and desperate climbs back onto the raft, Frank died of hypothermia. The next big wave washed his body away. The current reversed and the raft came ashore a few miles down the beach from the wreck of RELIANCE, depositing Ann on a deserted beach, where she clawed her way up that cliff.
After what Ann recalled as a "long, sad summer," she published a book called Last Voyage, about the RELIANCE disaster. The proceeds of that project paid the majority of her debts and covered her purchase of FELICITY ANN in 1952. Encouraged by that success, she wrote her second book, Home Was an Island, which described her life in Scotland. Ann's continued success as an author filled her with enough pluck and determination to sell her publisher on a speculative adventure: she would cross the Atlantic, alone, and tell the tale.
FELICITY ANN is a 23′ Mashford 22.1 double-ender designed by Sid Mashford. She was hull No. 12 in a line of stock 4-ton sloops built by the Mashford Brothers at Cremyll Shipyard in Torpoint, Cornwall. Her keel was laid in 1939 and her hull planked up, but she sat idle through World War II. Her first owner, Pat Hall, relaunched her as FELICITY ANN in 1949, intending to explore Norwegian waters. He customized the boat for sailing in Scandinavia, converting her hollow silver-spruce mast from keel-stepped to deck-stepped so it could be lowered for canal sailing in Europe. He shifted the house aft accordingly. But he sold her to Ann before he ever carried out his voyage.
"Choosing a boat is like picking a husband, a wife, or a horse," Ann wrote. "You have to fall in love to get the best out of the partnership." Her new boat was smaller than she had originally envisioned, but she was modern and light, and had a diesel auxiliary engine. Her carvel-planked hull had a cast-iron ballast keel. She was, in short, a well-built pocket cruiser. Ann poured herself into preparing her for sea.
She modified the yacht for ocean sailing, doubling the deckbeams in way of the mast tabernacle and strengthening them with an angle iron and steel knees. The sail plan was reduced by shortening the mast 6′ and the boom 8″. The cockpit was made self-bailing and watertight. The coamings were raised and a spray hood fitted, to fend off boarding seas. A 25-gallon water tank was added under the cockpit.
The work was all done at the yard where FELICITY ANN was built, and Ann learned about the boat in the process. She spent the bulk of her time trying to raise enough money and learning how to fit out the boat, though it might have served her better to practice some offshore cruising. But she was afraid of screwing up before watchful eyes or disappointing the tradesmen who had helped her. She also did not want to jeopardize her story contracts with the Sunday Chronicle and Life magazine, which were funding her expedition. This fear prompted a twisted logic, but Ann believed experience would be her best, if slow, teacher. She figured she could work out sailing and navigation issues underway and "stockpile courage" while doing so.
There were times before departure that Ann might have pulled the plug if the momentum hadn't overwhelmed her. She had publishers and a world of supporters encouraging her and no one discouraging her. Yet, still terrified of the sea after what she'd lived through, she struggled to feel brave as her departure from Plymouth, England, loomed.
On Sunday, May 18, 1952, she found herself alone at sea for the first time, ever. Following the chaos of departure she was instantly smothered in the quiet world of the solo sailor. She felt crushed with loneliness on her first night. For six days she existed in an abyss of fear, sailing one way, then another. "I expected to be lonely. I expected to be frightened. What I did not expect was the positive panic of emotion that swamped me at the outset.… I was not only afraid of the wind and sea, I was afraid of the ship."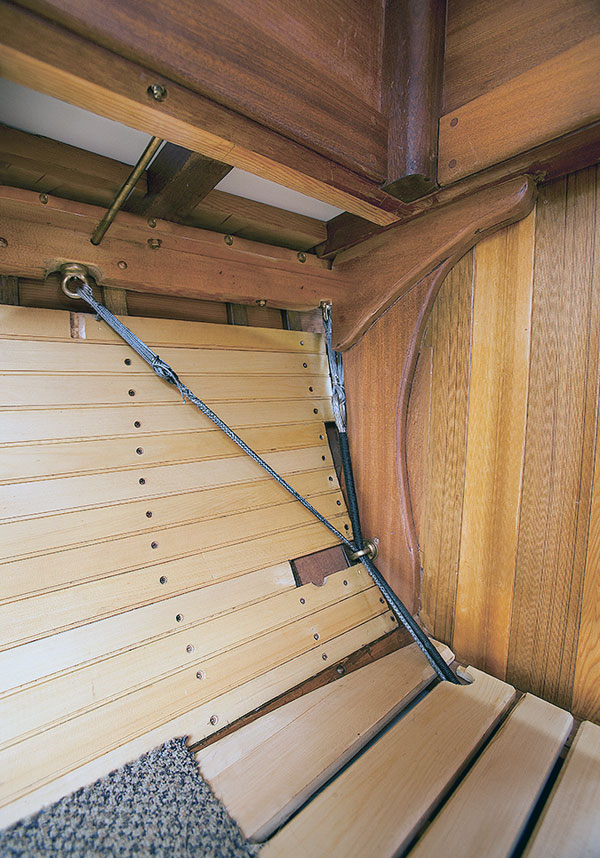 During the first six days, she longingly watched other vessels as they came within sight, and even tagged along with a freighter bound for Iceland, just for the sense of company. On her sixth day, she connected with a French fishing boat to check her position and to get help with her bilge pumps. She was invited aboard and wound up at their homeport of Douarnenez. But, because FELICITY ANN was towed there, the "newspapers made this into a dramatic rescue from a watery grave," Ann wrote.
On her 19-day, 550-mile leg from Vigo, Spain, to Gibraltar, Ann weathered a full gale, spending four days under bare poles. Later, unprepared for dense fog, she found herself without horn or bell and resorted to clanking a frying pan to alert nearby ships. Her passages were often so unexpectedly long that she was sometimes thought lost at sea.
On November 20, Ann departed the Canary Island port of Las Palmas, bound for the Caribbean. The passage to Dominica took 65 days, with almost three weeks becalmed, and one 60-knot squall. She never went more than 20 minutes without poking her head topside to look for ships bearing down on her.
When she finally hit the tradewinds, FELICITY ANN's daily runs dramatically improved from her usual average of 50 miles per day. "The tradewinds returned considerably refreshed from their long Christmas holidays. Our daily runs shot up over 90 [miles]. This was dizzy progress. Intoxicating. The little crosses marking our positions seemed to bound across the track chart," Ann said in an article for Life.
Later calms left her emotionally exhausted, while storms left her physically spent, but she wrote of how the good runs provided a welcome payoff for the hard work. She had intended to land at Falmouth, Antigua, but was pushed south to Barbados, the first land she sighted.
"I longed for land more than I can ever say, and for the peace and security of the still waters of a harbor," she wrote. And the next morning at dawn, ahead on the skyline, was the dim, gray shape of an island. "For a moment I knew all that Columbus must have felt—a moment of splendor and triumph."
She battled upwind for five more days, and eventually dropped the hook in two fathoms just off the Dominica jetty. There she waited, savoring the island and its rustling palms. "I didn't particularly want to see anyone or talk to anyone.… I sat in the cockpit watching the tropical night descend and the brilliant stars come out one by one against a velvet black cloth, and listened to the jungle orchestra strike up in the wooded hills in the back of a village." That was January 23, 1953.
It was only when savoring her accomplishment, having been humbled by the oceans and her solitary moments at sea, that she reflected upon deeper reasons for her voyage, giving it greater and deeper meaning than simply a courageous revenge against the sea.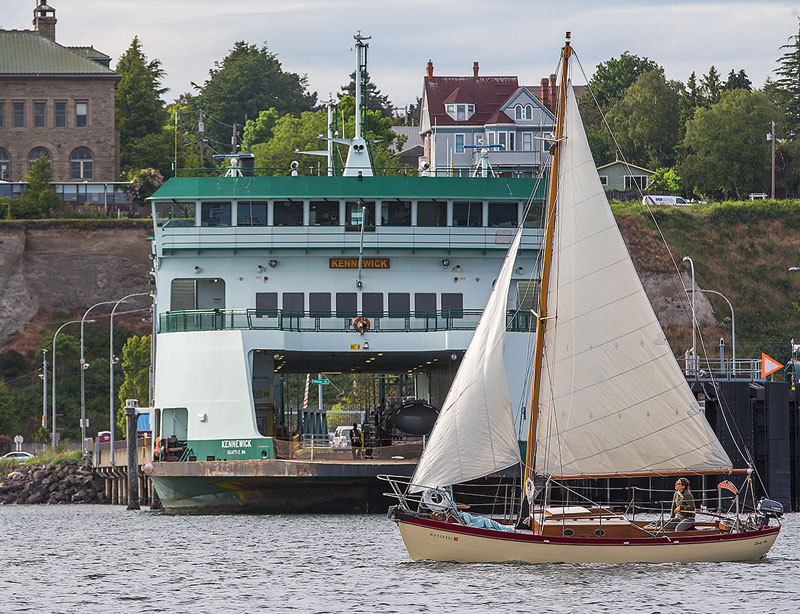 In the ensuing weeks and months, she sailed to the Bahamas and then up the U.S. East Coast, where she was invited to the 1954 New York Boat Show as a celebrity explorer and heroine.
Ann published her epic Atlantic crossing memoir, My Ship Is So Small, and kept sailing. She lived in Florida for the rest of her life, remarried twice, and wrote two more books: In the Wake of the GEMINI, recounting an outboard-motor-powered trip from Miami to the Hudson, Great Lakes, and down the Mississippi River; and Florida Junket, describing a sail around the Florida coast. She died in 1992.
Ann and FELICITY ANN parted company five years after her epic voyage, when she sold the boat to Donald Shannon, who trucked her to Newport Beach, California, for a refit. But the little yacht sat idle until 1967 when she began passing through a succession of owners. The mid-1970s found her in Moose Pass, near Seward, Alaska, where she sat under cover for many more years until being purchased in 1996 by John Hutchins, who brought her to Haines, Alaska.
"I bought the boat thinking all I needed to do was step the mast and it was ready to sail," he said in a recent phone interview. But that was not the case, and so he hired a graduate of the Northwest School of Wooden Boatbuilding (NWSWB) to help with a restoration. But he soon realized the boat had been neglected too long. It had been fiberglass-sheathed in areas and there were spots of rot elsewhere. The 2,000-lb iron ballast was practically falling off. After sinking more than $35,000 into the boat and never sailing her, Hutchins donated her to the NWSWB.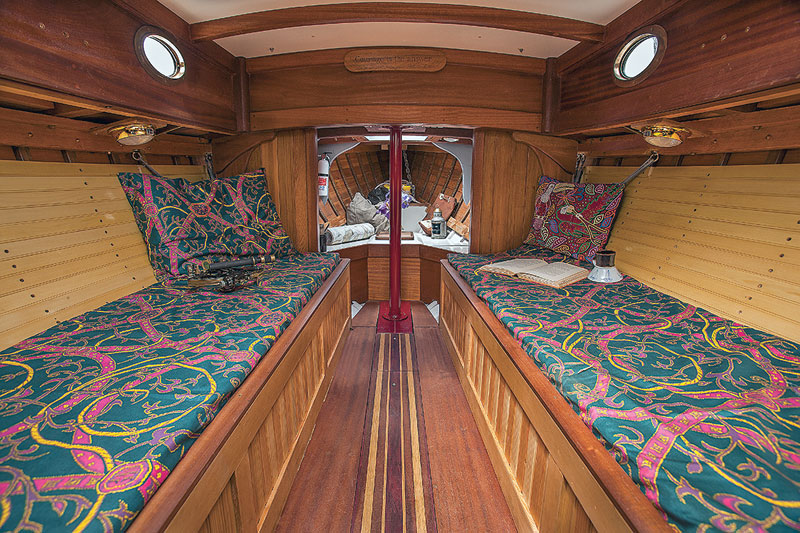 At the school, FELICITY ANN languished, under wraps, for years until Penelope Partridge learned (from her friend Wayne Chimenti, director of the Community Boat Project) the inspiring backstory of FELICITY ANN.
"My early years were not easy," Partridge said, "so I related to Davison being a survivor, coming back from her trauma, which made her a warrior and prompted her [to develop] skills to handle adversity."
Thus inspired, Partridge traveled the Northwest maritime circuit for years, speaking about Ann and her depth of courage, and connected it to motivating women. She raised enough money to build a shelter and begin restoration. Over the next few years, she overcame politics and roadblocks to move the project forward.
With some money and support, Partridge launched a collaborative project headed by Chimenti and the Community Boat Project along with the NWSWB. They would completely restore the boat to create an on-the-water training platform for beginning sailors, especially women. Partridge's grassroots effort raised some of the money, with most coming from Port Townsend's Beth Lorber of the Lorber Foundation.
"The FELICITY ANN project highlights the power of partnerships," said Betsy Davis, the NWSWB's director. "The Boat School and the Community Boat Project have different missions and different skill sets, but common values."
NWSWB rebuilt the hull and deck. The Community Boat Project completed the rig, hardware, wiring, and interior. The structural work was extensive: it included a new purpleheart backbone assembly, all new frames, a sapele sheerstrake, and a blend of larch and western red cedar planking donated by local shipwrights. Capt. Nahja Chimenti, Wayne Chimenti's daughter and owner of Force 10 Sails, sewed new sails. Alejandra Arreaza inscribed the wooden tiller with the Breton Fishermen's Prayer, which inspired the title of Ann's Atlantic-crossing memoir: "Oh Lord, have mercy. Thy sea is so vast and my ship is so small."
"She is the perfect boat for us," Wayne said, "small enough for novices to feel comfortable in, yet mighty enough to cross oceans." FELICITY ANN was relaunched in May 2018.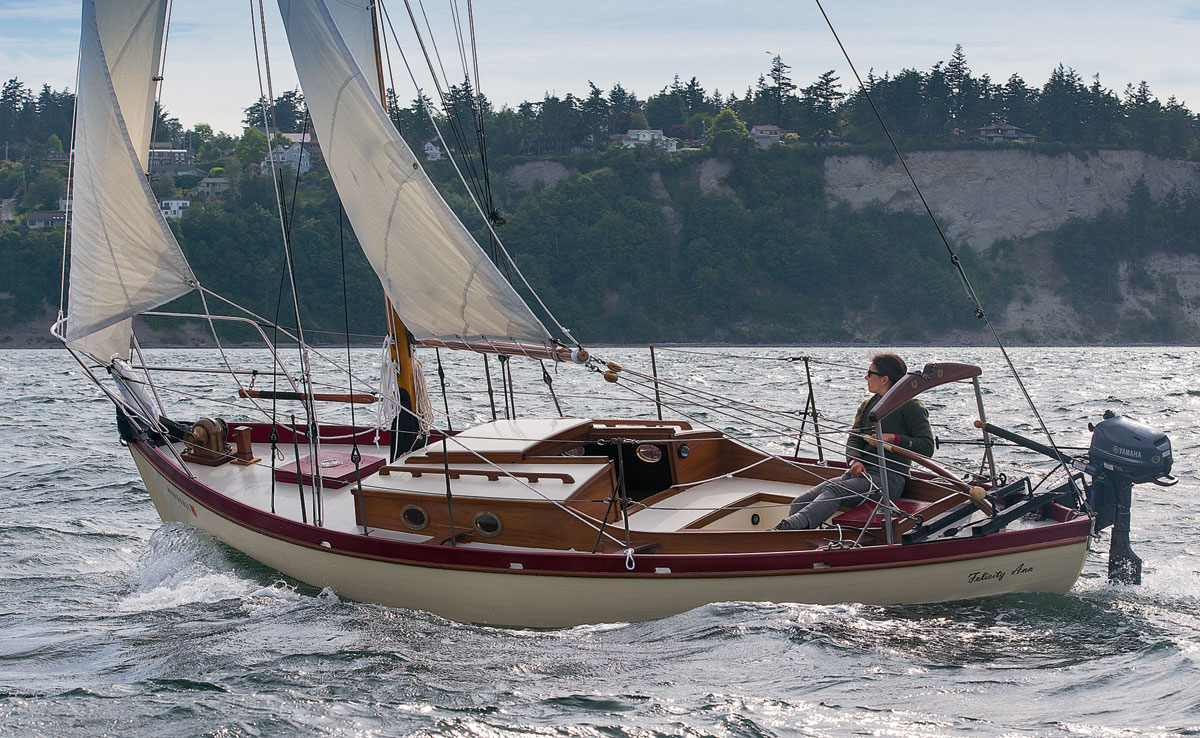 "FELICITY ANN is exemplary in her capacity to inspire and a valuable historical boat with a legacy," Davis said. "So students working on her want to do their best work, knowing it will be part of something enduring." This little boat, she said, has "captured the imagination of many young women in our region."
Nahja skippered a "Victory Lap" debut voyage around the Salish Sea with an all-female crew in summer 2018. Over three weeks in eight ports of call, Shelly Randall, publicist for the FELICITY ANN project, gave shoreside presentations detailing FELICITY ANN's "floating story." After that, according to the website, the aim is for FELICITY ANN "to begin a new life as a sailing platform to inspire and empower us all, but especially women and girls."
Wayne is glowing about the newly rebuilt FELICITY ANN's performance. "We've taken her out in all conditions and she sails well-balanced, and slices to windward. Before I sailed her I could not imagine why [Davison] picked that boat for the crossing, and figured it was mostly by chance. But the more I sail her, the clearer it is she made a great choice. It's little, but forgiving. It really took care of her."

Neil Rabinowitz is a frequent contributor to WoodenBoat and has been photographing wooden boats throughout his prolific career. He travels extensively to photograph new builds, regattas, charters, and superyachts, but above all he enjoys the craft and grace of wooden boats. He works from his studio on Bainbridge Island, Washington; see www.neilrabinowitz.com.