A day in the life of Santa Barbara's vintage trawlers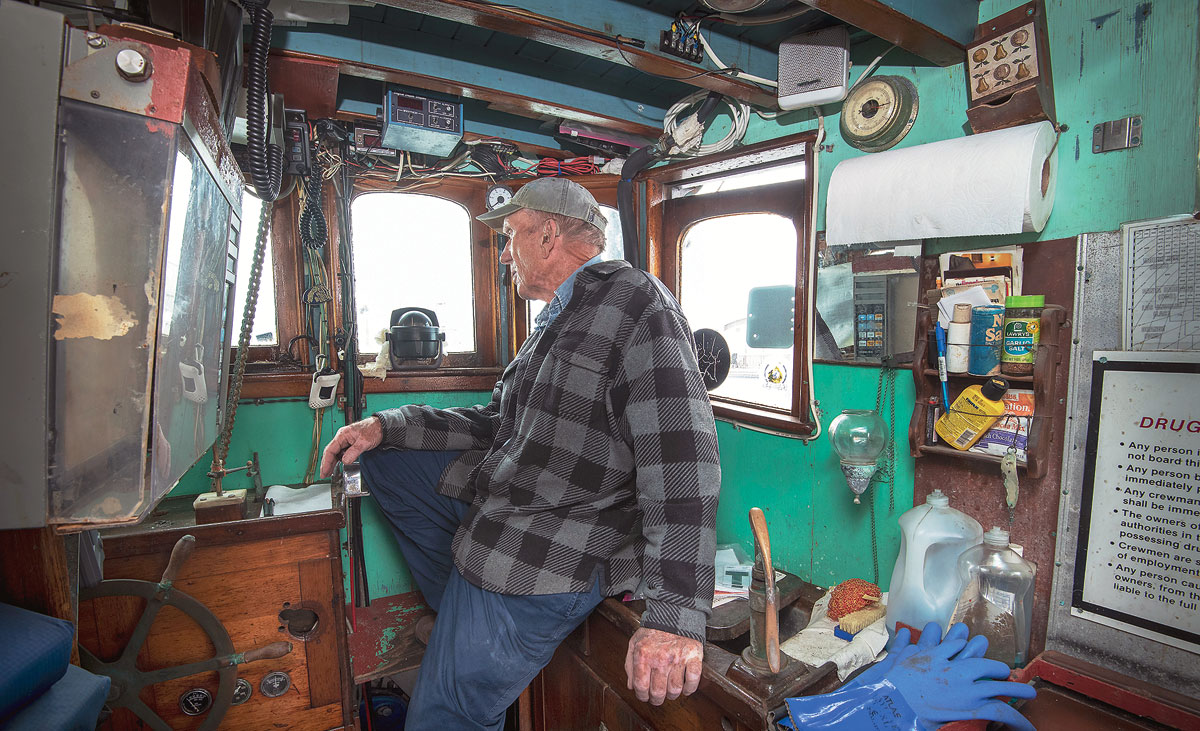 March 14, 2018, 0530 hours,
Santa Barbara, California—at the dock
The lights on Navy Pier cast a blue glow through the fog as I search the docks. I can see the shadows of the fishing fleet. Lying to the east of the pier, in front of the Santa Barbara Maritime Museum, there's a pert little green-and-white, wooden Monterey clipper named THERESA ANN. She's alongside the dock, biding her time until the salmon trolling season starts in May. To the west, a score of wooden trawlers press close together, sterns to the dock. The silhouettes of their outriggers, masts, ratlines, and crow's nests rise into the dark overhead like a mirage from 50 years ago.
Unlike a lot of harbors in Southern California, where commercial fishing boats (if they exist at all) lie hidden in a corner behind fiberglass motoryachts and racing sailboats, the fishing fleet in Santa Barbara is front and center. Against all odds, one of California's poshest tourist towns takes pride in being home to more than 70 active fishing vessels. Quite a number of them are wooden classics.
Fifty years ago, husky, handsome trawlers such as these were the bread and butter of California's fishing fleet. This morning, the names painted on the low transoms, beneath the net reels, evoke the spirits of earlier generations of matriarchs—CECILIA, GLORIA MARIE, MARY K, KAY D, BELLA MARIE. But at the far end of the line, there's a trawler that bucks the trend. She's called PIEFACE.
She's the one. She's Mike McCorkle's halibut trawler. She's the boat I'm looking for in the fog. Mike's just short of 80 years old, and he's looking at a hip replacement in two weeks. I'm pushing 70, with joint problems of my own. No question, both of us could use a little magic at this point in our lives. Maybe a boat with the improbable name of PIEFACE has some kind of special mojo.
When I climb aboard, I can see a dim light in the wheelhouse and the silhouette of a man. He's so tall he has to hunch over to keep from hitting his head on the deckbeams. Right now, he's firing up the diesel. He must be as eager to get started as I am, eager to get to sea and let this vessel work her magic.
Mike's wearing dark workpants and an old gray sweater that sags on his rangy shoulders. Suddenly, I feel like an imposter, overdressed in my bulky bib oilies and sea boots. But the man reaching out to shake my hand offers me a gentle, cock-eyed smile that doesn't judge.
"Today we're going to catch something, maybe…I hope," he says. Then he boosts himself up to the flying bridge.
In 1987, Mike won the national Highliner of the Year Award for his commercial fishing skills. But the way he struggles to mount the flying bridge with his gamey hip this morning and the way he says "I hope" make me wonder if Mike is feeling a little down on his luck these days.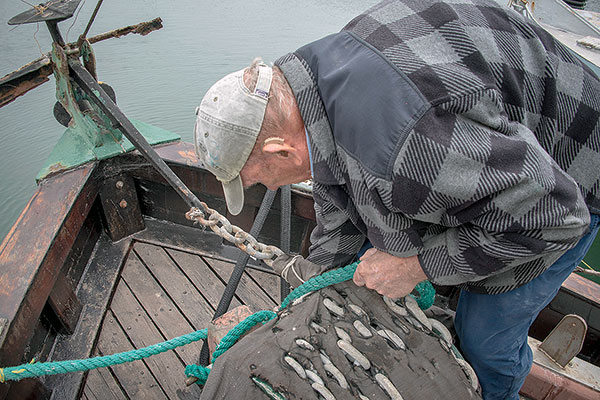 Mike has been fishing alone for years. As a younger man, he fished with mentors and shipmates, and then he fished with his son, Dana. But no more. Day trawling in Santa Barbara Channel can't support a two-man crew and a boat. You'll go broke that way, he says. He's seen friends and colleagues give up their boats to government buy-back programs just to get out of debt. So now it's just Mike, PIEFACE, and hope.
I'm not sure what I can add to this equation. But once upon a time I was a fisherman. This morning I'm a free hand, and I've been on the beach too long.
0630 hours, Santa Barbara Channel—
steaming, somewhere between Point Conception and Point Dume
I'm not liking the sound of that name, Point Dume. But PIEFACE is chugging toward it, into the gloom, making 5 knots. With her outriggers lowered, she barely rolls at all in the light westerly swell. It's one of those greasy, black mornings when the sea and sky seem to melt together like tar, and you know something is coming.
In the wheelhouse, Mike's perched on two boat cushions where the galley counter meets the throttle, engine gauges, and helm. The glow from two chartplotters and a fishfinder highlight the ridges and valleys in a face that has squinted into the false dawn 20,000 times and tried to think like a fish, to imagine where the halibut will be.
PIEFACE's wheelhouse looks—no, feels— familiar to me, like the fish boats of my youth. She's reminiscent of the longliner that took me on my first offshore fishing trip from the elbow of Cape Cod to the canyons on the edge of the continental shelf. She's like the dragger I fished in south of Martha's Vineyard. Both of those boats are long gone, but here's the same crusty collection of net needles and twine, the same brittle rolls of charts stashed in the overhead between the beams, the same tier of three berths crammed with toolboxes, provisions, spare gear, fishing report logs, and a rifle. There's a stash of sea boots and oilskins in the corner, too. Most of all, there's that faint, sweet scent of fish that can stalk you in dreams.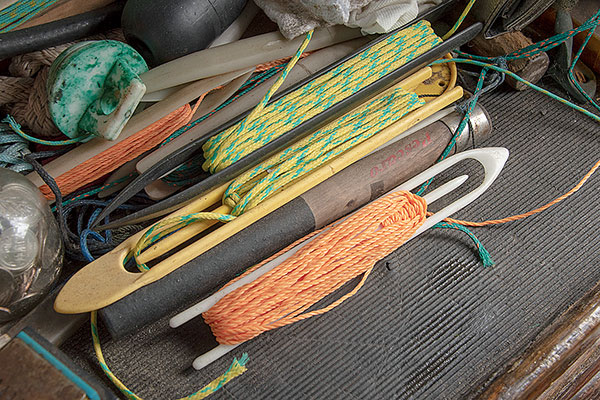 Mike switches on the VHF to Weather 3 for the forecast. Sure enough, the National Weather Service is posting small-craft warnings for this afternoon, both offshore and in the place Mike simply calls "the Channel."
Santa Barbara Channel is a 70-mile stretch of water pressed between the coastal mountains of the Santa Ynez range and the islands of Anacapa, Santa Cruz, Santa Rosa, and San Nicolas about 20 miles offshore. The Channel and the waters west of the islands are a sea road for all manner of migratory sea creatures from gray whales to swordfish, albacore, and salmon. The Channel is also home to an abundance of shellfish (including lobsters, crabs, mussels, and abalone), finfish (such as halibut, sea bass, yellow tail, black cod, and shark), and hundreds of thousands of sea lions, seals, and porpoises.
The Channel is also rich in petroleum and dotted with oil platforms. Environmentalists cite a 1969 oil spill from an offshore well here as the event that galvanized environmental activism in the United States. This morning, the lighted, spidery oil rigs loom out of the thinning fog like alien spacecraft.
For 12,000 years before colonization, the Channel was a simpler place. This was the home of the Chumash, Native Americans who thrived on the shores of the Channel Islands and Southern California. They were the Channel's first fishermen. Tomols, their seagoing canoes, are widely considered to be exceptional watercraft.
Many place names in the region such as Malibu, Point Mugu, and Port Hueneme are Chumash. Once a population of about 10,000, the Chumash suffered high mortality from diseases such as influenza and smallpox spread by Spanish explorers and missionaries in California during the 18th and 19th centuries.
0700 hours, Santa Barbara Channel—
dawn, still steaming
As the sky brightens, I see an oily sheen on the sea. This is not from an offshore oil leak but from natural seepage that occurs in the Channel. It makes tar balls that the Chumash gather to make a sticky substance they call yop. For millennia, they have used yop to seal the hulls of their tomols. They construct their seagoing canoes from redwood planks bound together with animal sinew before basting the hull with yop.
Mike says that since 1976 the Chumash Nation has built several modern tomols. In 2001, Chumash mariners paddled a tomol from the mainland to the Channel Island they call Limuw (Santa Cruz) to revive the regular Chumash voyaging between the Channel Islands and coastal California. Channel crossings are now a regular event for the Chumash in late summer.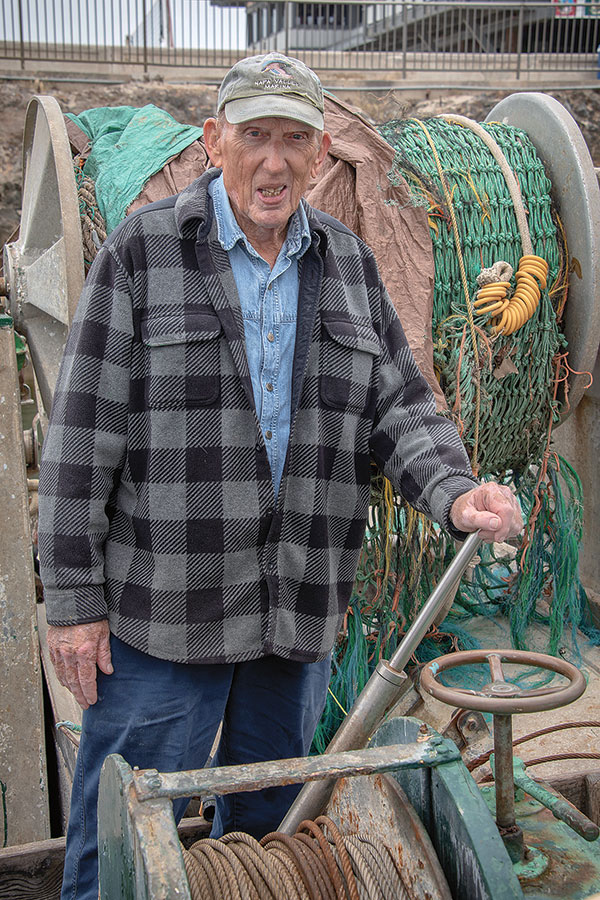 Mike shakes his head as if to say he's seen how ugly the sea can get out here, and he's damned glad he's in PIEFACE and not a tomol. I have to agree. This trawler seems like what fishermen in New England call "finest-kind." She's a stout little fishing machine. PIEFACE is typical of the boats built up and down the Pacific Coast of the United States during the first six decades of the 20th century to carry fishermen to sea and bring home the catch where gales and 20′ swells can come fast and furiously.
She has a high, bluff bow to shed breaking seas. There's a rugged wheelhouse mounted far forward to make room for a fishhold and winch back aft. Atop the wheelhouse is a flying bridge for better visibility. Aft of the wheelhouse is a tall mast with ratlines on the shrouds for access to the crow's nest. Before the days of electronic fishfinders, a good lookout in the crow's nest was essential to any successful fishing trip.
Built of 1½″ Douglas-fir over white oak by Dittman and Donaldson of Costa Mesa, California, in 1954, PIEFACE measures 35′ LOA, with an 11′6″ beam. She has a 5′ draft and displaces 7 gross tons. Her builders gave her steam-bent frames amidships and sawn frames in the bow and stern. A Detroit Diesel 3-71 powers her, through a heavy Allison 3:1 reduction gear. At 5 knots, she burns about a half gallon of fuel per hour. Mike added fuel tankage that gave her a total of 760 gallons to sustain her when he took her on 10-day offshore trips to harpoon swordfish.
As for the name, PIEFACE? "She's named after the first owner's uncle. I'm not one of those guys who changes a boat's name," he says in a way that makes it clear he thinks that boats, at least wooden ones, have spirits. Don't mess.
Mike says these boats can last you just about forever if you take care of them. PIEFACE is strong, cheap to run, and easy to repair if you are handy. This wooden trawler has outlasted a lot of the steel fishing boats in the fleet.
In addition to PIEFACE, Mike owns the little Monterey clipper I spied at the dock this morning. He bought her about 20 years ago for salmon trolling. Monterey clipper types were disappearing fast, but Mike couldn't let a pretty little thing like THERESA ANN get broken up. "She's sound, Port Orford cedar on white oak, and good in a seaway."
"I don't know, but I think these are lucky boats," he says. "They've both got what you call 'Portuguese eyes.'" The best fishermen back in his early days of California fishing used to paint eyes on their boats. "Those were the lucky boats. So I put Portuguese eyes on my boats. Not that I'm superstitious like some of those old-timers, but…."
A weird vibration in the boat stops Mike mid-sentence. He says we've caught something on the wheel. Maybe kelp, a ghost net, or a trap line. If we can't shake it, we're going to have to turn for home.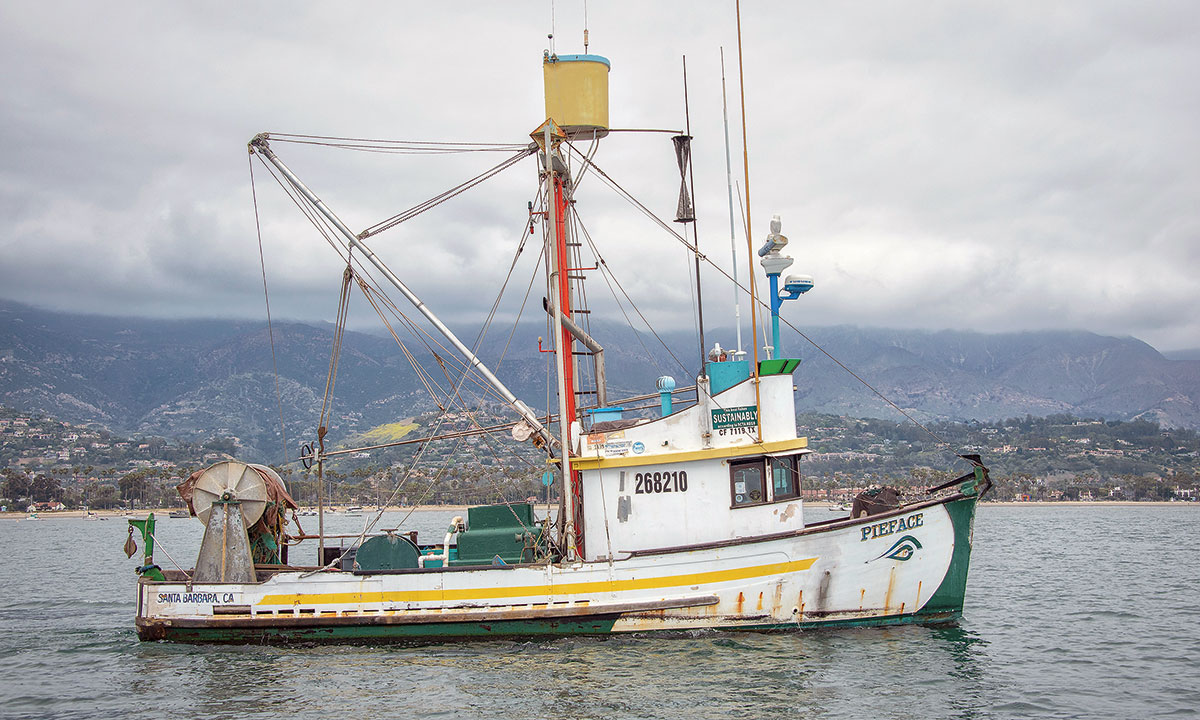 0730 hours, Santa Barbara Channel—
setting out
PIEFACE comes through for us.
When Mike backs her down, she spits out a long, rubbery ribbon of kelp, and soon we're at the spot where Mike hopes to find halibut and sea cucumbers. We've just slowed the boat to 2 knots and set out our Paranzella net. Usually this net is used by team trawlers pulling the net between two boats fishing for flounder and sole, but Mike has adapted his so he can deploy it solo from PIEFACE. He says it works great for halibut and "cukes"…if they're around.
Like all so-called "otter trawls," this one has two big "doors" attached to the forward corners of the net like wings to hold it open as we tow it over the bottom. There are several steps involved in attaching and then launching the 240-lb aluminum doors over the side. Mike and I each work with a door at opposite sides of the transom. But I haven't been dragging for years, and I'm awkward at the task. Mike's patient and talks me through the connection and disconnection of various cable hooks. Still, I feel like a greenhorn.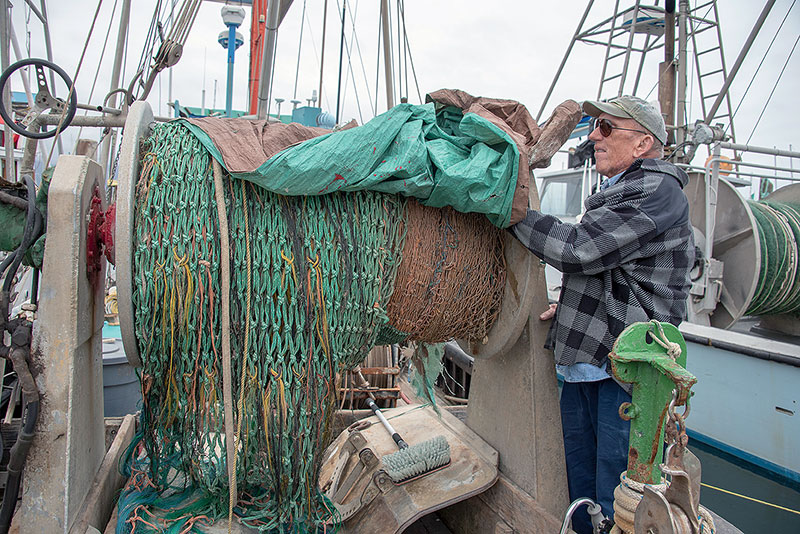 Once we start the long, slow tow, Mike retires to his perch on the life cushions in the wheelhouse and grazes on a muffin. He adjusts our course with occasional nudges to the spokes on the helm. Meanwhile, he talks on the VHF to his friend Morgan Castagnola on a pretty trawler called CECILIA that I noticed this morning at the dock. She's a Castagnola family heirloom built by a man named Sugar Lindwall. Turns out he's as highly regarded a boatbuilder in Santa Barbara as Nat Herreshoff is in Bristol, Rhode Island.
Mike and Morgan have no doubt passed many hours talking about the genius of Sugar Lindwall and the virtues of his trawlers, but this morning these fishermen have more urgent things on their minds: interlopers. Recently, the Channel has been invaded by a ragtag fleet of Johnny-come-latelies who have steamed 70 miles up the coast from San Pedro to catch shrimp, 24 hours a day, every day, for a week at a time. Not only are they taking tons of small shrimp before they're big enough to spawn, but the invaders are wrecking the bottom for everybody else, Mike says.
The thing trawlers dread the most is a "hang," tearing up or losing their net on rocks, debris, or wrecks. Nets cost thousands of dollars, and losing days of fishing to replace or repair them poses even more financial challenges. Mike says the local trawler fleet has been assiduous about cleaning up the bottom, and the crews are careful to drop any rock or junk that comes up in their nets in a few predetermined places that everyone knows to avoid.
And there's lots of junk out here. It makes Mike angry. People use the ocean as a dumping ground. One day he caught a total of three toilets. Not all debris, however, is deliberate: another time, he caught the cockpit of a World War II training plane. This morning, Morgan is complaining that there are trees all over the bottom from the forest fires and mudslides that devastated nearby Montecito and Summerland a few months ago. And don't get Mike started on the wrecked boats out here. During the Great Recession a few years ago, people were scuttling both workboats and pleasure craft out here for insurance money. More show up every month.
"I know where most of the wrecks are," Mike says. "Trouble is, these invaders don't know the Channel. They just run into stuff, scoop it up, and drop it wherever."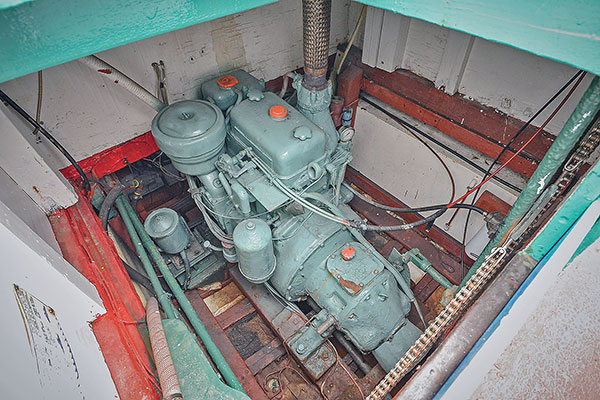 "I'd like to give those guys a big, fat hug," says one of Mike's friends over the VHF. It's clear the fisherman is picking his words carefully because he's broadcasting on a public channel. Sometimes a hug is more than a hug.
But as if to change the energy of the conversation, Morgan says he heard that a halibut fisherman they know scored more than 1,500 lbs of fish last week. Hope springs eternal.
0930 hours, Santa Barbara Channel—
hauling back
Mike is now in boots and oilies, too, as he breaks the net knot on the cod end and our first catch of the day spills out into the fish pen beneath the net reel. As luck would have it, the blue rubber gloves I bought for this trip match Mike's gloves so I don't feel quite so much like an imposter as we work together culling the catch. From the mix of small angel sharks, rays, lobsters, crabs, and some undersized flounder, which we release live, we cull very little to make a payday.
We catch no halibut and only about a 5-gallon pail of sea cukes. The only good news is that Mike can sell the cukes to the Asian food market for $5 per pound. Decades ago, he pioneered fishing for these echinoderms, which are considered delicacies in Asian circles. Over the years, trawling for sea cucumbers has supported Mike through more than one season when finfish were scarce.
The biggest thing we catch is a rock the size of a kitchen sink. It takes the two of us and a jury-rigged ramp to slide the rock overboard at one of Mike's underwater debris piles. Bent over and culling fish or down on our knees fighting with the damn rock is flat-out backbreaking work, but at one point Mike shoots me a little smile. Like "welcome to my world," or "welcome to the club." Like maybe we are no longer as old as we felt earlier this morning. Maybe PIEFACE is starting to cast her spell on us.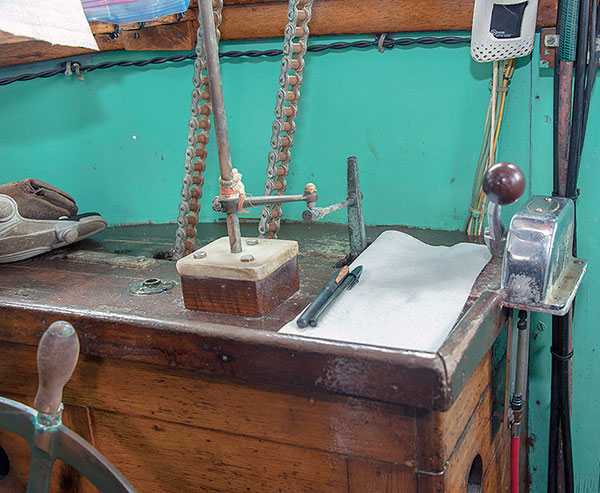 1045 hours, Santa Barbara Channel—
setting out again
The fog has lifted. We have a bright, silvery sky and sea. Even the mountains of the Santa Ynez Range in the distance shimmer with a silvery glow as we set out the net and doors for our second tow.
In the wheelhouse, we snack as PIEFACE trudges east with her net. We talk more casually now. Something has changed between us. Maybe the change has come from sharing dirty and exhausting work. Maybe it's the discovery in each other that we would rather be out here where the buses don't run, catching almost nothing of value, than to be almost anywhere else in the world.
A pair of porpoises have begun to follow us. This could be a good sign, a sign that we are getting into some fish. Mike says he loves it when the porpoises come around. He loves seeing the mother-and-calf pairs of gray whales migrating north up the Channel each spring from their calving grounds in Mexico. "We are getting a whole lot more humpbacks, too," he says. "One day last year I counted 44. But when I see them, I go the other way."
Mike tells me that not long ago a humpback breached and landed on a friend's boat, killing him. "Blunt force trauma," he adds. Next thing you know we are talking about lost men, lost boats, bad inlets. Death. Ugh.
To change the dark course of our con­versation, I ask Mike about a plastic badge clipped to an electrical wire above the helm. The words on the badge proclaim, "Junior Warden California Fish & Game."
He taps it with a finger. "That's my lucky charm," he says and gives a wry smile. I get it. This plastic badge that Fish & Game officers pass out to kids at environmental seminars sometimes buys Mike cred when officials or people he calls "enviros" pay a visit to PIEFACE. I can tell, though, that the badge is not totally a joke to Mike. It's important to him that people see that Santa Barbara's local fishermen are not out here to ravish the natural resources.
"If we all work together, we can protect the environment, the creatures…protect the fisheries, too," he says. It's with this hope that Mike and his fellow Santa Barbara fishers have learned to help control oil spills, aid in whale entanglements, collect "ghost" fishing gear. It's this hope that sent Mike to the state capitol in Sacramento just last week to meet with legislators, environmental management officials, and fisheries advocates. "We're moving things forward," he says. "I believe."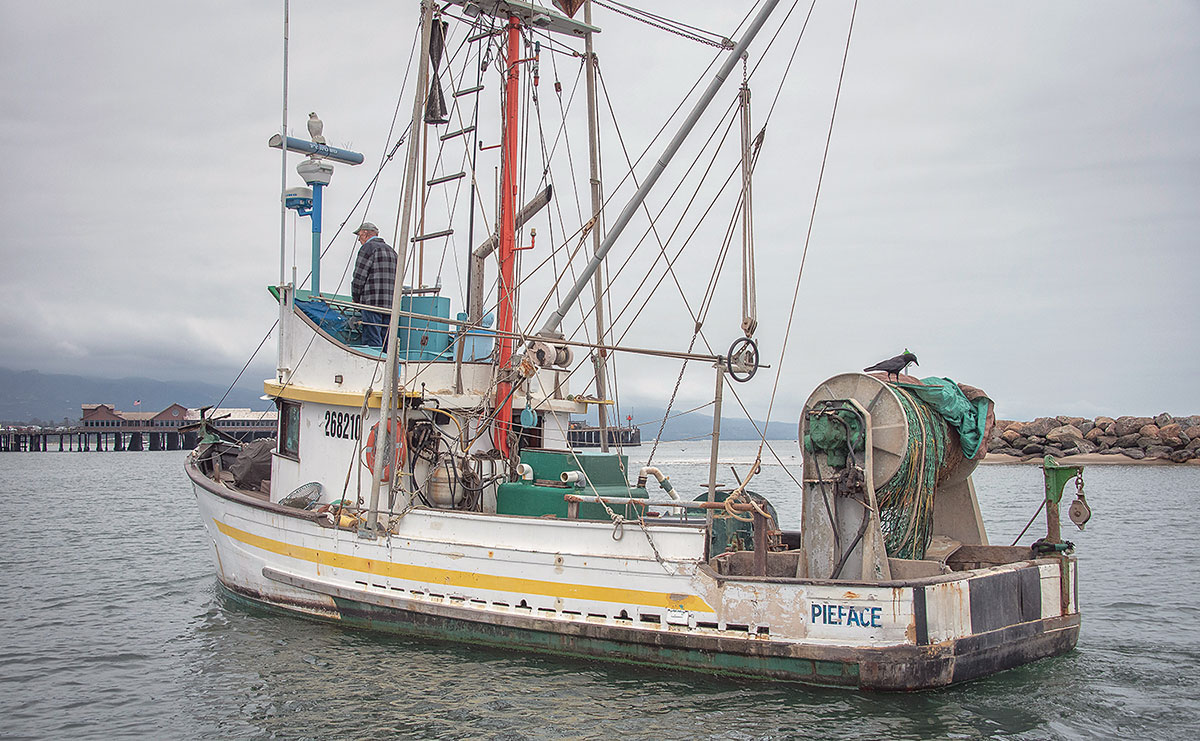 1200 hours, Santa Barbara
Channel—hauling back again
We make a slightly better haul this time. PIEFACE catches another bucket of cukes, three big halibut. And, this time, no damned rock.
"Fish. They come and they go." Mike shrugs as he surveys our small pile of keepers, then he gets down on one knee and starts cleaning the halibut and the cukes like he's a boy again.
I'm on one knee too, releasing the last of the by-catch, when the sea around us erupts. Several hundred porpoises are circling PIEFACE, breaching, surging in and out of the waves. Birds are wheeling overhead. They swoop and dive.
Mike pauses from his work, watches the porpoises. "I'll never quit," he says. "Everyday is something new. You know?"
I do.
No matter what happens for the rest of this outing, today is not a busted trip. Yes, PIEFACE is far from making anyone rich this morning. But who knows what the next set will bring? And Mike will be out here again after the coming gale blows through, after he recovers from his hip-replacement surgery. Maybe he'll have a slammer trip. Maybe he'll catch 1,500 lbs of halibut like the guy last week. It happens, right?
You can make $5,000 in a day out here. You can feel young again in a 50-year-old wooden trawler in the Santa Barbara Channel, here where the buses don't run—somewhere between Point Conception and Point Dume.

Randall Peffer is a regular contributor to WoodenBoat. His latest book is Never to Return: Surviving the Worst Combat Loss in the History of the U.S. Coast Guard.
Suggested Reading
Looking Astern, Ed Reis, Monterey Publications, 2011
From Hooks to Harpoons, Mitch Kronman, Santa Barbara Maritime Museum, 2013
The Ghost Boats of Grape Street Pier, Mike McCorkle, Fishermen's Free Press, 2014