July / August 2019
How—and Why—to Build a Boat
A father's gift to his daughter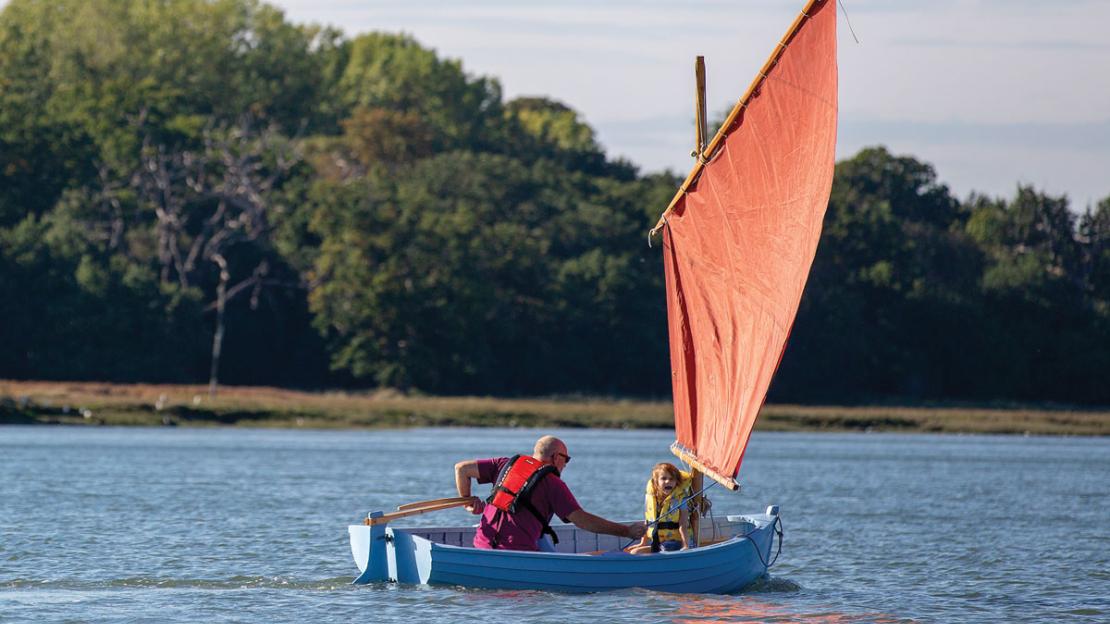 Author Jonathan Gornall built a traditional lapstrake boat for his young daughter, Phoebe, because he wanted "to bequeath you the sea, my darling girl, for you to love it, as I have loved it, for its beauty and its drama and the pulse-quickening promise it holds of what lies beyond the horizon…."
If your particular existential crisis urges you to climb a mountain, the chances are you'll head for Everest. Likewise, if it's long-distance solo rowing that floats your boat, you'll probably set course on the Atlantic. And, should you decide to defy a complete lack of skills, and aptitude, to build a traditional wooden boat, then lapstrake construction really is your only option.
Because here's the thing about lapstrake: there is no boatbuilding technique so respectably ancient, so historically resonant, so seductively beautiful, and so bloody difficult.
On paper it doesn't sound too bad. Lapstrake (also known as clinker or clenched lap depending where in the world you live) is the process of building up the hull of a boat with a series of strakes, a strake being composed of one or more planks joined together end to end. Each strake is slightly overlapped by the one above and fastened to it with copper nails driven through the overlap at regular intervals. On the inside of the overlap the ends of the nails are hammered down over a circular washer, or rove, which pulls the planks tightly together.
Ta-dah! Sounds pretty easy, right? But you and I—as of September 2016, at least—have absolutely no idea. None at all.
ACCESS TO EXPERIENCE
Subscribe Today
Subscribe by November 11th and your subscription will start with the January/February 2024 (No. 296) of WoodenBoat.
1 YEAR SUBSCRIPTION (6 ISSUES)
PRINT $39.95
DIGITAL $28.00
PRINT+DIGITAL $42.95
Subscribe
To read articles from previous issues, you can purchase the issue at The WoodenBoat Store link below.