July / August 2019
A Viking ship for Gloucester, Massachusetts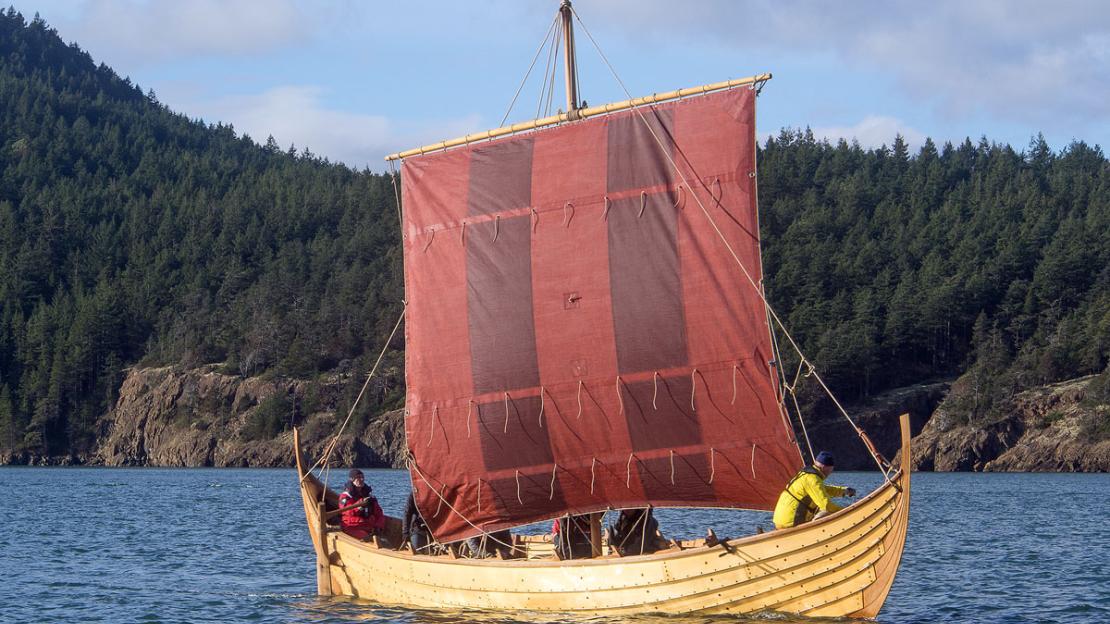 The Viking ship POLARIS is shown here soon after her 2017 launching in Washington State. Soon after this, she was trucked across the United States to Gloucester, Massachusetts, where she operates as a training vessel.
POLARIS shines honey gold, her Alaska yellow cedar planking reflecting in the sunlight. She is the newest, and definitely shiniest, of the very few Viking boats to ever arrive on New England shores within the last millennium. Built by F. Jay Smith and launched in Anacortes, Washington, in November 2017, then trucked to Essex, Massachusetts, for an East Coast launching in June 2018, the 36' 8" (11m) POLARIS is a slightly modified, United States Coast Guard–inspected version of SKULDELEV 6, one of six Viking-age ships excavated from the bottom of Roskilde Fjord, Denmark, in 1962. But rather than being used for fishing—as the original, similar sized, SKULDELEV 6 is believed to have been when it was built in about the year 1030—POLARIS is used primarily for team building, sail training, and providing summer visitors a unique experience on the water.
After more than 30 years as a corporate electronics engineer and business manager, Stuart Boyd, 59, was laid off and uncertain about his next career path. Originally from Northern Ireland, and a longtime resident of Hamilton, Massachusetts, he considered moving back to Europe. While looking for a job in Denmark he stumbled into the Viking Ship Museum in the town of Roskilde and went rowing and sailing in one of its boats. He "immediately felt the community aboard as well as the impact of small groups working together to row and sail these amazing ships."
He returned to the Boston area and half-jokingly told his career counselor that "he could always build a Viking ship." The career counselor took Boyd's idea seriously. She told him to write up two business plans—one about how to make startup collaborations more successful and another one about building a Viking boat and using it as a place for "people who worked in the same company, but hadn't worked with each other closely, to have the opportunity to do so in the boat."
ACCESS TO EXPERIENCE
Subscribe Today
Subscribe by November 11th and your subscription will start with the January/February 2024 (No. 296) of WoodenBoat.
1 YEAR SUBSCRIPTION (6 ISSUES)
PRINT $39.95
DIGITAL $28.00
PRINT+DIGITAL $42.95
Subscribe
To read articles from previous issues, you can purchase the issue at The WoodenBoat Store link below.