March / April 2020
Restoring a legendary Irish ketch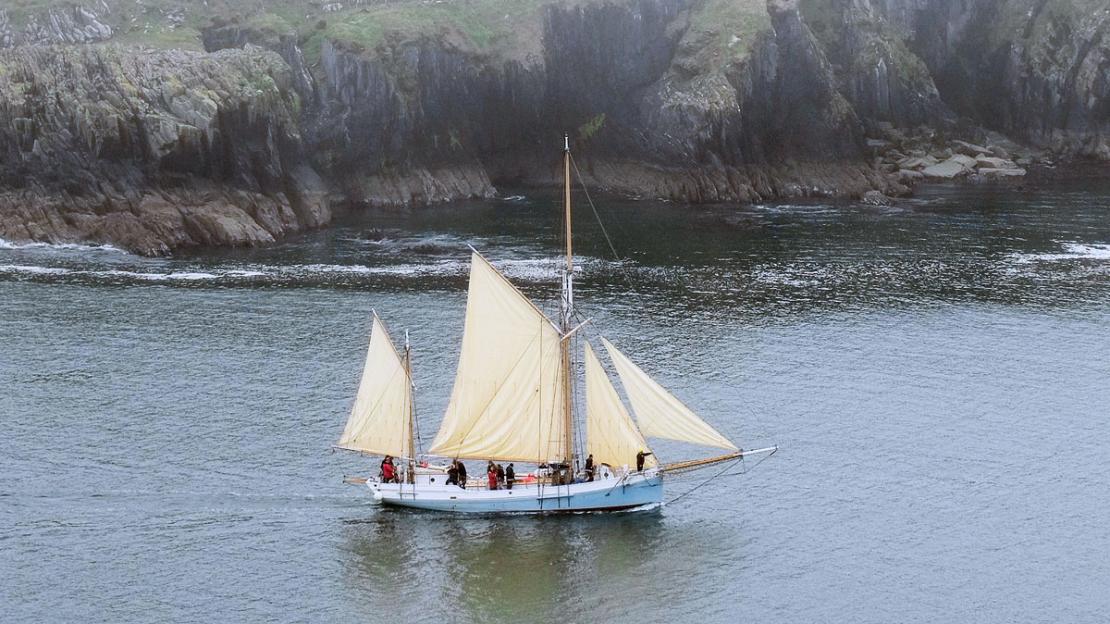 The ketch ILEN sails into the harbor at Baltimore, Ireland, in the summer of 2019. She was built in Baltimore in 1926, but spent her entire working life as an inter-island packet in the Falkland Islands. Her reconstruction was recently completed in Ireland.
Northern gannets circled overhead and dolphins wove swift and graceful patterns alongside as the 56' A.K. ILEN made her way toward the village of Baltimore in southwest Ireland. The newly restored ILEN—the "A.K." stands for auxiliary ketch—is among the country's last surviving oceangoing wooden vessels, and despite considerable odds she was sailing again in Irish waters after a 10-year restoration. Our captain, Paddy Barry, now in his late 70s, had made this same passage in ILEN 21 years ago after the boat was shipped back to Ireland from her longtime home in the Falkland Islands.
ILEN was built in Baltimore in 1926 and operated in the Falklands for 70 years as a transport boat, hauling sheep, people, and supplies to various island farm communities. She was the serendipitous result of a stop in the Falklands by the legendary Irish sailor and author Conor O'Brien, who, on a global circumnavigation, had rounded Cape Horn and made a stop at Port Stanley. The locals were fascinated with his modest boat, SAOIRSE, and how she had endured the vast Southern Ocean. This led to a commission for O'Brien to design, build, and deliver a larger version of SAOIRSE for the Falkland Islands Company, to operate as an inter-island cargo trader.
When O'Brien returned to Ireland, he worked with the draftsman Tom Moynihan to design the new vessel, a ketch, at his sister's property on Foynes Island, County Limerick. And he engaged the Baltimore Fisheries School to build her. Construction commenced in 1925, and the newly launched vessel, under O'Brien's command, set sail for Port Stanley in July 1926. She arrived there on January 8, 1927.
ACCESS TO EXPERIENCE
Subscribe Today
Subscribe by October 14th and your subscription will start with the November/December 2023 (No. 295) of WoodenBoat.
1 YEAR SUBSCRIPTION (6 ISSUES)
PRINT $39.95
DIGITAL $28.00
PRINT+DIGITAL $42.95
Subscribe
To read articles from previous issues, you can purchase the issue at The WoodenBoat Store link below.