The evolution and survival of an early one-design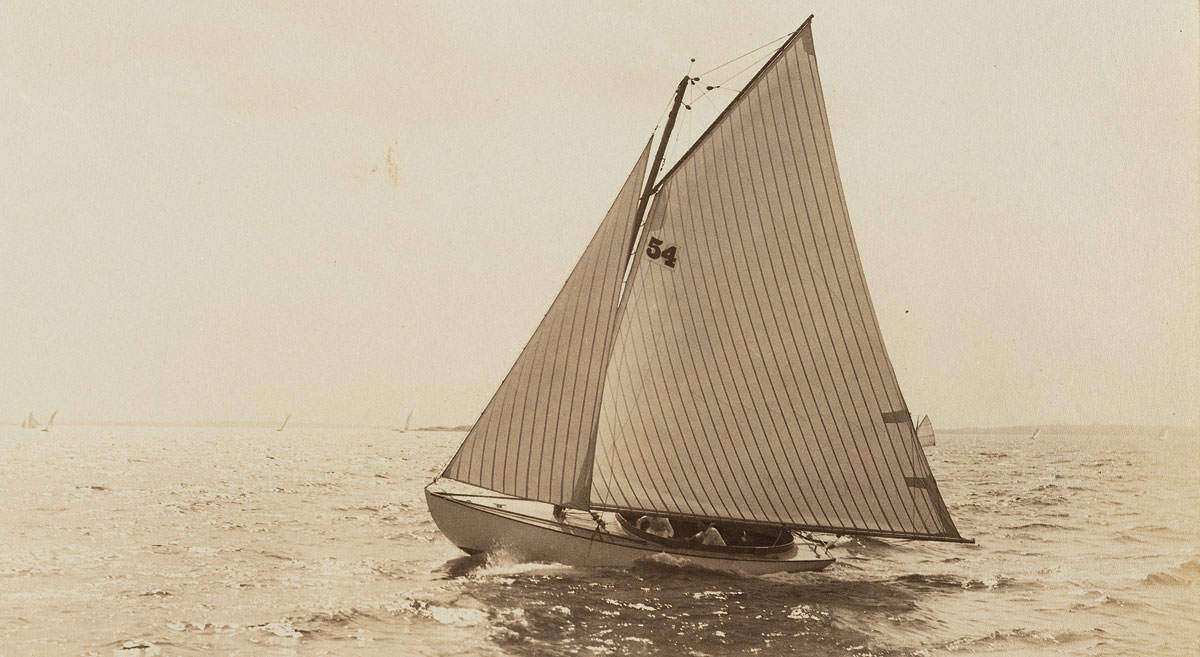 THE KID is a lucky boat. In 1906, she was lying at the Milton Point Boat Works in Rye, New York, when a suspected arsonist torched the yard. Several boats were destroyed. She and a few others were singed but not lost.
Rice Bros. in East Boothbay, Maine, had built her and seven sisters for the 1902 debut of a 21′-waterline one-design fleet for American Yacht Club in Rye. The new design, called the American Yacht Club 21′ Raceabout, was based on the general parameters of the so-called "Raceabout" class that had developed several years earlier at Marblehead, Massachusetts. The inaugural owners were a Who's Who of the region's yachting luminaries; they included AYC Vice-Commodore William H. Browning, Trenor L. Park (who four years later would win against German sailors in the first international competition in Sonder Boats, held at Marblehead, Massachusetts), Howard Willets, and Stuyvesant Wainwright.
Oliver Harriman, Jr., a renowned Long Island Sound yachtsman, stockbroker, and summer resident of White Plains, New York, was THE KID's original owner. He sailed the boat successfully for seven summers until, three years after that boat yard fire, he sold her to his fellow yachtsman Clifford W. Mallory. Mallory had been sailing a New York 30-class sloop, BANZAI, whose tender also survived the fire at Milton Point.
Mallory renamed the boat CLIPHORA and campaigned her until the Raceabouts, which had a good 20-year run, became obsolete.
The Raceabout concept began at Marblehead in the early 1890s, when the sport of small-boat sailing was accelerating at a remarkable clip. That town's Corinthian Yacht Club had been founded in 1885 in reaction to the neighboring Eastern Yacht Club's exclusion of yachts of less than 25′ waterline. The new club's stated purpose was to foster the fledgling concept of "Corinthian" yachting—the management and sailing of one's own small yacht as opposed to hiring professionals for the task.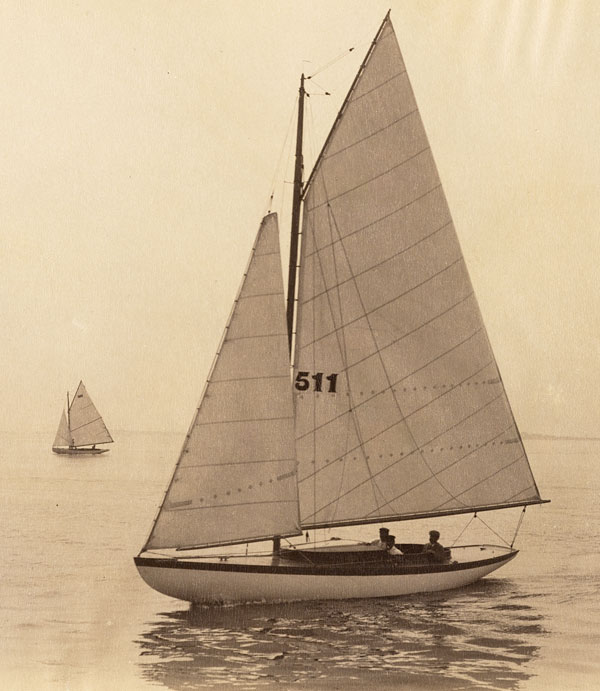 But the early small racing yachts of Marblehead were often challenging to sail; some were lightly built behemoth scows meant to skim over the water's surface; others were narrow cutters with long bowsprits, overhanging booms, and generous canvas requiring an adventurous and adept crew. It was great fun, no doubt, but sailors were confined in their geographical range and limited to a narrow range of weather conditions, and the boats were fairly useless for cruising and daysailing.
Herman Parker and Henry Taggard were members of the Corinthian in 1892 when they specified a new type of sailboat for Marblehead waters—one they could sail alone or with limited crew; one that could go out around nearby Halfway Rock and back in a modest blow, without worry.
Parker and Taggard brought their idea for a wholesome daysailer to the designer George Stewart of the Marblehead-based design firm Stewart & Binney. They specified a boat of 21′ waterline, with relatively short ends and capable in a seaway, but lively, too. Stewart turned to a local workboat—a former sailing ferryboat named NANEPASHEMET—for inspiration. She was by then retired from hard service but was still carrying paying passengers on daysailing and fishing trips around the harbor.
The old ferryboat had a loose-footed gaff mainsail and a "stem staysail," a headsail tacked to the stemhead. She had a reputation for easy handling and good performance, and Stewart used her rig as a point of departure for the new Parker and Taggard design, which would yield a pair of identical boats built by Higgins & Gifford of nearby Gloucester in 1892. One was called NANCY and the other JANE.
NANCY and JANE combined a hull and rig that would become so popular in recreational sailing, and spawn so much new design, that it's hard today to imagine these humble-looking craft even being noticed. But, two years after their appearance, they rated an article in The New York Times. "Safer than catboats, and lively racers," trumpeted that piece. It went on:
Within the past two seasons there has grown up at Marblehead, that centre of Corinthian yachting in the East, a most interesting class of boats known as 'knockabouts.' The name seems especially appropriate, in view of the uses to which the boats are put, and in it is found the main motive for their construction. They are intended to 'knock about' the harbor, regardless of weather, and thus far have not only served that purpose most admirably, but have also furnished so much sport for scrub racing, or even racing under handicaps, that rules have been adopted to prevent 'out-building' in the class, and to keep the boats down to the 'cruiser' limit, at which they were originally designed.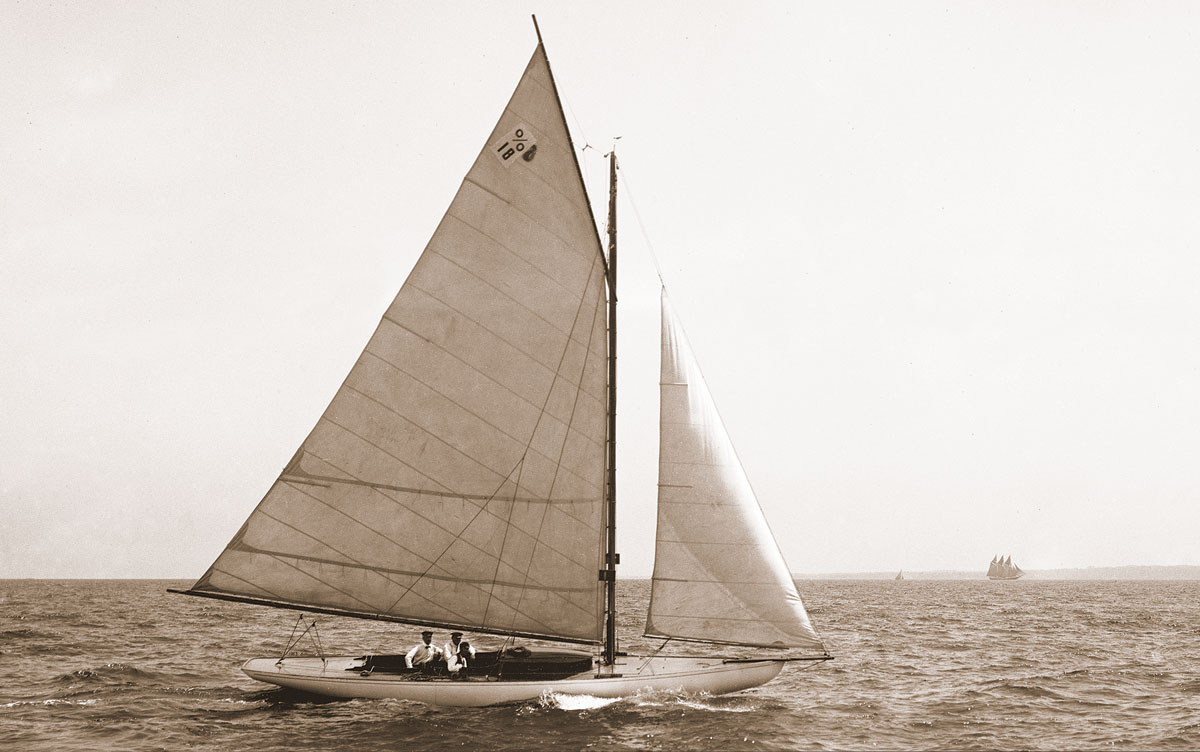 The Times article went on to summarize the attributes of a knockabout: "…high-sided, full-bodied keel boats of moderate draft, about 21 feet water line, with moderate overhangs fore and aft, and carrying about 500 square feet of sail in a jib and mainsail rig without a bowsprit." It also noted the effect the new type had on the existing fleet over just a few years:
The type is one which seems particularly well-suited to sailing in the often rough waters of the harbor and the bay outside, where the long swell of the Atlantic comes in unhindered, and it is fast supplanting the more beamy and less reliable centreboard of the cat-rig variety. From two boats in the summer of 1892, the fleet increased to more than a dozen in 1893, and it was one of the most inspiring of the many beautiful sights which the harbor afforded last season, to see half a dozen or more of the handy little fellows breaking tacks in a 'scrap' up the harbor in a brisk southwester. Such a sight could be seen with variations almost any breezy day, but the class was at its best in the handicap races of the Corinthian Yacht Club on Saturdays, when most of the fleet would be on hand and would rush away across the starting line in the wake of the racers, slower, indeed, but with fully as much of clever seamanship on the part of the skippers and crews.
NANCY and JANE were well built, though "not with regard to careful finish," according to the Times. They proved the worthiness of their type, and the next summer the first addition to the fleet, also designed by Stewart & Binney, showed longer overhangs and greater sail area, greater ballast, and more refined construction and finish. As inevitably happens when designs are unrestricted, subsequent boats had ever-greater sail area, more ballast, and longer overhangs. The Corinthian recognized the looming problem of "outbuilding," and attempted to put an end to it quickly. In the fall of 1893, the club began discussing the elements that define a knockabout, and within a few months had codified the class. By 1895, the club's yearbook included "Definitions and Limitations" describing the class. A few highlights will give the general idea:
A knockabout is a seaworthy keel boat (not to include fin keels) decked or half-decked, of fair accommodations, rigged simply, without bowsprit, and with only mainsail and one head sail.
The load waterline shall not exceed twenty-one feet.
The beam at the load waterline shall be at least seven and not more than eight feet.
The freeboard shall be not less than twenty inches.
The knockabout type developed quickly beyond its original form embodied in JANE and NANCY, as illustrated by the N.G. Herreshoff–designed COCK ROBIN, which was the champion knockabout of 1896. She had the same 21′ waterline length as JANE and a beam of only 3″ more, but her overall length was 33′ as compared with JANE's 24′6″. COCK ROBIN and JANE were very different boats, indeed.
In the following decades, a bewildering array of development-class boats and one-designs grew out of the Knockabout concept (see WB No. 190). And so did a new racing class called the Raceabout, which got its start with COCK ROBIN.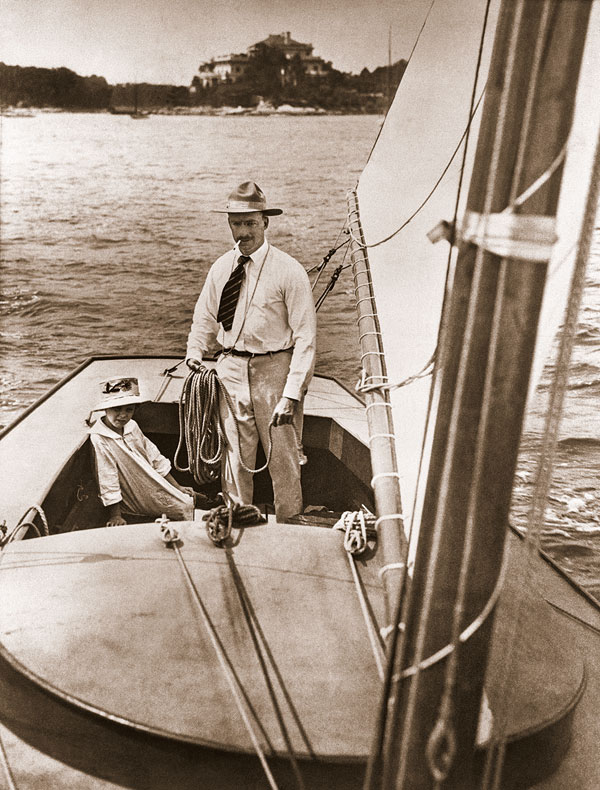 COCK ROBIN was owned by a Corinthian Yacht Club member named Charles S. Eaton. As an experiment, she was rigged to an alternate sail plan of 800 sq ft, and under this press of sail entered in several demonstration races, with promising finishes. Her first real race under the new rig was a Corinthian-sponsored event on August 22, 1896. Her cotton sails were unstretched and their set had plenty of room for improvement, but still she beat her closest competitor by eight minutes and the next boat by 14 minutes. The Boston Globe reported this result to be "nothing short of remarkable.
"The demonstration of the possibility of speed of this type of boat is most gratifying, for it will encourage building others which, compared to the canoes and skimmers, are wholesome cruisers…. This influence is already at work. Two boats are spoken of for the first class of this type, and, judging by COCK ROBIN's beating IDA J. [by] six minutes, boat for boat, it would seem not a difficult feat for any designer to place the present craft out of the racing entirely."
The new souped-up Knockabouts became a class of their own in 1898. W.P. Stephens, who would go on to become the legendary editor of The Rudder magazine, but who was then with Forest & Stream magazine, dubbed these new boats "Raceabouts," and it stuck, becoming the official name. The new class had a total sail area limit of 600 sq ft—460 of which had to be carried in the mainsail, and the boats carried spinnakers and bowsprits.
Raceabouts quickly spread beyond Marblehead—notably to Long Island Sound, where the American Yacht Club created its new one design based on the concept in 1902. Which brings us back to THE KID.
After Clifford Mallory purchased THE KID and renamed her CLIPHORA, he sailed her to victory in the 1909 Long Island Sound Raceabout Championship. By 1917, her serious racing days were over. She was then owned then by G.W. Brogan, and a trunk cabin now topped her once-flush deck. She had an engine, too, set far forward; the propeller shaft reportedly passed through the mast, but the mechanics of this most unusual arrangement are not recorded. Brogan cruised her casually on Long Island Sound—though she still managed to place respectably in the annual regatta of the Horseshoe Harbor Yacht Club in 1917. But the old Knockabout and Raceabout fleets had by then been supplanted by the letter-designated Universal Rule classes—the most popular being classes P, Q, and R.
CLIPHORA, however, survived, under the name EMBER, through a succession of subsequent long-term owners; one had her from 1919 to 1956, and the next from 1956 to 1980. By 1992, she was no longer seaworthy. That's when she came into the hands of the Noank, Connecticut, wooden-yacht aficionado Paul Bates, who knew her historic value and preserved her for eventual restoration. When David Snediker of Snediker Yacht Restoration in Pawcatuck, Connecticut, had a client seeking a significant yacht for restoration, Snediker immediately thought of THE KID.

Matthew P. Murphy is editor of WoodenBoat.