Kevin Carney's practical approach to teaching at The Apprenticeshop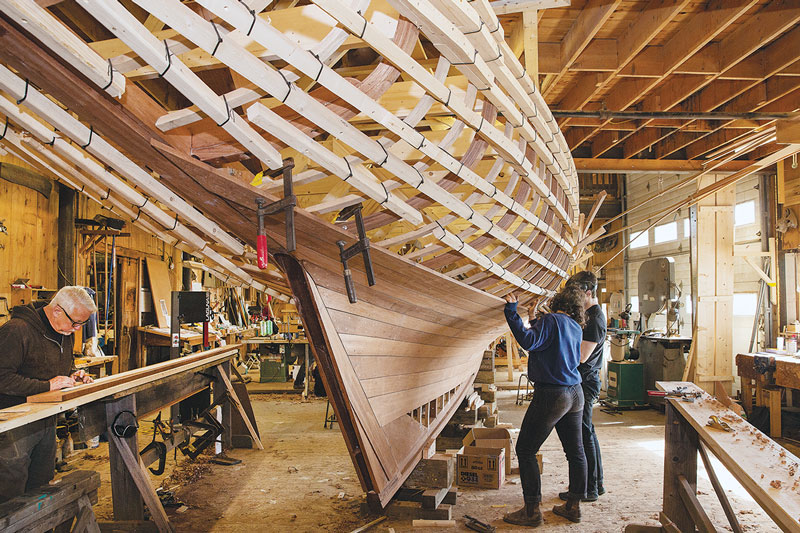 Walk through the back doorway of The Apprenticeshop in Rockland, Maine, and you are immediately confronted by a mass of sculpted mahogany tapering overhead to the fine-lined counter stern and delicate transom of an Irish racing class known as the Dublin Bay 24. Inside the hull, two apprentices are crouched in the bilges with a folding rule, a roll of string, and a 1′ spirit level working out where to punch a hole through the planking for the offset propeller shaft. This is always a complex operation, and in this case there is little in the way of guidance, save for a low-resolution CAD drawing of the engine in place. No instructor is on hand to demonstrate technique or provide advice. The apprentices are getting on with it despite a mortal fear of screwing up a really nice planking job.
Just beyond the Dublin Bay 24, which is a fine-ended 38′ yacht built to a 1938 design by Alfred Mylne, other apprentices are pouring hot pitch into the bilge cavities of a nearly completed lobsterboat. The faired hull is sharp and sleek, with white primer on the topsides and dark green antifouling paint below the waterline. A well-used roll of plans on the workbench states that this is a "26′ Cliffy Boat, as used in lobester [sic] fishery, southern end of Matinic [sic] Isl, ME Late 1930s through 1950s." Clifford Winchenbach, builder of the original Cliffy boat, was knocking together reverse-raked transoms well before they appeared in the AMERICA's Cup contenders of the 1950s, and this one suggests that no improvements have been made since that time. A high-powered fan set up on the foredeck and an air-filtration unit mounted directly above the boat are running on their highest settings, though neither seems to be making much of a difference to the acrid, oily haze rolling off the freshly poured pitch.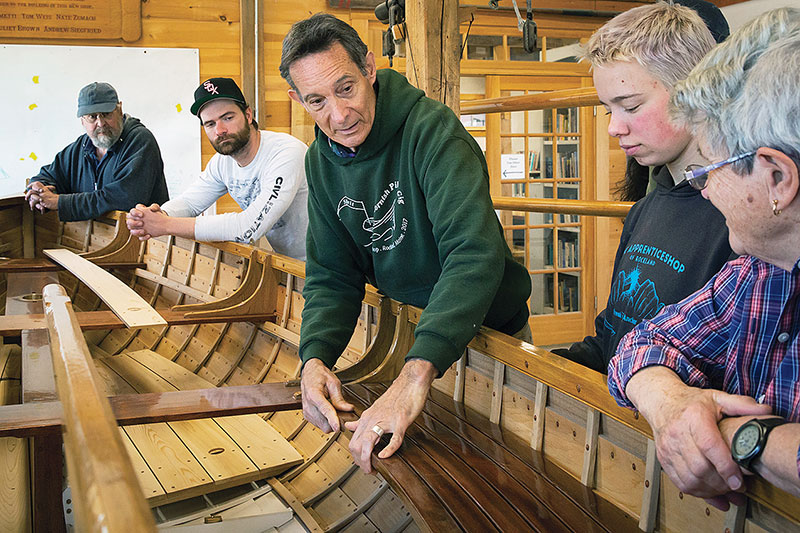 Tabitha Gish, a second-year apprentice, her hair dyed bright purple, arrives bearing a tin can containing the primordial soup and passes it over the gunwale to Asa Zelman, a prospective student in his first day at The Apprenticeshop. For a perilous second, he nearly loses his balance above the unfinished sprung pine deck until another apprentice steadies him, but then he finds his footing and pours the pitch into the narrow cavity formed by keel, frame, and plank. Leaning on the starboard gunwale and watching all of this is Rick Kraft, tall and serious, with graying hair pulled back in a ponytail. Kraft has been with the Cliffy project since lofting. At some point during the build, he graduated from The Apprenticeshop and stuck around on a fellowship to serve as the de facto project manager through the launching, which is expected sometime this summer. Gish started just after the keel assembly had been set up and has worked on little else since.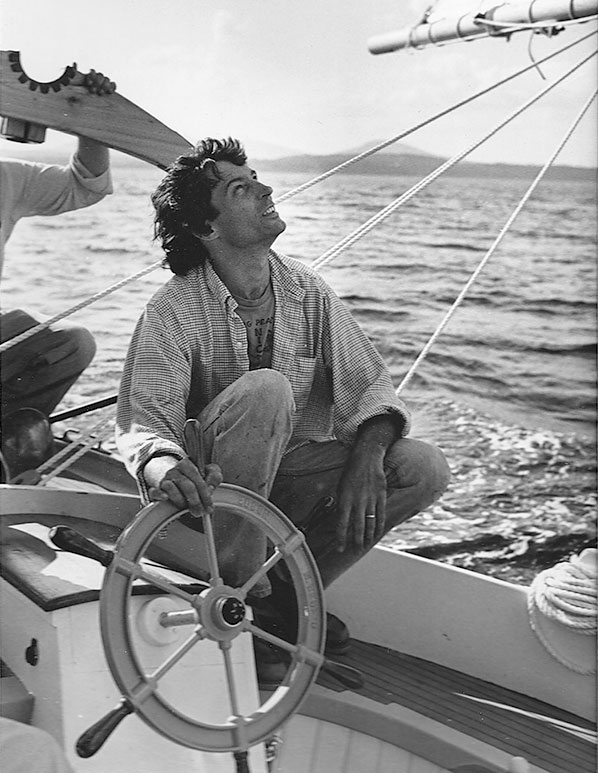 Through the din, haze, and protective equipment, a stilted conversation transpires: "I can't quite understand you," Gish calls across the boat, flicking off her respirator. Kraft returns the gesture and tries again. "I said, we're almost done after this one?" Gish, waving a hand at the port 'midships section, says, "All this bit hasn't been done yet." "You can really smell this stuff—it burns your throat," Kraft remarks. The respirators go back on. The work continues.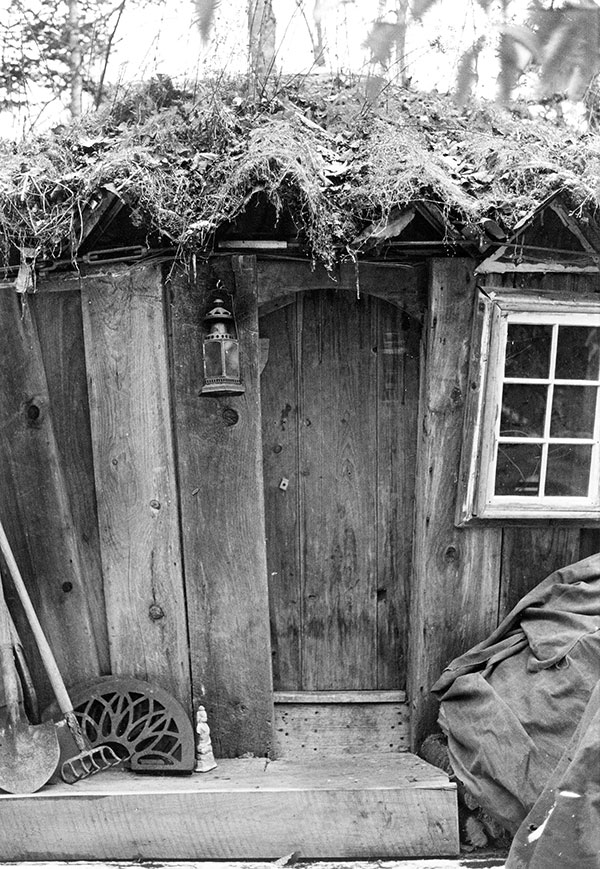 This is how most people are introduced to The Apprenticeshop: by wandering through the door by chance or intention and immediately being hit by the sensory aspects of it: the sounds, smells, and industry of the place; the sculptural beauty of bent frames; the purposeful voices and footsteps; cluttered workbenches; the haze of sawdust in the air.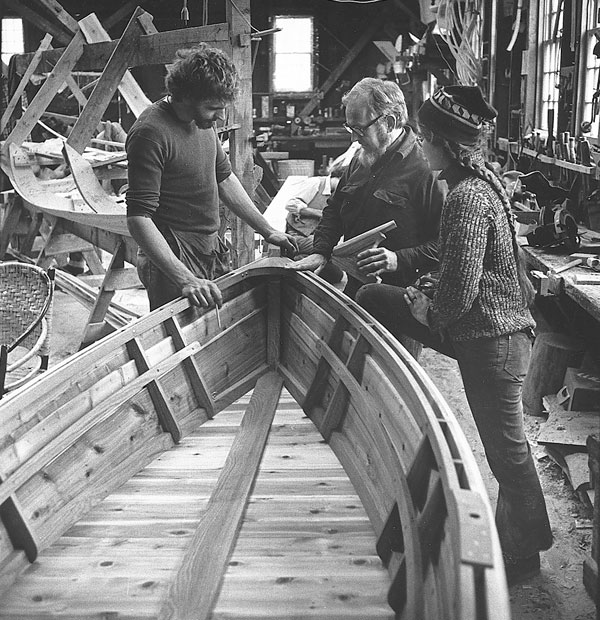 For Kevin Carney, The Apprenticeshop's longtime instructor and shop director, the introduction came a different way. While he was a college student in Virginia in the mid-1970s, he spent his summers racing and maintaining Chesapeake Bay log canoes, the overcanvased traditional raceboats of the region (see WB No. 127). It was the start of a long fascination with wooden boats, and wooden workboats in particular.
"We had this place where we used to get breakfast while we were racing in St. Michaels [Maryland], and I walked in there and saw one of the first copies of WoodenBoat magazine," Carney recalls. Among those early issues was WB No. 4, March/April 1975, which carried an interview with Lance Lee (see WB Nos. 114 and 209), the founder and director of The Apprenticeshop, then in Bath, Maine. The cover photograph showed two apprentices pouring molten lead into a centerboard. Inside, in 16 pages of a question-and-answer article, Lee explained in detail the philosophy of his institution.
The article began with a quotation: "Once upon a time not long ago, three generations of Maine craftsmen wrought from raw pine, oak, pitch, and iron the worthiest, most appealing sailing ships the world had yet seen." The paragraph was from Richard Barringer's A Maine Manifest of 1972, analyzing the state's economy in a time of transition and upheaval. Although the article didn't quote it, and Lee didn't mention it in the interview, among Barringer's prescriptions—a prophetic one, as it turned out—was this: "Perhaps Maine is the appropriate place to break out of the passive mode of education prevailing in the nation's universities and to build a program based upon the ancient journeyman-apprentice arrangement of teachers and students together mastering useful crafts for society's needs."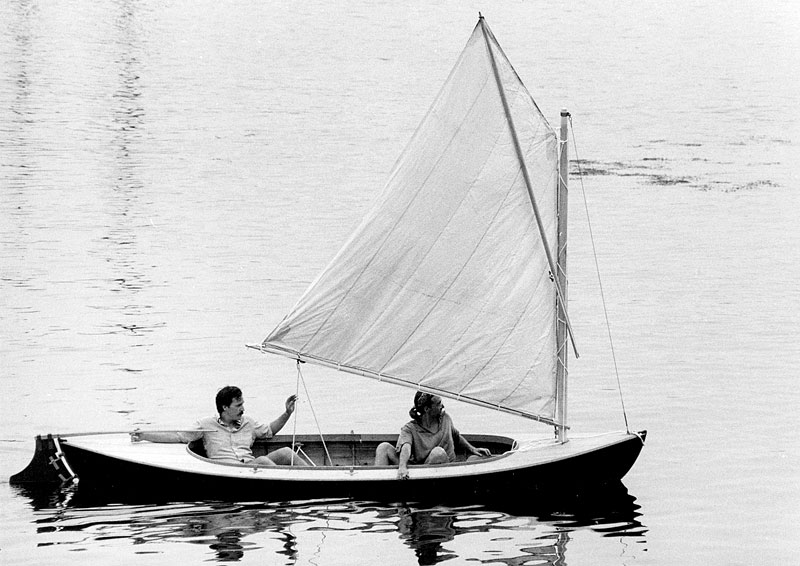 Carney was close to earning a degree in architecture from Virginia Polytechnic Institute at the time, and he was committed to finishing. "But as soon as I read that article, I said, 'I know where I'm going next.'" In the winter of 1978, he took the train north toward Maine to sign on as an apprentice.
In those early days of The Apprenticeshop, prospective apprentices seeking admission had to complete a six-week internship, during which they had a choice of either working as volunteers around the shop or working on their own to build a Susan Skiff, the 11′3″ flat-bottomed boat designed by Robert Steward in 1952 that has become ubiquitous as the standard first boat of apprentices. "The whole concept of volunteering initially was still strong back then," Carney says. (That ethic continues today, although the prelude to apprenticeship has been reduced to a week to make it more inclusive; meanwhile, the Susan Skiff internship has been formalized as a 12-week program.) Having proven their commitment and compatibility within the shop, interns would be offered a chance to stay on for the full two-year period.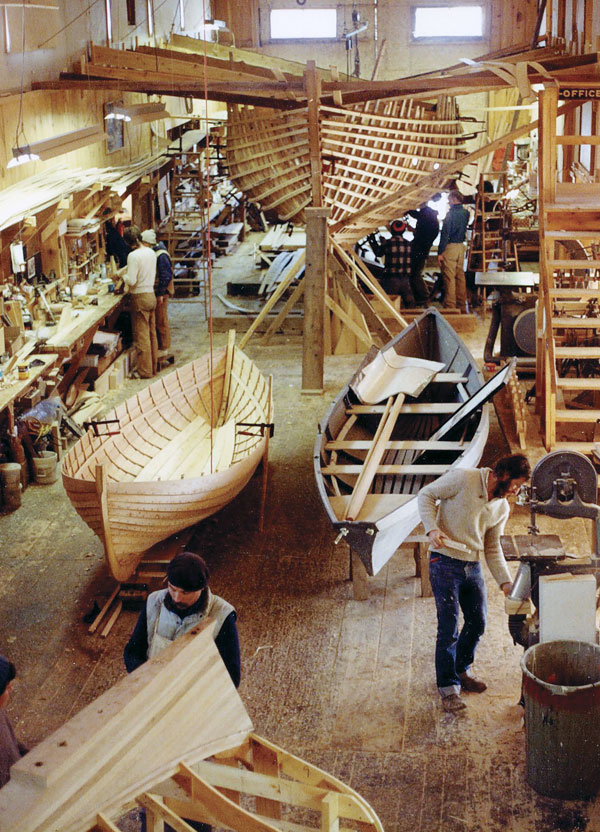 One of Carney's first projects was the construction of a Delaware Bay ducker, working with a second-year apprentice, Mike Geer. "The idea there, and it's still here, was to pair an apprentice who had been there for a while with an incoming apprentice, so that they can mentor them, not just in woodworking tools and techniques, but also the process," says Carney, who returned to the institution in 1989 as an instructor. For nearly 35 of The Apprenticesop's 50-year history, he has served as an instructor and shop director. Then, as now, the process is central to the learning: "Which can be, 'How do you put in a full day of work?' How do you show that to somebody? Part of my apprenticeship was putting in a good day's work—being present and trying to accomplish something during the day."
When Carney enrolled, apprentices lived in a yurt colony south of Bath on Arrowsic Island. Bill Coperthwaite, the social critic, writer, and architect who developed the design of tapered-wall wooden yurts, came down to Arrowsic from his homestead in eastern Maine to lead a consortium of apprentices and volunteers in building the structures: one large, communal, two-story yurt and a handful of smaller yurts as sleeping quarters. It was a fairly primitive setup that necessitated a good deal of shared labor: after days spent working together planking peapods and framing Tancook Whalers, the apprentices would carry water, cut firewood, and cook meals for each other in the evenings. Tuition was free; living expenses for an 18-month stint at The Apprenticeshop were estimated to be around $1,500 in the early 1970s. Being an apprentice was not just a lesson in boatbuilding but also a lesson in resourcefulness, perseverance, imagination, and community.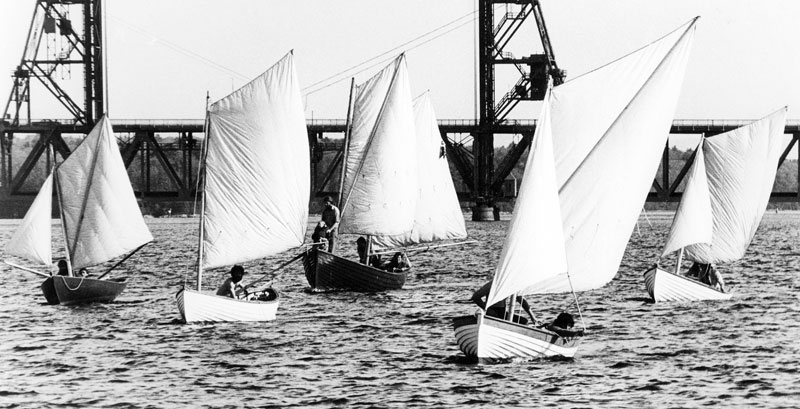 Fifty years after its founding, much of the original philosophy remains inherent in The Apprenticeshop. "I remember the very first thing I saw was someone standing at the lathe, right below me here, working away," recalls Bella Feracci, a former apprentice and now the executive director. "I looked in and thought, 'What is all this stuff? How does this stuff work?' I wanted to be able to be comfortable in that space."
She is standing in her office on the third floor, an old storeroom with white plaster walls and a square window that looks out over the harbor. One end of her desk is supported by a repurposed Brownell boat stand. "I had no preconceived ideas about where that would lead me, or what would come of it," she says, "but I wanted to be able to understand the tools, and what they could do, and what I could make with them."
The sign outside says, "A School for Traditional Boatbuilding and Seamanship," a statement that, while true, only scratches the surface. The Apprenticeshop does not exist to create boats; it may not even exist to teach boatbuilding. Apprentices are ostensibly there for that purpose and come away with an improved grasp of the subject. Peapods, dories, and Susan Skiffs are shoved out the door, year after year, and graduates turn up in professional boatbuilding shops around Maine and beyond. Yet these tangible results are more a by-product than a goal.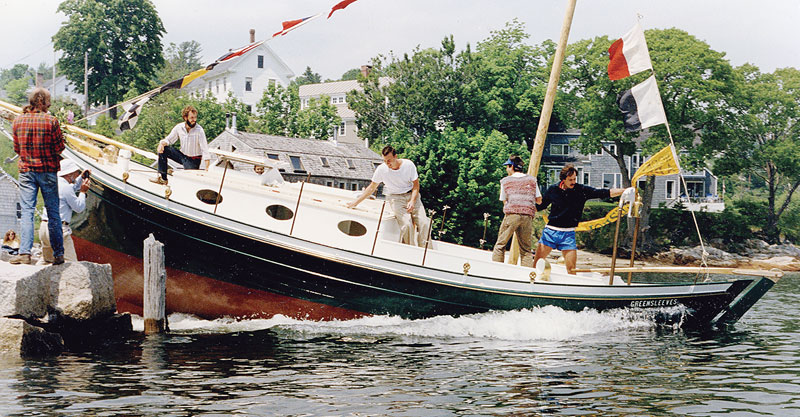 When Lee founded The Apprenticeshop in 1972—first at the Maine Maritime Museum in Bath, then in Rockport, later in Nobleboro, and finally in Rockland, but always in Maine—he was creating an environment in which boatbuilding served as a way to facilitate a broader kind of learning. The concept, which is largely intact 50 years later, came to life through his vision and work. The content, focus, and breadth of that learning was, and is, largely up to the individual apprentices. In the style of old-school trade apprenticeships from which Lee drew inspiration, what you put into it is what you get out of it. As Feracci points out, not all who attend are there to pursue a trade; they might be drawn by the aesthetic or sculptural aspect of wooden boats or the intellect or craftsmanship involved in building them. "It allows people to show themselves," she tells me. "It follows a kind of model, but there's also room to be yourself…. You're learning by observation instead of someone telling you how to do something. It's subtle and lovely, and it takes time."
Now in his 80s, Lee lives in downtown Rockland not far from where the school he founded is still fulfilling its original purpose. Expansive windows in the east wall of his living room face the harbor and Penobscot Bay. The Fox Islands, with their three landmark wind turbines, sit stolidly on the horizon. Lee has the glint and intensity of a much younger man—there's something about his unflinching gaze that makes you understand how his charisma might be channeled to really make things happen. Half an hour of conversation about boats, sawn frames, Newfoundland, Japanese temples, the computer age, and you're ready to start felling trees and cutting the frame for a new boatshop. When the phone rings in the middle of that conversation, he swats at the sound as if it were a horsefly.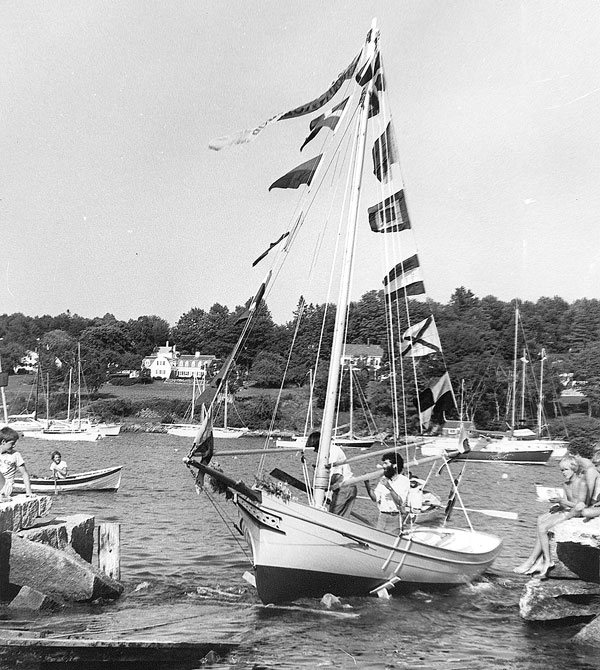 A good number of people have been influenced enough by that charisma to have built and fixed up several boatshops over the years, as The Apprenticeshop moved to its various locations. No one person has been involved for enough of that history to entirely account for it, and several elements of the story have been subject to so much discussion and conjecture around midcoast Maine that they've strayed into the realm of mythology. At times, the organization has approached accreditation; at other times, bankruptcy; somehow it has avoided both. "I had some good experiences, and I was able to churn them into a chaotic institute, and I'm pleased about that," Lee says. The unassuming truth lying behind all this tumult is that The Apprenticeshop has, in fact, been doing something extremely well for the past 50 years, and by dint of doing it, it has survived. It has created people who care deeply about the school, whose time there has left them with a sense of meaning and purpose worth passing along. It is these people who have ensured that this environment continues to exist for the benefit of others.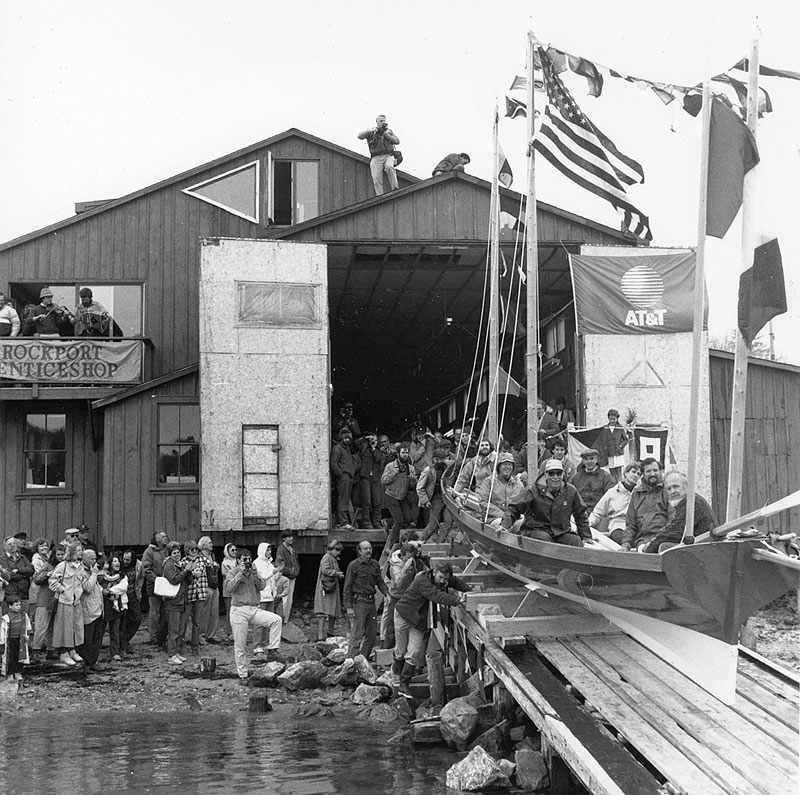 Carney hasn't been there for all of The Apprenticeshop's years, but he has been there for most of them. After finishing his apprenticeship in early 1980, he returned to the Chesapeake for a short stint to work with another former apprentice, Ed Farley, who had restored an old skipjack for use in the oyster trade. "Oystering on a sailboat sounded pretty neat," Carney says. "But then the reality kicked in: you don't make money oystering on a sailboat." Besides, something of the way of life he'd seen up north had left an impression on him. "One of the things that really intrigued me about Maine is that there were people doing all of these different things…. It was really encouraging. I think that's one of the reasons a lot of the apprentices that come here find it hard to leave."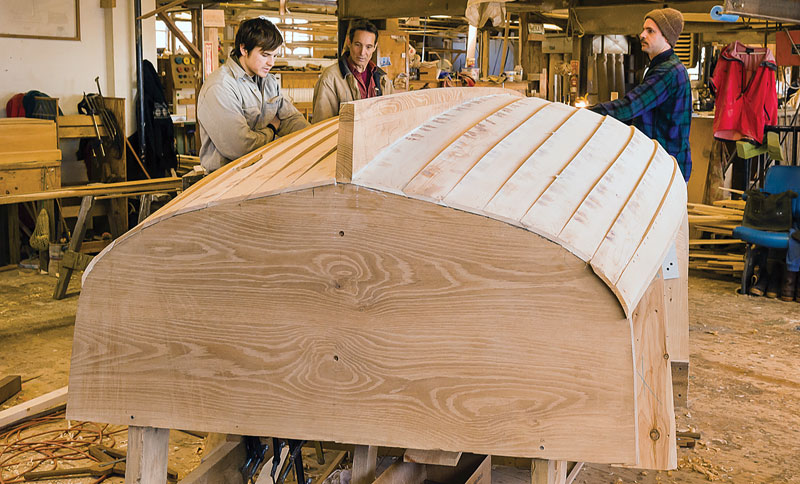 After a season of scraping oysters, Carney returned to work as a professional boatbuilder in the Boothbay region, first at Goudy & Stevens Shipyard and later at Hodgdon Brothers. It was an education in craftsmanship as well as pedagogy. "Both Sonny and Tim Hodgdon demanded the best in people, the highest quality," he says. "They were able to nurture that in people, too, knowing that you might not be there right now, but they were going to get you there one way or another." It was 1989, while Carney was still working at Hodgdon's, that he got a call from Steve McAllister, then the director of The Apprenticeshop, asking if he would like to come back to The Apprenticeshop to teach. And so he did. He has been there ever since, first as an instructor and, later, as shop director.
Carney is not the sort of fellow to draw attention to himself. He's soft-spoken, an intent listener, more apt to stand back and observe than insert himself in a conversation or project. Watching him work, you have the image of someone who is living life at just the right speed: never rushing, never lagging, just carrying on with a nearly inviolable sense of consistency. It's this consistency that has brought him through the past 34 years as an instructor at The Apprenticeshop. "If you look back 50 years, Lance was in and out," says Eric Stockinger, a former apprentice who went on to serve as the executive director from 2007 to 2009 and last year became the director of WoodenBoat School in Brooklin, Maine. The Apprenticeshop, Stockinger says, "had been in a handful of different places. There have been a dozen different people at the helm," through the institution's ups and downs. "The only constant there, for more than 30 years, has been Kevin. He almost feels irreplaceable."
At a school where formal learning is kept to a minimum, Carney teaches by doing—by showing up day after day, working on projects alongside the apprentices, providing support as needed in his own quiet way. The program carries on the model that Lee borrowed from the German educator Kurt Hahn, a pioneer of experiential learning best known for founding Outward Bound and the United World Colleges. Hahn's philosophy of blending intellectual and physical learning, so that each might contribute to the other, appealed to Lee, whose own education had included Bowdoin College in Brunswick, Maine, and the Marine Corps. In this model, students shoulder responsibility for their education in a very real sense. As Carney describes it, "This is your shop: you're responsible for it, you maintain it, you maintain the tools. It's not just all being done for you.… Everyone gets together and puts the floats in, in the springtime. We all get together and take them out."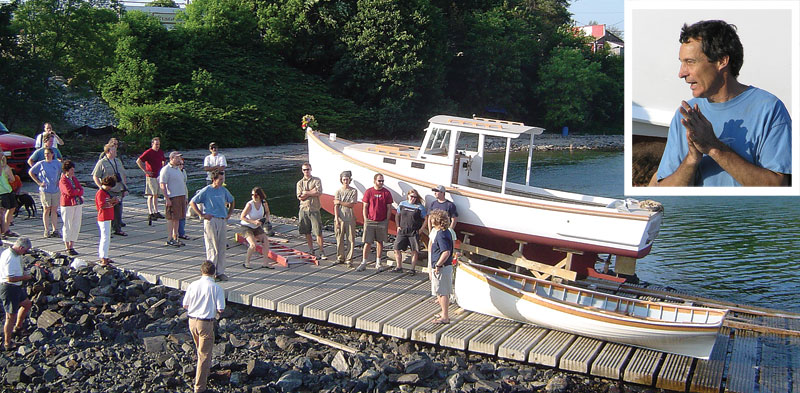 The Apprenticeshop's tenure in Bath had ended in 1982 after relations between Lee and the museum's board of trustees deteriorated beyond repair, a pattern that would recur. With typical aplomb, Lee and the apprentices packed up tools, yurts, and peapods and moved the entire operation to the old Penobscot Boatworks shop in Rockport Harbor on Penobscot Bay. "It was dreamy," says Steve Garrand, who apprenticed there in the early 1990s and is still building and repairing boats nearby. "The building itself was perched out over the water. When the remnants of Hurricane Bob came through [in 1991], the ocean was slapping at the underside of the floor, and geysers were coming through the knotholes. You were on the water. It was just fantastic. You'd hear the foghorn from Owl's Head every time it snowed."
For a short while, Carney worked in Rockport alongside Dave Foster, The Apprenticeshop's lead instructor from its early days in Bath. "He [Foster] was like a puppeteer," Lee says. "He could keep three or more projects going." It was in the Rockport shop that Carney found his role in the organization, working alongside apprentices. "Kevin is at the top of his profession," Lee says, "because instructing craftsmanship is a profession unto itself. A lovely thing is that he doesn't give solutions. He suggests alternatives. He says, 'Figure it out."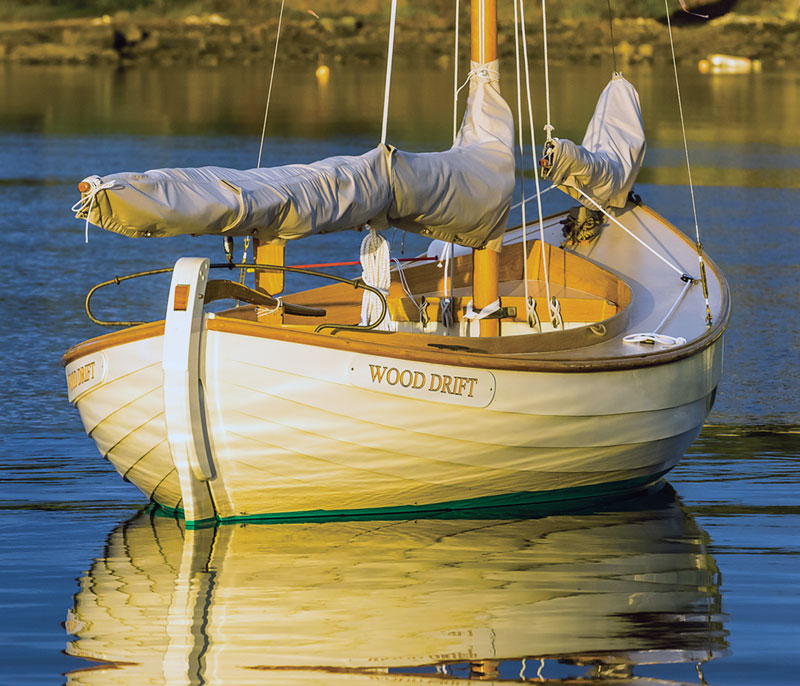 Ellery Brown, a 2007 graduate of The Apprenticeshop and co-owner of Hylan & Brown Boatbuilders in Brooklin, sees it as something beyond simple instruction: "I think what I've always felt like Kevin gave me was the assumption that I'm capable," Brown says. "It's his assumption that anybody who comes in the door of that place is capable of doing every conceivable aspect of building a boat, no matter how challenging. It's just a question of time, and dedication, and wrapping your head around it."
Talking to Carney, it is easy to forget that few, if any, boatbuilders have anything comparable to his experience and breadth of knowledge in traditional small-craft construction, acquired in building hundreds of boats over more than four decades. He, however, would certainly be the last person to call attention to this fact. Boatbuilding, he observes, always presents something new for instructors as well as students. "I'm an instructor, and I've got more experience, and, yes, I'm going to share that experience with you, but it's not like it's top down, that I'm teaching you. We're learning this together."
Brown recalls it this way: "Somehow, Kevin is completely devoid of the 'me' in mentorship. He's sort of like a mirror. You'd ask, 'Kevin, have I shaped this toerail properly?' And he'd say, 'How do you feel about it? Do you feel like you could do a better job?' I think he really believes he's there for the people, and the boats are a conduit to personal growth. It doesn't actually matter to him whether you shape the toerail correctly—if it doesn't matter to you."
For Carney, it's the apprentices that have kept him engaged after all these years. "It's kind of a little addition to boatbuilding.… You are building boats, but you're also building these relationships with people."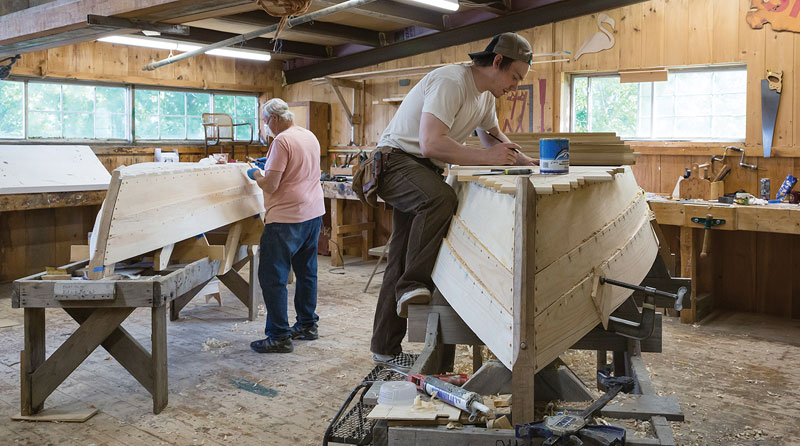 The Rockport iteration of The Apprenticeshop lasted for 10 years before another rift opened between Lee and the institution's board of directors. "There was this idea that we should be teaching people how to get into the workforce, as opposed to teaching people just for the sake of teaching people," Carney says. "My argument most of the time is, 'There are already schools doing that. Why would we do that?' There's enough history now in this place that when you try to go off on those tangents, something just doesn't hit right. So we go back to the basics, back to where we should be." Lee decamped for Nobleboro to start over again, settling in Rockland in 1995.
Meanwhile, the Rockport Apprenticeshop morphed into a short-lived accredited school called The Artisan's College. "The Artisan's College wanted to teach you how to build a boat in a commercial sense, so that you had this tradeable commodity," Garrand says. "It was somehow tangible. You'd get this piece of paper that said you were legit. At The Apprenticeshop, you didn't get any of that. You just came and went, and took from it what you needed to. A lot of apprentices went on to other careers in life, but The Apprenticeshop experience still looms large in their world and how they make decisions. I feel that very strongly."
The old livery stable in Rockland that has housed Apprenticeshop since 1999 is unassuming at first glance. It is a three-story building with weathered cedar-shingle siding and a slightly eclectic combination of windows, doors, and additions. It's set into a steep embankment that drops down from Main Street to the edge of the harbor, so that all three stories are at ground level in their own way, with a corresponding entrance for each. The waterfront access is important because seamanship has always been a part of the program, and using boats is a natural extension of building them. Out back, a dirt parking area in mid-March is filled with the detritus of many a lively off-season waterfront: plastic-covered sheds, sleeping boats, piles of lumber, beached floats, a large cast-iron bandsaw in pieces.
On a sunny afternoon, you might also find Owen Page, another instructor (and 2019 graduate), applying black bottom paint to a Swampscott dory he designed and built last year. The topsides of the dory are painted teal, with large diagonal green stripes on one side; the oak chafe strips fastened to its bottom might have been specified for a 70′ landing craft. "I just kind of figured out what I thought they should look like, and went with that," Page says with an easy grin.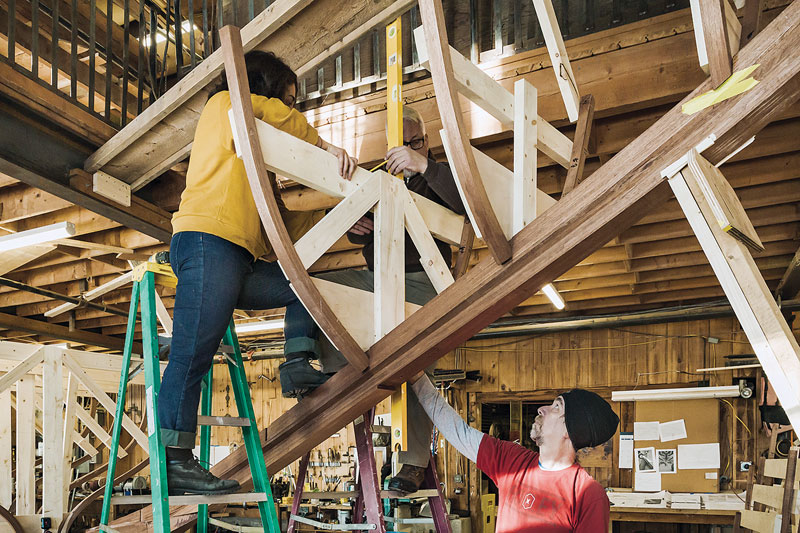 One recent addition to this scene is a bow shed covered in translucent plastic, where the first frames of a traditional Portuguese sailing sardine carrier, known as a canoa da picada, are assembled on a temporary loft floor. A custom lathe for making locust trunnels stands in the corner. The project, called Break the Anchor, is being led by João Bentes, a 2018 graduate of The Apprenticeshop. In the true spirit of The Apprenticeshop, Bentes is planning to finish building the boat and then sail her across the Atlantic to Portugal, where he intends to establish a similar school of boatbuilding and seamanship. In the meantime, he's been bringing Rockland high-school and middle-school students in for their first taste of traditional construction, a delightfully ruinous episode in any youngster's education. It's also part of an important evolution for The Apprenticeshop, as it looks towards the next 50 years, and continues to expand its community.
Standing in the parking lot and listening to the dull hum of a planer, the sharp tap-tap-tap of a ballpeen hammer, observing the overflow of projects and people spilling from the doors of The Apprenticeshop, it seems all the more remarkable that this small organization, with its unconventional, even radical, approach to education, has arrived at this point with such vibrancy.
"It has consistently delivered a profound experience for people, somehow," Brown says. "The original philosophy is timeless; it's always relevant. You're going to rely on yourself to make something exceptional—and when you bring that into experiential education, it's kind of magical."
It's this profound experience, the sense of wonder and satisfaction of bringing a wooden boat to life, that continues to attract apprentices. That's particularly true in the digital age, in which profound experiences are ever more valued for their scarcity. It may also be that something in the program's inherent volatility contains an element of renewal. "It seems like the shop gets to a certain point and then blows up, and then it starts all over again," Carney says. "I think getting knocked down and having to get back up and on our feet creates a tremendous amount of energy toward trying to create a goal that people really tap into, they're really excited about something like that…. We just go back to the basic tenets: Boats as projects, boats as teaching tools, the whole mentoring aspect, no top-down teaching. We're all in this together."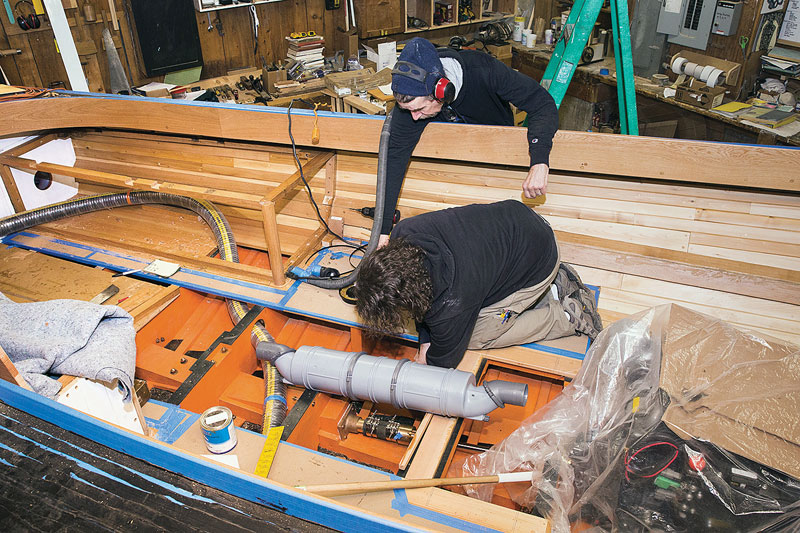 It's quitting time, and Carney is still working away on the third floor. Evening sun streams in through the windows, striking spars prepped and hung for finishing. On one side of the room lies a varnished lapstrake Water Wag (see WB No. 249), which by some accounts is the oldest one-design racing class in the world, although as Carney says, "people on North Haven [Maine] may dispute this." It is receiving some final attention before being shipped off to a client in Ireland. No one seems to know quite how the Water Wag will get there. "Probably the same way as the Dublin Bay." The two boats were commissioned by the same client, and no one knows how the larger one will be getting to Ireland, either, though jokes are made about a very wet, long sail.
Carney is measuring and marking for the bronze oarlock sockets on the Water Wag, which, in accordance with strict class rules, must be set into the carefully molded inwale. He voices regrets about such an addition, which necessitated a sizable hole in a structural element, but the class committee insists on it, and so Carney moves from side to side with a pencil to mark the locations of each socket, measuring from the corners of the transom forward, marking, re-measuring.
Rick Kraft, the former apprentice now on a fellowship, appears and watches. "It's not all coming out exactly right. How come?" Carney asks of no one in particular. "It's a boat," Kraft responds.
An apprentice walks through on his way out and stops for a parting chat. After a bit of kidding around, Carney gestures to the spars awaiting their final coat, and asks, "Are you going to varnish these tonight?" The response is somewhat sheepish: "No, not tonight." There is palpable conflict in that answer: the urge to clock out after a long day in the shop, go home, take a shower, crack open a beer, but not wanting to disappoint Carney, who's still plodding away at 5:30. But there is no disappointment to be found. Carney smiles and nods, and the moment passes. The apprentice is out the door, free for the evening, and Carney returns his attention to the Water Wag, pencil in hand, measuring inwales and time at the same, steady, half-century pace.

Milo Stanley is a sailor, carpenter, and writer from Maine.