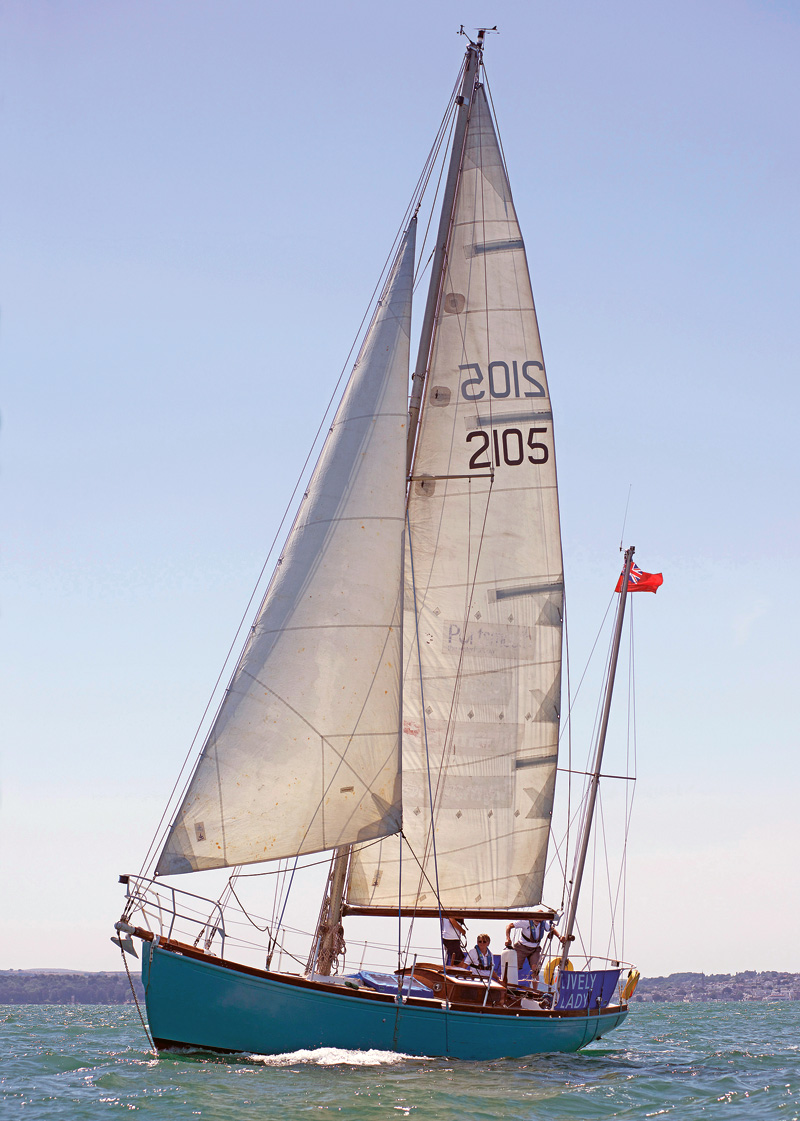 It's strange but true: sailing on a famous boat can make you feel like Paul McCartney. Over the past five decades, the ex-Beatle has developed a cool persona to deal with the constant attention of adoring fans: he acts calm, smiles faintly to acknowledge the crowds, and carries steadily on his way. Inside, he's obviously thinking, "Wow, I'm Paul McCartney! How cool is that?" But he keeps that to himself. So it was sailing down Portsmouth Harbour toward The Solent on LIVELY LADY. Every few seconds other boats would pass by and their crews would point, wave, and give their thumbs-up to show their unbridled delight. We would smile back and wave modestly, acknowledging their attention while not encouraging any further interaction. Inside, I was thinking, "Wow, I'm sailing on one of the most famous yachts on the planet! How cool is that?" But I kept that to myself.
For make no mistake, 50 years after her historic circumnavigation, LIVELY LADY is still recognized all over the world.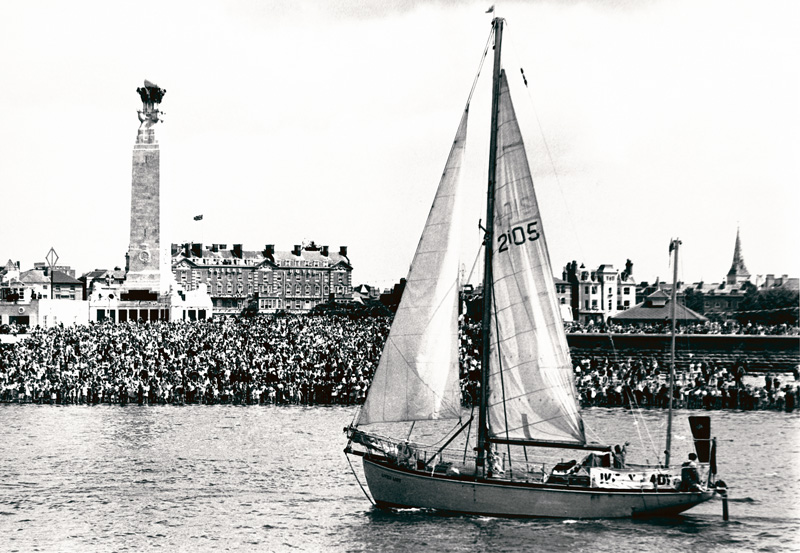 "When we were in Canada, we had people knocking on the deck at three in the morning to look at her," says Steve Mason, who co-skippered the yacht during her 2006–08 circumnavigation. "When word got out that you could actually go down below, everyone wanted to come on board."
Yet, over the years, LIVELY LADY's fate often seems to have been overshadowed by that of her more affluent compatriot: Francis Chichester's yacht GIPSY MOTH IV. Indeed, the man who made her famous, Alec Rose, is sometimes referred to as the "common man's Chichester," or the "DIY Chichester." It's a connection Mason doesn't seem to enjoy.
"We call him [Chichester] 'the other one.' Even though he did it first, he got sponsorship and had a new boat specially built for the voyage. But Alec and Robin [Knox-Johnston] did it with the money in their pocket, and that's the difference."
Which gets to the heart of why LIVELY LADY was and is so popular, both then and now.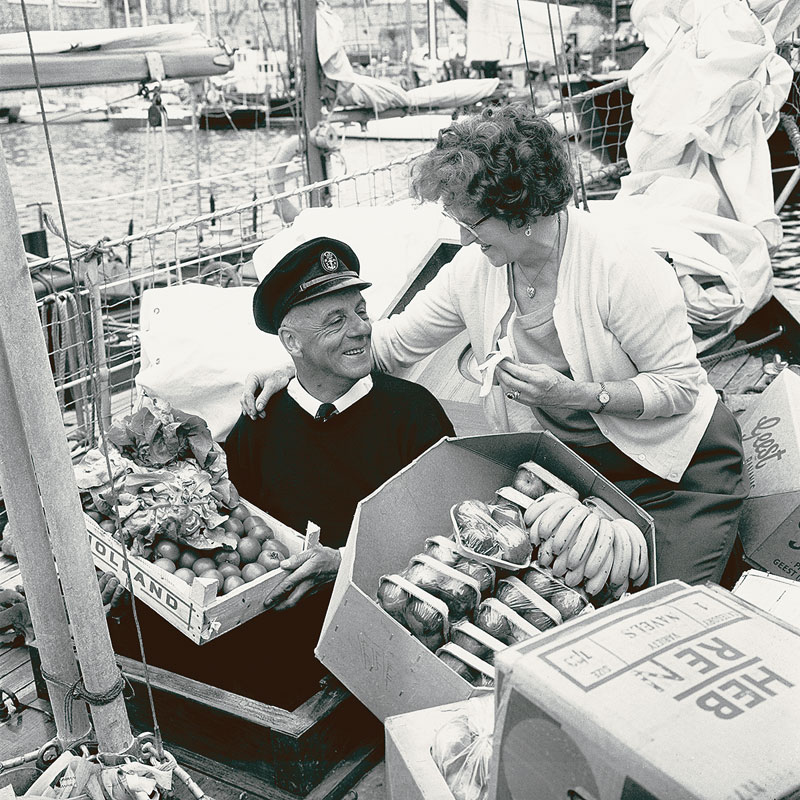 Alec Rose was brought up in the English town of Canterbury, Kent, and had no previous family connection with the sea. He became interested in sailing through reading seafaring books and serving in the Royal Navy during World War II. At war's end he bought a fruit-selling business in Kent but, as he wrote in his book My LIVELY LADY, was "still desperately keen on sailing and read all the accounts of lone voyagers." He eventually bought an old German ship's lifeboat, which he converted and, after separating with his first wife, cruised singlehanded as far afield as Amsterdam and the Frisian Islands.
He married his second wife, Dorothy, in 1960 and the pair set off on a sailing honeymoon to Spain in a converted lifeboat. Halfway across the Bay of Biscay, however, Dorothy's hand was injured while setting the sea anchor in a storm and they had to pull to Brest, France, for medical treatment. The couple headed back to England and, "because it became necessary to earn some money," bought a greengrocer's shop in Southsea, a suburb of Portsmouth, just a third of a mile from The Solent and a half mile from the entrance to Portsmouth Harbour.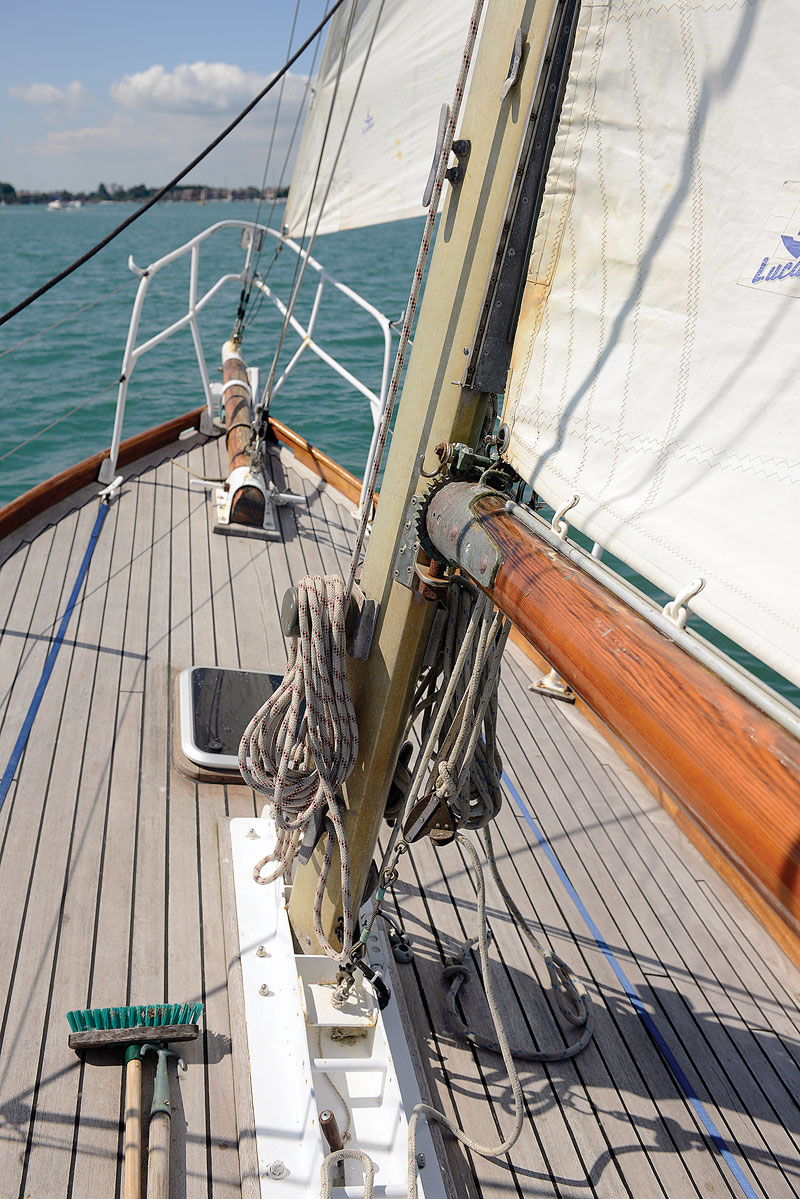 And it was here that Rose started dreaming about sailing around the world. He followed closely the first Observer Singlehanded Transatlantic Race (OSTAR) in 1960, won by Chichester, but realized he would need a better boat if he was to take part in the next one. After a brief search, he found a 15-year-old wooden cutter for sale in Yarmouth, on the Isle of Wight, and was immediately smitten. "I liked the look of her. I liked her sheer, and her buoyant-looking stern.... I went on board and was impressed by her solid strength."
LIVELY LADY was designed by Fred Shepherd, a prolific designer of medium-sized cruising yachts in the 1930s and '40s. She was designed before World War II but remained just an idea until S.J.P. Cambridge had her built in Calcutta, India, in 1948. Cambridge made several changes to the design, including reconfiguring the keel to make it horizontal, eliminating its "drag," or downward slope aft; raising the sheer by 6″; and fitting a flush deck with a skylight instead of the designed coach roof. The solid construction that so impressed Rose was due to a mistake: 25mm-thick (about 1″) Burma teak had been ordered for the planking, but when it arrived it was 35mm (1⅜″) thick. The builders did not reduce the thickness. The framing, too, was heavier than specified: instead of the steamed timbers Shepherd had drawn, the hull was framed in 2½″ x 5″ (63mm x 127mm) grown padauk from Thailand, spaced 14½″ (370mm) on center.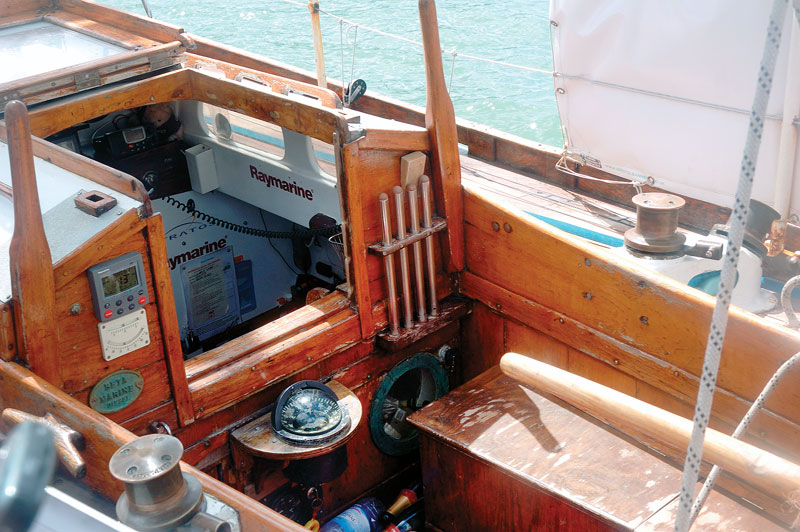 Rose was less impressed by the boat's old-fashioned gaff rig, and so he commissioned Illingworth & Primrose, whose designs included GIPSY MOTH IV, to design a new one. They came up with a Bermudan cutter sail plan, with aluminum spars and a much-shortened bowsprit. They also designed a small doghouse over the main hatch to give some shelter from ocean waves.
Rose's assessment of his craft as he set off from Plymouth on the second OSTAR on May 23, 1964, was pragmatic. "She was very heavily built and not a greyhound by any means. With a good long keel, good sheer and freeboard, and buoyant ends, she is, however, a very safe seaboat."
Yet, despite sailing an already outdated boat, Rose did surprisingly well in his first competitive ocean race, finishing fourth behind luminaries such as Eric Tabarly, Chichester, and Val Howells, and a whole day ahead of Blondie Hasler. More important, he discovered he liked sailing long distances on his own. "My friends, I was happy and content," he wrote. "I had all I needed. I had a good ship under me and I felt as free as the birds that circled above. I was king of my little world."
Rose had already started thinking about setting off on "the greatest adventure of my life," sailing around the world, when Chichester announced his plans to sail to Australia along the so-called clipper route. "The idea came to me to follow him, and to make a match of it," wrote Rose, before immediately pouring cold water on the idea that he was racing against Chichester. "Boat for boat LIVELY LADY was no match for GIPSY MOTH IV, which was brand new, designed and built specially for the job, and much longer on the waterline," he wrote, retrospectively. "I had no illusions about the relative speed of the two yachts."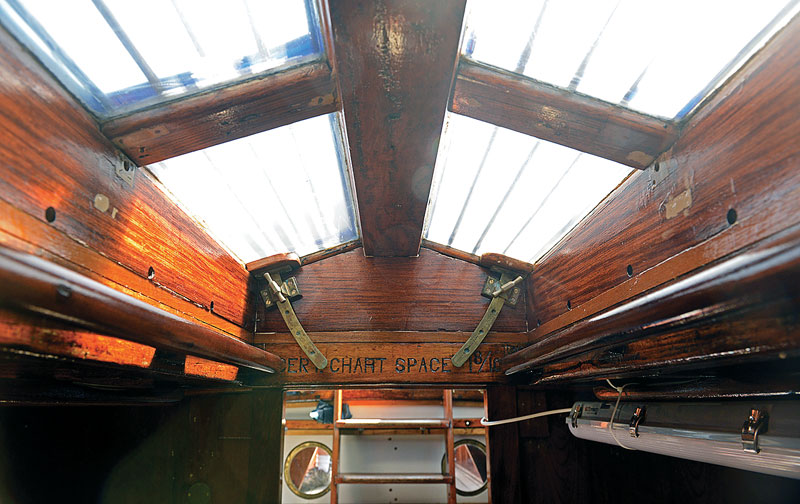 He nevertheless made some important changes to LIVELY LADY's rig, which he felt to be undercanvased. He lengthened the mast by 4′ to increase the mainsail area and added a mizzenmast. Strangely, the mizzenmast wasn't designed to carry its own boomed sail, which would have interfered with the self-steering, but instead was meant to set a staysail in place of the mainsail when sailing downwind.
The boat Rose sailed in when he left Portsmouth on August 7, 1966—three weeks before Chichester—bore little relation to the one Shepherd had designed 30 years before. She was almost twice as heavy, with an estimated displacement of 13.7 long tons (30,800 lbs) compared to her designed displacement of 7.5 long tons (16,800 lbs); her draft had increased correspondingly from about 5′6″ to 6′6″ (1.67m to 1.98m); and her waterline length had shot up from 26′3″ to 31′6″ (8m to 9.6m).
In the event, the much media-hyped race around the world never happened (that would come later), as LIVELY LADY suffered a collision crossing the English Channel and Rose had to head back to Plymouth for repairs. To make matters worse, the yacht fell over while dried out at Mashford Yard and cracked four frames. He had no choice but to delay his departure by another year.
Rose finally set off from Portsmouth on July 16, 1967, seven weeks after Chichester had completed his record-breaking loop. He had an uneventful voyage, stopping at Melbourne, Australia, to visit his son and at Bluff, New Zealand, to repair a masthead fitting. LIVELY LADY proved every bit the doughty little seaboat he had believed her to be—although, as he had also predicted, she was no greyhound. By the time he arrived back in Portsmouth on July 4, 1968, even he was disappointed by his time of 318 days, which was 92 days longer than Chichester's.
Yet Rose's reception in Portsmouth was very real: some 250,000 people turned up to welcome him home—the same number that had greeted Chichester the year before—and 400 yachts accompanied him across The Solent. Huge crowds cheered him as he and Dorothy appeared on the balcony of their modest home above their shop on Osborne Road and, like Chichester, he was duly knighted by the Queen.
Rose's voyage in LIVELY LADY was awkwardly timed, sandwiched between the great feats of Chichester and Knox-Johnston. He could claim neither a faster passage than Chichester nor a genuine "first," like Knox-Johnston. It's a question he ponders in his book:
"What have I done to deserve this? Sailed around the world? Yes, but I had achieved the voyage because it was a lifelong ambition. I did it to please myself…."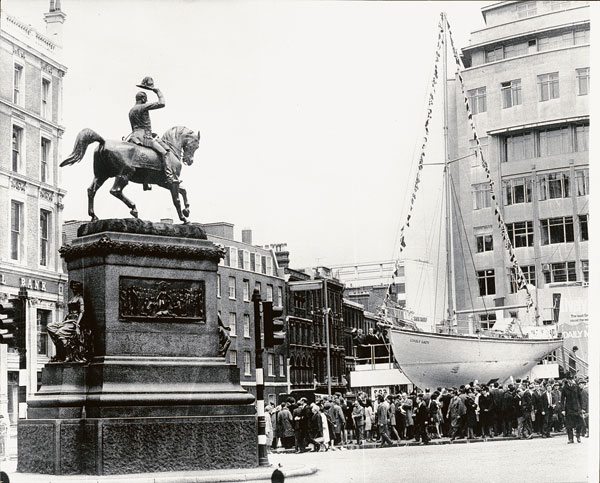 Perhaps the best way to appreciate Rose's achievement is to remember that of the nine competitors who took part in the original Golden Globe—setting off both before and after Rose's return—only three made it past Australia (Knox-Johnston, Bernard Moitessier, and Nigel Tetley), one sank (Tetley), one died (Donald Crowhurst), and only one finished the course (Knox-Johnston). Chichester and Rose made it look easy, but the fate of others attempting a similar journey tells a different story.
After his landmark voyage, Rose carried on running his grocery store with Dorothy (who had looked after everything while he was away, including negotiating the contract for his book). He died in 1991, and the City of Portsmouth bought LIVELY LADY for £15,000 (US$19,500) shortly afterward. For the next 10 years, the council leased the boat to the Meridian Trust, which maintained her and took disadvantaged youth sailing. Although the yacht was kept in continuous commission, no major renovation work was undertaken or deemed necessary.
In 2003, a campaign was launched to get GIPSY MOTH IV out of her concrete grave at the National Maritime Museum in Greenwich, where she had been entombed for the previous 35 years. Two years later, at a cost of £300,000 (US$390,000), she was sailing again and ready to set off on her second circumnavigation, this time taking "deserving young people" on board as crew. Once again, it seemed, LIVELY LADY's better-endowed rival was in the limelight, while Rose's old yacht was consigned to home waters.
One Portsmouth resident was determined not to let that happen.
"It didn't seem fair to let GIPSY MOTH IV take all the credit," says Alan Priddy, a powerboat driver with (currently) 37 world records to his name. Priddy almost singlehandedly mounted a campaign to get LIVELY LADY in oceangoing condition. Rather than a full restoration, however, Priddy's team carried out an "extreme maintenance program," which included installing a new engine, new rigging, new sails, and "anything else that needed changing."
In an echo of their original voyages, LIVELY LADY set off from Portsmouth on July 28, 2006, ten months after GIPSY MOTH IV set off on another circumnavigation. On board were Priddy, co-skipper Steve Mason, and two young crew on what would turn into a two-year, multi-leg circumnavigation (via the Suez and Panama canals rather than the three capes, for insurance reasons). The voyage eventually involved 9 co-skippers and 39 crew. Rose's grandson Nigel Rose even joined them for a leg of the voyage. As ever, LIVELY LADY proved a trusty seaboat.
"We were hit by 50 knots of wind off Canada, but she took it well," Mason says. "We sat wedged in the cockpit, with the boat lying ahull under bare poles, and she made 1 knot of progress in the right direction. The kids were okay if we were okay; they would have been scared if we'd been scared, but that didn't happen." The boat, however, showed some signs of aging, mainly in the deck.
"The deck leaked so badly, we had to put our sleeping bags under bivouacs to stay dry," Mason said.
LIVELY LADY returned to Portsmouth on July 5, 2008, 40 years and a day after she completed her first circumnavigation. Various legal wrangles followed, mainly concerning the status of the yacht, which was at the time classified as a museum object in the council's collection. In 2010, Priddy created a new trust called Around and Around to run the boat under lease from the council, and then he successfully reregistered her as a historic ship.
A major restoration was launched, first at the International Boatbuilding Training College in Portsmouth and then at the Hayling Yacht Company. Unlike GIPSY MOTH IV's fancy restoration at Camper & Nicholson, most of the work was done by a small team of volunteers headed by Mason. The main job was to fit new decks, replacing the original teak with a layer of 20mm (about ¾″) plywood topped with 15mm (about ⅝″) iroko planks. Half a dozen frames had a small amount of rot around the fastenings and, in order to access those, the whole interior had to be stripped out and refitted once the repairs had been made. Apart from that, the hull remains almost entirely intact, the thick Burma teak planks and padauk frames having withstood 50 years of use and two circumnavigations with barely a squeak.
LIVELY LADY's restoration cost £15,000 (US$19,500), £7,000 (US$9,100) of which came from a single private donor, £5,000 (US$6,500) from Portsmouth Council, and the rest from donations. It's small change compared to the huge sums spent on GIPSY MOTH IV, and the boat is suitably rough and ready. The first thing Mason says to me when I arrive at the jetty and start to take my shoes off is, "Don't bother taking your shoes off. This is a real boat."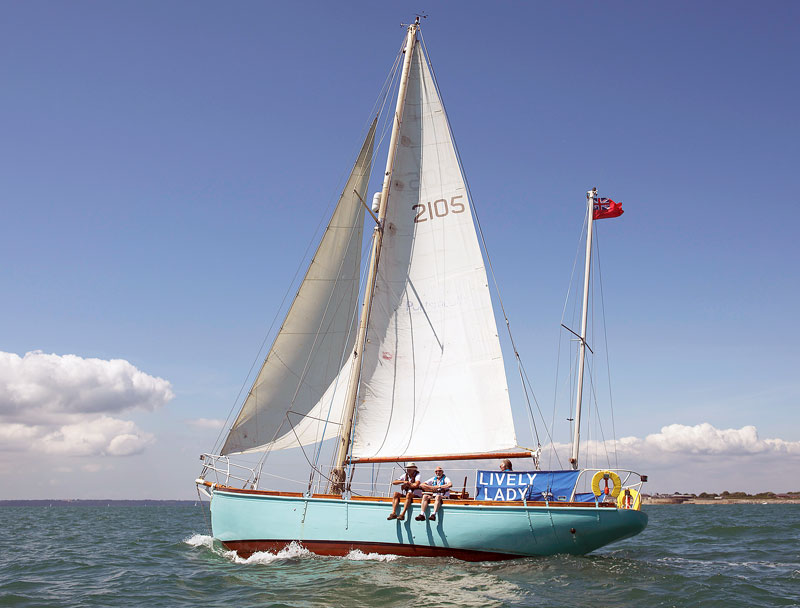 Another circumnavigation is planned, possibly starting in 2020. This voyage will reunite some of the young crew from 2006–08, who are now grown-up and qualified as skippers. They will carry a new bunch of youngsters on the voyage of their lifetimes.
Fifty tears after his epic voyage, Rose's achievements are being remembered again, and earlier this year a memorial plaque was fastened to his house on Osborne Road. (Chichester's plaque was attached to his house at St. James's Place, London, 25 years ago.) Thanks to the perseverance of a few individuals who shared Rose's vision, a new generation of sailors is being trained to follow in his wake. It's everything the humble greengrocer from Southsea could have wished for, even if his yacht had to sail two times around the world to get there.

Nic Compton has been writing about boats and the sea for nearly 30 years. He is currently boatless and spending much more time than is healthy looking at secondhand boats on the Internet.