Fish boats thriving through racing and cruising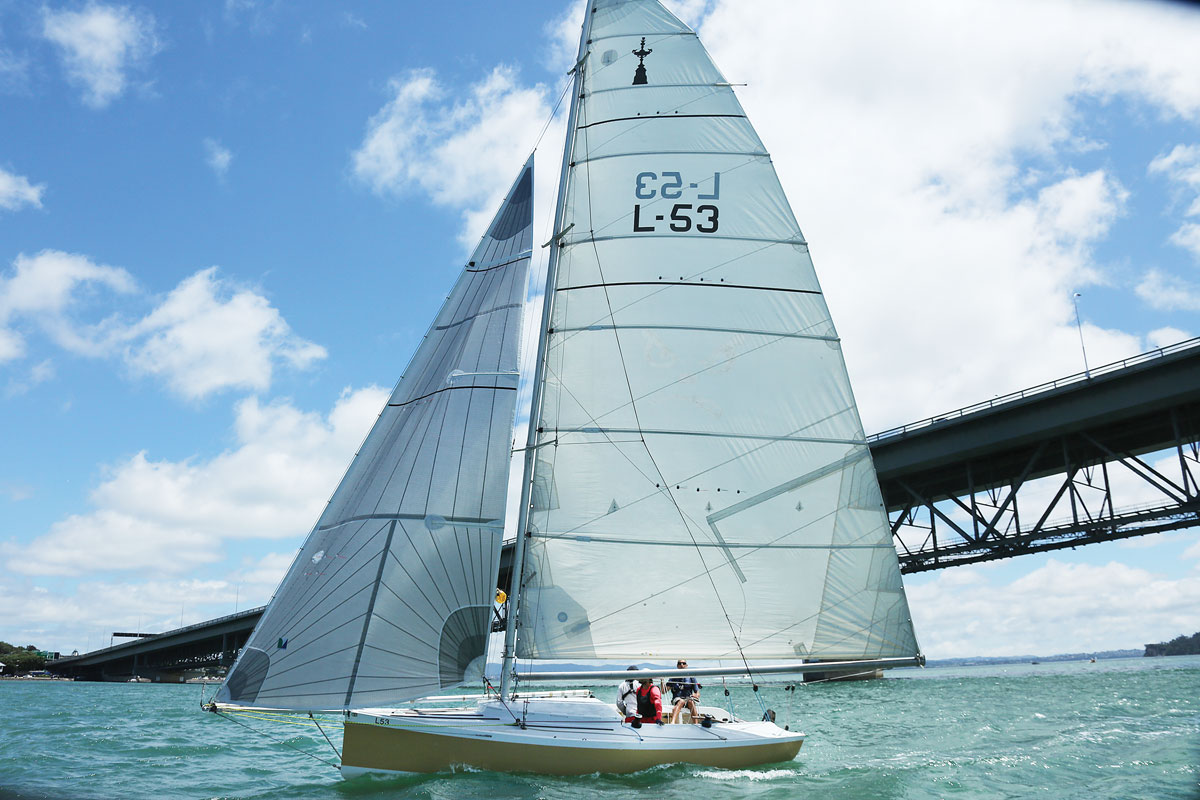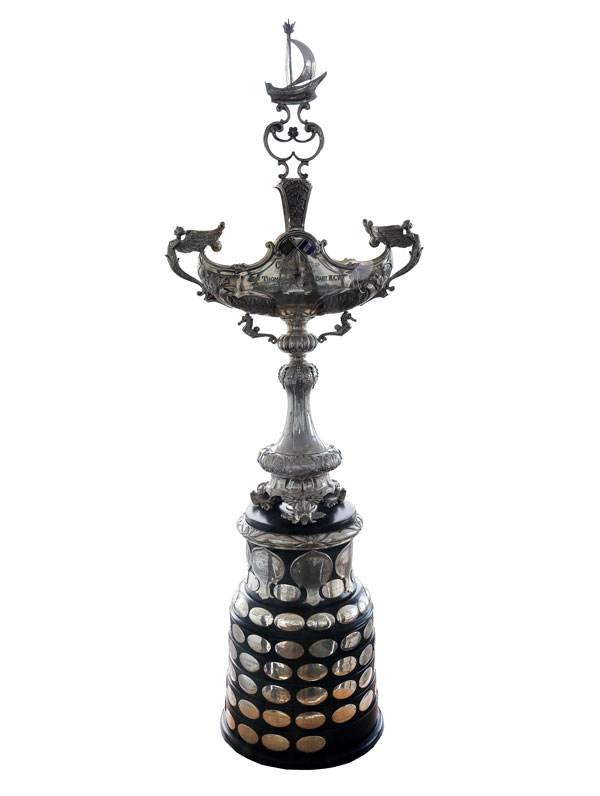 Auckland, New Zealand, was founded in 1840, and many local fishing boats were purpose-built for its waters. Among those was a boat used specifically for catching mullet in the estuaries within the Hauraki Gulf. It evolved into a recognizable type, typically around 24′ long with a generous beam for load-carrying and stability, a shallow draft with a centerboard for access to where the mullet were, and a small cuddy to allow the crew of two or three to occasionally sleep. They gradually became known as mullet boats, and by the 1880s that term had come into general use.
The boats often worked in tandem, and when they reached the fishing grounds each crew would drop sail, brail the boom up parallel with the mast, and remove the transom-hung rudder so they could deploy the net over the stern. One or two large sweeps would be used for maneuvering.
Once the crew had loaded a respectable catch of a ton or more, they would set sail for home. The generous gaff sloop or cutter rig of around 400 sq ft would carry them in the prevailing westerly, 20 miles directly upwind, back to Auckland's wharves, where the first boats to arrive would secure the best price. Once back at the docks, the crews would usually sell the fish right from the boat to merchants, canners, or consumers.
By the early 1900s, the days of fishing for mullet under sail were numbered. This was mainly due to the development of powered vessels, though many sailing mullet boats were converted for power. In addition, the rapidly expanding population of Auckland had exhausted the mullet stocks. All of this might have meant an end to this unique boat, but the local sailing population had already noted the type's qualities, and the mullet boats weren't quite done yet.
Mullet boats had been used occasionally for recreational cruising and racing, but the first one built solely for pleasure purposes was launched in 1885 for the architect William Holder. This was the 24′ MANOLA, built by Charles Bailey, Sr., one of New Zealand's best-known boat designers and builders of that period. MANOLA was not only made of finer materials and with a bigger rig than working mullet boats, but she was also hauled out after every race, often into her own shed. She won her first race, then dominated the fleet for years.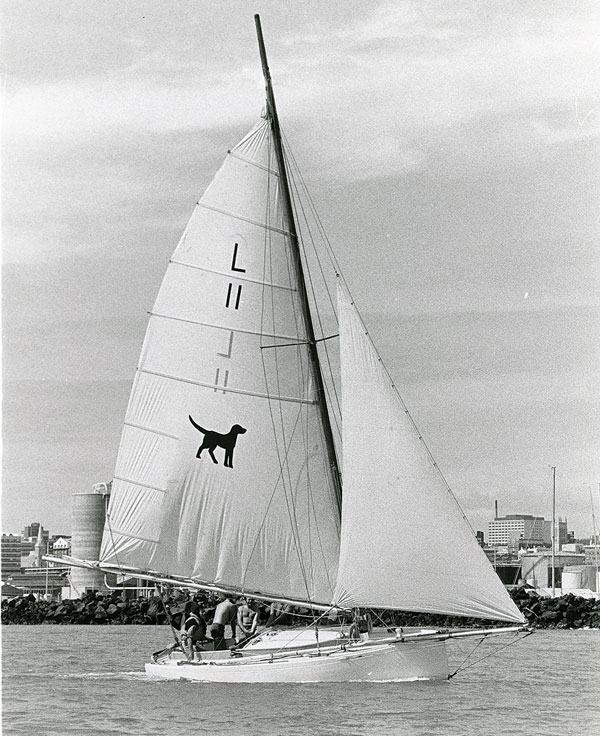 Winning didn't make Holder a popular man, so it wasn't long before other builders started producing similar boats in various sizes (18′, 20′, 22′, 24′, and 26′) and in significant numbers for racing, for which they were formalized as mullet boat classes even though they never were used for fishing. This coincided with the formation of a number of sailing and yacht clubs in the Auckland area around the turn of the century. During that period there were about 70 mullet boats actively racing.
In 1903, the Ponsonby Regatta committee took steps to introduce some rules regarding the scantlings and principal dimensions of the three main classes (the 22s, 24s, and 26s) but it was to be a few years before these were accepted by the mullet boat owners and the clubs. Racing for all sizes of the type thrived in the early part of the century, but after World War I, classes other than the 22s and 26s declined. In 1921, several of Auckland's racing classes were designated by letters, and from then on the 22′ mullet boats fell into Class L while the 26s were in Class H.
Up until then, the most prestigious trophy for 22′ mullet boats was the Kean Cup, but that was about to change. In 1904, the secretary of the newly founded Ponsonby Cruising Club (PCC) had written to Sir Thomas Lipton—who, at that time, had challenged unsuccessfully for the AMERICA's Cup three times—to say that the members had elected him as a vice president. Lipton had been donating sporting trophies to clubs all over the world, and in April 1920 he wrote to PCC to say that he had commissioned a trophy for the club "for annual competition, and be open as far as possible to New Zealand yachtsmen generally." There was then some debate about which class should compete for this magnificent trophy. Some thought it should be one of the meter-boat classes, but eventually it was decided that the 22′ mullet boats were most deserving because they provided the keenest racing at that time.
VALERIA, designed and built by Arch Logan in 1913, won the first Lipton Cup race, which was held in April 1922. The Lipton Cup race has been held every year since then (including during World War II), making it the oldest sailing trophy continuously raced for by the same class in New Zealand, and possibly the world. The 26s died out as a racing class soon after World War II, but the Lipton Cup, along with the continuing support of PCC, is generally acknowledged as a fundamental reason why the 22′ mullet boats have survived as an active racing class to this day. Over 30 new 22′ mullet boats have been built since the war, all but five of which were of wooden construction (the exceptions being fiberglass boats built from a mold that was taken off seven-time Lipton Cup winner TAOTANE).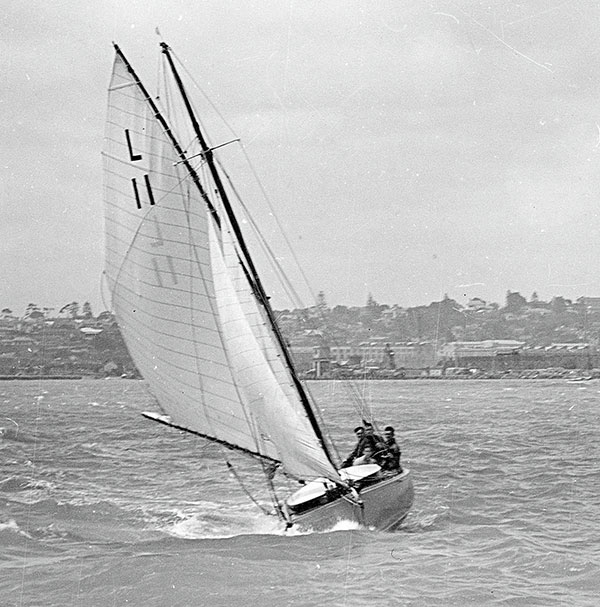 The most successful Lipton Cup boat is TAMARIKI, designed by Chas Collings for himself and built by his company, Collings and Bell, in 1934. She won the cup in 1935 and on a dozen subsequent occasions, including three hat-tricks. Three other boats have won it four times in a row, TAMARAU twice.
Martin Robertson designed and built ORION II for himself in 1975. Older boats were built of single-skin carvel kauri planking; ORION II was cold-molded with three 3/16″ layers of kauri with longitudinals of kahikatea, and an iroko keelson and floors. Robertson won his first three Lipton Cups in her, and very nearly his fourth, before selling the boat. In 2007, he bought her back and then made some fundamental changes, mainly to her hull shape, which he felt was too fine forward and too full aft. He remedied this by cutting away the kauri skin and replacing it with new sections in strip-planked kahikatea, 'glassed inside and out. Robertson and ORION II subsequently won the Lipton Cup again in 2017, 2018, and 2019.
Veteran mullet boat sailor David Nigh has sailed in an astonishing 53 Lipton Cups, winning two of them in TERE KANAE, "And I am not sure how many times I've come second," he told me. He recalls that the heyday of participation came in the 1960s, when about 20 boats usually raced. Despite their huge sail area, mullet boats can withstand severe conditions, and Nigh remembers sailing in two Lipton Cups in winds as strong as 40 knots. "On one occasion," he said, "we were setting a spitfire jib and a full main because we couldn't reef, but the main tends to billow inside out and hold the boat up." On the day of the Lipton Cup in 1940, racing for all other classes throughout Auckland's Waitematā Harbour was canceled due to stormy weather, but the mullet boats still raced.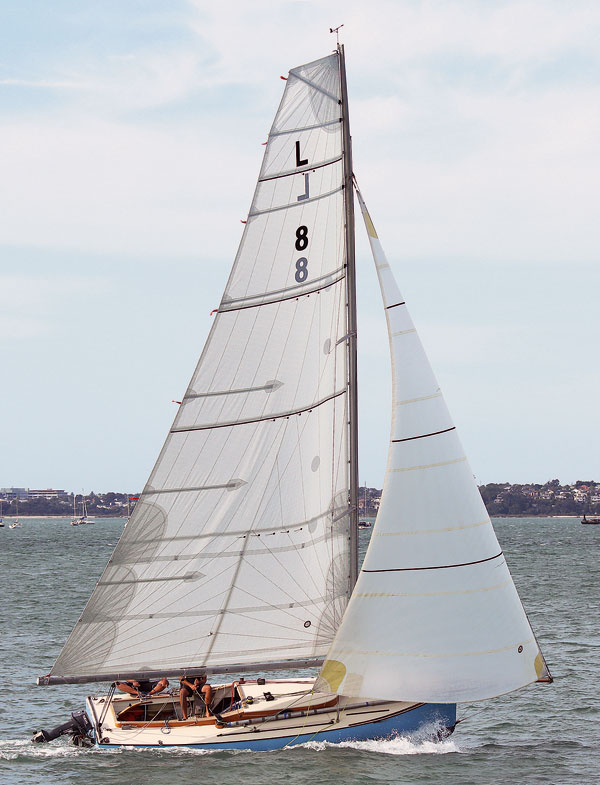 Mullet boats have been known to sink. In the space of a year in the early 1920s, for instance, four did so, and in one case the owner and his eight-year-old son drowned. Nigh twice sank TERE KANAE, which he attributed to a lack of buoyancy in her narrow stern which he has since modified with good results. By contrast, the modifications that Robertson made to ORION II may have exacerbated the problem; by his own admission her side decks are now too narrow, a flaw that was instrumental in a sinking that occurred when she took water over the side after heeling severely when the mainsail was pinned against a running backstay that hadn't been released during a tack. Robertson's was one of just two sinkings in the mullet boat fleet in the last 10 years.
Over time, mullet boat rigs have been modernized. Almost all of them have aluminum spars, Bermudan sloop rigs, and mainsails with very pronounced roaches. Class rules limit mainsail sizes to 550 sq ft and spinnakers to 800 sq ft. The size of the headsails has no restriction, but the rigs must be fractional. There are also rules concerning the minimum weight of the bare hull (1,800 lbs) and of the internal ballast (2,240 lbs).
ALERIA, the first Lipton Cup winner, is co-owned by Ben Freedman, a boatbuilder, and Reuben Cameron-Harker, a marine engineer and fabricator. She had a successful racing career up until the 1940s, winning the Lipton Cup a total of six times, but then things didn't go so well for her. Soon after World War II she moved to Manukau Harbour, a less-hospitable home on the west coast, where she was used as a commercial flounder boat and had a "massive doghouse fitted to her," according to Freedman. She was laid up in the late 1980s until he found her in 2003, and by then she was "pretty far gone." Although the kauri planking was in good condition, the starboard side was distorted, so when he replaced all the frames he used the shape of the old port-side ones as a template for the shape of the starboard side. He rebuilt most of the deck structure in kauri, then fitted a plywood deck and coamings also of kauri which "is probably older than the hull, as it was reclaimed from a church pew." Freedman and Cameron-Harker won the Lipton Cup in her in 2015.
When I joined her for a January sail in Waitematā Harbour, I found that the enormous power of the rig at times gave her significant weather helm. But considering the size of the roach and the fact that the class rules still call for a rudder of the barn-door type, that came as no surprise. Freedman told me that a mullet boat will normally do about 6 knots on the wind and that "8 knots downwind is pretty good" but that VALERIA once gave them a "good solid burst of 14 knots."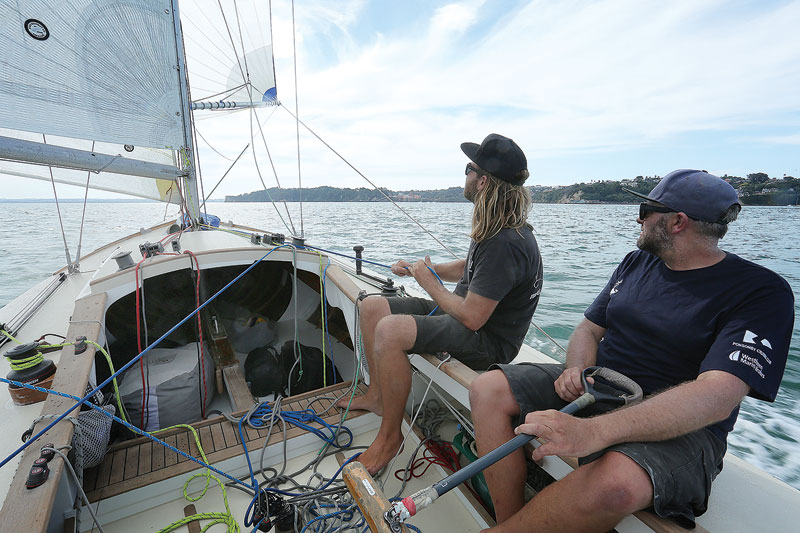 Cameron-Harker had just come back from a four-week cruise in VALERIA, about 120 nautical miles from Auckland up to the Bay of Islands, then out to Great Barrier Island. This seemed an impressive feat for a centerboarder, but mullet boats have established a reputation as great cruising boats over the years. Nigh had a 22′ mullet boat called MARTANA built in 1988 for cruising and racing because, he said, "I was getting on and wanted some comfort but wanted to race at the same time."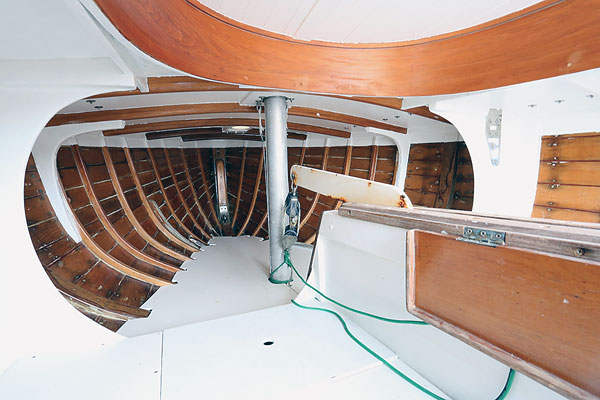 For many years, PCC has been the home of the mullet boat and will continue to host the annual Lipton Cup, including the centennial race in 2021. There is a great deal of excited talk among mullet-boat sailors about this, especially because the race will take place immediately after Auckland has hosted the next AMERICA's Cup, the trophy that Sir Thomas Lipton tried to win five times. There is some poignancy in the fact that the two trophies are currently on display a mere 200 yards apart: in PCC and the Royal New Zealand Yacht Squadron. But Freedman and Cameron-Harker are concerned that once that Lipton Cup has taken place, interest in the class will wane. They are considering replacing VALERIA's modern rig with that of a gaff cutter or gaff sloop in the hope that others might follow—such rigs would further stoke the kindling of a recent renewed interest in traditional boat sailing in and around Aukland.
Apart from the lure of the Lipton Cup, what is the enduring appeal of the mullet boats? "I think part of it is that they are very tricky to sail," says Freedman. "Some days you come home thinking you really understand everything about them, and the next day you will go out you realize you really don't. I've taken quite knowledgeable older skippers out, quite big-name sailors, who come back shaking their heads and saying, 'Bloody hell.'"

Nigel Sharp is a lifelong sailor and a freelance marine writer and photographer. He spent 35 years in the boat building and repair industry and has logged thousands of miles in boats big and small, from dinghies to schooners.